Whether you run an affiliate program for retail goods or a software subscription, you know how important it is to bring in high-quality affiliates and improve the conversion rates of your affiliate pages.
However, there's a point that many affiliate programs miss out on: How can you nurture your affiliates so they stick around longer and bring in more sales?
According to JotForm COO Burak Ciflikli, "Essentially, an affiliate program is just another product that you are trying to sell."
When you develop this type of perspective, providing support for your affiliate program becomes a no-brainer. Support is the pillar that makes or breaks a company. It's true that, on paper, a good product shouldn't require support, but the reality can be a little different. The same applies to affiliate marketing.
Onboarding Your Affiliates Quicker
A major pain point most companies have (especially software companies) is onboarding their affiliates. Providing support to affiliates before they sign up and especially during their onboarding process can help both parties get the most out of the partnership.
Think of your affiliates as outsourced salespeople and marketers. In that case, you'd want to train your sales team and provide support to them so they can close deals faster and more efficiently.
Reinforcing Your Partnership
At the end of the day, your affiliate program is a mutually beneficial partnership. Thus, reinforcing that partnership can help bring positive results. Providing support to your affiliates is one of the fastest ways to do so.
If you take the time to help out your affiliates, they'll be more likely to stick around and work harder to bring in more sales for you.
We've been talking about how important it is to support affiliates, but how do we actually provide that support? Let's have a look!
How to Support Your Affiliates
The first and most important point to consider is providing support to your affiliates around the product and the program.
You probably want someone from the support team tasked with monitoring requests related to your affiliate program. Having a support link on your landing page, sign-up page, and affiliate dashboard will make it easier for your affiliates to reach out when they need help.
A great example of this is JotForm's Affiliate program. The JotForm Affiliate page has both a detailed FAQ section and a list that contains the contact information of the JotForm Affiliate Team. This enables their affiliates to immediately reach out to them: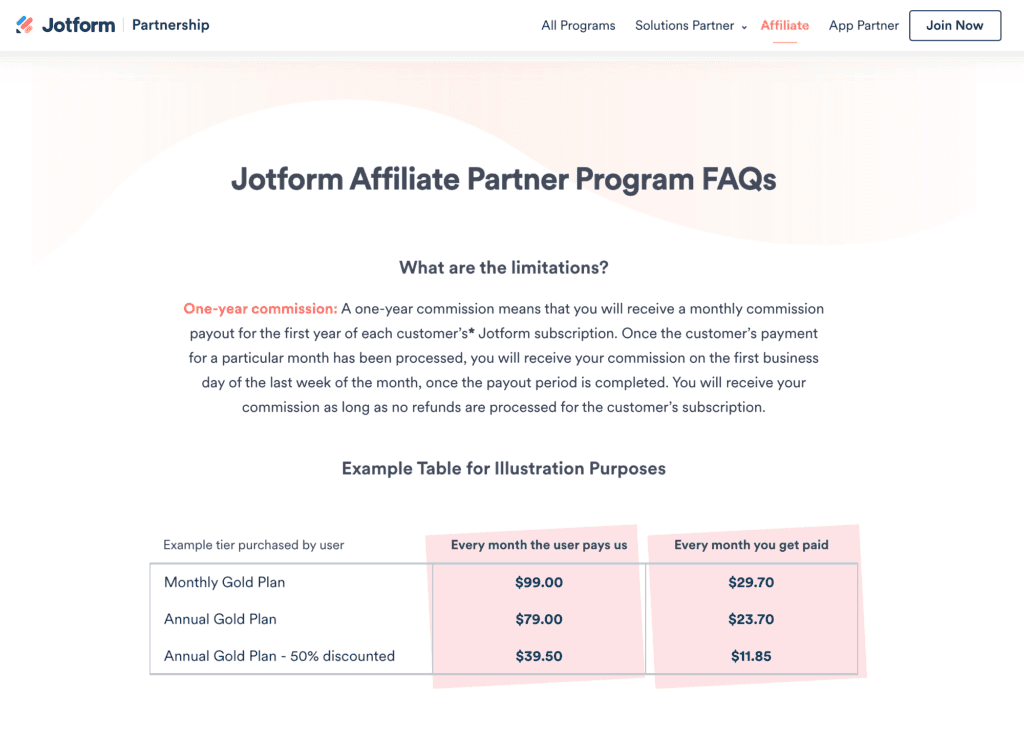 You can support your affiliates by helping them get a hang of things faster. It's always a good idea to let them use your product before starting to promote it. If they know what they are selling, they will sell more of it, and sell it quicker, too!
Now here comes the controversial part. Should you also provide support to your affiliates about marketing and overall growth? The answer is, it depends. But in a perfect world, yes, you definitely should.
Of course, not every affiliate program is ideal for this, and interestingly, not every affiliate is either. Yet, there are some affiliates who will show early signs of potential, and taking the extra mile to help them grow in your business will likely pay off in the future.
By supporting your affiliates, we don't mean you have to sit down and guide them through every single step. But having some of your marketing people open to answering questions every now and then, will make a huge difference.
Additionally, having good content and knowledge bases that answer commonly asked questions about your affiliate program and overall marketing will lower the load on your support and marketing teams.
Consider making active support available in rare cases that will lead to long-lasting, mutually beneficial relationships.
In Conclusion
As with any good product, you want your customers (affiliates) to have a good experience while using your product (affiliate program). In this article, we've explained the most important reasons why providing support to your affiliate matters.
If you liked this post, be sure to follow us on Twitter, Facebook, and LinkedIn! And don't forget to subscribe to our newsletter.
Affiliate Link Disclosure