If you know you have what it takes to write for a living, you might have thought about SEO writing, content marketing, or blogging quality articles. Many people overlook a well-paying option that allows them to flex their creative muscles: creative copywriting. What is creative copywriting, and how can you build a career around it?
Creative copywriting could be the right fit for you if you have a natural skill for marketing and thinking about how to put brands out there in a unique way.
Ready to learn more?
Let's get started.
What is Creative Copywriting?
Many people want to write for a living but struggle to find the right niche for their skillset and talent. For those who have a knack for marketing, are able to frame things in an interesting way, and have a clear eye for creativity, there is a unique field available for you: creative copywriting.
But what exactly is creative copywriting?
Creative copywriting is the ability to create marketing materials for a company that thrives on creativity instead of just providing words. A good creative copywriter provides a fresh and innovative new way to think about the marketing of a product or service.
The goal is to find the unique selling proposition that makes this the product or service that someone absolutely needs if they want to succeed, grow, or change.
It's different from advertising copywriting, where copywriters wrote press ads exclusively. Instead, it requires the writer to think about how to best relay their message to the target audience. The goal is to make the brand stand out from a crowded field, making use of logic and the emotional response of a customer who needs this item or service.
In other words, creative copywriters are responsible for the actual ideas that support a brand's marketing campaign.
What Skills Do You Need for Creative Copywriting?
If you want to write creative copy that appeals to your target audience, it isn't as simple as just picking up the pen one day. A good creative copywriter has an excellent command of the language, but what other attributes do they need?
Here are just 5 skills that you'll want to consider before you set out to write copy:
Attention to detail: You need to know the ins and the outs of your field, as well as the good or service you are promoting. You should also be paying close attention to things like your copy's spelling, punctuation, and general readability.
Unique style: Does your writing stand out in a sea of your competitors, all vying for the top-paying position that you want? A freelance copywriter needs to ensure that their voice and style present something fresh to the market.
Professional skills: Most people believe that writers can be a bit sporadic due to the creative nature of their work. Professionalism goes a long way toward helping you to stand out. This means that you need to answer emails promptly, stay in close communication, and follow the instructions that you're given.
Passion for the work: People can tell if you're just going to write press releases for the paycheck. Instead, you should be striving to continue improving your craft with each new job. Ideally, you might even enjoy the work!
Ability to ask good questions: A creative copywriter who isn't sure about the direction that a brand is heading needs to ask good questions. Get the information you need to understand your job better.
Your clients want more than a weak idea strongly presented. They want top-notch creative ideas that are compelling to their audience. If you have these skills, then you are well on the way to being successful in this industry.
Bonus Pro Tip:
Get help from an AI writing assistant like Jasper!
It's celebrated for its ability to help remove writers block and drastically speed up the writing process and this is by design.
The tools offers tons of templates to use. And can even follow the most powerful copywriting frameworks including PAS (Pain, Agitate, Solve) and AIDA (Attention, Interest, Desire and Action) to further help convert readers!
So if you'd ever like help with your landing pages, emails, social media posts, blog posts, and more – best to get it from state of the art technology with Jasper.
How Much Do Creative Copywriters Make?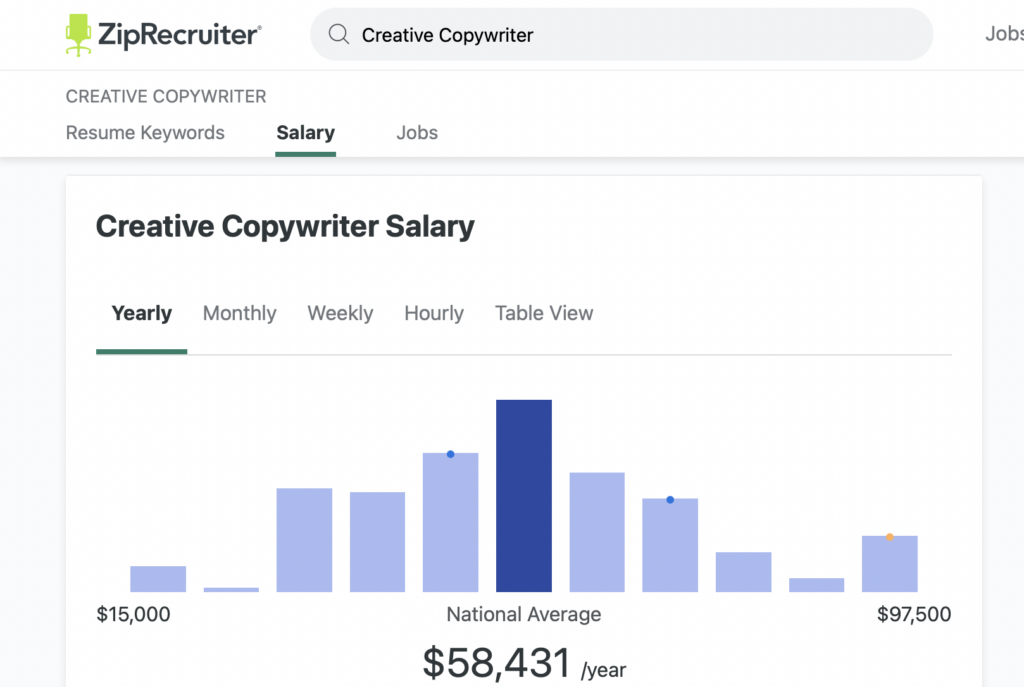 If you want to earn money as a creative writer, then you may want to consider whether copywriting will use your skills to the fullest. After all, there is good money in this industry for those who can hack it day after day.
The average salary for a creative copywriter is upwards of $58,000 per year for those who work full-time.
If you are only seeking part-time work, then you may be more interested in the hourly rate, which usually comes in somewhere between $24 and $29.
What is the Difference Between Creative Copywriting and SEO Copywriting?
Chances are that you have heard a lot of buzz about being an SEO copywriter, responsible for writing punchy meta tags, and enhancing a brand's positioning on the SERPs. Search engine optimisation is an important field, but it's very different from creative copywriting.
SEO is designed to help sites rank better, resulting in being found by more of their customers. It is important to use key words cleverly, create sales pages, and produce content that answers questions for readers. Oftentimes, it is a fairly technical area compared to creative copywriting.
On the other hand, creative copywriting is designed to help nurture leads from cold to warm to hot. It should move people along the sales funnel until they finally end up being paying customers. It touches on the emotions and desires of the audience instead of just trying to game the search engines.
Both are different from a PR writer who might spend more time crafting a great press release or managing the outward reputation of a brand. Keep in mind the important distinctions when deciding which field is right for you.
How to Become a Creative Copywriter
Interested in learning more about how to become a creative copywriter? The good news is that it doesn't take much if you have the raw talent to nurture this skill. Here is what you need to know if you intend to become a creative copywriter.
Learn the Skills You Need
Most creative copywriters who enter the field already have a background in writing or have a background in English (or whichever language they are working in). If you want to refine your skills, here are a few classes you could take:
Creative Copywriting for Entrepreneurs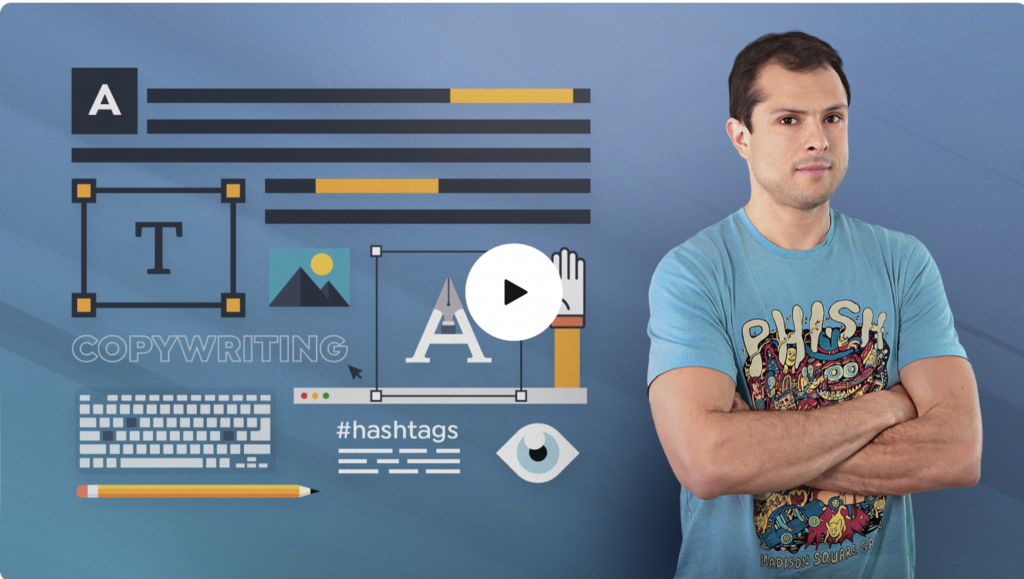 This course from Domestika is affordable and packs a powerful punch. It's one of the few courses that are actually designed to walk you through the process of creative copywriting as opposed to just standard copywriting.
In just three hours, you'll learn tons of information about making meaningful connections with customers and how you can move from creative brief to finished piece for just $9.99.
Note: this program is only available in Spanish, but it does have English subtitles.
The Creative Copywriter Academy
The Creative Copywriter Academy is another class geared specifically toward this field, but it's a lot more robust than the option from Domestika. You'll learn important skills like:
Refining your style
Managing client relationships
Learning about brand and SEO within creative copywriting
Setting yourself up as a successful freelancer
How to get jobs and market your skillset
From diving into the nuts and bolts of creative copywriting to launching your brand-new business, this course has it all – and for only $290.
Practice and Build a Portfolio
Any potential clients are going to want proof that you have the skills needed to write their advertisements and entice customers to come to their brand. To this end, you should work to set up a practice portfolio. You can do this a few different ways.
First, you could make up brands and work that you have done for them as sample pieces to use.
Second, you could consult with local businesses on items that they need written, such as TV and radio scripts. Offer your services pro bono with the agreement that you can use the finished product in your portfolio. This gives you hands-on experience working with clients and helps you flesh out your portfolio – a win-win situation all the way around.
Find Online Jobs
If reaching out to local businesses feels too limiting for your growing freelance business, consider using an online jobs platform instead. Plenty of options exist for finding jobs that allow you to write creative copy. All you have to do is find them. These sites will help you to launch your business without leaving the comfort of your couch:
Upwork
Upwork is one of the most well-known outlets for a freelance copywriter to find the work they need to stay busy. You'll see a list of job postings where you can submit a proposal with your experience and what you want to be paid.
Joining Upwork is completely free, though you may choose to pay for a membership to get added perks like more connects (points used to apply for jobs) or to see the bid range on a job posting.
Of course, the competition can be stiff for those who are just getting started.
Fiverr
Fiverr started out as a site that allowed people to post skills needed for just $5, but they have evolved to be much more than that. Now, you can hang out your shingle here as a creative copywriter and let paying clients come to you. Like Upwork, it's free to join Fiverr and start making money now.
If Fiverr appeals to you, here are a few other articles you might want to check out:
Rinse and Repeat!
Continue to revamp your portfolio with each new job that you complete. Whether it is a press article, sales page, or presenting ads, you can showcase your quality writing as your skill level grows. Each new job is a new opportunity to learn something new, so be sure to take full advantage of whatever work comes your way!
Final Verdict: Do You Have What it Takes to Be a Creative Copywriter?
If you have the creativity and the command of your native language, then creative copywriting might be right for you. You can easily learn everything you need from an online course without the need to head back to school for an advanced degree. Copywriters write Facebook posts and advertisements, plus everything in between.
Is this career path right for you? Try it out today to see if you have what it takes to write press ads and unique campaigns for well-known brands!