Creating an online course is one of the best ways to make money online. If you're a WordPress user, you can use one of the best WordPress LMS Plugins to deliver your online courses from your website.
And if you're on the hunt for the right plugin to make this happen, look no further.
In this article, we're sharing the best WordPress LMS plugins available right now to help you find the perfect match for your business. These LMS WordPress plugins are completely code-free and beginner-friendly.
This means that you don't need advanced technical skills to create your own online course.
Literally, anyone can do it.
The Best WordPress LMS Plugins
There are many great LMS plugins to choose from, so deciding which one is right for you is understandably daunting. However, if you keep reading, you'll find out what the most well-known (and some under the radar) LMS plugins can do for you, so choosing the right one for your business will be easier.
We will be looking at the features each of these plugins offers, the benefits (and downsides) of each, and of course, the pricing.
1 – Learndash
LearnDash is one of the best WordPress LMS plugins available. Since its launch back in 2013, the platform has gone from strength to strength and has an excellent reputation for ease of use and impeccable customer service.
This WordPress plugin is simple to use with its drag and drop site builder and is packed with powerful features.
LearnDash has a huge range of features that help you create interesting and engaging online courses for your students. For example, you're able to auto-enroll students or approve them manually.
When they complete an assignment, it can be automatically marked completed, or you can set it to manual to review it and provide feedback yourself with comments that only the student will see.
You can also choose whether the students can complete the course all at once or set lessons and course material to be delivered on a schedule. In addition, LearnDash's advanced features make it easy to keep track of each student's progress throughout the course.
You can even give them a course completion certificate or badge once they finish!
The LearnDash LMS plugin is easy to use and provides lots of unique features like drip-feeding courses, selling one-off courses or subscriptions, and several different types of media integration.
However, no plugin is perfect. Learndash doesn't offer a free trial, and the vast range of options may be intimidating for beginners. If you're prepared to spend some time getting to know the software, though, you will have everything you need to create a professional-looking course that your students will love.
Learndash Pricing:
LearnDash is on the pricier end of WordPress LMS plugins. The cheapest package comes in at $159, allowing you unlimited courses on one site. After that, packages increase in price according to the number of websites you have.
There's no free trial, but there is a 30-day money-back guarantee, so you can try it out risk-free.
Try LearnDash Here
---
2 – Lifter LMS
Lifter LMS is one of the most prominent players in the eLearning space. It offers a huge variety of features but is a little pricier, so if you don't need all the bells and whistles, you could be paying more than you need to.
One thing that sets it apart from other big players is its extensive free version of the plugin.
With the free core plugin, you can access a drag and drop editor to design your courses. In addition, you can create an unlimited number of lessons, and you can add more dynamic features like quizzes and assignments.
Another useful feature is that you can restrict access to your courses. For example, you can make people take an introductory course before they can sign up for more advanced courses.
Lifter LMS is big on student interaction, with custom emails based on user activity like failing or completing a course. You can send downloadable awards or certificates, and you can choose to drip-feed each lesson or release your entire course all at once.
If you want students to pay for your course, you will need to pay for the premium version of Lifter LMS. The premium version provides acceptance to direct payment gateways or WooCommerce integration and gives you email marketing features and customization options.
One of the unique features is that the paid version allows you to offer private coaching, which you can up-sell as an extra service. While most of the features are great, Lifter LMS offers limited marketing options, and some areas of the user interface feel pretty dated.
Lifter LMS Pricing:
While the core plugin is free and provides a good amount of functionality, you must purchase addons separately. Individual add ons are priced at $99 per year. A medium bundle is $299, or the Infinity bundle is $999.
Try LMS Lifter for Free Here
---
3- Tutor LMS
On the face of it, Tutor LMS is a reasonably competent eLearning platform. It offers a drag and drop builder and has a similar pricing structure to several other LMS plugins. However, when you look at the individual features, you see what makes Tutor LMS unique.
Tutor LMS has a wide variety of standard features like a drag-and-drop course builder, analytics, and quizzes, and they've all been slightly improved.
Analytics integrates reviews and mentions your most popular courses.
You can include an unlimited number of instructors on each course, and within this software, you're able to share their contact information and set up commission splitting—something that you usually need to do yourself. You can even assign different tasks to individual students!
While these features are great, the platform is not entirely faultless. The plugin suffers from several bugs, and customer service is regularly slow to respond, often known for not responding at all.
The plugin also doesn't have the best options for customization, so if that's important to you, you may be left feeling underwhelmed.
Tutor LMS Pricing:
Tutor LMS currently offers three packages and a free trial with plenty of features. Paid packages start at an annual fee of $149 for a single license, $199 for five domains, or $299 for unlimited domains. Tutor LMS also offers a lifetime membership which isn't a lot more expensive – $399 for lifetime access on one domain, $599 for five domains, and $999 for unlimited domains.
Get a Free Trial of Tutor LMS Here
---
4 – LearnPress
LearnPress is a hugely popular LMS plugin. It's been installed over 100,000 times on WordPress and comes with an excellent reputation for its user-friendly features.
This makes it an ideal choice for beginners who want to set up their own online course business.
LearnPress has several different features that make creating, selling, and managing your online course simple, and it even has a free version of the software.
One of LearnPress' highlights is that there's a big focus on connectivity with other users. For example, you can send notifications to administrators and students with updates on the course or notify them of new activities. You can also automatically enroll students as soon as they've completed the sign-up process, which allows you to run your business passively.
The free version of LearnPress supports WordPress multisite, which means you can run multiple courses at once over several websites. The free version even allows you to accept payments, which is unusual for an LMS plugin. The plugin also integrates with all WordPress themes, which means that your course will instantly appear on-brand.
LearnPress is one of only a handful of plugins with a free option, and the free version offers an extensive array of features, including allowing you to take payment for the course.
The interface is straightforward to use with absolutely no coding skills needed. However, if you have any issues, LearnPress is known for having no customer service, so if that's important to you, you may want to look at some of the other plugins in this list.
LearnPress Pricing:
As mentioned above, LearnPress is one of the only plugins that offer an extensive free version, but if you want more in-depth options, you will need to pay for addons. The price depends on how many extra features you buy, so it could set you back up to $250.
---
5 – Sensei LMS
Sensei is a reasonably well-known LMS plugin, offering a free version of their software that allows anyone to create a course as long as they don't accept payment for it.
However, if you want to charge for your course, you need to pay a yearly fee to access the premium version of the software. This will then allow you to integrate WooCommerce to accept payments.
Sensei LMS is one of the best LMS plugins for user experience. It integrates seamlessly with other plugins, allowing you to add or remove features whenever necessary.
It also offers various types of content integrations like videos and quizzes to make your course more dynamic.
In addition to this, you have access to excellent analytics and manual test grading.
While Sensei has an excellent reputation for its usability, it has received a reputation for crashing sometimes, and if you need help, customer service is almost non-existent.
Sensei also has a minimal number of WordPress themes that it integrates with, which means you could end up designing your website around the plugin.
Sensei Pricing:
While you can create a free course without a premium membership, you will need to sign up for WooCommerce Paid Memberships if you want to charge for a course. This starts at $129 per year, plus extra for any plugins and extensions that you wish to purchase.
Try Sensei for Free Right here
---
6 – WP Courseware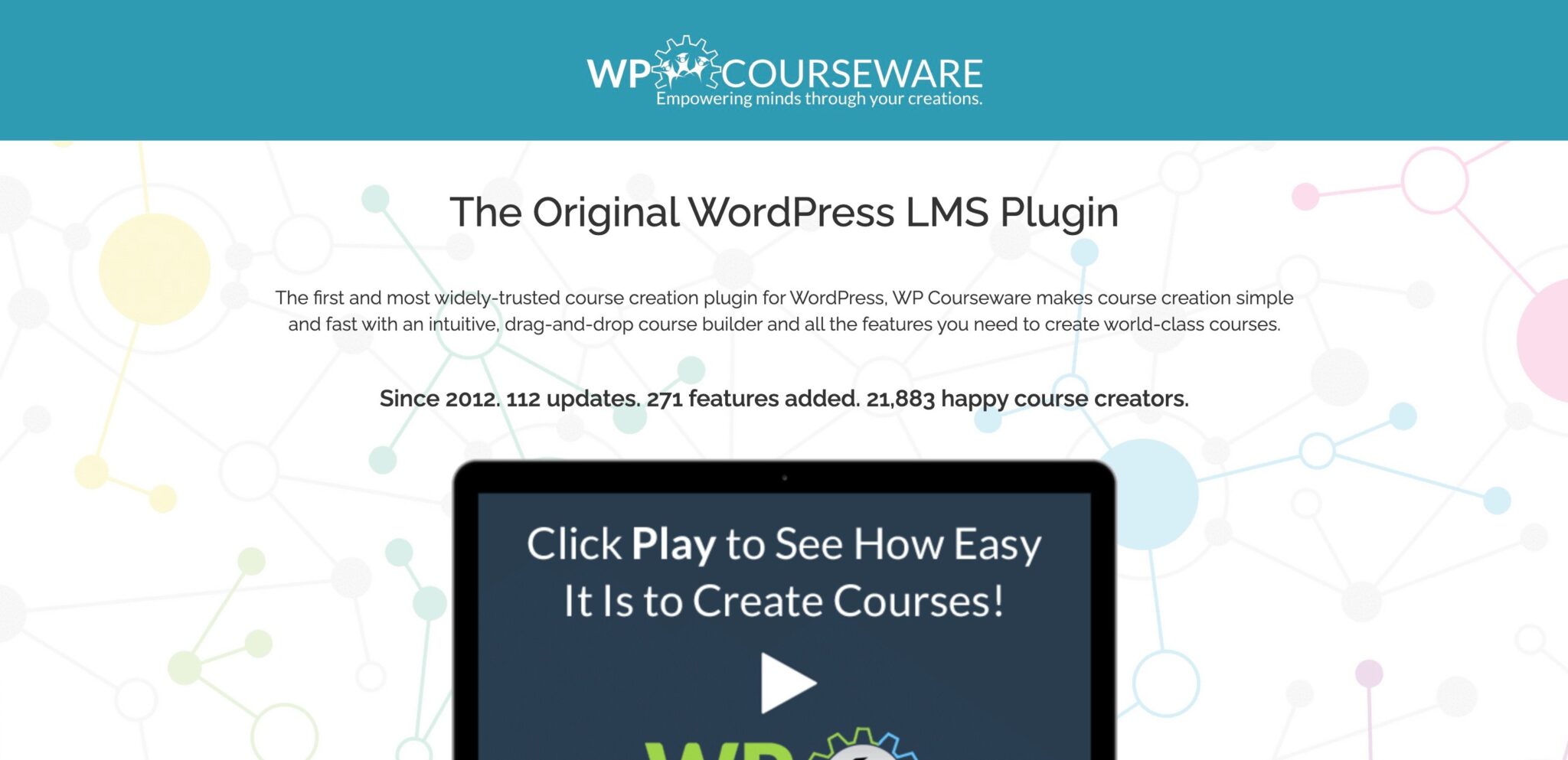 WP Courseware is an affordable WordPress LMS plugin that enables anyone to make a living by designing, managing, and selling online courses.
The plugin features a simple course-building interface that doesn't involve code. You can also create emails and certificates from within the same part of the platform. In addition, WP Courseware allows you to create fun quizzes and assessments and award certificates to your student when they have completed a course.
With WP Courseware, you're able to drip feed the course or release all the lessons at once, and you can set a course expiration date or choose to give lifetime access to your course materials.
WP Courseware has a big focus on staying connected with students. The plugin offers a feature that helps you to integrate plugins that allow you to create your own forum for the course.
As well as staying connected with students, you're able to appoint multiple instructors.
Finally, WP Courseware integrates Paypal and Stripe for either one-off payments or recurring subscriptions.
The easy-to-use course builder, highly customizable course designs, content delivery options, and subscriptions make WP Courseware a powerful LMS system.
Having said that, WP Courseware only offers a limited ability to customize certain aspects of the website, like registration forms and user profiles. In addition, there isn't a built-in forum capacity, but the option is there to integrate it with another plugin.
Users also report that importing course content from another source can take a long time and is unnecessarily complicated.
WP Courseware Pricing:
WP Courseware doesn't have a free trial or free version, so there's no way of trying before you buy.
There are three plans – $249 per year to use all features on up to two websites, $299 for use on up to 10 websites, and $399 for use on up to 25 websites.
Try WP Courseware here
---
7 – MasterStudy LMS
MasterStudy LMS is a relatively new WordPress LMS plugin that installs onto a pre-existing website to add online course functionality to your site. Although it's new to the game, it's one of the best WordPress LMS plugins around. It offers both a free and premium option, allowing you to try before you buy or stay on the free version for life if you are happy with limited functionality.
The course builder uses the standard drag and drop interface, making it easy to create a course in minutes. It has a simple editor that allows you to adjust each element.
There are many ways for students to interact, like mini-quizzes and larger assessment modules. Students can create their own profiles too, which makes it easy for you to keep track of their progress.
The plugin integrates well with WooCommerce, PayPal, Stripe, and others so that you can accept payment and even create a subscription service. Additionally, within the plugin, there is an entire section about monetizing your course, allowing you to create an affiliate program.
While there are many customization options, the software is occasionally prone to crashing. However, MasterStudy LMS has a 24/7 support platform via a ticketing system, so help is available if you need it.
MasterStudy LMS Pricing:
The free version of MasterStudy LMS includes a massive list of features. It allows an unlimited number of courses, lessons, instructors and members, profiles for teachers and students, rating and review systems, and a brilliant support network.
If you decide you need additional features, MasterStudy Pro offers affiliate settings, Zoom and WooCommerce integrations, live streaming, assessments (quizzes are available on the free version), and customer support for multiple instructors. Plans start at $55 for one website.
Try MasterStudy LMS here for free
---
8 – Namaste! LMS
Namaste! LMS flies under the radar in the world of eLearning, and with limited reviews, it's easy to feel put off. However, Namaste! LMS is an easy-to-use plugin with a free version and lots of features.
For example, Namaste offers unlimited courses and lessons and allows you to create flexible access requirements for each course. Namaste also enables you to publish a course overview on your site to attract potential customers.
In addition to Namaste! LMS's features, the platform is easy to integrate with other plugins. You can connect exam platforms like Watu to create assessments, and from its software, you can create assignments to mark yourself.
Namaste! LMS also comes with a powerful analytics tool that offers you detailed statistics. The pro model offers automatic grading, completion badges, and enhanced file protection.
While Namaste LMS offers impressive features, the user interface can be a little complicated, so it's not particularly beginner-friendly. The free version also lacks essential features like the ability to drip feed a course to your students or offer a subscription program.
Namaste! Pricing:
Namaste! LMS offers a basic version of the plugin for free, and you do get a fair amount of features with this, although some of the most valuable tools are behind a paywall. The pro version comes in three packages, depending on the number of domains you need licenses for.
The packages run between $67 and $137 for a one-off fee. While your license won't expire, you only get support and updates included for one year. After this, you have the option to pay 40% of the original price to access updates for another year.
Try Namaste! LMS Free here
---
9 – Memberpress
Memberpress is arguably one of the most user-friendly WordPress membership and LMS plugins on the market. However, it is somewhat limited in what it can do, so it's not an all-in-one solution.
Memberpress can create online course materials, produce content for eLearning and act as a platform for interaction. It enables you to have unlimited members, memberships, and content.
Its content protection tools allow you to control access to content on an individual basis and enable you to drip feed content. Users can interact with each other, download information, and get real-time updates on their progress.
The Memberpress course plugin offers integration with multiple payment gateways and provides built-in transaction management. It even gives you the ability to create an affiliate program for your courses.
The main downside is that there's a limited amount of customization options. Overall, Memberpress works best when used in conjunction with another LMS plugin, such as LearnDash, rather than on its own, despite referring to the product as an LMS plugin.
Memberpress Pricing:
Prices start at $279 for a license for one domain. The second tier is $449 for two sites, and the top tier is $599 for use on up to 5 sites. All tiers are compatible with EasyAffiliate, a plugin that will enable you to create an affiliate program for your courses. Unfortunately, there isn't a free version, but a free 14-day trial is available.
Get a free 14-day trial of Memberpress here
---
10 – Teachable
Teachable isn't an LMS plugin but a dedicated online course hosting platform. However, you can use your own domain, and it's unbelievably user-friendly, which is why we're including it in this list.
Teachable is one of the most popular online course hosting platforms, and its entry-level pricing makes it an excellent option for anyone just starting.
Creating courses is easy thanks to the intuitive user interface. You can upload course files, check analytics, manage payments, and communicate with students all in one place.
Teachable's curriculum editor allows you to organize resources by grouping them into topics. While you can create the course in Teachable, you can't create the content using the software, meaning you will need to create this elsewhere and upload it.
That being said, it's easy to import content, and Teachable is excellent at file handling. The analytics tools are extensive, and should you get stuck; the platform also offers very reliable customer support.
For both the course creator and the student Teachable is a great option. It's very user-friendly and easy to navigate on both sides. The only downside is that customization options are somewhat limited. This could be good for beginners but might be frustrating for more experienced course creators.
One of the most frustrating elements of Teachable is the 30-day payment delay on the free or basic plans, as the software only deposits via PayPal once per month, which may cause you issues with cash flow. That being said, it's an excellent option for anyone looking for a beginner-friendly alternative to the other LMS WordPress plugins.
Teachable Pricing:
Teachable has a basic free version, but the plans start at $39 per month if you choose to pay. A discount is available if you choose to pay annually. The free and basic plans also take a percentage of your sales.
Try Teachable for Free Here
---
11 – Good LMS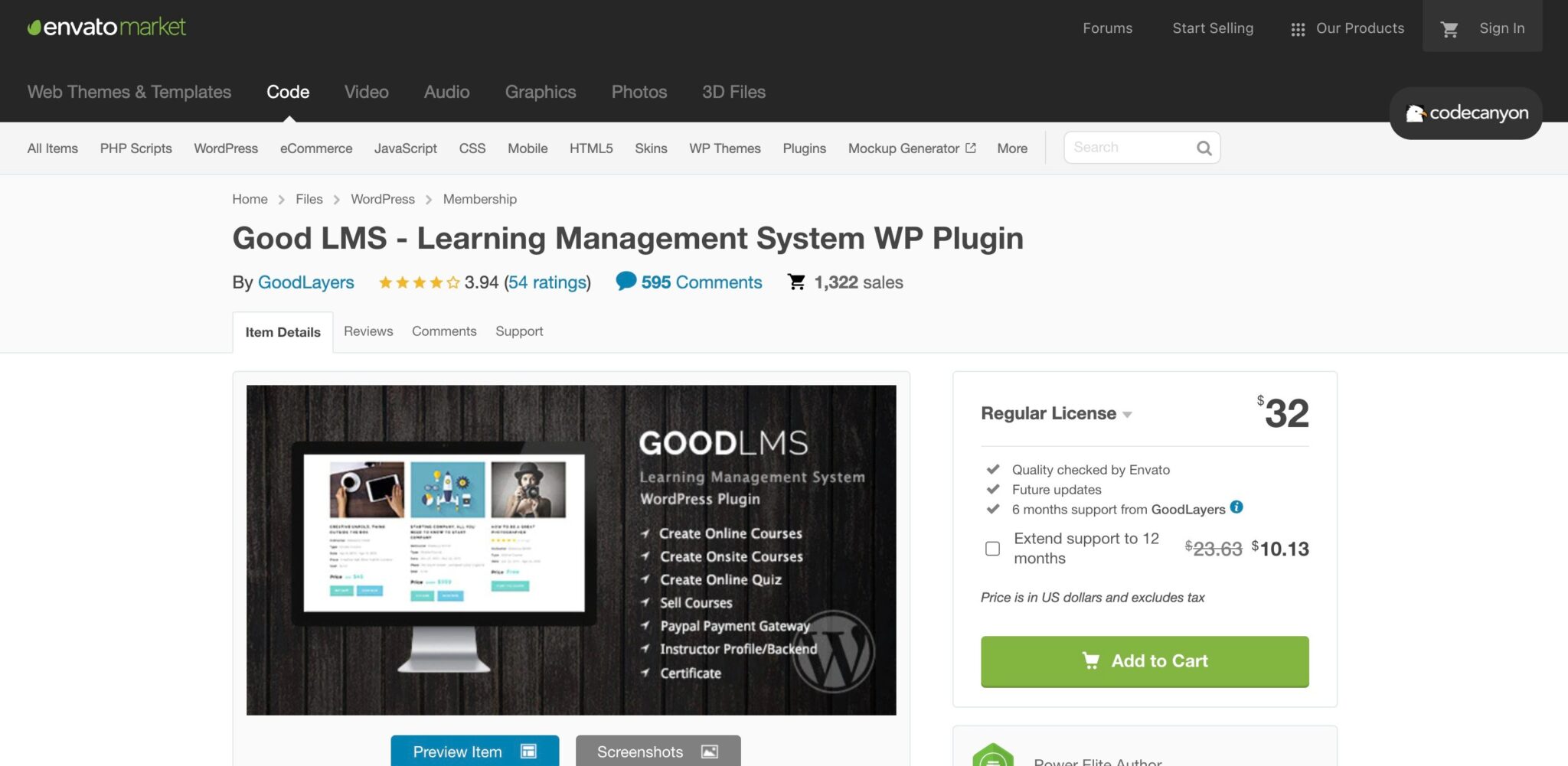 Good LMS is one of the best-rated WordPress LMS plugins on the market. The plugin's powerful software and extensive features make it an excellent choice for people who want to design a course marketplace rather than only offering a single course. Your students will see all of the courses you offer in one space, encouraging them to sign up for additional courses.
Good LMS offers the ability to add badges, certificates, and quizzes to your course with real-time scores and completion rates. You can allow retakes of quizzes and even generate your own feedback.
Good LMS integrates well with popular plugins like PayPal and Stripe. The plugin is extremely generous for such an affordable option too. You're able to create unlimited online courses with unlimited amounts of detail, subsections, and chapters.
Sadly Good LMS isn't faultless.
Users have complained about a slow loading speed and a complicated checkout process which could potentially see you losing customers who are increasingly impatient in the days of instant page loading. Furthermore, should you have any issues, you are unlikely to be able to contact customer support for several days, if they reply at all.
Good LMS Pricing:
While Good LMS offers some extensive features, it's one of the more affordable WordPress LMS plugins. A permanent license costs $32, including automatic software updates and customer support for six months. If you would like to extend customer support and updates for another six months, it will cost an extra $10, but even then, it's one of the most affordable options.
Try Good LMS Here
The Verdict: The Best WordPress LMS Plugins (Free and Paid)
There are many WordPress LMS plugins on the market, and even after reading hundreds of reviews, it can still feel like a minefield. Ultimately, the best LMS plugin for you will depend on the features that you feel are most important and the budget you have available.
The Best WordPress LMS Plugin: LearnDash
LearnDash is undoubtedly one of the best WordPress LMS plugins money can buy.
The comprehensive course creation tools, excellent customer support, and incredible customization options allow you to create a dynamic course that will keep your audience coming back, even if you have minimal technical skills.
In addition, the one-off purchase keeps costs down, and even with paying to extend your customer support and updates, it's still a very affordable piece of software.
Try LearnDash Here
The Best FREE WordPress LMS Plugin: LearnPress
In terms of free options, one of the best WordPress LMS plugins on the market is LearnPress. The extensive customization options and features on the free version of the software are impressive. It's also very rare to create paid courses using free software.
If you're ok with limited features and potentially needing to pay for other plugins, this is a great option to start an online course on a budget. In addition, it gives you the chance to test if an online course business is something you want to pursue without having to invest any money.
While many plugins are very similar, each platform offers something slightly different that will appeal to some people and frustrate others.
When thinking about which learning management system plugin to choose, it's important to think about what you really need. First, have a rough idea of what you want your course to look like and how it should behave. Think about your priorities and budget, then use this to make an informed decision.
If you're still undecided, check out our list of the best online course platforms. There are loads of great free and paid options to choose from, and they're all code-free and beginner-friendly.