Want to know the best skill to learn to make money?
Well, in this article I'm sharing the best high income skills for entrepreneurs, freelancers, or virtual assistants.
Learn any of these skills and you will have a prosperous career ahead of you.
I will also point you in the right direction to learn some of these skills, so that you can get started right away.
Let's dive in.
Best Skill to Learn to Make MOney: 17 Top Choices
If you want to increase your salary or become your own boss, then these contenders for the best skill to learn to make money should help.
Learning any of these skills will get you on track to a higher earning potential.
1. Copywriting
Copywriting is the art of sales and persuasion using the written word. It's an essential component of any successful business.
This high-demand skill is required for businesses to communicate the value of their products and services.
Without it, selling can only be done verbally, which isn't ideal in today's economy.
Making money as a copywriter can be achieved in several ways.
As a freelancer
Within a marketing team for a company
Or with your own business
The average copywriter's salary in the US is around $69,000 annually.
And freelancers can make anything from $15 to $160 per hour.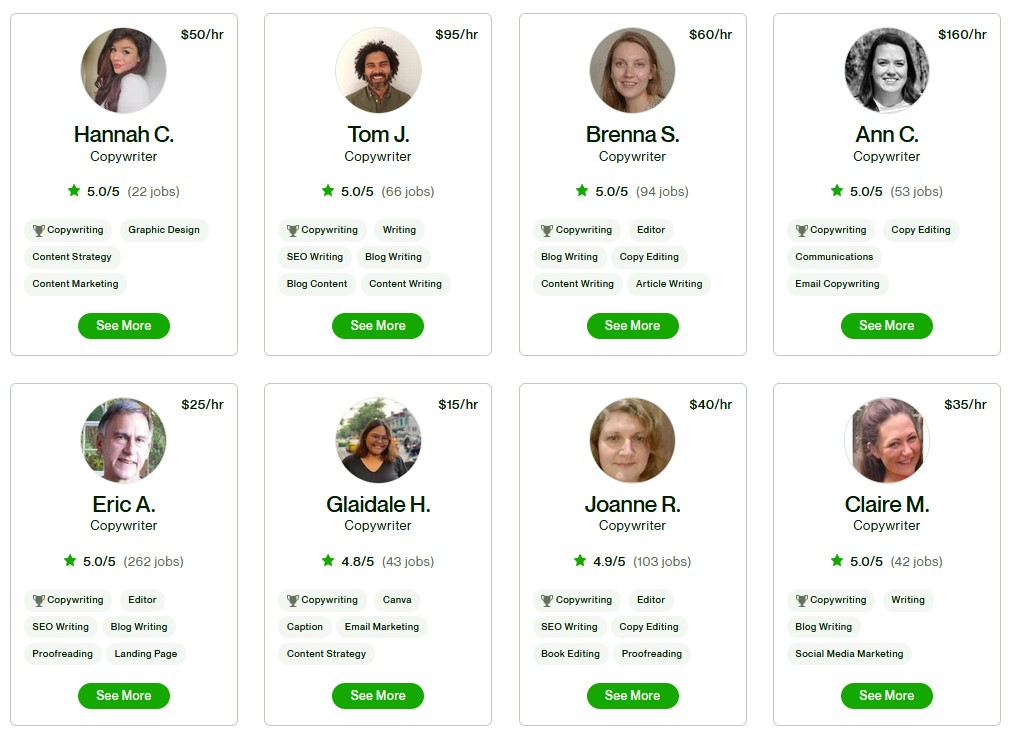 If you want to make money as a copywriter, first you'll need to learn the basics, which can be found on YouTube or through reading the best copywriting books.
You could also learn everything you need to know through an online course.
Udemy has some excellent courses on copywriting.
Then you'll want to offer your services to business owners and get some testimonials.
A good place to find work is Upwork or Fiverr, but you'll be starting with a blank profile, so start with lower prices and increase your rates as you gain experience.
2. Web Development and Web Design
Building websites for businesses is a common way for people to make money online.
It's also one of the easier skills to learn to start an online business. That's because technology has come a long way in this industry.
Many people get into web development by watching tutorials on YouTube, then building sites for their friends or relatives.
Other ways to make money as a web designer and developer are through freelancing sites such as Upwork or Fiverr.
If you want to work for a company, you might need formal training or a certification, depending on where you live. Otherwise, you'll need a decent portfolio and experience to land a high-paying job.
Web developers can expect to make around $77,200 on average working within an agency.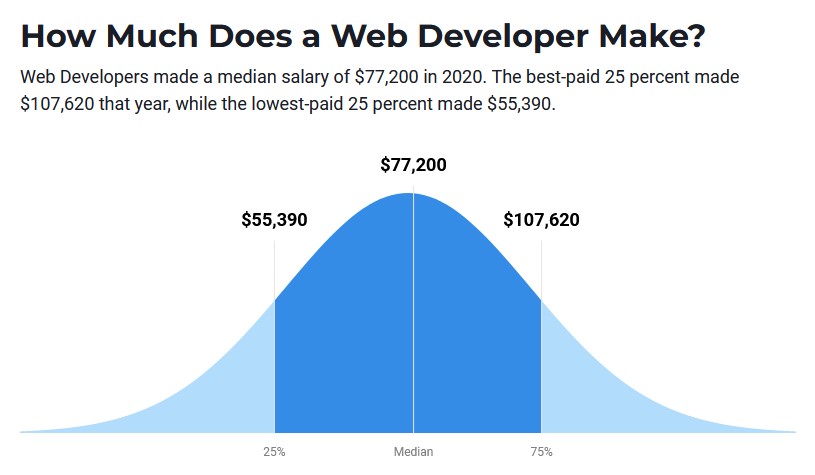 And freelance web developers are making anywhere between $45 to $120+.
To get started in this field, watch some tutorials or take an online course. The best way to learn with web design and development is through practice.
Build your own sites or build up a portfolio for local businesses.
3. Branding
Branding is the creative art of helping a business stand out from the crowd.
It involves anything from simple logo design to complete business identity, messaging, positioning, company values, and tone.
Successful brand specialists are experts at helping businesses connect with their audience on a deep level.
As a brand manager within a company, the average salary is over $100,000.
Depending on your level of experience or area of expertise, your income will vary if you pursue this best skill to learn to make money.
If you want to become a freelance branding specialist, Upwork users are charging around $50 to $175 per hour.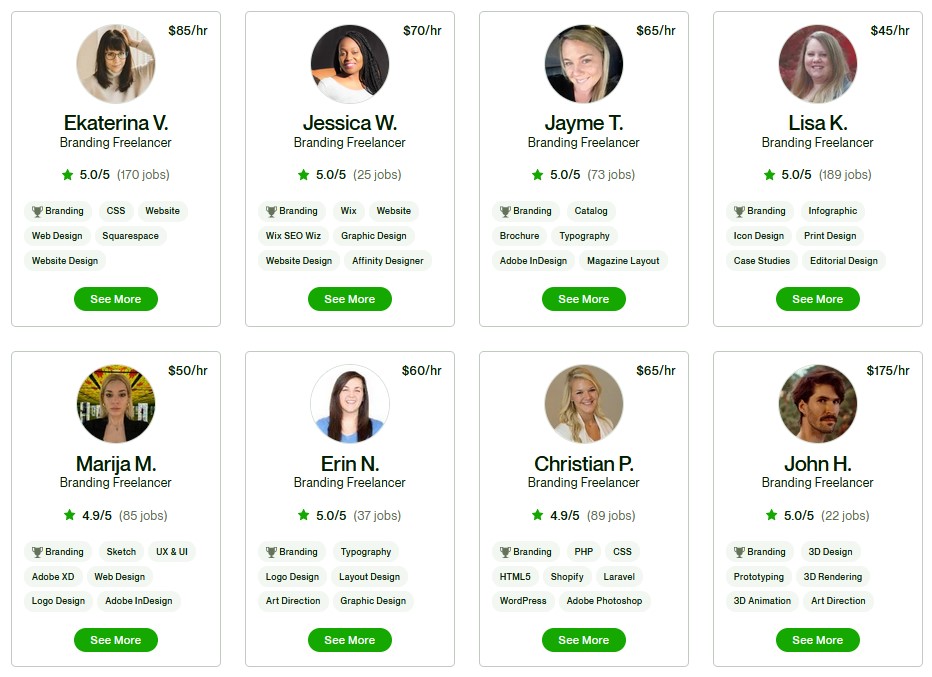 To get involved with this industry as a freelancer or entrepreneur, start by learning the fundamentals.
This Skillshare course is a good place to start.
4. Email Marketing
An email marketer is someone who helps businesses build and grow email subscribers and nurture leads.
They will create email campaigns, send newsletters, and work with marketing automation software.
This high valued skill is said to bring in the most ROI in any business. The common phrase in the marketing industry is that "the money is in the list." In fact, the average ROI with email marketing is $36 for every $1 spent.
Email marketing specialists make an average of $76,734 annually.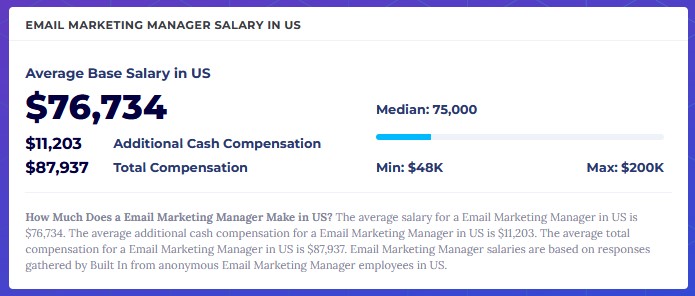 And freelancers are making anything from $45 to $125 per hour.
Want to become an email marketing specialist?
Many companies will prefer a Bachelor's degree, but experience and a deep understanding of the technology involved will go a long way.
There are tons of blogs and YouTube channels teaching this marketing skill. If you want to study this best skill to learn to make money, check out Terry Dean's course.
Another great way to learn email marketing is to create your own affiliate marketing funnel. This type of business will give you firsthand experience at growing your own email list.
5. Search Engine Optimization (SEO)
SEO is one of the best skills to learn to make money online.
Thanks to the nature of search engines, once a website is optimized well using blog content, traffic will grow organically.
Businesses recognize the value of optimizing content for search engines more than ever.
So, whether you're working within a marketing team, freelancing, or starting your own niche site, SEO is the best skill to learn to make money.
An SEO specialist has an average salary of $78,411.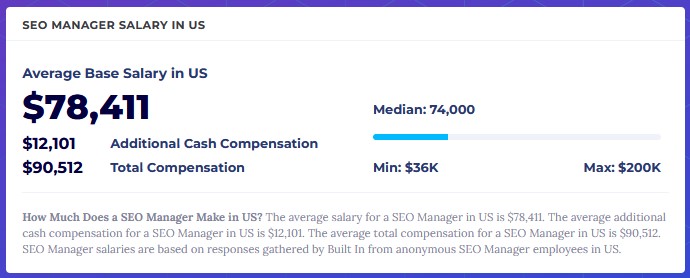 And freelance SEO experts on Upwork are charging up to $150.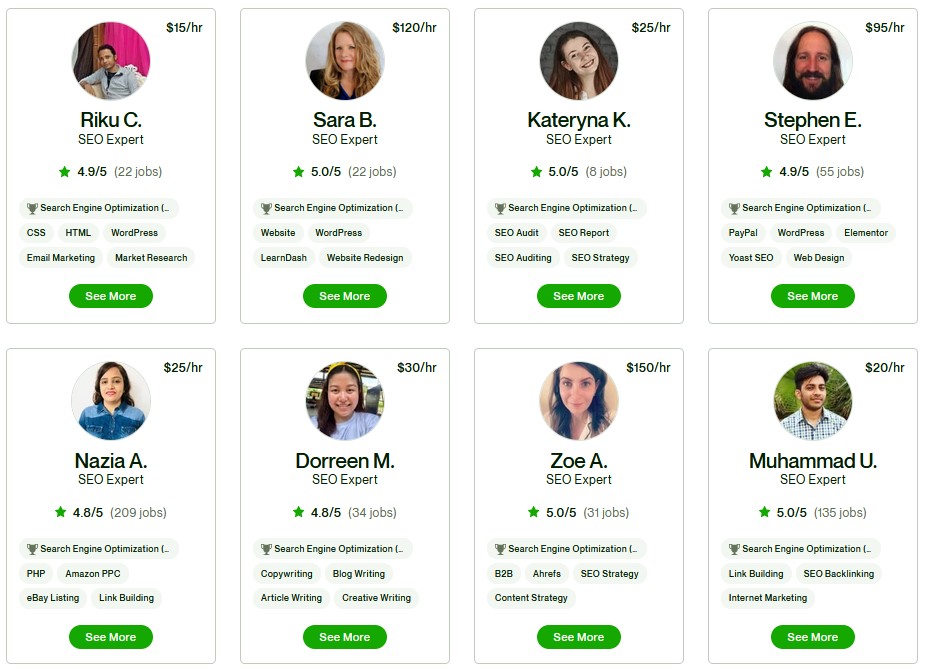 People can make money with SEO in several ways:
A freelance specialist
A consultant
Part of a digital marketing team
By starting your own blog
Learning about SEO isn't as hard as it might seem. The best SEO blogs will be a great starting point.
And if you're serious about taking your SEO skills to the next level, The Authority Site System course is one of the best courses available.
6. Affiliate Marketing
Affiliate marketing is where a company pays affiliates a commission when they promote the company's products or services.
Anyone can become an affiliate marketer and start promoting products.
Affiliate programs such as Amazon offer pretty low commission rates at around 3%, whereas Clickbank product commission rates average around 75%.
Another way of making money in this industry is by becoming an affiliate marketing manager.
This is where a person within a company manages the relationship between the company and their affiliates.
An affiliate marketing manager makes an average salary of $68,942, according to climbtheladder.com.

And these freelance affiliates on Upwork are making an average of $91 hourly.
Like other skills on this list, affiliate marketing can be learned online through blogs (like Niche Pursuits), YouTube tutorials, and courses.
Other than the Authority Site System I mentioned above, there are courses on Udemy that will teach you how to get started so you can start making your own commissions.
7. Content Marketing
The purpose of content marketing is to influence the market to buy a company's products or services though content.
Where ads ask people to take immediate action, content marketing has a more subtle approach.
A content marketer will educate the market about the problems they face, usually with long form content, or blog posts. It is a high value skill because of its effectiveness and because of the costs in advertising.
A content marketing manager makes an average of $82,691 per year.
Most content marketers on Upwork are charging between $60 and $100 plus per hour.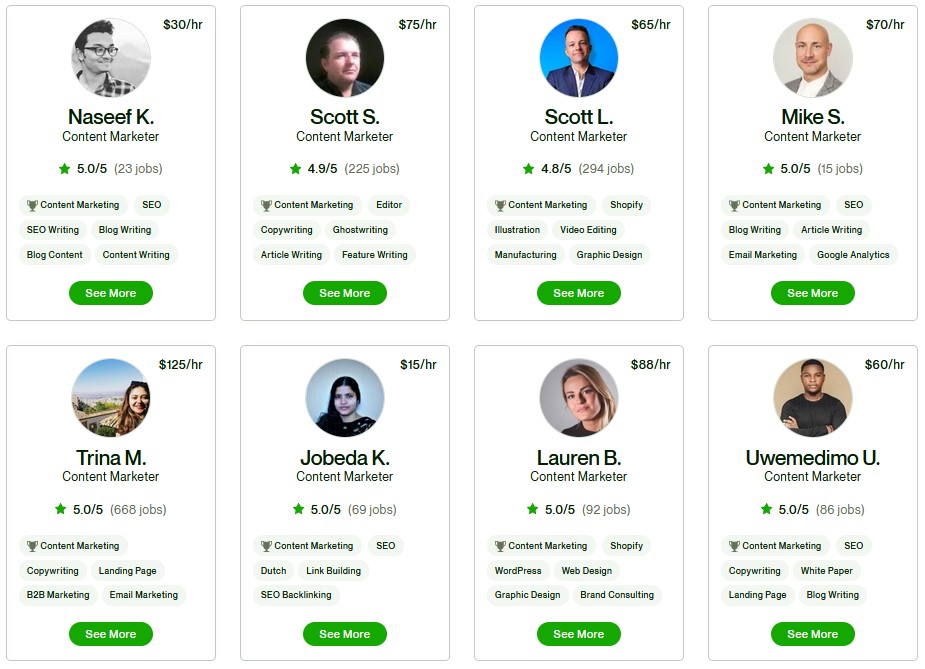 If you wanted to make money through content marketing as an entrepreneur, the best thing to do is start your own blog.
Then, you'll want to learn how content marketing works. These content marketing blogs will be helpful and an online course will dive in deeper.
Here is an excellent content marketing course on Udemy. It has over 18,000 students and a 4.6 star rating.
8. Consulting and Coaching
A consultant helps professionals reach success in a particular area of their business, working with them to solve problems, and providing practical solutions.
Coaches are similar, but have a more hands off approach, asking questions that provoke an alternative perspective around their current situation.
Both are highly valuable skills to learn because most business owners struggle to see their own internal limitations.
Instead of spending years struggling through self-imposed boundaries, hiring a coach or consultant can help people make rapid breakthroughs in their careers or personal lives.
From my research from multiple sources, I found the typical salary for a consultant within a consultancy firm was anything between $79,000 and $113,000.
And freelance consultants on Upwork are charging between $50 to $235 per hour.
How you earn as a consultant or coach will depend on a variety of factors, including industry, experience, and qualifications.
If you want to become a coach or consultant, there are courses you can take that teach you everything you need to know.
Or you could look into becoming certified with a degree if you want to work for a company.
9. Video Production and Editing
Businesses and entrepreneurs are using the power of video to engage their audiences more than ever before.
So the need for video production and editing will only keep rising in demand.
That also means that experts in this field can earn good money either within a company or agency or for yourself as a freelancer.
The average salary for a video editor in the US is around $53,000.

Freelancers on Upwork are making between $20 and $50 per hour.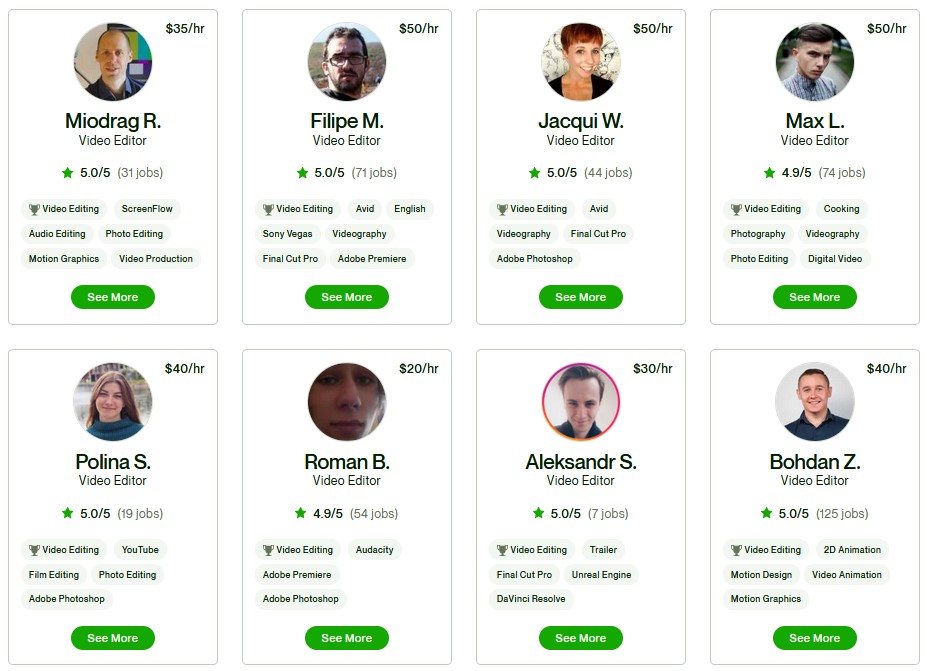 To become a video editor, you'll need to learn how to use software tools such as Adobe Premier Pro or Final Cut Pro on Macs.
Some editors also learn how to create special effects to make their creations really stand out.
Luckily, there are dozens of YouTubers teaching how to use these tools so that you can become an editor yourself.
To dive into this skill further, it's highly recommended to enroll in an online course where the instructor will guide you step by step.
Learn More about Video Editing
There are courses available on Skillshare, CreativeLive, and Udemy.
This Skillshare course by Ali Abdaal covers Video Editing with Final Cut Pro X.
And Adobe Premiere users will get a lot of value out of this Udemy course by Phil Ebiner.
10. Project Management
A project manager plans and manages the completion of projects inside a company.
They are skilled in pulling teams together and making use of each team member's strengths to drive the project to the end.
It's a highly skilled role that many companies can't function effectively without.
The average salary for a project manager is $93,041 annually, depending on their experience and qualifications.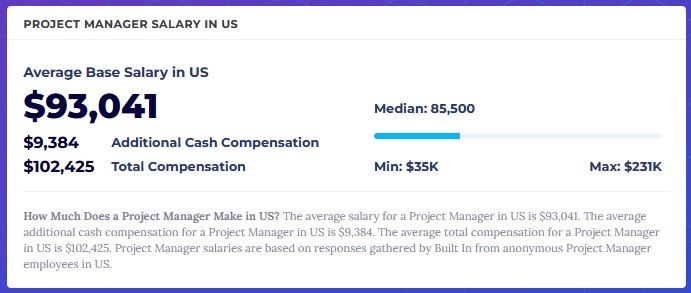 Upwork freelancers are charging anywhere between $15 and $75 per hour.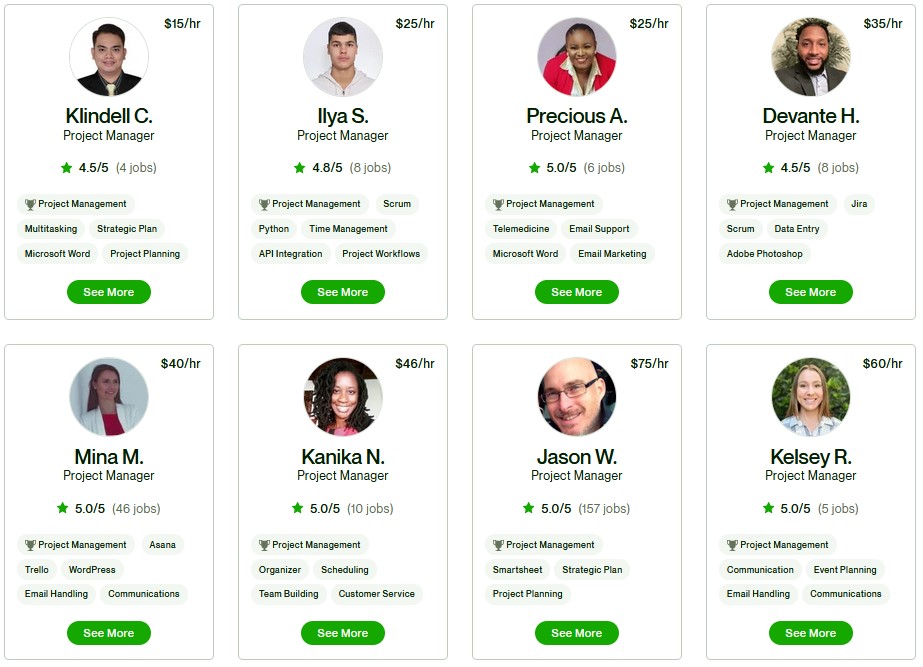 There are many skills involved in project management.
Methodologies such as Agile, Waterfall, or Scrum
Knowledge of project management software
Effective communication
Negotiation
Leadership
Problem solving
And more
If you want to become a project manager, the fastest way to learn would be to work alongside a project manager as part of a team.
You could also teach yourself the skills of a project manager if you want to stand out and take on more responsibility within a team.
This course would be an excellent place to start.
11. App Development
App development (or software engineering) is a great candidate for the best skill to learn that makes money. It has only grown in-demand since the evolution of mobile devices.
People in this role help companies develop apps for their users. Some apps supplement the company's products or services, where others are the product itself.
There are applications for almost everything and almost all businesses use them:
Productivity apps (ToDoist)
Meditation apps (Headspace)
Social networking apps (Twitter)
TV streaming services (Netflix)
eCommerce platforms (Amazon)
The average salary for an Android Developer is $107,421, depending on your level of experience.
App developers on Upwork charge around $20 – $50 per hour.
This is one of those skills where you either have the talent or you don't. Obviously, we can all learn new skills, but software engineering requires a certain type of mind and thought process.
If that sounds like you, then there are tons of free tutorials online and some very extensive online courses.
For instance, this iOS & Swift course has over 290,000 enrolled students and over 60 hours' worth of video content.
12. Machine Learning
A machine learning engineer is one of the highest paying jobs in today's technology industry. If you want to know the best skill to learn to make money, you should really consider this one.
It involves researching and building algorithms, self-learning AI systems, and predictive models.
The value and demand of this skill has become increasingly popular in recent years because of the creation of content generation tools using AI.
Machine learning engineers make an average annual salary of $145,296, depending on experience and qualifications.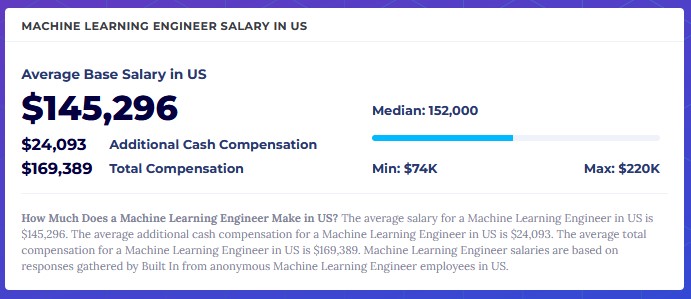 Freelancers on Upwork are making around $50 to $200 per hour.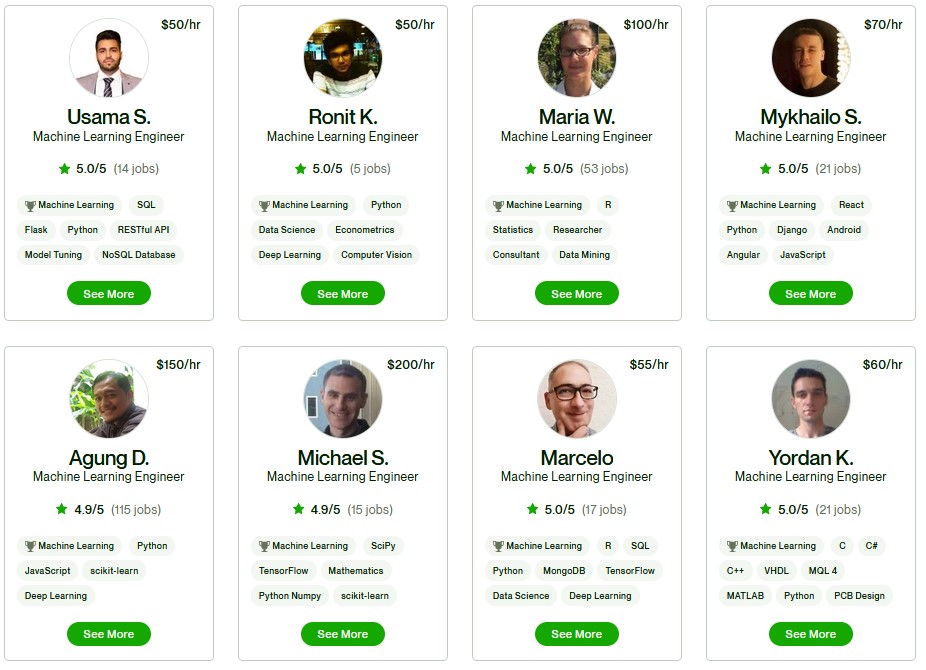 Skills and technologies required to become a machine learning engineer include:
Python
Machine Learning models
Reinforcement Learning
NLP and Deep Learning
If this sounds like your kind of thing, then you'll be glad to know there's a wealth of knowledge available online.
YouTube has tons of tutorials and there are courses that will teach you everything you need to know to get started.
13. Graphic Design
Graphics are needed for everything these days, including:
Websites
Social media
Ads
Products
YouTube
And the list goes on.
Graphics help businesses present information, better connect with their audiences, and sell more products.
So graphic designers will continue to be in demand for the foreseeable future.
If you wanted to work for a graphic design agency, you could expect to be paid an average of $51,424 as of June 28, 2022, according to Salary.com.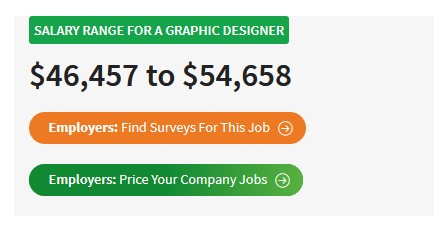 Or freelance graphic designers are fetching an hourly rate of up to $50.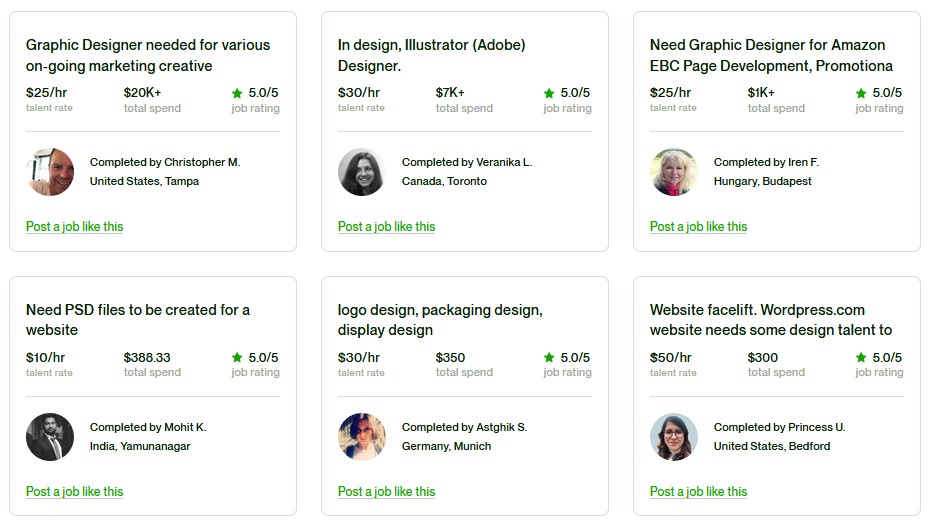 The great thing about graphic design is how much choice you have to make money with the skill.
Apart from working for an agency or as a freelancer, here are a few other ways:
Create and sell templates
Design and sell

print on demand

products, such as t-shirts or mugs
Sell your own design packs on marketplace websites
There are also endless tutorials on the internet for you to learn graphic design.
And this graphic design course on Udemy has over 28.5 hours of course content and over 157,000 enrolled students.
14. Virtual Assistant
Virtual assistants help digital-based business owners with everything and anything from fixing WordPress issues, data entry, and list building, to proofreading, coding, and social media posting.
Usually on the lower end of earning potential, a virtual assistant is a candidate for the best skill to learn to make money for beginners.
There are tons of places you can offer your services as a virtual assistant.
Upwork
Fiverr
Freelancer
oDesk
And plenty of others.
Virtual assistants on Upwork are making around $11 to $75 per hour.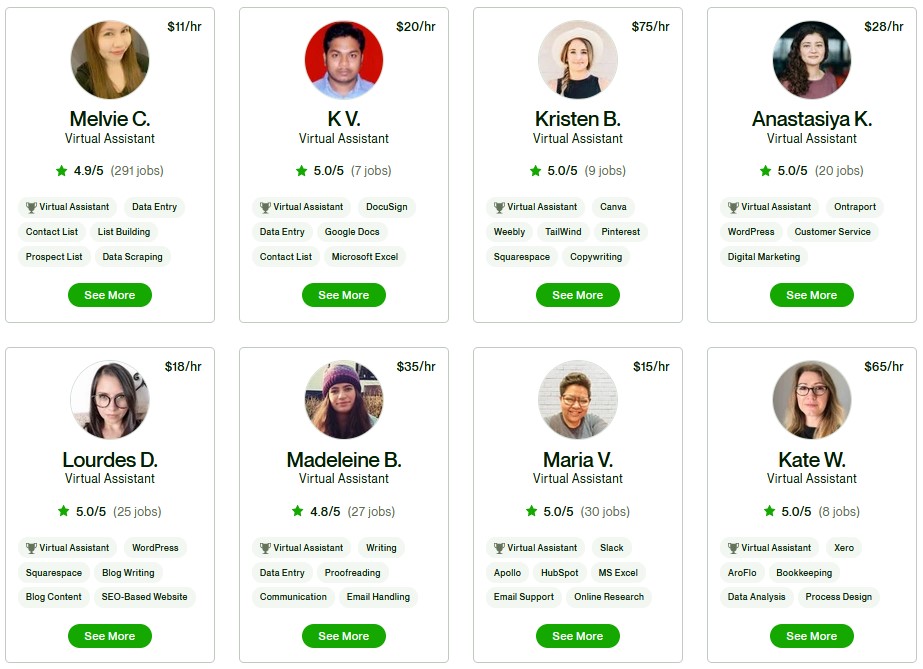 If you want to make money as a virtual assistant, my recommendation would be to learn the basics of web development and marketing.
Start by getting familiar with WordPress, installing plugins, and setting up the most popular WordPress themes.
Then learn what you can about blogging and niche websites, SEO, and email marketing.
You could start making money as a virtual assistant, then offer more specialist jobs when you gain the experience.
15. Social Media Marketing
Social media marketing is just one of many effective ways to market a business.
And lots of business owners don't have the time to do it themselves, so they hire social media marketers to mange everything for them.
Tasks involved include:
Posting valuable content on social channels
Interacting with the audience and other accounts
Defining and hitting engagement goals
Running ads
Social video marketing
Driving traffic to a website, blog, or products
A social media marketing manager's salary pays an average of $71,177 in the US, according to BuiltIn.com.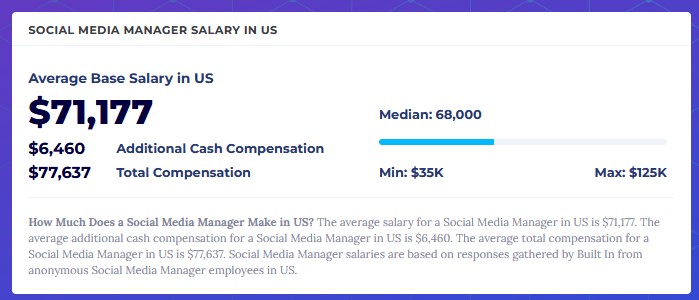 And some freelancers on Upwork charge from $11 to $73 per hour.
This is one of those skills you can learn quickly by helping a business with their social media growth.
Then, you can leverage the experience to sell your services to other businesses.
Of course, you have to start somewhere to make money as a social media marketer and YouTube has a lot of useful resources.
To get the most amount of knowledge in one place, an online course is a great option. For example, this Skillshare course has over 8 hours' worth of lessons on mastering social media marketing.
16. Writer
Being a writer in today's world has never provided so many opportunities.
From writing articles for a blog and creating copy for ads on social media, to authoring a book and writing technical papers, there's something for everyone.
And businesses recognize writing as a valuable skill and will pay good money for it.
The amount you get paid as a writer really depends on the type of writer you become, your level of experience, and the qualifications you have.
Overall, the average writer's salary in the US is $61,493.

And if you want to become a freelance writer, the standard rate is between $40 and $125 per hour.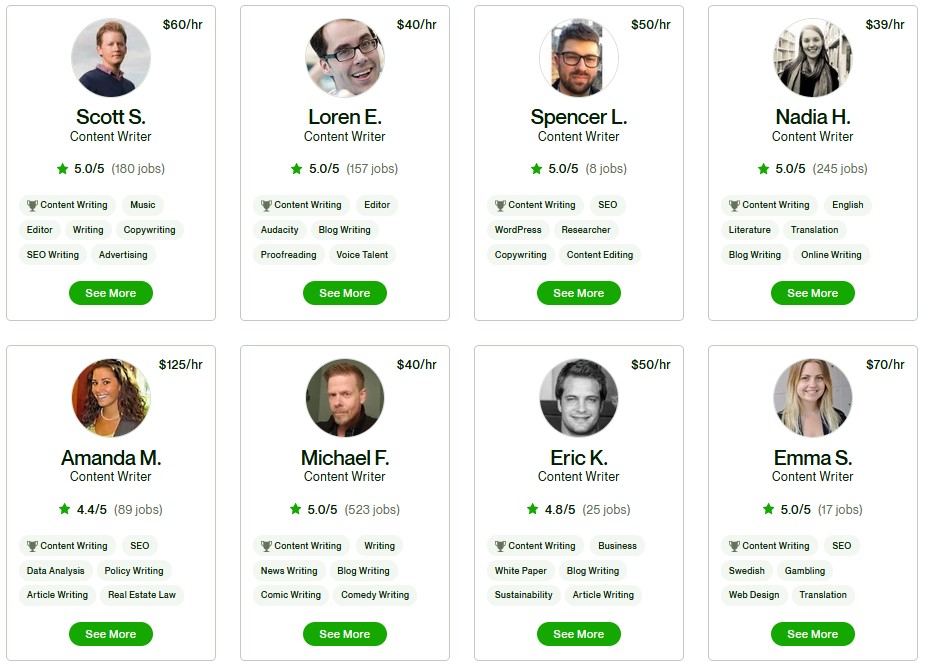 More specific pay for more specialized writers is:
Book writers = $65 per hour
SEO writers = $40 per hour
Technical writers = $57 per hour
Copywriters = $60 per hour
The easiest way to start a writing career is to start your own blog and publish a batch of articles.
Find a small niche that solves a specific problem and then apply for some jobs on a jobs board, such as ProBlogger.
You can use your own blog as your portfolio. Even better, learn SEO basics.
You can learn a ton of best writing practices through freelance blogs, YouTube videos, and courses on Udemy.
Writing with Flair is one of the highest rated on the platform.
17. Blockchain
A blockchain developer is a great option as the best skill to learn to make money.
Thanks to the popularity in crypto, businesses and individuals are getting more involved in this form of technology.
A blockchain is a decentralized system where a record of transactions made using cryptocurrencies is maintained in a peer-to-peer network.
It's like the way torrents work when downloading a file. Only parts of a file are transferred between computers and are linked using peer-to-peer technology.
Blockchain systems work in a similar way and don't store data in a centralized network, increasing its security.
Because of the complexity involved, a blockchain developers' annual salary is $97,886 on average.

Freelance blockchain developers are charging an hourly rate of $35 to $150.
If you wanted to become a blockchain developer, your role would be to create systems that record blockchain transactions securely and to prevent hacks.
Other tasks include:
Developing application features
Designing interfaces
Maintaining client and server-side technologies
Thankfully, there are many ways to learn about blockchain and cryptocurrencies.
For a complete A – Z guide, this Udemy course has everything you need to get started.
There are also plenty of free tutorials and courses on YouTube.
Conclusion – What's The Best Skill to Learn to Make Money?
As you can see, there's no one best skill to learn to make money. Instead, there are many skills that could help improve your income.
Choosing which skill you learn will depend on what you're interested in, your level of technical knowledge, and formal training.
If you're starting completely from scratch and you have the confidence, then you could decide based on how much you can make.
Make sure you check out my other article on the best Udemy courses, because this might give you more ideas for increasing your earning potential.