When it comes to marketing your business online, having great-looking high converting landing pages is a must. The right landing page software will help you grow your business by enabling you to capture your visitor's information and get them into your sales funnel.
Choosing the best landing page builder for your business is essential, as it will enable you to create beautiful pages effortlessly, without the need to write a single line of code.
There are loads of great landing page builders to choose from, but some are better than others. So, depending on the type of business you're running, one will suit you better than another.
To help you decide which landing page builder is best for you, we've selected sixteen of the best landing page builders available right now.
We'll walk you through the main features of each one to show you how easy it is to use, who it's best for, and we'll outline the pros and cons for each one.
Which Is The Best Landing Page Builder?
Whether you're a solo blogger or a huge global brand, landing pages can help you grow your business. Although there's a cost involved, investing in the best landing page builders will help you capture more leads and turn them into paying customers.
So it's definitely worth the investment.
Each of these tools has its pros and cons, and some come packaged with a range of other valuable features. That's why it's essential to think about your business needs before making a decision.
Leadpages
Leadpages is a powerful landing page builder that allows you to create a professional-looking landing page, even with limited technical skills.
One of Leadpages' most appealing features is that you don't need to code to create a landing page. Instead, you choose one of the ready-to-use templates, add your content, and your landing page is ready.
Leadpages has a whole host of features that go further than simply helping you to create a landing page.
For example, the plugin offers easy-to-read analytics thanks to its integration with Google Analytics. It also suggests ways to optimize your page to improve performance.
You can even run A/B split tests with multiple landing pages to see which one performs the best.
Leadpages promises SEO-friendly pages, free hosting, device-specific previews, SSL encryption, GDPR compliance, and a reliable website.
Leadpages offer a free 14-day trial, and after this, you can upgrade to a paid plan which starts from $27 per month.
Try Leadpages for Free Here
GetResponse
GetResponse offers a landing page builder, but it's so much more than that. Billing itself as the complete online marketing software, the email and online campaign marketing platform offers every tool that you could need in a single platform.
You get a website builder, landing page creator, email marketing, automation tools, plus much more. For instance, it also includes web push notifications, SMS marketing, and around 20 other valuable features.
Their landing page creator has a simple-to-use interface with lots of templates to choose from to help you get set up in record time. To edit the templates, double-click on what you want to change and make the relevant changes — no coding skills required.
With all of these features on offer, you would expect GetResponse to be one of the more premium landing page builders and outpricing many customers, but that's not the case.
GetResponse offers a free forever plan which allows you to create one landing page with basic features. However, if you decide you need more features or landing pages, pricing starts at just $15 per month, and you get a lot more functionality.
Try GetResponse for Free Here
Unbounce
Unbounce is a dedicated website and landing page builder committed to making website building easy for everyone.
The landing page creation tool has a drag-and-drop editor, which allows you to create and publish your website without needing to pay a developer or having even the most basic coding skills.
One of Unbounce's most significant selling points is how its platform can help you get more conversions from your traffic, using its tool called Click Intelligence.
Like most other landing page builders, Unbounce has a set of templates that you can use to create a landing page in minimal time. But what stands out is that these templates are beautiful, so you don't have to do a lot of work to make your site look professional.
Unbounce's landing pages also intensely focus on mobile users and are built with mobile traffic in mind. Although, if you do want to make changes to the mobile template, it can be challenging for new users to navigate their software.
Unbounce does have a free version of the software, but it's minimal.
In addition, their packages are focused on how many conversions your website receives.
So if your website does well on social media, you may pay extra for your site, even if their Click Intelligence software wasn't the reason for the conversions.
Pricing: The free version allows you to use their software to change your site five times per day, and you're allowed one profile. After that, the cheapest package is $49 a month, which is a huge jump if you're getting starting.
Try Unbounce for Free Here
Instapage
Instapage is a dedicated landing page builder with lots of tools that specifically focus on creating the best landing page that you possibly can.
It has a big focus on making your pages SEO-friendly before you even publish any content. In addition, Instapage promises reliable and responsive landing pages with minimal load time to improve your ranking on Google and ensure that you don't lose customers before they get to your website.
Instapage offers collaborative working, which allows several team members to work on the same site.
This means that if you're working for a client, they can access the landing page as you're building it and leave notes for improvement. It also offers excellent analytics like detailed heat maps to help you see where you're losing traffic and learn from it.
You even have access to A/B testing to help create the best landing page possible.
Now for the catch.
Instapage is one of the most expensive landing page builders on the market. The most affordable plan is $299 per month or $199 per month if you commit for a year.
However, it offers some of the most detailed and high-quality tools on the market, but the price pushes it towards companies rather than individuals.
Try Instapage for Free Here
HubSpot Landing Pages
HubSpot has long been a big name in the internet and digital marketing space, offering SEO, web management, and marketing education. However, many people don't realize that they also provide tools within their Marketing Hub to help you create your landing pages.
Hubspot has a free forever model that helps you create a custom landing page using their templates and drag and drop software. On top of this, they give you a considerable amount of free tools to manage it once you've launched.
Their free included tools are one of the best free things about Hubspot.
Without paying a penny, you have access to:
Forms
Ticketing
Email integrations
Free live chat
Team email address
And the ability to offer your customers quotes
However, there's a catch.
With Hubspot, they only offer a lighter version of all of these features, so you're limited to how much you can use them and what they can do. However, their starter package is very reasonable compared to others on this list.
For around $50 per month, the starter membership offers you a CMS hub, two paid users to the service hub, access to the sales hub, and 1000 marketing contacts.
Try HubSpot Landing Pages for Free Here
Landingi
Landingi is a dedicated landing page builder with a host of supporting features like a pop-up builder and detailed page insights that suggest improving your conversions.
It's a platform for non-programmers.
Like most other landing page builders, Landingi offers a variety of landing page templates.
The real difference is that there are over 200 templates that are responsive, intuitive, modern, and easily customizable.
Unlike other landing page builders, Landingi is much more flexible. If you don't want to use one of their templates, you don't have to. You're free to import your own landing page file, or you can create your own beautiful landing page from scratch using their simple interface.
Landingi doesn't have a free version of the software, but compared to many other landing page builders, it's much more affordable, with pricing plans starting at just $29 per month, and there's even a 14-day free trial.
Check out Landingi Here
ClickFunnels
Clickfunnels is one of the most well-known names in the industry, with its main aim being to create leads and sales funnels that boost traffic and ensure a high conversion rate.
It does this by helping you to create a "lead magnet page." This is a landing page created with their software to maximize conversions.
ClickFunnels allows you to build landing pages as well as an entire website. In addition, it provides a content management system, acts as a web host, offers a shopping cart, email autoresponder, detailed web analytics, and a whole host of other marketing tools.
Basically, as well as building an outstanding landing page optimized for high conversions, you also get a web builder, hosting platform, and management software.
In addition to being a powerful piece of software, Clickfunnels claims to be very user-friendly.
The platform walks you through the process of creating a landing page with just a few clicks. Clickfunnels makes it easy to integrate payment options, and it even offers to send automatic follow-up emails to help increase sales.
ClickFunnels seem to go out of their way to hide pricing information. For example, there's a heavily advertised 14-day free trial, but it's not until you've signed up that you discover the cost.
Good software doesn't come cheap, and neither does ClickFunnels.
However, the most affordable plan starts at $97 per month and goes up to $297 per month, so it does seem to be targeted towards larger companies or more established individuals.
Try ClickFunnels free for 14-days here
ActiveCampaign
ActiveCampaign is another full-service provider that offers a powerful landing page builder as part of its service. The workflow focuses on creating a website that drives sales and a system that helps convert any warm leads into sales through their "reach, nurture, convert and grow" mantra.
The landing page builder offers a drag and drop interface with various widgets in the sidebar. These allow you to add text, buttons, interactive elements, images, videos without knowing how to code.
The landing page builder has many templates and allows you to build your email list in the same piece of software.
ActiveCampaign offers a 14-day free trial with instant set-up to allow you to make the most of your free trial. After this, packages are reasonable and billed, dependent on how many contacts you have.
If you have 500 contacts or less, the most affordable membership tier is just $6.75 per month (paid yearly). This price goes up to $229 per month for the highest tier available for under 500 contacts.
Try ActiveCampaign for Free here
Wishpond
Wishpond is a lead generation and marketing automation tool whose roots lie in creating a solid landing page.
It features a typical easy-to-use drag-and-drop style landing page builder. However, the software goes even further than simply building a landing page.
It also allows you to add a range of features like social content, pop-ups, and forms that would usually be an extra cost on other platforms.
Wishpond also features tools that engage existing email subscribers on your landing page and offers tools like lead scoring, so you don't waste your time contacting people who aren't interested, nurturing tools to engage with warm leads, and detailed analytics to help you see where you can improve your sales funnel.
Wishpond has a 14-day free trial of its premium software, but it's also in the minority of website builders by offering a free forever pricing tier. The free plan allows you to collect up to 200 leads before you need to pay for a higher tier.
If you go over this, then pricing starts at just $44 per month (paid annually) and goes up to $200 per month for the top pricing tier, allowing 10,000 leads.
If you're an agency, you can enquire about a pricing structure that allows up to 1 million leads.
Try Wishpond for free here
ConvertKit
Convertkit has long been seen as the email marketing platform of choice for many high-profile online companies, particularly bloggers. It also has an excellent landing page builder that very often gets overlooked.
It offers a range of well-designed landing page templates which you can use even if you don't have a website. As you would expect from a platform that primarily focuses on email marketing, their landing pages are geared towards growing an email list from scratch.
The landing page templates are modern and guaranteed to work just as well on mobile devices as they do on a desktop.
You don't need images as ConvertKit offers integration with Unsplash, which gives you access to over 100,000 free stock images.
One of the things that make ConvertKit unique is the type of landing page you use and how you use the software depends on your type of business and your aims.
ConvertKit offers several different types of landing pages with different aims to match your business needs.
Of course, you would expect all of this functionality to come at a hefty price, but what's most surprising is that Convertkit is in the minority of brands that offer a free forever tier.
The free model allows you to create unlimited landing pages and enables you to build an email list of up to 300 people before needing to pay a fee.
You can also benefit from the ability to sell digital products and subscriptions without needing to pay commission. If you need more functionality, then pricing tiers start at $9 and offer additional features.
Try ConvertKit's Free Plan Here
Elementor
Elementor claims to be the number one free website and landing page builder for WordPress. It's an all-in-one solution designed to help total beginners build a professional-looking landing page.
With Elementor, you don't have to do any coding, making it easy for those with very little technical knowledge to create their website.
Elementor has a limited number of features concerning landing pages, but it can integrate with a wide variety of plugins.
The downside to Elementor is that it does tend to create excess code which can slow your site down. While other platforms have methods to remove this excess code, Elementor leaves the code in the website's back end, which can slow down your website loading times.
Elementor has a limited free version of the platform, but the paid membership tiers are some of the most affordable on the market if you need more features.
Plans start at just $49 for a year's membership.
Try Elementor for Free Here
SeedProd
SeedProd is a dedicated landing page builder for WordPress with lots of functionality that focuses on improving your landing page's quality and loading speed.
It offers unique functions like a coming soon page and a maintenance mode that can be applied to any page at the click of a button.
SeedProd utilizes a drag and drop interface that allows beginners to create a landing page without knowing how to code or hiring someone to do it for them.
SeedPod has a free "lite" version which is free forever and allows you to build multiple landing pages that support sales functions. In addition, you have access to the coming soon and maintenance modes.
You can use any WordPress template, and the free version even supports plugins.
However, if you decide you need more functionality or want to use SeedProd on multiple sites, the pricing tier starts at just $79 per year, giving access to SeedProd's premium templates and a drag and drop builder.
Try out SeedProd Here
MailerLite
MailerLite launched as an email marketing tool but now offers a website and landing page builder.
The platform uses the same drag and drop system that many platforms use, but it took time for them to perfect it and get it right for customers to use without any issues.
The landing page builder focuses on converting traffic into email subscribers. However, you can also use their landing page builder for other purposes like collecting audience feedback through a form or selling digital products.
MailerLite's landing page builder is responsive and offers a selection of specialized engagement blocks like a quiz, countdown, survey, event, and map, to name a few of the options.
MailerLite has an option that ensures your website is GDPR compliant with just one click, using specific text boxes for EU users. You can even add a ReCaptcha box to limit spam sign-ups.
Finally, while most landing page builders are code-free, MailerLite does give you the option to add custom code or even customize the existing code to fit your needs. Of course, you can build a complete landing page without this, but it's nice to have the option.
MailerLite has a free forever plan, and because it's based on the number of email subscribers you have (max 1000 before you have to upgrade), and, if you're not using the landing page to grow an email list, you won't ever have to pay.
You miss out on functions like A/B testing and the advanced analytics tool, but it's a great option if you don't need them.
Premium plans start at $10 per month, so it's very affordable.
Try MailerLite for free here
ConvertFlow
ConvertFlow is a powerful website-building platform that focuses on converting website visitors into sales and subscribers.
The dedicated builder focuses on creating powerful tools that help create eye-catching landing pages that increase revenue.
ConvertFlow has over 100 landing page templates to choose from that are responsive and integrate with many big-name marketing tools. Once you've selected a template, you can add any number of responsive widgets to your site.
These widgets include quizzes, forms, pop-ups, surveys, or site messages to help guide your visitors. One of the unique features of ConvertFlow is that it offers conditional actions depending on how your audience interacts with your site.
ConvertFlow also has a free forever model, but it's more limited than others on this list.
You're able to have one website with unlimited pages and CTAs, quizzes, and conversion reports. However, when you hit 250 conversions, you need to upgrade to the pro tier, which starts at $49 per month (depending on how many unique visitors your site gets) and has a 14-day free trial.
Try ConvertFlow here
Sendinblue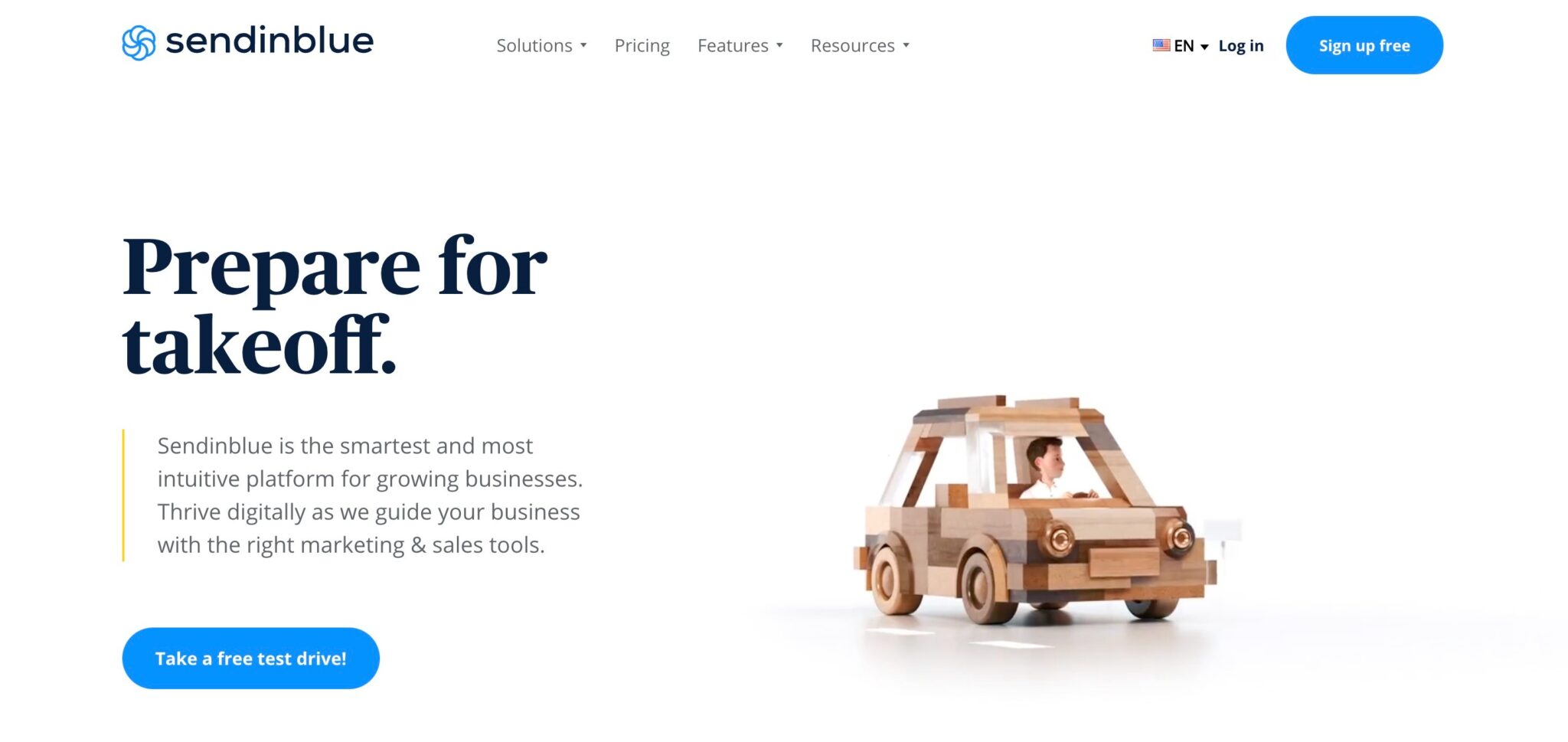 Sendinblue is an email marketing platform targeted at small and medium businesses with a limited budget. While the focus of Sendinblue is primarily email marketing, they have a three-step plan:
Communicate
Personalize
Convert
This plan handles the entire process of selling to your audience.
The "convert" step offers a responsive landing page builder that changes based on the aim of your business and website.
Sendinblue offers you several different templates based on your campaign aims. Alternatively, you can build a landing page from scratch if you want something more specific.
Within the landing page builder, you can add multiple different pages to create a guided process for your audience to go through, like explaining your business and then pushing them towards signing up to your email list or becoming a member of your platform.
Sendinblue's pricing has a free forever tier. Still, you're not able to build a landing page unless you pay for the second-highest membership tier, which is $65, making it one of the more expensive options.
You're still only able to create five landing pages at this price, and if you want more, it's an extra $20 per month per 5 landing pages.
Try Sendinblue Here
Wix
Wix has long been admired as one of the best and more robust website builders on the market. While Wix premium isn't free, if you decide to build a website with them, you can benefit from a free landing page creator.
Wix was one of the early adopters of the drag and drop website builder, and this has been carried over to the landing page design, which makes it easy to create a professional landing page with very little work. While you can design a landing page from scratch with no code, you're also able to add your own code to the site, and you can connect to third-party APIs.
Wix offers detailed analytics and the option to integrate with eCommerce and payment solutions to create a sales funnel with your landing page.
Wix pricing starts at $7.50 per month for the basic website plan or $15.50 for the basic eCommerce plan, which offers landing pages.
Give Wix a Try Here
The Verdict: Which Is The Best Landing Page Builder Overall?
Whether you're a marketer or a blogger, a free forever plan is likely to be the best option for you if you're starting out.
Hubspot, ConvertKit, SeedProd, and ConvertFlow all offer excellent free-forever models that will allow you to build dedicated landing pages for your blog or business.
Each of their free plans offers something different, with some offering more landing pages and others providing more conversions, so it's essential to look into which one will work best for you.
If your online business is more established and you have the budget to pay for a landing page builder, several outstanding premium options are available.
If you've got a team and you're looking for something that works for everyone, then Instapage is without a doubt the best premium option, thanks to its incredible list of features and collaborative modes.
You're actually spoilt for choice when looking for a platform to help you create a landing page.
It's important to think about your needs and match this to the features that each company offers to get the best deal for you.