If you're a travel blogger, one of the best ways you can monetize your blog is through affiliate marketing.
There are loads of great affiliate programs you can promote as a travel blogger, but in this article, we're going to be focusing specifically on the best airline affiliate programs that you can join and promote to your audience.
People searching the web for travel and destination ideas are ready to spend money, and usually a lot of it too. In fact, the global leisure tourism spend is worth over 2 trillion USD. Nice, right? This means that earnings from travel affiliate programs can be high.
Airline affiliate programs are essential for almost any travel blogger. Since air travel is usually the easiest and most affordable way to visit destinations abroad, it's a popular choice for most holidaymakers. That's why it's a no-brainer to include airline affiliate links in your content, after all, if you're recommending a beautiful destination to your audience, they will also need to organize how they get there.
The 21 Best Airline Affiliate Programs to Join
You can promote these affiliate programs within your content, on your social media channels, to your email list, and more.
Aside from earning yourself some commission, when you promote these airline affiliate programs you will also be providing value to your audience, by showing them how they can easily book the holiday of their dreams with a trusted airline.
Airline affiliate programs are also a good way to earn money while traveling, and that's exactly how many people promote these offers to their audiences.
1. Etihad Airways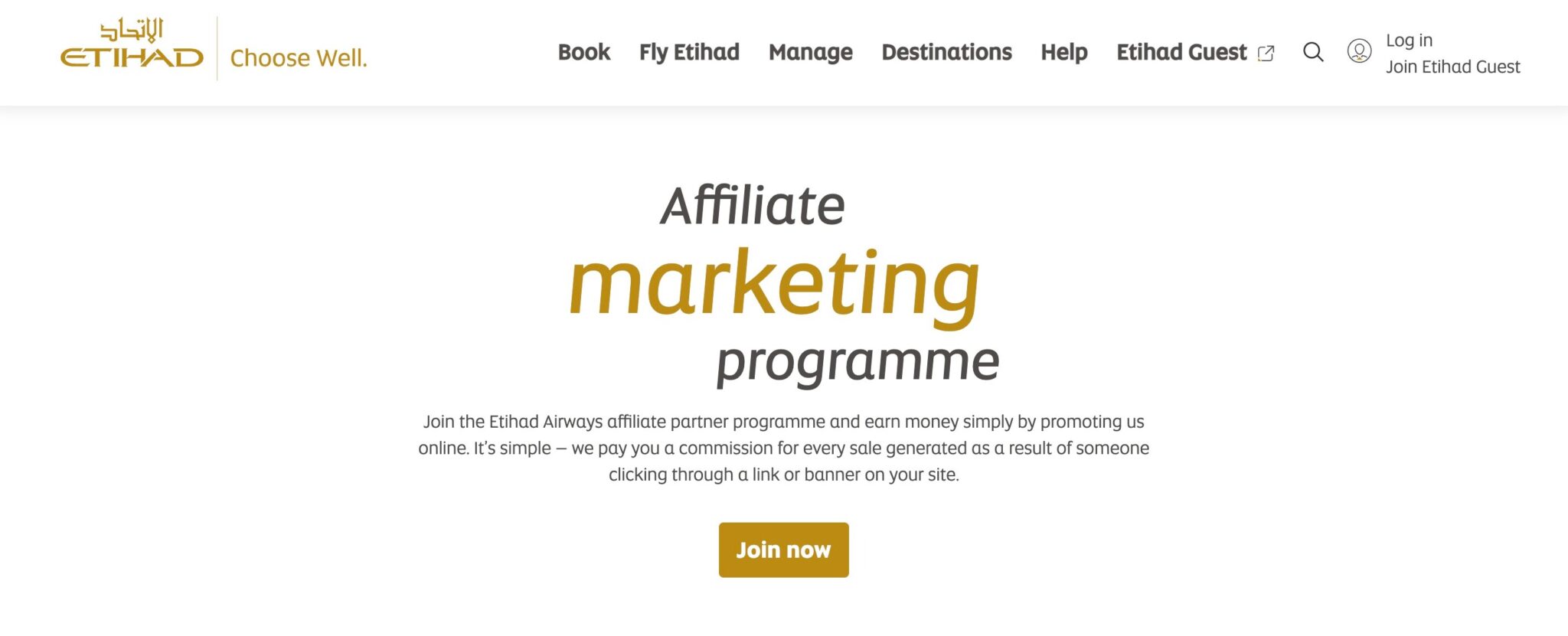 Etihad Airways is a popular global airline, known for its excellent service and professional staff and crew. Based in Abu Dhabi, Etihad Airways offers flights throughout the Middle East, Africa, Asia, Europe, Australia, and North America.
The Etihad Airways affiliate program is available to bloggers in every country. Affiliates can join a variety of affiliate networks including AWIN and CJ Affiliate. Etihad offers a 2% commission on all bookings, with a 30-day cookie duration.
---
2. Dollar Flight Club
Dollar Flight Club is a membership subscription service where members can join and save huge amounts of money on flights.
It works by automatically alerting members when discounted flights are available to their preferred destinations, so they can book them and take advantage of the low price. Members of Dollar Flight Club can save 60-90% on their flights, with an average saving of $500 on every ticket booked.
Dollar Flight Club has a great affiliate program, which enables affiliates to earn up to 50% commission on each membership referral. This could earn you up to $35 for every new paying member you refer.
---
3. Travel Payouts
Travel Payouts is an affiliate network specifically for the travel industry. There are over 90+ travel affiliate programs to join within the platform, with exclusive offers that you can promote to your audience.
Travel payouts will give you access to some of the best airline affiliate programs around, as well as other travel-related programs such as car rental and hotel booking companies.
They pay out hundreds of thousands of dollars to their affiliates each month. In fact, their top-performing affiliate earned a little under $200,000 last month!
---
4. Jet Radar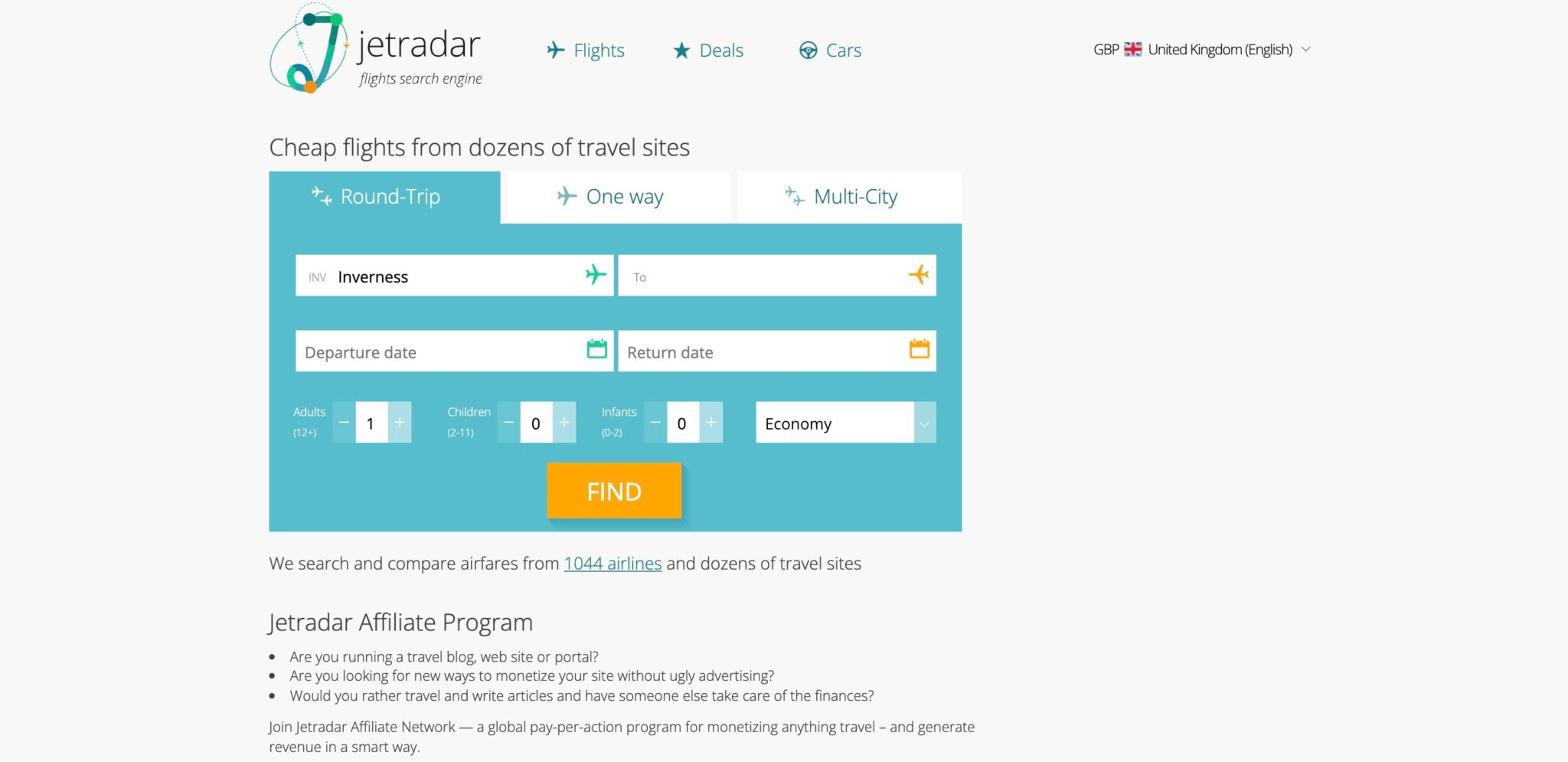 Jet Radar is a flight search engine that helps users find the best deals available for flights and hotels. It shows flights to all of the world's most popular holiday destinations, so no matter where you want to go, you should be able to find a good deal here.
This flight affiliate program is run through the Travel Payouts affiliate network, so it's easy to join and manage all of your affiliate programs in one place.
---
5. Skyscanner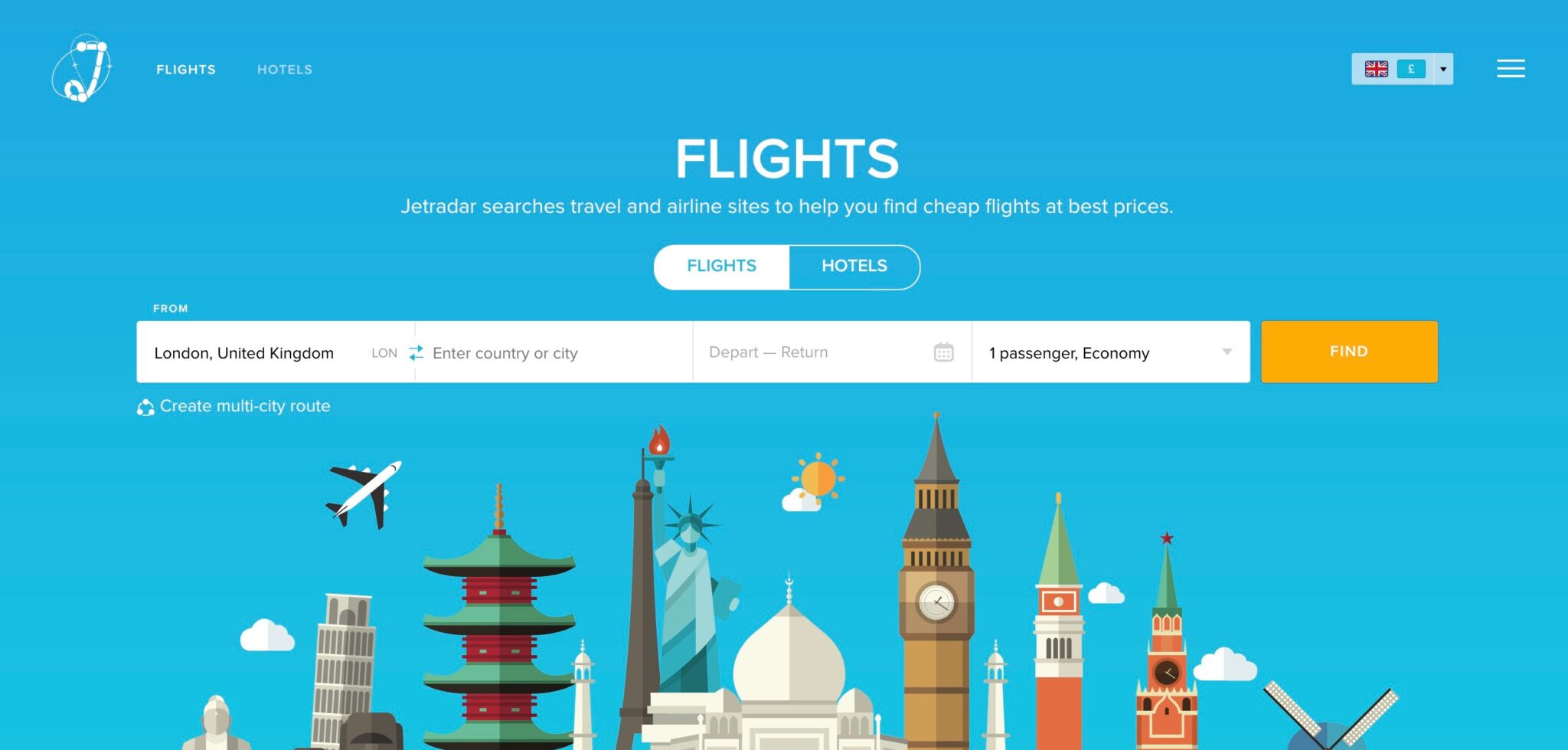 Skyscanner is a popular flight search engine that enables users to compare the best deals on flights, car hire, and hotels. They have an affiliate program available which enables affiliates to earn a revenue share of 20% from all traffic sent to Skyscanner through affiliate links.
This means that if Skyscanner earns a $10 commission from a flight booking, the affiliate will earn 20% of that, which is $2.
---
6. Momondo

Momondo is a travel search engine that gives users access to the latest deals on flights, hotels, package holidays, activities, and more.
Their airline affiliate program applies to flights only. The program offers affiliates between $0.45 and $0.65 for each click-out on their flight search page, which is one of the highest rates in the industry.
You can join their affiliate program through CJ.com, or if you have more than 200,000 monthly visitors, you can reach out to them directly at affiliate [at] momondo.com.
---
7. British Airways
British Airways is the second-largest flight carrier based in the UK. The airline is well known for its comfortable planes and exceptional customer service, making it a popular choice for travelers flying to and from the UK.
As well as offering flights, British Airways offers a wide range of holiday packages, car rentals, hotels bookings, and experiences, making them a great brand for travel bloggers to promote.
---
8. Emirates
Emirates is a global airline based in Dubai. They are known for their award-winning customer service and diverse team, which makes them a popular choice for long-haul international flights.
Their affiliate program offers industry-leading commission rates of between 1.25% and 2.5% on flights, depending on the route. Affiliates also have access to a dedicated affiliate support team, along with all the creative assets and links they need to successfully promote the program.
---
9. CheapOair.com
CheapOair is a flight and travel search engine designed to help travelers find the best deals for flights, hotels, and more. It's a great option for travel bloggers who focus on seeing the world on a budget thanks to the amazing deals available.
Influencers can join the CheapOair affiliate program through a variety of different affiliate networks, including CJ Affiliate, Rakuten Linkshare, and Impact Radius.
Their affiliate program offers competitive commission rates for every booking made. Affiliates can earn between $5 – $35 per booking depending on the product, making this a very lucrative affiliate program for travel bloggers to join. They also have an extremely generous cookie duration of 90-days, which can increase the chances of earning a commission.
---
10. Southwest Vacations
Southwest Vacations is the package holiday provider for Southwest Airlines. The deals available on the site aren't available anywhere else, which means conversion rates for affiliates can be high.
The Southwest Vacations affiliate program is run through CJ Affiliate, so it's easy to sign up and start making money straight away. They offer a starting commission of 0.50% on all sales, with the opportunity to earn more. With the average sale coming in at $1,300, affiliates can generate around $6.50 per sale.
---
11. KLM Royal Dutch Airlines
KLM Royal Dutch Airlines is the flag carrier airline of the Netherlands. With its main hub at Amsterdam Airport, this airline is an ideal choice for those traveling to or from the Netherlands.
They have a popular affiliate program that allows influencers and travel bloggers to make money by recommending their services. Commissions start at 1% of revenue for short flights and 1.5% of revenue for long-haul flights. They also offer a generous 30-day tracking cookie with global tracking to increase your chance of earning a commission.
---
12. Just Fly
JustFly is a flight comparison website that helps users find the best deals available on flights. It's quickly becoming one of the top flight comparison websites around, with over 160,000 reviews and a score of 4 out of 5 stars on Trustpilot.
JustFly has its own affiliate program which is run through CJ Affiliate. They offer a flat commission of $16 for every international flight sold and $8 commission for every domestic flight. They also have a generous 45-day cookie duration, making them one of the best airline affiliate programs around. Affiliates will have access to a range of dynamic banners which they can use on their websites.
As well as all this, affiliates have access to a dedicated affiliate manager, who can help them get the best out of the program.
---
13. Air France
Air France is France's largest airline, with flights to over 193 destinations in 93 other countries.
Their affiliate program is managed on TradeTracker, where affiliates will have access to everything they need to successfully promote Air France to their audience. They offer a standard commission of 1.25% per sale, with a 30-day tracking cookie.
---
14. Travelocity
Travelocity is an online travel agency owned by Expedia Group. The website can be used to find the best deals on flights, hotels, car rentals, holiday packages, and more.
The affiliate program is run through the Expedia affiliate hub, so you can easily access all of Expedia Group's affiliate programs in one place. They offer competitive commissions across all of their products, with access to over 500 different airlines.
Best of all, the Travelocity affiliate program gives affiliates access to all of the latest affiliate tools and technology. This includes booking widgets that can be embedded into your travel blog or website.
---
15. Hawaiian Airlines
Hawaiian Airlines is not only the oldest airline in the U.S. but it's one of the largest too. It's also the largest airline in Hawaii, with flights to the Philippines, Japan, Australia, South Korea, Oceana, and more.
As well as being on several flight search engines such as TravelPayouts and SkyScanner, Hawaiian airlines has its own affiliate program. Their affiliate program offers commissions of 1.5% on all airline bookings within a 30-day cookie window.
The Hawaiian Airlines affiliate program can be joined through CJ affiliate, which is free to join and gives users access to a wide variety of other travel affiliate programs too.
---
16. Kayak
Kayak is an American online travel agency that makes it easy to book flights, holidays, and more online. It gives users access to the best deals available, and even comes with an app so you can manage all of your travel bookings in one place.
It's a great option for eco-friendly travel bloggers, as it shows you the environmental impact of your travel options.
Kayak has its own affiliate network which includes other travel brands such as Momondo, HotelsCombined, and more. Affiliates can earn a 50% commission on each sale. It's worth noting that this is not 50% of the total sale, but 50% of the commission that Kayak earns from the airline.
---
17. CheapTickets
CheapTickets is one of the U.S.'s leading travel sites for budget travel. The site can be used to search for cheap flights, accommodation, car rental, package holidays, and more.
CheapTickets has an affiliate program that is run through CJ Affiliate. Unlike many of the other affiliate programs on this list, CheapTickets uses both a fixed commission and percentage commission structure.
Fixed commissions of up to $30 per sale are paid for cruise, car hire, and flight bookings. Activities, packages, and hotels pay a percentage of the sale as commission which can range from 1% – 8% depending on the product.
---
18. Trip.com
Trip.com is an online travel agency designed to make it easy for anyone to find the best travel deals.
The website enables you to book everything in one place, from flights to hotels, and even activities for the duration of your stay. With access to flights from over 450+ airlines, and over 1.4 million accommodation options to choose from, users can find everything they need here.
Trip.com also has an app, so you can manage everything from your smartphone or device while you are on the go. And for peace of mind, they also offer 24-hour customer service. This gives users all the benefits of using a travel agent from the comfort of their homes.
They offer a popular affiliate program that allows travel bloggers to monetize their traffic by referring their audience to Trip.com. Commissions start at 0.5% for flights. This can increase depending on how many sales you have made that month. Affiliates can also earn up to 7% commission on hotels, 5% for tours and tickets, and $1.50 for every train ticket booking.
---
19. Omio
Omio is a travel booking site that enables users to book flights, trains, buses, and ferries all from one convenient place. Users have access to an app, where they can store all of their travel booking information and tickets, making it a convenient way for users to manage their travel.
Omio has an affiliate program that allows influencers to make money by promoting the service. Affiliates have access to a range of banners and assets, as well as API and booking widgets that they can embed onto their website or blog. Commissions range from 2% to 8% per booking, depending on the destination.
---
20. Expedia
Expedia is the world's leading online travel site, giving users access to thousands of flights, holiday packages, hotels, and more. Thanks to the fact that Expedia is a trusted brand, over 60 million unique users visit the site each month with high conversion rates.
Affiliates can earn commissions of up to 7%, with a long cookie duration of 30-days. Influencers can access the Expedia affiliate program through CJ affiliate, or through the Expedia affiliate network which covers all of the sites owned by the Expedia Group family.
---
21. 12Go
12Go is a travel booking platform that covers most of South East Asia and Oceania. The site can be used to book flights, buses, trains, taxis, car rentals, day trips, and ferries in South East Asia.
The 12Go affiliate program offers a commission share of 50% of the commission that 12Go receives for every booking made through the site. The affiliate program is managed on Travel Payouts, so affiliates can easily join other travel and airline affiliate programs from there too.
---
How to Promote Airline Affiliate Programs
There are lots of different ways to promote the best airline affiliate programs to your audience. The important thing to remember is to provide value and make it easy for your followers to book their travel by showing them the best way to do it.
Here are a few of the best ways to promote airline affiliate programs:
In blog posts whenever you recommend a travel destination
Top 10 lists (best airlines flying to X)
On social media
To your email list when special offers are available
On a travel-related podcast
Many of the affiliate programs in this list have a search widget available that you can embed into your travel website or blog. This can help to boost conversion rates by making it easy for your audience to search without leaving the page.
You can also consider these top hotel affiliate programs as well, because they're going to have to stay somewhere when they reach their destination, right?
Flight Affiliate Programs
There are lots of great airline affiliate programs available to choose from, but they each have their own benefits.
In some cases, you may be better using an airline's specific affiliate program, such as for smaller countries where there are only a few airlines to choose from, or when there's a special offer available. Commissions are usually higher through the airline's own affiliate program.
For more general travel bookings you might be better off promoting a booking site such as Expedia or Kayak. Although the commission rates are slightly lower, the conversion rates can be higher because there is more on offer. You will also have the chance to make commissions on the extra things that people book alongside their flights, such as hotels and car hire. This means you can make much more money overall.
If you are a blogger in the travel niche, you might also want to check out our article on the best cruise affiliate programs. While cruising may not be the best offer to present to an audience during a pandemic, it's likely to rebound at some point in the future.