If you want to run a successful affiliate program, you need to invest in a management platform that meets your unique needs. Therefore, knowing what differentiates the most popular options is key.
Still, it can be hard to make your decision if you don't know the ins and outs of each of them. That's why we're analyzing the most important details for two of the leading affiliate platforms.
Both Post Affiliate Pro and Easy Affiliate can help you manage your affiliate program. And comparing the different features, prices, and user-friendliness of each can help you determine which is the best choice for your affiliate business.
In this post, we'll explore and assess Post Affiliate Pro and Easy Affiliate. We'll go over their key features, ease of use, support, and pricing. Let's get to digging!
Post Affiliate Pro vs Easy Affiliate: Features
While each of these platforms has plenty of features that can help you run a successful affiliate business, they differ on certain key points. Let's take a look at the unique functionalities that Post Affiliate Pro and Easy Affiliate have to offer.
Features: Post Affiliate Pro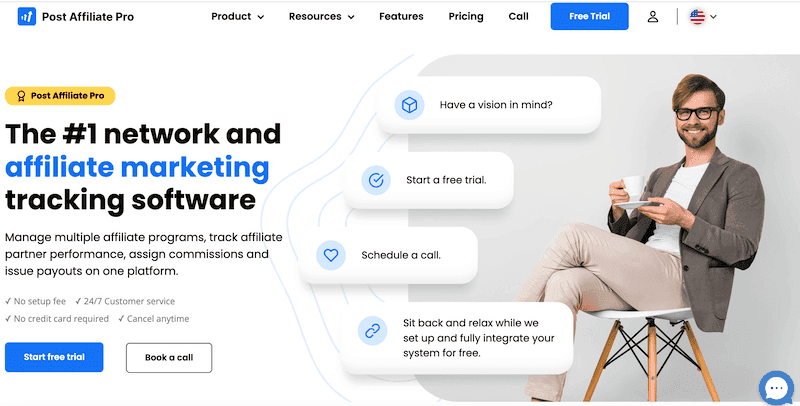 Post Affiliate Pro is an affiliate platform geared towards larger networks. It has many tools that can help your business, including the ability to assign commissions, issue payouts, and track affiliate performance. With this tool, you'll get free setup and web integration, around-the-clock support, and lifetime updates of the platform.
Key features include:
Premium tracking and reports
Promotional materials
Private campaigns
Various kinds of commissions
One of Post Affiliate Pro's most convenient features is its customizable commission options. Types of commissions through this software include per action, groups, multi-tier, and reoccurring.
Furthermore, Post Affiliate Pro is highly dynamic. Using it, you're able to pay your affiliates for their work while also encouraging them through your own marketing strategies.
It also gives you many different promotional materials for your affiliates, including discount coupons, smart links, and banners. These kinds of tools make it easy for your team to market your program.
Features: Easy Affiliate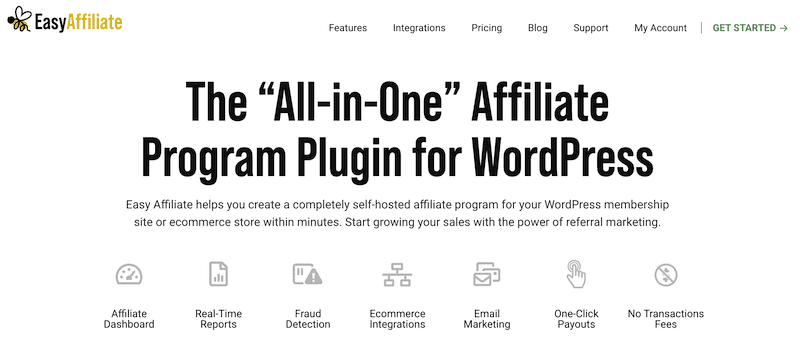 Easy Affiliate is a WordPress plugin that allows you to run your affiliate program directly from your WordPress dashboard. This all-in-one solution gives you the ability to set up a self-hosted business and start growing your sales within minutes.
Plus, since it's designed specifically for WordPress, users who are familiar with the content management system (CMS) will be able to dive right in.
Key features include:
Something that makes Easy Affiliate stand out from the crowd is its ability to sync seamlessly with other tools. For instance, our platform integrates with WooCommerce, MemberPress, PayPal, and tons more. With so many complementary tools at your fingertips, you can create revenue for your program without having to compromise other aspects of your site.
What's more, your customizable dashboard allows you to see your analytics and track your affiliates' performance. You can also create affiliate commissions unique to your program to incentivize your team of marketers.
Post Affiliate Pro vs Easy Affiliate: Ease of Use
When it comes to putting your platform to work, it's important that you're comfortable navigating all its features and functionalities. That's why we're also going to assess the user-friendliness of each platform.
Ease of Use: Post Affiliate Pro
Post Affiliate Pro is quite user-friendly. To sign up, it only requires your full name, email address, and company name:
To try this platform for free, you can sign up for a 14-day trial. Once you've done so, you can browse the dashboard to see its different features: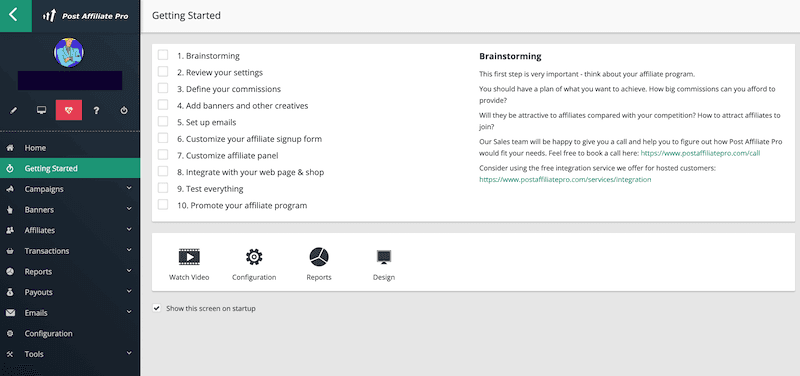 As you can see, there are a lot of features included on this home screen. While this can be great in terms of options and customization, it can be a bit overwhelming if you want to get your program off the ground quickly.
Overall, there is a higher learning curve with this platform when compared to others. In a nutshell, it's a good choice if you want to have a lot of options that you can edit, but it might take some time to get comfortable with this platform.
Ease of Use: Easy Affiliate
Easy Affiliate's sign-up process is quick and painless. Once you've selected your plan, all you need to do is enter some basic information like your name and email:
After that, you can install and activate the tool just like you would any other WordPress plugin. Once you're inside, you'll see that its settings and interface are both intuitive and straightforward:
One of the best things about Easy Affiliate is that it allows you to manage your entire affiliate business on the backend of your WordPress site. This makes it ideal for WordPress users. It also means you will never need to waste time toggling between different tools and tabs.
After you've completed the installation and set-up process, you can access Easy Affiliate in the left-hand panel of your WordPress dashboard. From here, you can explore your reports, pay your affiliates, manage transactions, and more:
Overall, Easy Affiliate is one of the best programs in terms of user-friendliness. That's because it allows you to customize your program while offering a manageable amount of features that are simple to navigate.
Post Affiliate Pro vs Easy Affiliate: Support
No matter how great your software is, there will most likely come a time when you'll need some help. Here's how Post Affiliate Pro and Easy Affiliate compare in terms of their customer support.
Support: Post Affiliate Pro
Post Affiliate Pro has a great support system in place to help you troubleshoot any issues you're having. Its ticketing system lets you send your request to someone on the team:
You're also able to reach out to the support team via live chat or contact the call center for more pressing questions.
Additionally, Post Affiliate Pro has a support portal that serves as an FAQ, which can help answer your questions. This page contains many articles that cover subjects such as installation, payment, and technical issues. You can use the search bar if you want a quicker way to find an answer.
This platform has many resources to help you solve your problems. However, it can be a challenge to dig through all of the content to find an answer to a specific question.
Support: Easy Affiliate
Like Post Affiliate Pro, Easy Affiliate provides a ticketing system that you can use for any issues that arise. When you fill out a ticket form, your question is sent to a representative that will respond within 48 hours:
We also provide an extensive knowledge base that has information about how to get started, useful add-ons, eCommerce integrations, and more. Plus, these documents are well-organized into practical categories like "troubleshooting", "reports", etc.
However, if you still can't find what you're looking for, this page also offers a search bar. This feature enables you to find answers and targeted content faster. Overall, Easy Affiliate's support is quick and direct, and our documentation is extremely thorough.
Post Affiliate Pro vs Easy Affiliate: Price
Cost can be a make-or-break factor when it comes to choosing software for your affiliate program. Now let's take a look at the different pricing options for Post Affiliate Pro and Easy Affiliate.
Pricing: Post Affiliate Pro
Post Affiliate Pro has three different pricing plans starting at $129 per month:
Each plan includes:
Unlimited affiliates
Updates
Tracking tools
Technical support
The premium options include advanced tools and site integration as well as more tracking requests and onboarding support.
Post Affiliate Pro's premium plans include lots of advanced features. However, it tends to be on the pricier side, with the Network plan costing a steep $599 per month.
Pricing: Easy Affiliate
Easy Affiliate also has three different pricing plans, starting at $99.50 per year:
Each plan includes:
Unlimited affiliates and tracking requests
A customizable dashboard
Reports and analytics
AdBlock-proof
The higher-tier plans include more hosted sites, up to five for the Pro plan. You can also have multilevel affiliates with some premium plans.
Moreover, we have a 14-day, 100 percent money-back guarantee. So, if you're not satisfied with our product, you can get a full refund.
Easy Affiliate is by far more affordable, making it a great choice for small businesses with a tighter budget.
Conclusion
Launching a successful affiliate program can be a challenge. However, both Post Affiliate Pro and Easy Affiliate offer different features that can help you reach your full potential. Understanding the differences between the two can allow you to make the best choice for your program.
To summarize, here are the main differences between Post Affiliate Pro and Easy Affiliate:
Post Affiliate Pro

is an affiliate platform that helps you run your program through tracking and analytics software. While it has a lot of features and a solid support team, it's on the pricey side and can be a bit complicated for beginners. It's likely a good choice for larger affiliate programs.

Easy Affiliate

is a plugin that you can run directly from your WordPress dashboard. It has a customizable, beginner-friendly interface that allows you to manage your affiliates effectively. Its affordability and ease of use make this software ideal for smaller affiliate businesses.
Do you have any questions about Post Affiliate Pro or Easy Affiliate? Let us know in the comments section below!
If you liked this article, follow us on Twitter, Facebook, and LinkedIn. And don't forget to subscribe in the box below!
Affiliate Link Disclosure