Tracking is one of the most important aspects of affiliate marketing. If you own an affiliate program, you know it's essential to monitor click-through rates (CTRs).
And you know that keeping an eye on your affiliates' performance is key to running an efficient program.
On its own, Easy Affiliate makes it incredibly easy to keep tabs on your affiliates and make sure their marketing techniques are converting sales.
But we also encourage our users to take advantage of Google Analytics and MonsterInsights to monitor overall site performance. That's why MonsterInsights is one of our certified integrations.
What Makes This New Feature Awesome?
Easy Affiliate, Google Analytics, and MonsterInsights offer some of the most powerful tracking tools for WordPress sites. But each of these platforms has its own unique way of reporting data.
Wouldn't it be great if you could see these big three in action, all in one place?
Now you can!
Today, we're excited to announce that the MonsterInsights + Easy Affiliate integration now pulls your EA and general site data together inside Google Analytics.
In this announcement, we'll uncover the amazing tracking reports this plugin can create for your affiliate site.
We'll also go over how the MonsterInsights ecommerce add-on works seamlessly with Easy Affiliate to give you actionable affiliate data galore!
Let's jump in!
MonsterInsights: Google Analytics Made Easy
MonsterInsights is the world's top Google Analytics plugin for WordPress. That's because it almost magically transforms complex GA data into simple, easy-to-understand reports.
(After all, let's face it. Google Analytics might be a must-have tracking tool, but navigating it can feel like nailing jelly to a wall.)
MonsterInsights demystifies the advanced stats that Google Analytics collects to give you a better understanding of things like:
Visitor Demographics. The Audience Report gathers useful information about your site visitors, such as their age, gender, where they're from, and more.
Visitor Traffic. The Behavior Report maps a visitor's journey, starting with what brought them to your site and everything they did while there. This includes keyword searches, pages visited, and more.
Content Optimization. The Content Report narrows down what types of content your visitors are attracted to, helping you optimize your web copy whether it be on your landing pages, blog articles, or anywhere else.
Revenue Metrics. The Ecommerce Report reveals the money-making parts of your site to show your combined revenue, conversion rates, top-selling products, referral sources, etc.
See the full list of MonsterInsights' Custom Reports

here

.
As you can see, MonsterInsights does a lot of behind-the-scenes work to collect and explore your Google Analytics data.
But until now, Easy Affiliate users would have to bounce back and forth between their MonsterInsights and Easy Affiliate dashboard reports to get the full picture of site and affiliate performance.
Not Any More!
MonsterInsights Adds Easy Affiliate Data in Google Analytics
The recent release of MonsterInsights 8.1 brought all sorts of new and exciting features, including the new Easy Affiliate integration. You might want to take a minute to watch this quick video to get the lowdown on how well these two platforms work together.
What's extra awesome is that you can enable all the magic of this integration with one quick click. Then view crucial affiliate data in your Google Analytics eCommerce Transactions Report.
Within seconds, you can do things like…
Analyze affiliate sales demographics to see who's buying from specific affiliates.
Identify which landing pages are generating the most affiliate sales.
Find out the number of coupon-based transactions per affiliate.
Determine which campaigns are performing best.
It all boils down to this…
The Old Way
Open up your Easy Affiliate dashboard in one tab (for affiliate-related data)
Open up another tab for MonsterInsights (for your overall revenue report)
Bounce back and forth
Try not to get confused
The New Way
See see it all in Google Analytics
Smile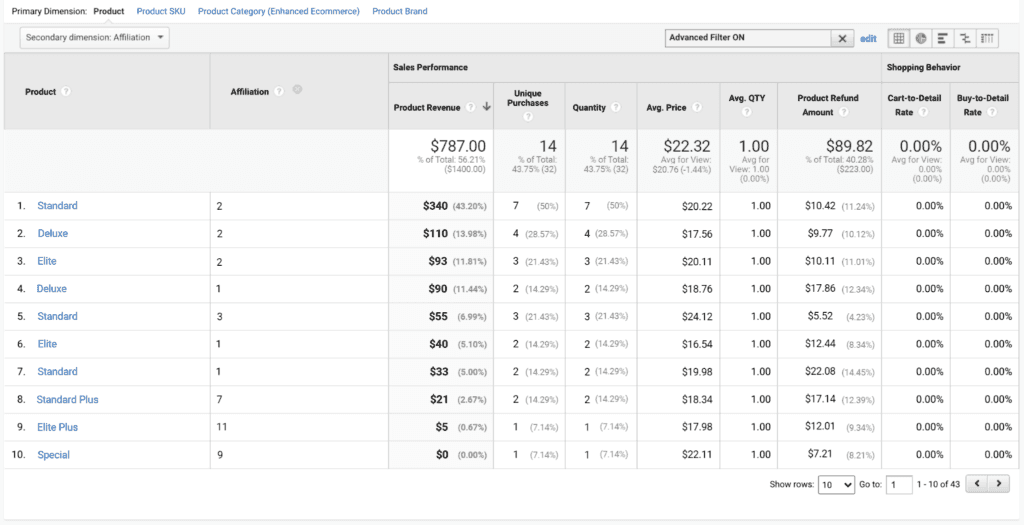 How to Enable the MonsterInsights Ecommerce Add-on to Unlock Easy Affiliate Data
To share Easy Affiliate data with Google Analytics, you'll just need to make a few quick changes within your MonsterInsights plugin.
(Take note, this integration is only available if you have a MonsterInsights Pro plan or higher.)
Once you have MonsterInsights Pro or higher installed…
Find the MonsterInsights plugin located in your WordPress dashboard
2. Click "Addons" in the drop-down menu
3. Find the eCommerce add-on and click "Install"
4. Go to MonsterInsights > Settings, then open the new eCommerce tab
5. Scroll down until you see the Affiliate Tracking section
As an Easy Affiliate user, you'll see that Easy Affiliate has already been detected, and Affiliate Transactions data is already being tracked.
If you don't have Easy Affiliate set up for your business, simply head over to EasyAffiliate.com to get your program up and running in a matter of minutes.
That's all there is to it! All your affiliate transactions will now show up automatically in Google Analytics. And you can slice and dice your data to your heart's content.
If you run into any snags or have any questions about setup, get in touch with our stellar support team.
Do you have any questions on how to get started with the Easy Affiliate MonsterInsights integration? Ask away in the comments section below.
If you liked this post, be sure to follow us on Twitter, Facebook, and LinkedIn! And don't forget to subscribe to our newsletter.
Affiliate Link Disclosure