Markiplier has an estimated net worth of $40 million.
Markiplier is one of the richest YouTubers who has over 35 million subscribers and over 5000 videos on his channel.
He's an American YouTuber, gamer, and film director.
So how did Markiplier become the richest YouTuber? In this case study, let's find it out.
Who is Markiplier?
Mark Edward Fischbach (popularly known as "Markiplier") is a famous American YouTuber, actor, and podcaster. He is known for his gaming videos, especially horror gaming content.
He launched his YouTube channel, "Markiplier," on May 27, 2012. His first video, "Amnesia Reaction Compilation," generated over 3.4 million views.
He quickly became popular on YouTube because of his content, including sketches, reaction videos, and entertaining vlogs. He's also acted in several movies, including;
Smosh: The Movie (2015)
A Heist with Markiplier (2019)
In Space with Markiplier (2022)
Markiplier Biography:
Markiplier Age: 33 years old
Net worth: $40 million
Birth Date: 28 June 1989
Birth Place: Honolulu, Hawaii, United States
Nationality: American
Relationship Status: Single
Markiplier in Numbers:
He has over 35 million subscribers on YouTube, with over 20,148,957,231 lifetime video views on his channel
He has over 13.8 million Twitter followers
Over 11.5 million people follow him on Instagram
Markiplier got his first 100,000 subscribers in 2013, reaching 35 million in just ten years. How did he do that? Let's find out without much ado.
---
Markiplier Net Worth: His Biography & Key Lessons from His Success
The importance of giving back
Markiplier is known for his charitable work. He often used the YouTube platform for good.
Did you know that Markiplier has raised millions of dollars for various charities?
He has participated in a TON of charity live streams and fundraisers. In 2017, Forbes estimated that he donated over $3 million to different charities.
He mostly donates the funds to cancer charities in honor of his father, who died of lung cancer in 2008.
In 2018, after hitting the "20 million subscribers" mark on YouTube, he made a 48-hour sale of a Charity Calendar. He raised nearly $500,000 and donated all that money to the Cancer Research Institute, based in New York City.
He also received the "Oliver R. Grace" Award from Cancer Research Institute for raising those funds.
What's the takeaway?
Markiplier's charity shows that even a single person can make a BIG difference in the world.
According to many sources, Mark has donated over $20 million to different charities and NGOs. That's A LOT of money, right?
No matter what you do, try to create an impact and help others. Learn to give something back to the society. That's what ultimately gives you the MOST satisfaction.
The power of collaboration
One of the major reasons for Markiplier's net worth and success as a YouTuber is that he often collaborates with other famous YouTubers.
In particular, Markiplier often collaborates with other YouTubers (who're also his friends) including PewDiePie, Jacksepticeye, CinnamonToastKen, etc.
If you want to get things done QUICKLY and efficiently, you should look for collaboration opportunities in your work.
Here are a few tips for collaboration at work or in business.
Find similar people: The first step is to find RELEVANT people who share your goals. It could be anyone, such as people who are working in the same industry or someone interested in the same ideas or goals.
Build relationships: Once you've found people with similar interests, you should start building relationships with them. Know their needs, and understand their strengths and weaknesses. That's how you can work BETTER to reach your goals FASTER.
Be open to feedback: ALWAYS be open to feedback. When working with others, you might not get exactly what you want. But you should be open-minded in taking others' suggestions. That's the only way to change your mindset or change your plans if necessary.
Find your niche
Markiplier has millions of YouTube subscribers because he found a niche and REALLY killed it.
Markiplier found his niche in the world of Let's Plays, specifically horror games. He quickly gained popularity for his energetic and entertaining commentary.
In case you're curious, here are some games he often played to get more YouTube views and subscribers.
Happy Wheels
Cry of Fear
Slenderman
Indie horror games
Amnesia: The Dark Descent
Here are some practical tips for finding your niche to succeed faster, like Mark.
Know your skills: First, identify your passion and skills. What are you good at? Can you make creative videos like Mark? Can you inspire people with writing? Once you find those skills, you can focus on and build a following around them.
Identify problems you can solve: What problems are your target audience facing? Can you create content that helps them solve these problems? Can you educate or entertain your audience? Markiplier's videos help viewers to relax and have fun.
Focus on ONE topic: Mark MOSTLY creates videos on horror games. That's his niche. Markiplier's videos are often targeted at gamers who enjoy horror games. He doesn't try to appeal to everyone. This is exactly what helps him to build a strong following of engaged viewers on one specific topic or theme.
Try different things
Did you know Markiplier also acted in films and in several web series? Some of them include;
Gamer's Guide to Pretty Much Everything (2016)
In Space with Markiplier (2022)
A Heist with Markiplier (2019)
Smosh: The Movie (2015)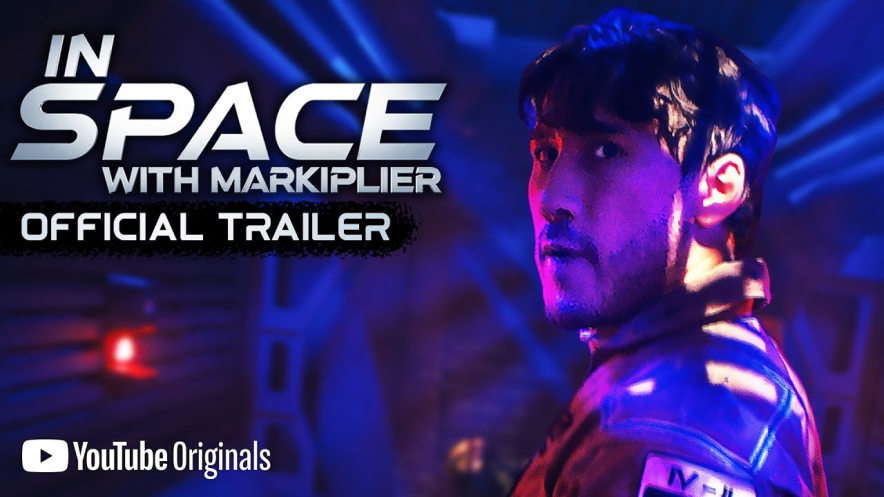 He has also been in multiple YouTube videos that involve him acting. That means, Markiplier NEVER tried to stick to one thing, as he constantly experimented with new things, including acting.
Here's a fun fact: In 2019, Markiplier launched his YouTube adventurous series called "A Heist with Markiplier," where he played every MAJOR character throughout the series, ranging from a thief, pirate, adventurer, and prisoner.
So what's the takeaway?
It is extremely important to try different and NEW things to succeed. Nobody reached great milestones by taking the "regular route", you need to try unique things to grow your career.
Markiplier has shown that he is willing to step outside his comfort zone and try new things, which has helped him succeed in both YouTube and films. Make sure to be open to new opportunities and be willing to take risks.
Engage with your audience
ALWAYS listen to your audience. Audience engagement is one of the biggest reasons for Markiplier's YouTube success.
He's always connected to his followers in many ways, including;
Responding to their comments on YouTube
Participating in discussions (where he also takes suggestions for his future videos)
He also hosts live streams on platforms like Twitch and YouTube
All these things will help Mark build STRONG relationships with his followers and make them feel like they're part of a community. Once they feel they're connected, they'd do anything that Mark says, including donating money to charities, buying his merchandise, etc.
What can we learn from this?
Engaging with your audience is the KEY for building anything, including a website, product, or a successful YouTube channel. By interacting with your followers, you'll build relationships.
No matter your niche, be personal. Know the importance of interacting with your audience. Respond to their comments and likes. If possible, do something for your audience or followers so they become a part of your community. It will help you IMMENSELY in the long run.
Be willing to take risks
Did you know Markiplier's AdSense account was disabled in 2012 for violating YouTube's terms and conditions?
That means there was NO income from his YouTube channel. In fact, it was a major setback for his channel, as YouTube was the only source of his income back then. But he didn't give up.
He worked really hard to rebuild his audience from scratch and eventually got his AdSense account back. He also started a new channel titled markiplierGAME, where he reuploaded most of his old videos.
So what's the takeaway from this?
Be willing to take risks, even if it means failing. Don't be afraid to take a new route.
Markiplier knows that failure is a part of success and is not afraid to try new things. This willingness to take risks has helped him stay WAY ahead of his competitors and continue to grow his audience.
If you want to be a successful YouTuber, follow and learn from other YouTubers like Mark. Learn from their experiences and see what you can do to avoid their mistakes to grow your own channel.
Markiplier YouTube Subscriber Important Milestones
Here are some of the important milestones of Markiplier's YouTube channel growth.
100,000 subscribers: February 25, 2013
500,000 subscribers: June 17, 2013
1 million subscribers: October 24, 2013
2 million subscribers: April 5, 2014
3 million subscribers: August 16, 2014
4 million subscribers: October 23, 2014
5 million subscribers: December 18, 2014
10 million subscribers: October 12, 2015
20 million subscribers: March 29, 2018
30 million subscribers: September 19, 2021
35 million subscribers: June 8, 2023
Interesting Facts about Markiplier
Here are some of the interesting facts and details about Markiplier.
Markiplier's real name is Mark Edward Fischbach, based in Hawaii, United States.
Mark worked as a bartender and a carpenter
He has Korean-German mix genes
He's often called 'The most Caring YouTuber' because of his charities and donations.
His notable works include Amnesia: The Dark Descent, Five Nights at Freddy's, A Heist with Markiplier, In Space with Markiplier, and more.
He won several awards, including "Primetime Emmy Award nomination for Outstanding Children's Program."
He owns a clothing company called CLOAK.
He also sells merchandise through the "Markiplier.com" website and donates some percentage of the profits to charities like WHO (World Health Organization).
Mark reached 24 million subscribers on his 30th birthday.
Mark has Thalassophobia, the fear of the ocean.
He is the host of the Distractible podcast.
He has raised over $20 million for charity.
Markiplier has two dogs named Chica and Henry
---
FAQs on how much is Markiplier worth
Here are some FAQs most people ask about Markiplier and his net worth.
Why is Markiplier so famous?
Markiplier is famous because of his YouTube videos. He often features sketch comedy and playthrough videos on his channel, which has generated over 20 billion views.
What is the real name of Markiplier?
Mark Edward Fischbach is the original name of Markiplier.
Why is Markiplier his name?
Markiplier is a combination of two words: Mark and Multiplier. He named his YouTube channel "Markiplier" because he originally wanted to upload comedy sketches and action videos.
Is Markiplier a billionaire?
No. As of 2023, Markiplier has an estimated net worth of $40 million. Most of his earnings come from his YouTube channels, acting roles and endorsements from other brands.
What are the income sources of Markiplier?
Markiplier earns money in the following ways;
– Merchandise sales
– YouTube ad revenue
– Brand collaborations
Related Posts:
---
Final thoughts on Markiplier's net worth
Hosting live streams, trying different careers (acting), and giving back to society through charity are some things that set Markiplier apart from other successful YouTubers.
It took Mark over 10 years to reach 35 million YouTube subscribers, and his dedication to building a solid community on YouTube is what made him successful.
Did you find our Markiplier net worth case study interesting? Have any more questions? Let us know in the comments.