One of the common questions most people have in mind is: "Does SEO REALLY work?"
The next question is: how much does SEO cost in 2023?
There's no short answer to these questions. The simplest answer is YES, it works, and the cost depends on the complexity of the project.
If you want detailed answers to the above questions, this case study is just for you.
You'll discover;
The average cost of SEO and three different ways to do SEO
Should you pay for SEO?
Is SEO really worth it and more?
So let's jump into the details without much ado.
Is SEO Worth It? How Much Does SEO Cost?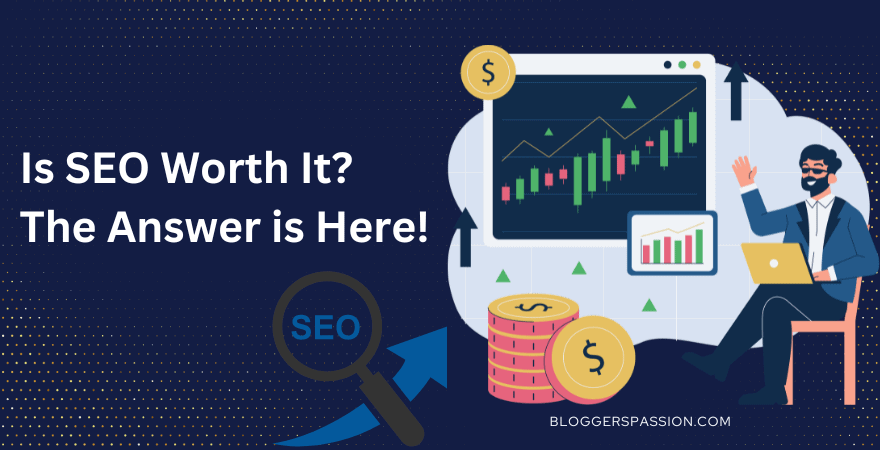 There are several ways people invest money in search engine optimization, including;
DIY (Doing it by yourself)
Hiring someone
Finding an agency
Let's talk about all these three methods, so you can pick the one that suits your website needs and budget.
1. DIY (Doing it by Yourself)
Average monthly costs of DIY SEO: $100 to $500 a month (depending on the tools you use)
The BEST way to get started with SEO is to do it yourself.
There are many DIY SEO software tools you can use to perform many SEO tasks, including keyword research, content creation, website audits, etc.
How much does it cost for DIY SEO?
For basic SEO tasks, you can rely upon Google tools which are free, including;
Google Analytics (to track your website traffic)
Google Search Console (to check your website's indexing status, search queries, etc.)
Google Trends (to find trending topics)
Keyword Planner (for keyword research)
But… if you're doing SEO all by yourself, you need access to a few paid tools, such as Semrush.
Why? Semrush offers over 55 SEO tools under one roof, where you can do almost ANY SEO task, including keyword research, site audit, competitor analysis, rank tracking, and more.
So how much does it cost?
Semrush offers three pricing options.
Pro plan costs $119.95 monthly, which is great for beginner SEOs. It can be used to manage up to 5 projects, 500 keywords to track, and 10,000 results per report
Guru plan costs $229.95 monthly, suitable for mid-size businesses. It can be used to manage up to 15 projects, 1500 keywords to track, and 30,000 results per report
Business plan costs $449.95 monthly, which is a great choice for teams and large agencies. It can be used to manage up to 40 projects, 5000 keywords to track, and 50,000 results per report
It also offers a free 30-day trial.
Try Semrush 30 Days Free Trial
All in all, DIY SEO costs around $50 to $500 a month, depending on the tools you use.
2. Hiring Someone
Average cost of hiring an SEO professional: $50 to $500 per hour, depending on the expertise and complexity of your website
Hiring a professional is a great choice if you don't have enough time or skills to manage SEO tasks but are still looking for an affordable way to do SEO for your website.
How much do most freelancers charge for SEO services?
The answer is NOT simple, as the pricing depends on the complexity of the project.
However, worldwide SEO providers charge $134.99 on average per hour. (Source: Credo)
According to Ahrefs data, most freelancers and SEO consultants charge $71.59/hour, on average.
Again, the hourly pricing depends on the complexity of your website.
What kind of services do most SEO professionals provide?
SEO professionals can help you with many things, including;
Keyword research
Link building
Competitor analysis
On-page optimization
Content creation
Finding and fixing technical issues on your website and much more
Before hiring an SEO professional, it's essential to check out their portfolio, so you'll know what services they provide the best.
How to find an SEO professional?
If you're active on platforms like LinkedIn, you can post a job mentioning the SEO requirements of your website.
Or you can use platforms like Upwork, where you can find many professionals who charge between $50 to $500+ an hour.
Here's an example;
You can go through their reviews and portfolio to pick someone who suits your budget.
You can also search online, as there are a number of websites that list SEO professionals, where you can use filters such as location, industry, or experience level.
3. Hiring an Agency
Average monthly costs of hiring an SEO agency: $2000 to $10,000+ per month (or per project)
One of the common questions most people ask is: "Should I hire an agency for SEO?"
Here's the quick answer: If you want to use SEO as a long-term strategy for generating leads and sales – hire an SEO agency.
It makes sense to hire an agency for SEO needs if you've enough budget ($5000+ a month) and are looking for SOLID results.
How much do SEO agencies charge?
Most agencies charge per project. According to Ahrefs survey, 2,501 to $5,000 is the most popular per-project rate.
If you go by the hourly rate charged by most SEO agencies, they charge $98.90/hour, on average.
But here's the thing: a gazillion SEO agencies are out there, each claiming to be the best.
Don't fall for their tactics, especially if someone claims to deliver quick results. Nobody can double or triple your website's traffic overnight. It takes time. In fact, it takes a year or two.
Here are a few things to consider before hiring an agency for your website's SEO needs.
Consider the reputation of the agency you want to hire. You can check online reviews and customer testimonials to find out how good the agency is.
Ask them for the process. Find out what exactly they'll do to improve your website's rankings.
Make sure the agency is easy to communicate with and figure out a way to communicate regularly (either through Zoom calls, emails, phone calls, etc).
Ask them to keep you updated on their progress, so you'll know what's actually happening with your website.
Above all, identify at least 3 to 5 agencies that are a good fit for your website or business and get quotes from different agencies before making your FINAL decision.
Remember, SEO is a long-term investment. So don't expect QUICK results from anyone (be it an agency, SEO professional or consultant).
What is SEO anyway? What are the benefits of SEO?
SEO (Search Engine Optimization) is optimizing your website to get HIGHER search rankings for target keywords in search engines like Google.
There are basically two main types of SEO: on-page SEO and off-page SEO.
On-page SEO is all about optimizing your website's content, structure, and more. Off-page SEO refers to building backlinks to your website to improve rankings.
Some of the BIGGEST benefits of SEO include the following.
Helps you generate FREE traffic to your website or business
Helps you with higher conversion rates as people who visit your website from search engines are more likely to buy (SEO offers an average conversion rate of 2.4%!)
SEO can improve your website's organic visibility, help with leads, sales and much more
---
So Should YOU Pay for SEO in 2023? 5 Questions to Ask Yourself
Should you really consider paying for SEO in 2023?
It's a question only you can answer. But… we'll make it easier for you to decide whether it's worth it for your business.
Ask yourself the following questions before investing in SEO.
Question 1: Is my website ready for SEO?
Firstly, properly set up your website for a few things. If your website is NOT ready, your investment in SEO will be a waste of time.
Here are a few things you must do on your website before investing in SEO;
Make a list of all of your competitors' websites and find out how they're doing in terms of SEO. Find out their traffic-generating keywords and identify each keyword's CPC value (cost per click) value so you'll know how competitive your niche is.
Make your site mobile-friendly and invest in an appealing web design. Use premium themes like Astra Pro, or hire someone to design your site. If you want to experiment, use AI tools like

ChatGPT to build a website

.
Build a list of ALL the keywords your website wants to rank for. Use tools like Semrush to find dozens of relevant keywords in ANY niche.
Spy on your competitors' paid search ads to see how they spend on PPC. Again, you can use tools like Semrush to get the PPC data quickly.
Question 2: What are my website goals with SEO?
This is probably the MOST important question you'll need to answer before investing in SEO.
What exactly do you want from SEO?
Is it just FREE traffic? Or leads? Sales? Or do you want to improve the online visibility of your business in Google search?
Depending on your goals, you can pick an appropriate method of doing SEO (hiring someone or doing it by yourself).
While setting SEO goals, make sure they're specific and achievable.
You don't want to set unrealistic goals like "getting 1 million visits to my site". Instead, set a realistic SEO goal: "Increase search traffic to my website by 10% in the next 6 months."
Are you getting it?
Start with small, achievable goals and gradually increase your expectations as you see results.
Question 3: What are my current website's search rankings?
Before you invest in SEO, it's important to find out your website's current SEO rankings.
Are you ranking for any keywords? If yes, what are their current rankings, and how many visitors are coming from Google?
This will help you easily identify what needs to be done to improve your website rankings in search results.
Also, use tools like Semrush Site Audit to find out a list of all the issues your website has. Because most SEO agencies or freelancers will need to fix those issues before working on the project. You can save thousands of dollars by fixing those issues by yourself.
If you want to save money on such things, you can do it all by yourself. Here's a FREE guide on how to do website audits to find and fix your site's issues.
Question 4: How much am I willing to spend?
As already mentioned above, the average SEO cost varies for every project and website.
The average spend on SEO will depend on a number of factors, including;
Your monthly budget
Your business goals
The competition in your industry
So what kind of website are you going to run for SEO? Is it a portfolio website? An eCommerce store or a business website? Depending on the complexity of your site's SEO needs, you need to pick a budget.
If you have a limited budget (let's say below $2000 a month), you may want to consider working with an SEO freelancer or agency that offers budget-friendly packages.
Generally, you should expect to spend between $500 and $5,000 per month on SEO (to get decent results).
Question 5: How long am I willing to wait to see results?
We've said it a thousand times and we'll say it again: SEO is a marathon, not a sprint.
You'll be wasting time and money if you're looking for QUICK results. If you really want faster results, go for PPC ads instead of SEO.
It takes time to improve your website's ranking and generate traffic from search engines like Google. If you understand the fact, you can set realistic goals to improve your website's rankings.
So how long should you wait for the SEO results?
It depends on your industry and competition. Few industries are easier to deal with, while most industries have HUGE competition.
As a rule of thumb, you should wait at least 8 to 12 months to see some kind of results from SEO.
---
FAQs | Is SEO Worth it for Small Businesses?
Here are some FAQs on search engine optimization and its costs.
Is paying someone to do SEO worth it?
SEO is worth every penny you pay for. Remember to invest money only in agencies (or in-house SEO teams) with a proven track record. You must also remember that SEO is a long-term strategy that takes several months to deliver results.
Is it a waste of time to do SEO?
SEO is definitely not a waste of time. In fact, it is an essential part of any digital marketing strategy. SEO can help you improve your website's visibility in search engines, which ultimately helps you with more website traffic, leads, and sales.
Is SEO worth learning in 2023?
SEO is worth learning as long as there are websites and businesses spending money on search engine traffic. In fact, SEO is a billion-dollar industry that is growing rapidly every year.
Is SEO better than Google ads?
It depends on your needs. If you're looking for a FREE way to promote your business, go for SEO. If you're looking for faster results, you can spend on paid search ads, as you can generate traffic from day one. However, SEO takes time.
How much does SEO cost?
The cost of SEO depends on various things, such as;
– The complexity of your website
– The level of competition for your target keywords
– The type of content you want to create and the backlinks you want to build
However, most businesses can expect to spend between $1000 and $10,000+ monthly on SEO.
Is SEO needed for businesses in 2023?
If you're running a small business, SEO can help you attract more visitors to your website. Make sure to target the RIGHT keywords your audiences are searching for, create helpful content, and build links to grow your search traffic.
Related Resources:
---
Final thoughts on how much does SEO cost
SEO is definitely worth your money, especially for small businesses.
The key here is to know your budget, understand your website's SEO needs and pick a way that suits your budget (DIY or hiring someone) to improve your rankings.
If you're on a tight budget, we definitely recommend DIY SEO, as you can learn and experiment with different things. Lastly, it takes a few months to get decent results from SEO.
What do you think about the SEO costs? Is SEO worth it in 2023? Have you tried it yet? Have any questions? Let us know in the comments.