Most gamers would jump on the opportunity to get their hands on the game they've been waiting for. If they get it for a bargain, all the better. And G2A can help you get that oh-so-satisfying discount. But the burning question remains – is G2A legit? Or will you end up losing money while chasing cheap games?
Let me tell you this straight away – G2A is not fully legit or 100% legal. There have been tons of complaints against this platform. The involvement of third-party puts buyers at the mercy of resellers. And G2A's reputation has taken a big hit in the past year. Their reviews have dropped while customer complaints soared.
As a result, G2A has taken action to improve its service. Still, using G2A to buy game codes can be risky business. Online marketplaces, especially gray markets, can be shady. And you need to have strong risk tolerance if you're dealing with G2A.
Despite the risks, many people use G2A to get cheap games and make a side income. I'll talk about all G2A offers and the challenges and pitfalls of using this key reselling platform here. So, stick to the end if you want to know whether G2A is worth using.
What is G2A?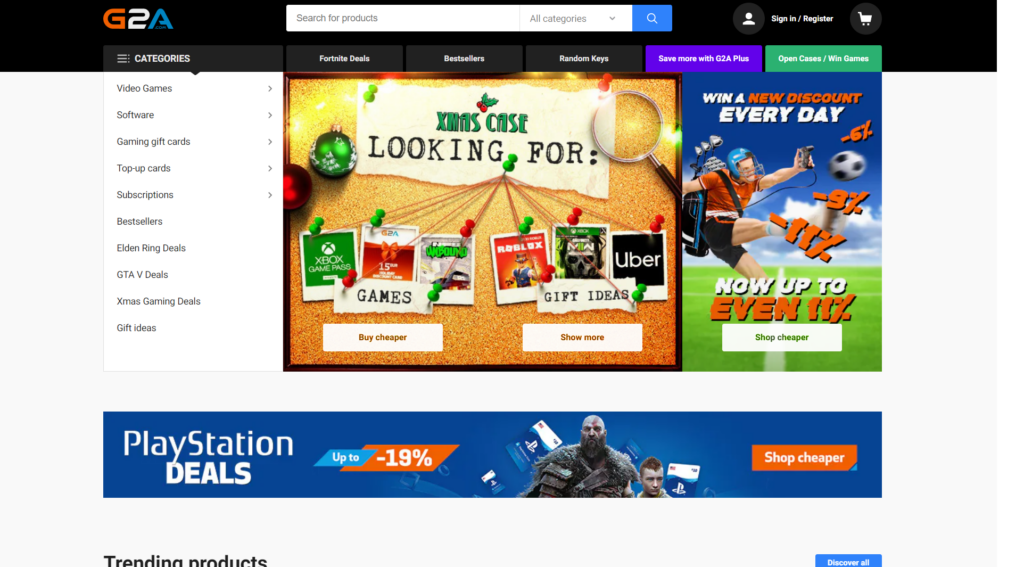 G2A is a third-party reselling platform. In other words, it's a gray marketplace where people come to buy games at a discount. You can browse through many games listed on the site and redeem the game keys at nearly half the price if you get lucky!
G2A was once just another digital game store until they started the G2A marketplace. G2A wanted to involve users as third-party sellers. Now, anyone has the opportunity to sell their used video games.
The good thing is that G2A has a great video game collection because users can sell their games. And they're almost always on discount.
And if you didn't know already, a game key or code is an authentication number that gives you access to the game's digital copy. Once you purchase from G2A, you get the number. You put it in the platform you'd like to play in (Steam, Origin, Epic), and you're good to go.
How Did G2A Get Started?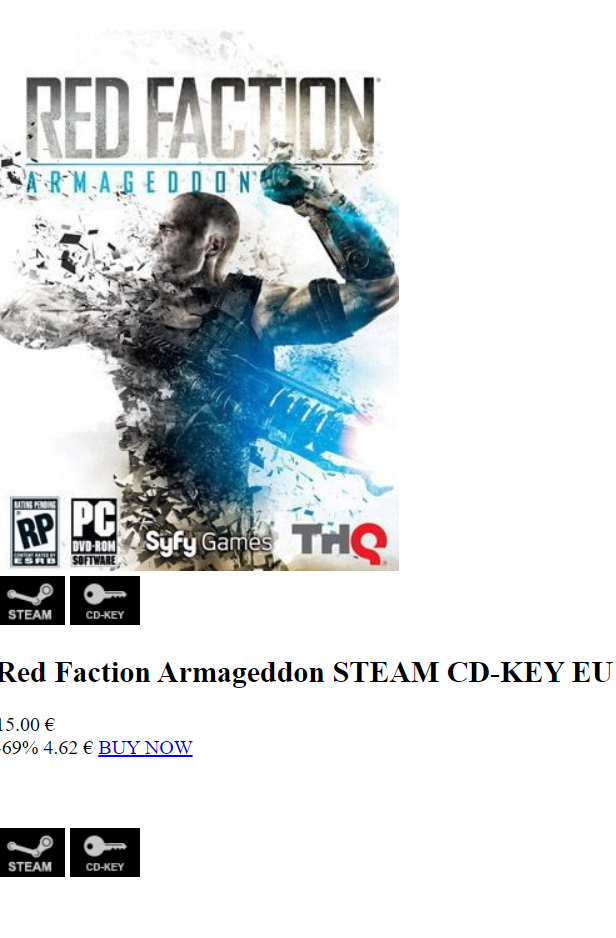 G2A started in the Netherlands in 2010 as a standard online marketplace where you could buy game codes and game keys. But in 2013, it started a third-party reselling marketplace. That's when the infamous G2A marketplace was born.
They even began a venture titled G2A deals, where they used to sell a pack of games similar to a humble bundle. It's still active. But most people buy a single game key.
Interestingly, although the company started in 2010, the domain itself was open until 2013. So, G2A probably got the domain after they started their operations.
And 2013 was just not the year for G2A. Many other big players (CDKeys and Kinguin) in the digital marketplace also joined the party. So, G2A had to take it up a notch to come out on top.
That's probably why G2A went hard on influencer marketing. Popular Twitch streamers and celebrities in the gaming industry started recommending G2A. That's how, whenever the subject of buying game codes came up, the name "G2A" also came up.
The owners of G2A haven't changed. It's still co-owned by Bartosz Skwarczek and Dawid Rożek. While G2A owners do maintain a public appearance and are accessible for questions from the general media, the business is still struggling to maintain its integrity and image. Check out their Trustpilot profile here.
Their traffic is still pretty stable, though.
Is G2A Legit and 100% Legal?
G2A is neither fully legit nor 100% legal.
And a lot of this is because G2A's customer protection isn't foolproof. That's why a lot of buyers end up getting scammed. Even indie game developers have started a petition against G2A. Indie developers were taking massive hits when it came to buying game codes.
Resellers would use stolen credit cards to buy game codes and later sell them to customers. When the owner of the credit card filed for a chargeback, developers ended up getting the short hand of the stick.
And one more thing. There's nothing illegal about reselling game keys. But if game codes hit the marketplace in a way that publishers didn't intend, it's not completely legal. So if you buy game keys from G2A, please exercise caution.
How Does G2A Give Discounts?
First, we need to understand that G2A has nothing on the discount because they don't sell keys. As a customer, you're relying on the integrity of the third-party reseller to get cheap game codes.
With every purchase you make, the reseller gets a percentage, and G2A takes the rest.
So, how do resellers get the games at such a price? Let me explain.
Buying the Gaming Keys During a Sale
This is a 100% legit thing to do. A seller can purchase a game code when a special sale occurs. So, during that time, sellers buy games in bulk. That's why they can sell keys later when the price increases and make a profit.
Buying Games with Regional Discounts
A common market strategy is to adjust the price according to the region. So, a game that costs $59.99 in the US may cost only $40 in a South-Asian country. A ton of resellers use regional pricing to buy games in bulk.
Abuse Contests by Using Bots/AI
Most resellers take this route to make a quick buck. Instead of buying games, they enter different contests posted by either streamers or developers. This concept is known as "bot mining." They use artificial intelligence to get as many gaming keys as possible. And they sell the game code, which was meant for promotion.
Credit Card Fraud
A gray marketplace is the perfect hunting grounds for credit card thieves. They don't have to worry about the price once they've swiped some poor victims credit card info. Instead, they can simply purchase steam keys and then sell them using the stolen credit card. And with G2A's very limited customer protection, the buyer is always left stranded as they have to file a police report for the money-back guarantee.
Note: We all know that 3rd and 4th options are illegal. But I wanted to give you a full disclosure of what happens in G2A. So, you have to be careful.
Can You Get Scammed on G2A?
If you're wondering – is G2A Legit – here's your answer. No it isn't – or at the very least it isn't 100% legit. You can get scammed on G2A. I know that's not what you want to hear when you're eyeing that humble-bundle-style game pack. But it's true.
How Can You Get Scammed on G2A as a Buyer?
The keys sold were bought using a fake credit card. So, your purchased game code is illegal.
You get handed a region-locked game key. You put the code in, but it doesn't work.
Clickbait game title. This one's tough. But you can get the code for something entirely different than intended.
Sometimes you can get invalid keys that are downright fake. You can get your precious steam account banned for it.
You need to file a police report to get their money-back guarantee. That's a massive hassle because most resellers use fake IDs.
How Can You Get Scammed on G2A as a Seller?
And it's not just buyers who face scamming. Sellers are also susceptible.
G2A can withhold your money and block all the transactions if they find anything fishy. Sometimes, they do it without any good reason.
They can ban your account without any prior notification. It takes time to build a reputation. And you can lose it overnight.
Fake reviews from bots or competitors can destroy your good reviews.
Note: One easy way of avoiding scammers is to always check the seller's reputation. Do not let cheap keys lure you in. And as a seller, make sure to keep your reviews up and build trust with your customers.
G2A FAQ
Can G2A be a Good Side Hustle?
Yes. G2A can be a good source of extra money if you can build your reputation up. Remember, there are some setbacks, and the question "is G2A legit" will bug you. But patience and intuition can go a long way. And there's still plenty of opportunity.
How to Make Money on G2A?
There are a few ways of making money on G2A. The most popular ones are listed below:
Sell Game Keys (G2A Plus)
You can set up your store and sell activation keys. There's a listing fee of 0.15 EUR and another 0.35 EUR + 10.4% if you sell games. Here is a detailed breakdown of the costs involved when selling on G2A.
Become G2A Affiliate (G2A GoldMine program/g2a Referral)
You can become a G2A affiliate by signing up for their Goldmine program. This is the best way of earning passive income from G2A because you don't need to scout, list, and sell games. If you can get a referral to sign up using your link, any qualified purchase they make gives you a commission.
The good news is that you can reap benefits from any referrals that become sellers later. So, every sale they make is more money in your pocket. Just keep in mind that your reputation is at risk if someone gets scammed through your recommendation.
G2A Partnership for Verified Sellers (g2a seller supreme)
With G2A's Seller Supreme program, you can be authoritative in the G2A marketplace. Plus, the commissions are lower, and you'll have a dedicated account manager to help you boost your business.
Note: You need to be a business-verified seller to enroll in the Seller Supreme program.
Tips for Making Money on G2A
Start slow if you're a new seller. Wait for a holiday sale to buy some activation keys. List them on G2A and start selling.
Observe the trends carefully to understand what games are popular now. You can use Stream reviews, G2A item views, and check video game news to keep up with what's going on.
Check the lowest price point and recent sales.
Calculate the profit and list accordingly. G2A has a listing fee and another fee for listing updates. So, do your homework before you list anything in the marketplace.
Build up a reputation by being responsive. You'll start becoming popular once you provide keys that are genuine.
Honor the money-back guarantee. Most sellers turn away after a key is sold. Be different. And people will love you for it.
Use any following you have to get more money from the referral program. If you learn the techniques of

growing a social media following

, it will be super rewarding.
Sign custom-tailored partnerships with G2A. If you have a decent fan following, G2A is willing to negotiate terms. Talk to the support team, and they'll help you.
G2A Alternatives
G2A is not the only place to buy keys. And if the question, is G2A Legit overwhelming you, you can look at the alternatives.
CDKeys
CDKeys is one of the most popular and trusted marketplaces for various video games. You don't have to worry whether CDKeys is legit because no third party is involved.
There's a central authority that controls the entire situation. So, you'll likely get the game you want without trouble.
Trustpilot Review: 4.7/5
Eneba
Eneba is a greenie compared to the biggest brands like CDKeys, G2A, and Kinguin. They got started in 2018. However, the cheap prices combined with their ironclad quality control paved the way for their success.
If they can keep this up, this platform will become the go-to hub for gamers who want a legit site to buy game keys.
Trustpilot Review: 4.5/5
Gamer's Gate
Another top contender for becoming the best online game store is Gamer's Gate. They run things by the book. And even the slightest of missteps can set their alarm off. But if you want to buy game keys from a safe and legit place, Gamer's Gate is a great option.
Trustpilot Review: 4/5
Verdict: Is G2A Legit?
Well, as much as I'd like to say yes, I can't. So, is G2A legit and safe? No. G2A has become the wild west of game key reselling. And you don't know who's out there to get you because G2A has been accused of fraud repeatedly.
However, if you're careful, you can still snag some great discounts from G2A. But then again, the risk-to-reward ratio doesn't look good. I suggest checking the seller's reputation thoroughly before buying any keys.
Still, G2A can be a good side hustle. If you can get some referral signups, you can keep earning money without effort. While G2A is filled with scammers, there are good sellers as well. In 2019 alone, the best G2A sellers earned over €100,000. So, there are still some good opportunities here once you start building your reputation.
I hope this article gave you some valuable insights. Cheers!