Online communities are a goldmine, so building an online community is a great place to start if you're looking for ways to make money online. In this article, I will be talking you through how to start a community website that will make you money and organically build your brand.
Even if you haven't heard of a community website before, you've probably used one.
A community website is a platform primarily targeted towards producing user interaction, and will naturally build relationships with each other and your brand. Because of this, it's a wonderful way to create an engaged audience of like-minded individuals that share your interests.
Best of all, a thriving community website can provide the beginnings of an excellent sales funnel.
Community websites can be a tremendous asset, both for businesses and individuals. They enable users to stay in touch and keep on top of the latest developments related to community interests. They're great for everything from mom groups to power tool enthusiasts and even online co-working groups.
In short, they're an incredibly flexible and valuable type of website.
Read on to find out everything you need to know about how to start a community website.
Community websites are all about inspiring connections. You can expect to create a network of people with common interests or goals. In addition to sparking connections, community websites provide a natural support network, with users answering each other's questions and offering advice to help each other out.
As the owner of the group, you can also answer questions. Doing this will make you seem more approachable and create a positive association with your brand. It also has the added benefit of feeling like you offer excellent customer support if you're a business.
The main benefits to running a community website are:
Generate new leads

Build brand loyalty

Generate passive income

Unlimited earning potential

Flexible working hours

You can work from anywhere
If you want to start a community as a support system for a business, then a community website is an excellent way to generate new leads. Particularly if your choice of topic is more general, for example, if you were a sustainable clothing company, you could start a community website about shopping sustainably.
Doing so would attract people who don't know your brand, and then you can promote your brand and answer common questions and discuss related topics.
Overall, community websites are an excellent way to build your customer base and your organization as a whole.
There are many different types of community websites. After all, a community website can be about anything that enough people are interested in. The main two types are online communities and local communities that communicate online. These are simply spaces where people with a common interest can get together to follow news and discuss any issues.
1 – Online Communities
An online community focuses more on a specific interest than a geographical location. They can be broken down into more specific categories, grouped by the website's aim. This could be interests and hobbies, transactions (groups for buying and selling products or services), support communities, and action or activism communities.
Online communities tend to focus on specific interests. Mum support groups are one of the most popular examples. These community websites, like Mumsnet, offer a place for less experienced users to ask for support or advice for more experienced members to contribute to, a place to make friends or build a connection.
Travel is another example of a hobby-based group. Travel groups tend to break down further into specific types of travel. This could include things like cruises or van life. This provides a space for members to discuss deals, ask for reviews of different brands or products, and connect with people who share their travel styles.
Project Van Life is an excellent example of this. This community website aims specifically at people who live the 'van life' and people interested in this lifestyle.
The website includes a blog, shop, marketplace, and online course. It also has a discussion forum where people can ask for advice and make friends.
2 – Local Communities
Local communities are more focused on a specific geographical location. More often than not, local groups are specific to towns or cities.
There could be a group for a city like Newport, but each suburb might have its own community website. They're all local groups but on different levels.
Local groups offer a mixture of community, relationships, and transactions. For example, discussing a community garden or local area is common. In addition, there might be groups to make friends in the local area or a buy and sell group focused around a specific town or city.
Community websites can be public forums or private websites, and there are benefits to both. However, there are also unique challenges with running a public vs. private community website. Ultimately, the type of website you choose will entirely depend on what you want to get out of the community.
Public Communities
A public group is a group that anyone can join. There might be a process that they need to complete to gain access, but it's non-exclusive and doesn't have joining requirements.
Reddit is an excellent example of this — anyone can sign up and participate in discussions at any time.
Public groups may also refer to anybody having the ability to access the information within a group, even if they're not a member. Public communities can benefit anyone who comes across them, allowing for discussion with a wide range of people, making for a more active discussion.
However, it might also detract from the user experience because the overarching topic could get diluted by so many members going off-topic within the group, and open groups are sometimes a target for spam or scams.
Public groups are usually free. The good news is, there are still plenty of ways to make money, even if you're not charging a membership fee.
Private Communities
Private communities focus on a more specific topic, and there is some form of barrier to entry. This barrier could include rules about who is allowed to join or conditions of membership. In addition, private communities often have paid memberships where members pay a monthly subscription fee to be a part of the community.
Food Blogger Pro is an excellent example of a paid membership community. Members pay a monthly fee for access to an online course on how to start a food blog, as well as access to a valuable community where members can build relationships and share advice.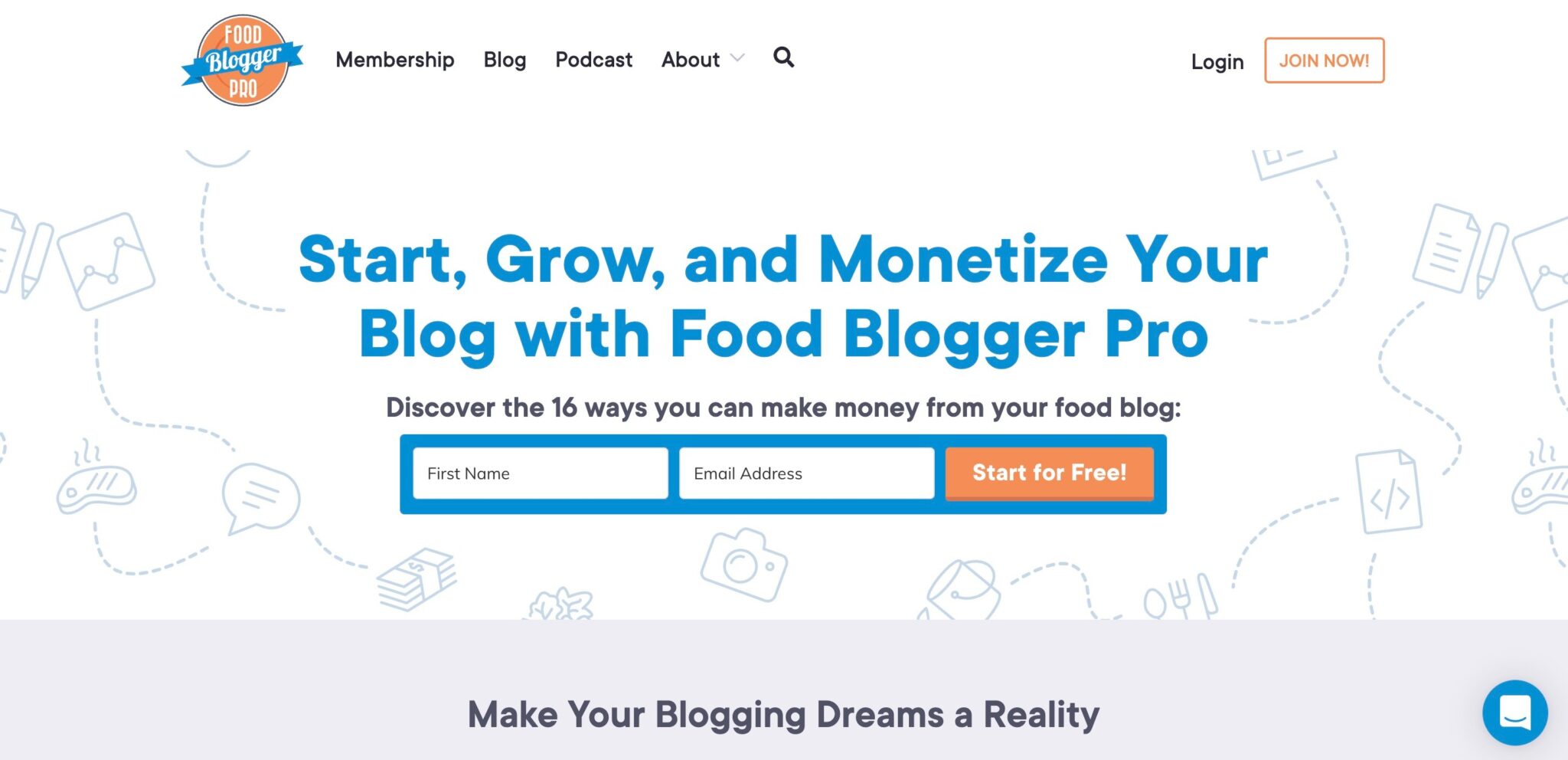 Private community websites aren't always paid membership communities, but it's pretty common. Community websites that offer a paid membership could also be more about building connections.
An example of this could be dating sites or industry professionals.
Private groups are often more for targeted discussion, and, particularly in a paid membership group, the host will ensure that the group remains active and on topic. Private groups usually facilitate deeper discussion and tight-knit communities. It also keeps spammers or scammers out of the group because they often wouldn't go through the hassle of joining.
This section will tell you everything you need to know about how to start a community website, step-by-step.
The best way to build your community website is to use WordPress. 37% of the world's websites are built on WordPress. It's super easy to use and gives you complete control over the look and content of your site.
You don't need a developer (unless you want one, of course); you can create a beautiful, professional-looking website using WordPress themes and add the functionalities you need with various Plugins.
Here's how to get started.
Step 1: Choose a domain name and hosting plan.
The first step to building your community website is to choose your domain name and hosting plan.
Bluehost is the best option for businesses just getting started. It's affordable, reliable, and user-friendly. You can't go wrong! Bluehost has various shared and dedicated hosting plans, so it's easy to switch and upgrade as your community grows.
You can get a free domain name and over 60% off Bluehost hosting here.
Get a free domain and discounted hosting with Bluehost
Step 2: Install WordPress
Next, you're going to want to install WordPress. Again, if you're using Bluehost, you can do this with one click from your dashboard.
On your Bluehost Dashboard, click 'Add Site.' You then have the option of building your site using WordPress or Bluehost's website builder.
Choose the WordPress option, as this will provide you with complete control over the design and customization of your site.
Once you have done this, you will be asked to choose a theme. You can change the theme at any time, so don't worry about this too much.
If you haven't selected a theme for your community website yet, pick one of the free themes for now.
Step 3: Choose the Right Themes and Plugins
There are thousands of great-looking themes to choose from for your community website. You can browse through the templates available on Themeforest.net and view the demos to see what catches your eye.
One of the best themes for creating a community website is KLEO. This flexible theme works with BuddyPress to create a professional-looking community website in a matter of hours.
BuddyBoss is another excellent community website and membership site theme. It allows you to create social networks, paid communities, sell online courses, and more.
Finally, Aardvark is another theme you might want to consider. It's perfect for creating community and membership sites using BuddyPress.
Once you've chosen a theme, you will also need to install forum software like Buddypress or BBpress.
Buddypress is a WordPress plugin that will enable you to create a social network with member profiles, groups, activity streams, and more on your community website.
BBpress is another WordPress plugin that will enable you to create a forum on your website.
Both of these plugins are completely free. You can use either one or both together, depending on the type of online community you want to start.
There are some pages that all websites should have. These include:
About Page

: The 'about' section explains what new members can expect to find when they sign up. This section could be about you, your products, your business, or the community they can expect to see. If you're setting up a community website for a charity, it may be helpful to have a mission statement.

Homepage

: The 'Front Page' of your community website. This could feature the latest news, special offers, or links to other areas on your site.

Blog

: Blogs are essential for any website and are very important for SEO. Having SEO-optimized blog posts on your website will help your target audience find you in search engines when looking for answers to questions. For example, you might have searched for 'how to start a community website,' which has brought you to this page on the Niche Pursuits blog!

Contact

: You should provide your community with a way to contact you if they need to. This could be via a contact form, chat window, or simply through your email address.

Services

: If you provide other services relevant to your community, this is the place to promote them. Whether it's private coaching or an online shop, make it easy for your community to find what you're offering by creating a dedicated page for it.

Community Guidelines

: Let your audience know of any rules and expectations required to join the community.
After this, it's up to you what pages you would like to include. The other pages you choose will largely depend on what kind of community website you're setting up.
Decide if You Want a Forum
Forums are a kind of community website, but not all community websites are forums. However, community websites are usually supported by forums.
A forum allows users to create topics and posts to discuss with other members. Some users may have enhanced control of the website as moderators or administrators. These users will generally create top-level topic groups.
Users are then able to create topics within these overarching topic groups.
You can choose to create a public forum where anyone can read the posts and comment, but you have to be a member to create a post. Alternatively, you can create a private forum where users have to be members to see content, comment, or create posts.
With forums, posts all appear in one feed, but they can have topic tags applied to the posts to enable users to sort by topic if they choose to.
Adding a forum to your community website is surprisingly easy. All you need to do is install the BBpress plugin, and you're ready to go.
An alternative to having a forum is to set up a private Facebook group and link to it from your community website. You don't need any technical skills, it's free, and you can set this up within a few minutes.
Almost everyone is comfortable using Facebook, so it's an easy solution.
Facebook doesn't encourage paid communities, and as such, there is no way to accept payment as a condition of membership. However, you can get around this by having a website that offers a paid membership and then offering the private Facebook group as part of the subscription to your service.
Set up Your Newsletter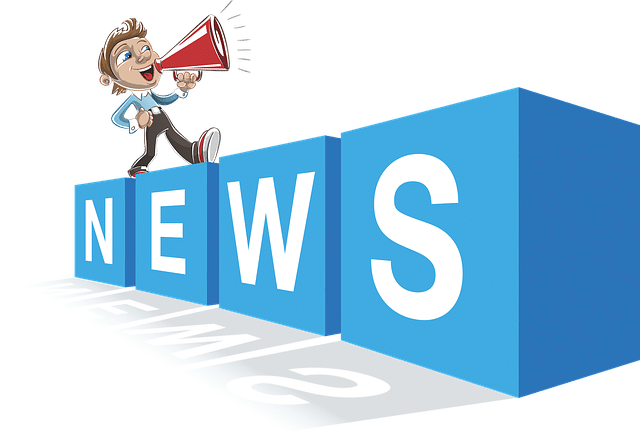 When building an online community, newsletters are vital. They should be considered to be as important as the website itself. While not everyone will check the website regularly, most people check their emails daily.
You can use a newsletter to share important news, let community members and customers know about updates or special offers, or in the event of a website malfunction, you have another way to let your audience know.
There are many different platforms that you can use to create your email list, but one of the best is ConvertKit. ConvertKit offers a completely free plan for users with less than 300 email subscribers. It's a perfect option for new businesses on a tight budget. Then, as your community grows, you can upgrade to one of the paid plans, which start at just $9/month.
ConvertKit helps you to create eye-catching emails that engage your audience. The platform has lots of templates to allow you to create beautiful emails in minutes. It also offers detailed analytics which will show you how you're doing and where you can improve.
Social Media
One of the other things you should think about when launching a community website is which social media platforms are essential to you and your audience.
Social media platforms are important to keep your audience engaged with your brand and up to date on any news or developments.
You should choose which social media platforms to use based on your target community.
Facebook: If it's a local community of all ages, Facebook is likely to be your best bet. Facebook is also usually the platform of choice for older users.
LinkedIn and Twitter: These are often used by professionals, so if your community website focuses on creating working relationships or networking, then Twitter and LinkedIn are where you should be showing up.
Instagram or TikTok: If your audience is younger (millennial or Gen Z), they're likely to gravitate towards Instagram or TikTok.
When deciding which social media platform to choose, you should also consider what you want to use the platform for. For example, Facebook, LinkedIn, and Twitter are best for sharing links and having discussions.
On the other hand, Instagram and TikTok are much more visual. While you can create active and engaged communities on these platforms, they are much more passive.
Getting the Word Out
When creating a community website, there's a tendency to think, "build it, and they will come." But, unfortunately, that's usually not the case. One of the most significant parts of creating a successful website is promoting your website and providing enough value to give people a reason to join.
One of the best ways to get the word out about your new website is social media.
You will grow a following in time, but one of the quickest ways to accelerate this growth and drive website sign-ups is to create social media advertising campaigns. These campaigns should be built on the platforms you want to grow a following on.
Your campaign should include a call to action encouraging people to go to the website and sign up — so be sure to talk about the benefits of joining!
If you offer a product or service, you might want to consider influencer marketing to spread the word. This is where you work with an influencer to help promote your community website on social media. The price for this will vary by the number of followers the influencer you work with has, so you will need to budget for this.
Working with an influencer that's popular in your niche can be a fantastic way to reach your target audience, so although it can be pricey, it's money well spent.
Official Launch
Having an official launch event is an excellent way to celebrate your hard work. It's also a perfect opportunity to market your website and increase sales.
One of the best ways to build a user base quickly is to offer an incentive or sale for new users, and launch week is a great excuse to do this. For example, you could offer a discount for people who sign up in the first week or provide a free trial membership for a limited time to drive sign-ups. In addition, you could use influencer marketing to push the word out about your new website.
You could even consider writing a press release if you have a unique concept. You can then send this out to relevant media and influencer contacts. Make sure that you do your research, so you're not sending this out to anyone and everyone, as it's a waste of your time and theirs.
However, once you've found the right media outlets to target, they usually have contact details listed on their websites and social media.
If you've decided not to operate a membership scheme or want to make money from more than just membership subscriptions, you might be wondering where to start. Luckily there are a vast wealth of options to choose from.
The best strategy to make money is to combine multiple sources to increase and stabilize your income.
1 – Display ads
Display ads are a great way to earn extra revenue from simply having visitors to your site. Google Adsense and Ezoic are a great place to start while your website has a small user base, mainly because there's usually no lower limit on the number of views you need to be part of the program.
Check out our in-depth Ezoic Review for everything you need to know about how to make money with Ezoic.
Once you start to hit more significant page views, switching your advertising over to MediaVine or AdThrive is an excellent way to increase your revenue with very little extra work.
MediaVine requires a minimum of 50,000 monthly sessions for a publisher to join the platform, while AdThrive requires 100,000 sessions per month. Because of this, they're able to charge advertisers more because they're guaranteed to get their advert in front of more people.
2 – Affiliate marketing
Affiliate marketing is a great way to make money if your community website recommends different products. Affiliate marketing is when companies pay a commission for each sale you refer. Most larger companies go through a platform like CJ or AWIN, but many small businesses also offer affiliate schemes.
Once you join an affiliate program for a product or service you want to promote, you are provided with a unique affiliate link. When customers click on your link and buy something, you will receive a percentage of the sale as a commission. Commissions vary widely depending on the product you promote and can range from 1% to 75% of the sale price.
Affiliate marketing is great because while it takes some time to set up links, it's largely passive income from that point on. As long as the link is placed correctly, you will make money each time someone buys something through your link without any further work from you. Because of this, it's often heralded as one of the best ways to generate passive income.
Sponsored content is another way you can make money with a community website. While it can be lucrative, it can take a while to build up your traffic to the point of being offered sponsorships. Even then, you should be careful about what you accept.
Sponsorships are when a company pays you an agreed fee to talk about their product or service to your audience. This is usually in your newsletter or on your blog.
While this is a great way to make money, you must be careful only to accept sponsorships relevant to your audience. Accept too many, and your audience will lose trust and interest in your website.
Now that you know how to start a community website, it's time to put your knowledge into practice.
Creating a community website is a great way to engage your audience. It will help you develop a base of core users who consistently return to your website. In addition, if you monetize your website in the right way, it can be an excellent source of passive income.
You won't find yourself with a new income source overnight. Instead, it will build up slowly as long as you're consistent in engaging your users, keeping the site active, and working to attract new users.
Correctly marketing your new venture is vital. You need to make sure that you target the right social media platforms when choosing where to place your attention. You should also think carefully about your target users when paying for any advertising on social media.
Building an email list should also be one of your biggest priorities when launching your new website. An email list is, without a doubt, the best way to keep in touch with your audience.
It's an excellent way to remind your audience to keep visiting your website because you can tell them what they're missing out on by not being an active member of the community. An active email list is also a great asset to offer to advertisers; offering a small space for an advert at the bottom of your email list can be an excellent way to earn extra income.