Almost every small business marketing strategy encounters lulls. Maybe you started out with a huge, successful launch but the numbers have fallen off, or your steady growth suddenly hit a plateau.
Perhaps your marketing plan seems tired, so you're on the hunt for a new tactic to infuse some much-needed energy back into the mix.
Fortunately, there are tools available to help you reach customers and provide incentives for them to buy.
These techniques can help you find new customers, but they'll also help you reach existing ones in ways they prefer to engage, or perhaps by delivering your offer in a different format.
In this article, we'll share five ideas to refuel your small business marketing strategy, along with some practical tips to get you there. Let's dive in!
1. Run a Contest or Giveaway
Contests are a fun method to drive engagement on social media or other platforms. They create excitement around your product and can be an effective way to raise brand awareness with people who may not be familiar with your business.
Examples include photo contests, caption contests, or best comment competitions. You can be creative by tying the contest in with your brand and making it memorable and share-worthy.
If your website is built on WordPress, RafflePress is a plugin that can help you launch your contests with ease:
You can also encourage your affiliates to host contests or giveaways to reach your audience. Provide your publishers with clear information on prizes, entry rules, and other key guidelines.
If you're running your contest on a social media platform, be sure to read and comply with its guidelines for contests and giveaways, too.
2. Branch Out to New Social Media Channels (If It Makes Sense To)
Each social media channel is an opportunity to engage directly with consumers. If you're already creating content, with a few tweaks you can optimize it for multiple platforms.
You may reach new leads on networks you simply haven't created profiles for yet, or by trying up-and-coming ones.
For example, many brands are starting to advertise on TikTok because of its soaring popularity. With over 800 million monthly active users in over 150 countries, its potential is understandably appealing.
However, branching into new social media channels may not be the best strategy for every brand. Always research potential marketing channels beforehand to make sure they're relevant to your target audience. For example, you wouldn't want to join TikTok if you sell products for seniors, as its user base is quite young.
3. Publish Infographics to Relevant Channels
Although content marketing often refers to blog posts, there are other types of valuable content you can create to draw in leads. Infographics are highly effective because people can digest the information quickly and easily.
Infographics have an added benefit, as they may also increase your brand's authority in your industry.
By sharing relevant data, they can position you as a knowledgeable source of information about your field. This type of content is readily shared, leading to further brand awareness.
What are some compelling reasons customers need your product? Are there statistics that prove its value? What problems do you solve? These can be stated in easy-to-understand graphics that include your branding.
Also, infographics are versatile and adapt well to platforms such as Pinterest, Instagram, Facebook, or even your blog. If you're not an experienced designer and don't have one on your team, never fear. Tools such as Canva or PicMonkey are beginner-friendly and will help you get started: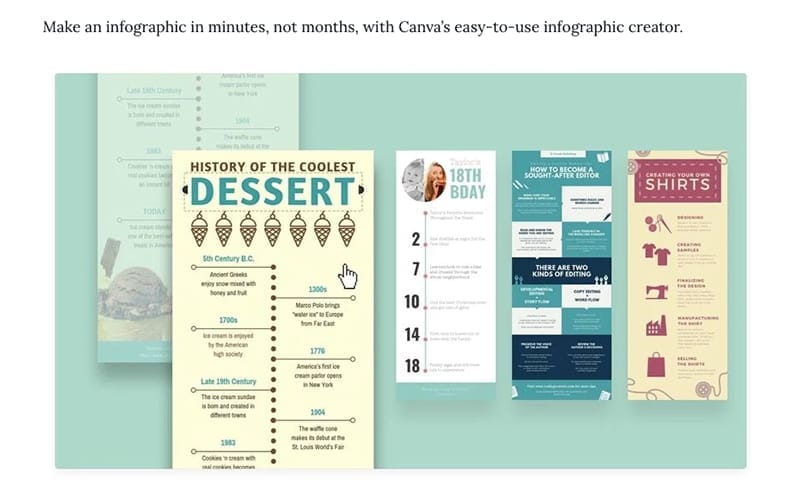 These tools include templates for social sharing as well, so you can feel confident your infographic is the ideal size for your target platform.
4. Revamp Your Seasonal Marketing Strategy
Seasonal marketing is no longer just for major holidays and seasons. "National Day" marketing is now a popular strategy many brands use. Create themed promotions around special calendar days by offering discounts, limited-time products, or other exclusive deals.
You can reference a National Day calendar to find special days related to your brand. For example, a music store might hold a 20% off sale on saxophones and accessories for National Saxophone Day.
It's helpful to plan these promotions well in advance so you'll have plenty of time to prepare and promote your big event.
If your industry tends to have slower sales during certain times of the year, this may be an excellent place to identify opportunities for growth.
You can tie these promotions into your contest or giveaway strategy, too, and use them together to incentivize sales.
5. Develop Your Brand's Unique Voice
Authenticity is a major concern for consumers these days – that's why influencer marketing is so popular. However, beyond working with high-quality affiliates, you can also make an effort to develop your brand's unique voice in all your content.
For an example of a unique voice, check out Wendy's on Twitter. The brand delights 3.7 million followers with its sassy, saucy tweets.
Your brand's voice doesn't have to be this extreme, but it's ideal to have a recognizable voice that distinguishes you from your competitors.
Your brand's voice should permeate content on:
Your website (copy)
Your blog
Social media
Email
Ads/banners
Any other content that consumers are going to see
It's also best for your brand voice to come through in all content for internal use, including your procedures, documentation, affiliate onboarding materials, etc. This helps your team members and affiliates get to know your brand so they can promote it better.
It is often repeated that people do business with brands they know, like, and trust. Developing your brand's unique voice shows customers who you are and gives them reasons to like and trust you.
Conclusion
Even the most effective marketing strategies can experience slowdowns. If yours needs a boost, there are plenty of easy-to-use tools and innovative tactics to help you add fresh energy, reconnect with your audience, and reach new customers.
In this article, we shared five ideas to ramp up your small business marketing strategy:
Run a contest or giveaway.
Branch out to new or existing social media channels (if it makes sense to).
Publish infographics to relevant channels.
Revamp your seasonal marketing strategy.
Develop your brand's unique voice.
Do you have any other questions about how to boost your marketing efforts? Let us know in the comments section below!
If you liked this article, follow us on Twitter, Facebook, and LinkedIn. And don't forget to subscribe in the box below!