Selling digital products online is an attractive business model. Maybe you're launching a part-time side hustle for a bit of extra cash, or you might be planning a full-time startup that could be the next Amazon.
Whatever your goal may be, there's good reason this business model is so appealing.
It's easy to find countless success stories of digital product stores that were launched with little to no money and are now making upwards of seven figures every year.
That means you have plenty of proven advice to follow – which makes getting started easier than ever.
In this article, we'll boil it all down to five key tips for running a digital product business successfully. Let's jump right in!
Why a Digital Product Store Is an Effective Business Model
A digital product store is a type of online business that only sells non-physical goods, such as virtual courses, downloadable music, and eBooks.
You probably see examples of this business model every day, and chances are you've probably bought something from one of these shops.
For an example, look no further than audiobook platform Audible. On this site, users can browse a range of audiobooks that match their interests.
From there, they can simply choose one they like, purchase it, and start listening – there's no physical product to deal with:
Running a digital product store like this offers impressive scalability potential. The virtual nature of this business model means that most products will only need to be produced once, and then copies can be made and sold as needed.
This saves a lot of time and money, and provides the opportunity to expand your product range more easily. And with WordPress plugins like Easy Digital Downloads, creating and managing one of these ecommerce sites is super simple.
However, as with any small business, there's hard work on the horizon.
One of the most common issues faced by new sellers is getting potential customers onto their sites. While some get lucky and find a niche they can promote with ease, others struggle to identify the right target market. Even then, it can be difficult to find the best marketing strategy that attracts new customers.
Many entrepreneurs become unmotivated and burnt-out when faced with these challenges. Fortunately, there are plenty of things you can do to help avoid these problems.
5 Key Tips for Running a Successful Digital Product Store
Now, let's go over a list of tips and tricks to help you succeed with your digital business. It consists of some highly effective marketing techniques, as well as a couple of smaller customer experience strategies that you can implement today.
1. Have a Well Designed Storefront
Your website is one of the main factors influencing how your business is perceived, and it's important for your brand to express the quality of your goods. Having a strong design is a key way to do this.
WordPress is one of the best platforms for any digital product store. It's free to use, and it gives the user a lot of control, so we highly recommend it.
Other than choosing the right platform, there are a few things you can do to ensure that your website is designed well.
For example, you can feature high-quality images and other visuals, write effective copy, and take steps to improve the user experience.
Depending on your needs, you may even want to consider hiring a professional designer to build your website.
2. Provide a Simple Checkout Process
Abandoned checkouts happen when a potential customer selects a product, begins placing an order, but never completes the purchase. According to Statista, the average cart abandonment rate in 2019 was 69.57%.
The primary reason users abandon carts is that they change their minds about the product. However, they may also find the checkout process too confusing or time-consuming.
So an effective way to keep at least some of them around is to improve the flow of the ordering process. This means the customer doesn't have time to change their mind about the sale, and they're less likely to back out due to usability issues.
Another excellent way to reduce cart abandonment is to offer more payment options. This reduces the need to hunt for passwords, pins and card numbers, because users can simply pay with whatever is available to them at that moment.
3. Advertise on Social Media
The average person spends around 2.5 hours on social media every day, which presents plenty of marketing opportunities purely because of the potential reach.
This, when combined with the variety of targeting options that are available to advertisers, makes social media one of the best ways to connect with potential customers.
Through ad management platforms like Google Ads, you can quickly and easily create a message that reaches your target market.
Typically, you'll have options such as location, interests, and age to choose from. Once you've posted your ad, it's a good idea to track its performance through an analytics dashboard.
4. Offer Promotions & Discounts
Another way to get potential customers on your site is by offering special discounts and promotions. According to Convince and Convert, 75% of consumers search through their emails looking specifically for discounts.
This tells us that customers love a special offer.
If you're reading this and like the idea of implementing special offers in your marketing strategy, you'll be glad to know it's not difficult. For more details, check out our guide on how to run promotions for your business.
5. Run an Affiliate Program
We've saved the best tip for last. And that tip is: Start using affiliate marketing. This involves making connections with third-party individuals who can bring you customers in return for a commission.
Affiliate programs are extremely effective because they generate sales while requiring very little work on your end.
Best of all, getting started with affiliate marketing is simple. The first step is to find the right affiliate tracking solution – a tool that will enable you to pay commissions, track performance, and more.
For an example, you can check out our own Easy Affiliate, an all-in-one affiliate plugin for WordPress: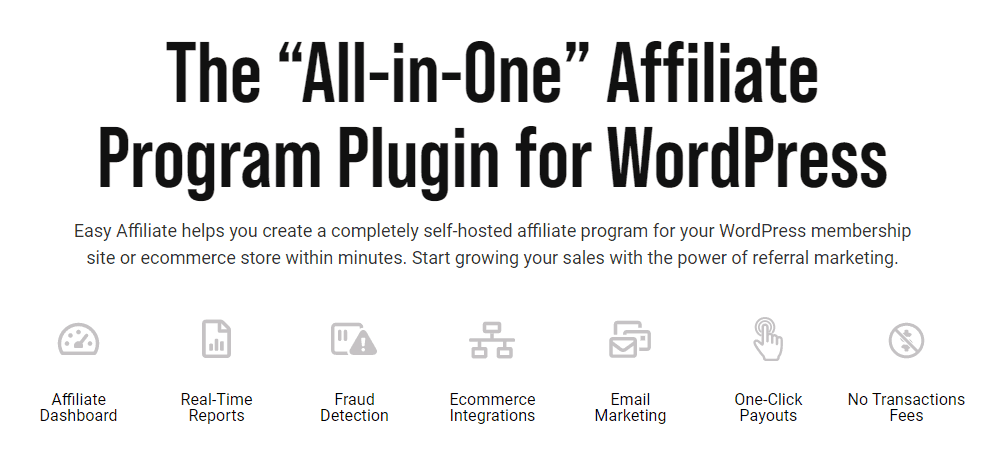 This plugin combines all the features you'll need into one complete package. Plus, getting started is an easy process.
Conclusion
Starting a digital product store may seem like a daunting and complicated process, especially if you're a beginner. However, with a little effort and the right tools, you can take advantage of this ever-growing and lucrative market.
Plus, these five tips will help increase your chances of success:
Have a well-designed storefront.
Provide a simple checkout process.
Advertise on social media.
Offer promotions and discounts.
Run

an affiliate program

.
If you have any tips and tricks that we didn't include, we'd love to hear about them in the comments section below!
If you liked this article, follow us on Twitter, Facebook, and LinkedIn. And don't forget to subscribe in the box below!
Affiliate Link Disclosure