Managing an affiliate program can be challenging. It involves handling lots of information, tracking data, and providing materials for your affiliates.
Having a user-friendly affiliate dashboard can help you run your program more efficiently. For example, some features can promote positive affiliate relationships. Meanwhile, others provide easy access to relevant materials, enabling affiliates to nail their campaigns.
In this post, we'll take a closer look at the benefits of an organized affiliate dashboard. Then, we'll explore 4 must-haves for this space. Let's get started!
The Importance of an Organized Affiliate Dashboard
An organized affiliate dashboard makes it easier for users to manage their accounts. They can track important metrics, withdraw commissions, and download promotional materials.
Let's look at some additional benefits:
Makes you look more professional. Poor affiliate management can be a sign of an unsuccessful or unprofitable program. An efficient dashboard shows that you're invested and you take the program seriously.
Enables affiliates to track and improve their performance. Each affiliate should have easy access to all the resources they need. For instance, detailed analytical reports can help them understand how to improve their performance, which can lead to

more conversions

for your business.
Allows for easy communication. With access to a dedicated space, your partners can easily reach out to you if they need help. This can help nurture productive relationships.
Our Easy Affiliate plugin provides so much more than just an affiliate dashboard. It also comes with one-click payouts, real-time reports, and fraud detection.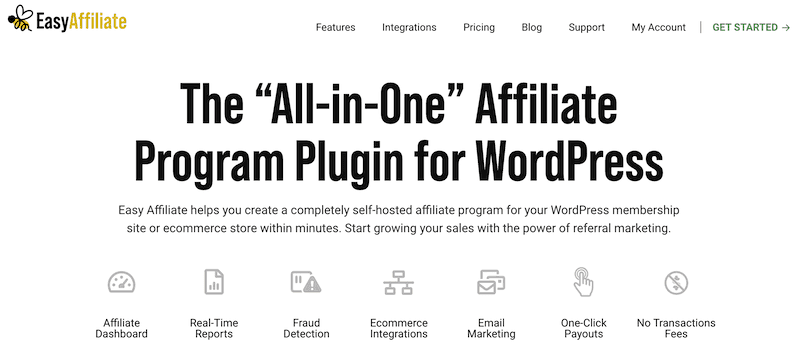 Everything is designed around simplicity so that even complete beginners can get to grips with our system. Plus, you can benefit from seamless integration with many email marketing services and ecommerce tools like WooCommerce.
4 Must-Haves on Your Easy Affiliate Dashboard
Now that you know why it's important to have an organized affiliate dashboard, let's take a look at 4 must-haves to include in this space.
1. A Personalized Welcome Message
Adding a welcome message is an excellent way to greet your affiliates when they sign in. It can set the tone for your whole program, promoting a friendly, welcoming environment. As such, members can feel more comfortable reaching out when they have issues.
To create a custom welcome message, head to Easy Affiliate in your WordPress admin area. Then, click on Settings > Affiliates:
Here, you can write your personalized message. We suggest writing something simple and informal. Of course, you can always go more in-depth, offering advice or detailed instructions on how to navigate the dashboard.
2. Helpful Links
It's also important that you include helpful navigational links in your affiliate dashboard. For instance, you can direct members to resources, terms and conditions, and payment histories. This makes it easy for them to navigate your program.
Also, it enables members to quickly familiarize themselves with essential information such as guidelines and payment policies. Thereby, they can get to work on promoting your products sooner.
Adding links to your Easy Affiliate dashboard is simple. All you have to do is head to Easy Affiliate > Settings and find the Advanced tab. Then, scroll down to Dashboard Navigation:
Next, click on Add Page and use the dropdown menu to select any of your WordPress pages. Click on Update Options when you're done.
3. Affiliate Links and Banners
By uploading affiliate links and banners to your dashboard, you can provide easy access to the creative resources your members need. Plus, you can update this regularly, so you won't have to manually send out emails each time you create new materials.
To do this, navigate to Easy Affiliate > Creatives > Add New:
Then, add your homepage or product page link in the Destination URL field. Easy Affiliate will automatically turn this into a unique affiliate link for each of your marketers. Therefore, all you need to do is add the URL for your page.
Next, choose Text as your Type. For your Link Text, provide a short description of where you're sending visitors. If you pick Banner as your link type, you can select or upload an image instead.
4. Contact Details
Although it's important for you to communicate with your affiliates, you'll also want them to be able to reach you easily. As such, you might want to consider making your contact details clear and accessible on the affiliate dashboard.
You may also encourage them to ask questions. That way, you can nurture an open, trusting environment.
You might decide to add a link to a dedicated contact page by following the steps that we described earlier. Alternatively, you could add your contact details to your affiliate welcome message.
Conclusion
Creating a user-friendly affiliate dashboard can facilitate the smooth running of your program. Easy Affiliate enables you to include features that help affiliates better promote your products. Plus, you can foster positive relationships with your marketers by making them feel welcome and respected.
To recap, here are 4 must-haves for your affiliate dashboard:
A personalized welcome message
Helpful links to payment details, statistics, etc.
Affiliate links and banners
Contact details
Do you have any questions about what to include on your affiliate dashboard? Let us know in the comments section.
If you liked this article, follow us on Twitter, Facebook, Pinterest, and LinkedIn. And don't forget to subscribe in the box below!
Affiliate Link Disclosure