Affiliate programs are becoming more and more popular as a way to drive extra revenue to an online business. However, some of your affiliates may become inactive after a while, which can cost you time and money.
Fortunately, there are ways you can turn idle affiliates into active, revenue-generating members. By learning how to optimize your affiliate program, you'll waste fewer resources on influencers who don't bring in sales.
In this post, we'll look at why underperforming affiliates can be a problem for your company. Then we'll go over what you might be doing to contribute to the problem. And finally, we'll share five tips to help you get your affiliates inspired and activated. Let's get started!
Why Underperforming Affiliates Can Be a Problem for Your Company
A successful business relationship is a two-way street. As an affiliate manager, you wouldn't want to waste your time and effort reaching out to individuals who are never going to do anything for your company.
When non-performing affiliates leave, they rarely come back. Therefore, they end up as a needless expense, being listed and maintained on the company's system.
If there are a limited number of spaces in your program, then non-performers are taking up the space of more motivated affiliates. As a result, you may be losing out on potential sales.
Why Affiliates May Be Falling Behind (It Could Be You!)
If you want your underperforming members to step up their game, it helps to understand why they're encountering problems in the first place.
Consider this an opportunity to take a critical look at your program to see where you might need to make some improvements. Here are three common reasons affiliates fall behind:
Your commissions are too low. As a businessperson, you know it's true. Money talks. If you affiliates don't feel like they're being fairly compensated for their work, they'll lose motivation.
You don't pay on time or consistently. This is a big one. Nothing will leave an affiliate frustrated and disillusioned like problems with payouts.
Your payouts are dependent upon a threshold. Requiring your affiliates to reach an unreasonably high earnings threshold before they're eligible for a payout can contribute to demotivation.
Your affiliates don't understand what they're supposed to sell. It stands to reason. If an affiliate has a limited understanding of the benefits of your products/services, they're going to have hard time promoting them.
How to Manage Underperforming Affiliates (5 Tips)
Before giving up on your underperforming affiliates, let's take a look at how you can potentially turn things around.
1. Give Them Better Marketing Materials
A worker is only as good as their tools, so better tools equals a better worker. That said, the first step is to make sure your affiliates have everything they need to promote your products.
For instance, ask them if they feel like they have enough marketing materials. If they don't, create some solid swipe copy and upload it to the affiliate dashboard.
Put together some talking points, and make sure they have beautiful, professional-looking banners and other graphics for their websites.
Also make sure they have a clear understanding of how to generate and use affiliate links to track conversions.
2. Pay Better and More Often
If you underpay your affiliates, they might become unenthusiastic about promoting your product to customers. You might be surprised to find that raising the basic commission a notch or two will provide all the motivation they need.
Consider taking this one step further by offering bonuses for the best-performing affiliates of the week or month. This will encourage competition among your affiliates, which is an awesome motivator.
This reward doesn't necessarily have to be money. It could be something tangible like a gift basket or a voucher for their favorite products.
Along the same lines, consider lowering (or even removing) your payment threshold requirement. Getting paid, even if it's not much, can be very inspiring to newer affiliate marketers. Give them a chance to develop their potential!
3. Use a Better Affiliate Management System
If you have a lot of underperforming members in your program, it may be a good idea to review your current affiliate management system.
Is the dashboard is a bit complex or outdated? Users may be finding it difficult to monitor their performance, which can be discouraging.
Our Easy Affiliate plugin makes it super easy to manage your affiliates. It also comes with a user-friendly dashboard for your members, where they can track their clicks and sales.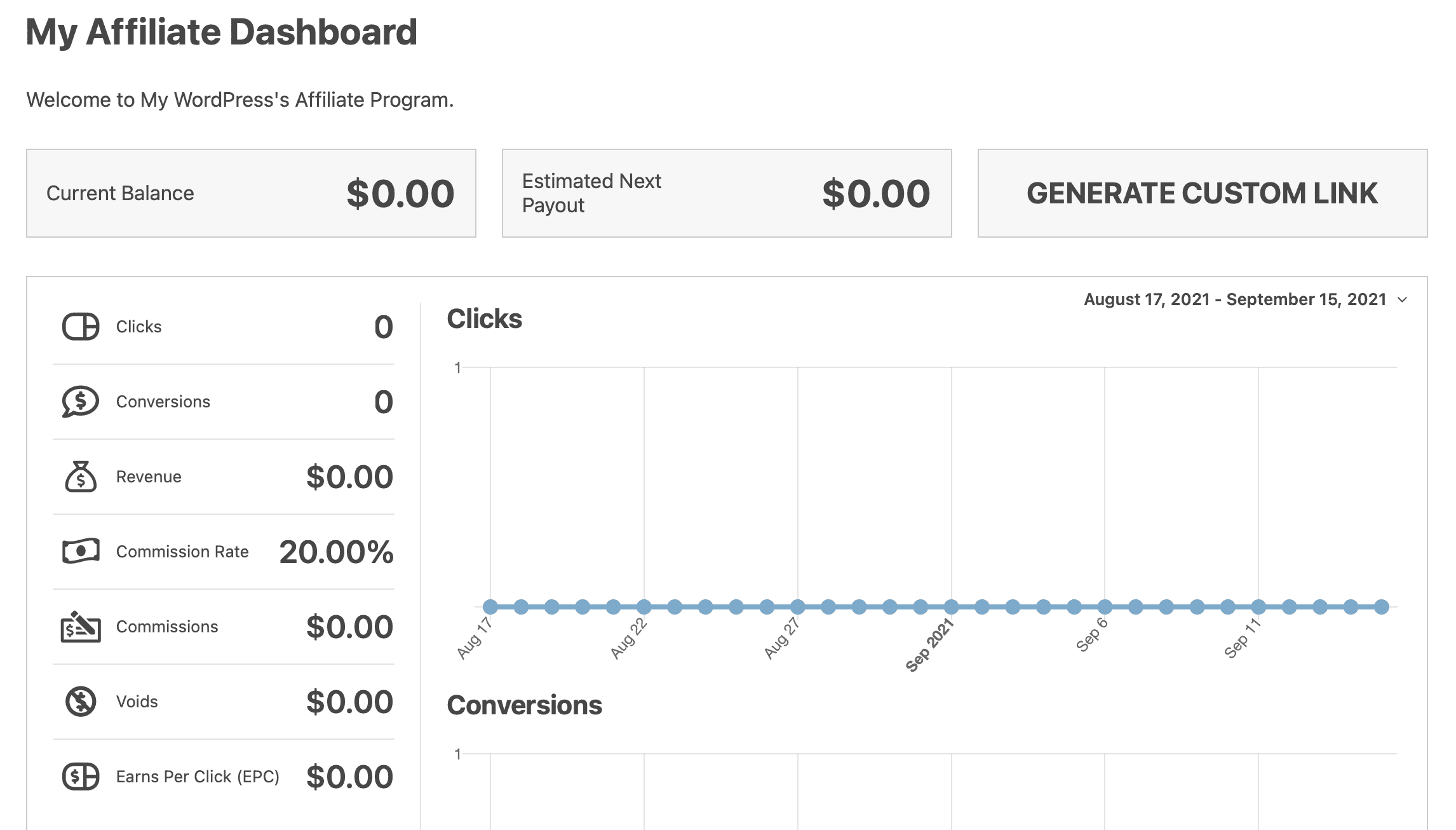 The dashboard also enables affiliates to edit their account information, download their links and banners, and view their payment history.
Meanwhile, as the affiliate program manager, you'll be able to view several different reports, including transactions, overall stats, your top affiliates, number of link clicks, and what you owe your affiliates.
Easy Affiliate also enables you to manage your commissions and payments more efficiently: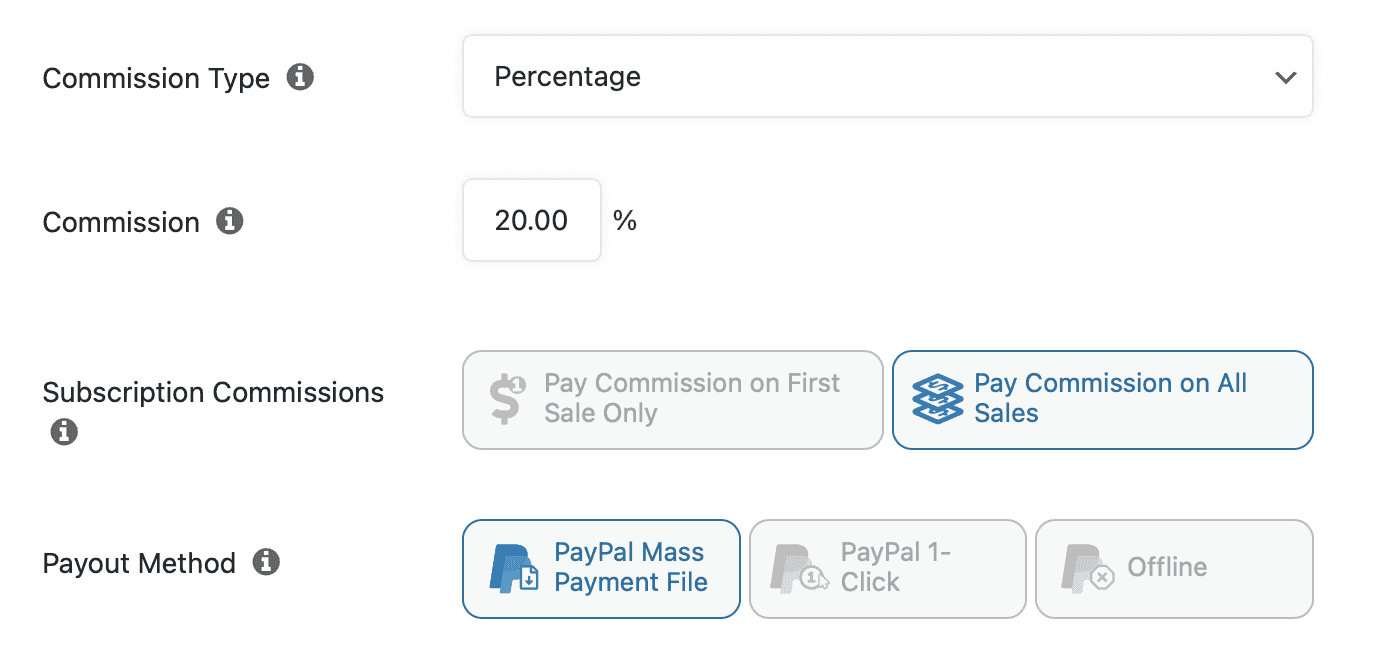 As you can see, Easy Affiliate can be beneficial for both program managers and members. It enables you to keep tabs on all of your affiliates, and also helps you ensure that they have all the tools they need to succeed.
4. Keep in Touch With Your Members Regularly
Everyone likes to feel valued and appreciated. As an affiliate manager, you may want to reach out to your members on a regular basis. It doesn't have to be a big deal. Just start by checking in with them once a week to see if they need any help.
You may also want to give them some inspiration. For instance, some members may be stuck for ideas and could use some help coming up with topics to write about on their blogs.
A once-weekly email can be more than enough to touch base and make sure there are no lingering issues that need to be addressed. Developing a good friendship with your members can be very beneficial for your business.
5. Consider Cutting Ties With Underperforming Affiliates
Finally, allow yourself to let go if need be. You can try your hardest to turn things around with an underperforming affiliate. But in some cases, things just aren't meant to be.
Eventually, you may have to decide to sever the relationship for the benefit of all concerned. It goes without saying that no one likes to fire another team member.
But the interests of the business should come first. It's what's fair to yourself and the rest of your team.
Removing inactive members from your program will enable you to focus your efforts on harder-working affiliates. Plus, if you have a good product and a generous affiliate commission, finding a replacement shouldn't be too much of a problem.
Conclusion
With affiliate programs growing more popular, competition is becoming fiercer and profit margins are becoming smaller. Underperforming affiliates can be a real problem for your company, as they could hinder your growth.
To recap, here are our top five tips for dealing with inactive or underperforming members:
Give them better marketing materials, such as beautiful banners and professional videos.
Raise the affiliate commission and reconsider your earnings threshold requirement.
Use a better affiliate management system, such as

our Easy Affiliate plugin

.
Keep in touch with your members by sending them emails on a regular basis.
Consider cutting ties if all else fails.
Do you have any questions about managing underperforming affiliates? Let us know in the comments section below!
If you liked this article, follow us on Twitter, Facebook, and LinkedIn. And don't forget to subscribe in the box below!
Affiliate Link Disclosure