Looking to grow your work from home business? We've got the low-cost, low-risk answer to boost your customer base and increase brand recognition.
For most people starting their work from home venture, traditional advertising and marketing techniques are just too expensive. Worst of all, after forking out all that money, there's no guarantee you'll get a return on your investment.
We've got a more accessible option that won't break the bank: affiliate marketing. It's used by companies of all sizes, has little to no startup costs, and offers a low-risk way to boost your home business.
By partnering with affiliate marketers, you can expand your audience, increase conversions, and get more sales.
In this post, we'll take a closer look at what affiliate marketing is and how it's the ideal option for businesses getting off the ground.
We'll show you how to grow your work-from-home business by starting an affiliate program of your own in 3 easy steps.
Affiliate Marketing 101
If you're new to the concept of affiliate marketing, here's the lowdown:
Affiliate marketing provides a flexible, passive way to boost your business' revenue.
In this model, you offer a financial incentive to marketers (aka affiliates) for promoting and selling your products.
Affiliates can receive a payout for setting up leads, clicks, or sales.
By creating an affiliate program, you can improve traffic, boost sales and increase brand awareness.
In fact, it's been reported that 83% of marketers use affiliate marketing to raise brand awareness.
How Affiliate Marketing Can Benefit Your Work from Home Business
Now you know what affiliate marketing is, it's time to move on to why work from home businesses use affiliate marketing.
Here are some of the benefits of affiliate marketing over other marketing methods.
1. Less Time-Consuming
You've already got a lot on your plate running a work from home business. Marketing is a huge part of any business strategy.
With affiliate marketing, much of the heavy lifting involved in promoting your products or services is handed off to your affiliates. They spend their time creating and sharing content that drives traffic to your website.
That means you can focus more on refining your products or services and less on marketing them. This saves time and enhances your productivity and effectiveness in managing other crucial parts of your work from home business.
2. Low Cost and Low Risk
Many advertising methods are expensive and often require a significant investment upfront. Even non-traditional methods like influencer marketing can set you back thousands of dollars.
Affiliate marketing, on the other hand, uses a performance-based model, meaning you pay commissions only when a sale is made or a specific action is completed.
This means that every dollar you spend on marketing yields direct results and reduces unnecessary costs.
3. Access to a Larger Audience
Affiliates dedicate a lot of time cultivating loyal niche audiences. By leveraging their network, your work from home business can reach a wider customer base than it could on its own.
This enhances your brand visibility and, over time, can increase your customer base and overall sales.
Boom!
4. Scalability
Affiliate marketing allows your work from home business to grow and scale more easily.
As you increase the number of affiliates promoting your products or services, you can tap into new market segments without the need for a large-scale marketing campaign.
This scalability is not only cost-effective but also allows for exponential growth opportunities!
5. Trust Building
Affiliates build authority on their chosen topic and gain trust from their audience.
Their recommendation can lend credibility to your product or service in a way that a new, unknown brand never could.
This trust can translate into higher conversion rates for your work from home business, as potential customers may be more likely to purchase a product or service recommended by someone they trust.
6. SEO Benefits
Affiliate marketing can also help improve your website's search engine optimization (SEO).
When affiliates post links to your products or services on their sites or blogs, it can boost your backlink profile, improving your search engine rankings. This can lead to increased organic traffic and potential sales for your work from home business.
In conclusion, incorporating an affiliate marketing programs into your strategy is a powerful tool that can help
Save time,
Reduce marketing costs,
Expand your reach,
And improve your website's SEO.
Ultimately, it's about leveraging the power of others to help grow and improve your business.
With the right tools, tracking and managing an affiliate program is straightforward.
How to Grow Your Work From Home Business with an Affiliate Marketing Program
So there are a whole bunch of great reasons to start an affiliate program on your website. If you're a WordPress user we've got all the information you need to easily set up an affiliate program today!
Step 1: Choose and Install an Affiliate Program Plugin
Choosing the right tools is the most important decider in whether your affiliate program is a) easy to set up and run and b) a success.
Easy Affiliate is the most user-friendly, feature-rich solution that makes setting up and managing your affiliate program a cinch!
Starting and running an affiliate program should ultimately lessen your workload, not make your life more difficult. Easy Affiliate was created with busy business owners in mind, designed to streamline your workflow and optimize your success.
Here are just some of the reasons to choose the Easy Affiliate plugin for your affiliate program:
Affiliate Dashboard for Minimal Admin
The affiliate dashboard serves as a hub for affiliates to easily access your promotional materials and keep them updated in one centralized location.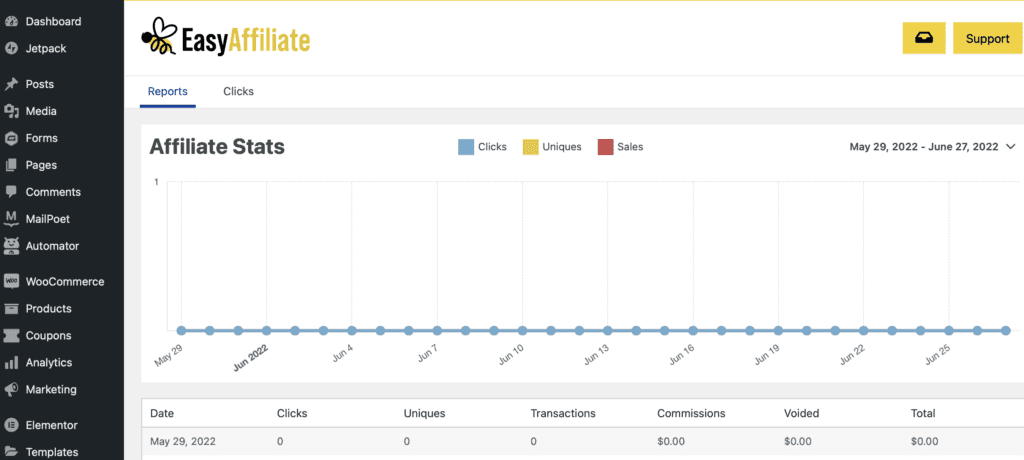 Here, they can also keep track of their performance and edit their account details by themselves, cutting down your administrative burden.
The dashboard can also be easily customized to match your brand and give a professional face to your affiliate program.
Monitor and Optimize Performance
Our admin panel and real-time reports help you keep on top of your affiliate marketing campaign,
And with automated UTM tracking, you can track the individual performance of affiliates with Google Analytics.
Discover top-performing affiliates to reward them further. See all the details about your affiliates' transactions and stats. Use this information to build a performance-based strategy to boost clicks.
Protect Your Program with Top Notch Fraud Detection
Easy Affiliate makes it easy to detect potentially fraudulent claims by flagging or rejecting suspicious behavior before you pay them a dime.
Create New Custom Links Any Time
Easy Affiliate automatically assigns a custom code for each affiliate to a chosen page on your website. And if you or your affiliate want to direct customers to a different landing page, Easy Affiliate makes it…well…easy!
Your affiliates can generate custom affiliate tracking links at any time.
Pay Affiliates With Confidence
Eliminate the administrative hassle of complicated payouts. Easy Affiliate supports multiple payout methods including PayPal One Click and PayPal Mass Payment. All you need to do is check in once a month! Simple.
Support from The Best Customer Success Team
Whether you need help setting up or have a question on how to make the most of Easy Affiliate's many features, you'll be supported by the best team out there.
Easy Affiliate users are supported by a thorough library of easy-to-follow help documents and a team that's always on hand to help your program succeed.
These are just some of the many features that put the "easy" in Easy Affiliate.
In fact, you can test out just how simple the support manuals are by following the step-by-step guide on how to install Easy Affiliate here.
Step 2: Set Up Your Commission Rates
To draw in the most desirable affiliates, you need to offer an attractive commission rate. But you also can't afford to be overly generous and lose money in the process!
Calculate the maximum you can afford to offer your affiliates by subtracting your business costs from the total price of your product.
Costs include all materials, delivery costs, overhead, and fixed costs (such as rent, salaries, software, and bank charges, etc).
The great thing is that as a work from home business, your overheads will be much lower than someone renting an office space. But you might still want to factor in these costs to keep your affiliate rate stable as your business scales.
This is your net profit margin, the absolute maximum you can offer your affiliates. But remember to leave some wiggle room for incentives and bonuses!
With Easy Affiliate you can create custom commission rates. For example, you can offer a larger commission to well-known affiliates that match your target audience perfectly.
You might also consider setting up commission tiers based on affiliate performance.
Step 3: Populate Your Affiliate Dashboard
Once you have your affiliate program established, the next step is filling your affiliate dashboard with helpful resources.
This includes promotional materials like banners, sample emails, social media posts, and more. These resources can help your affiliates effectively promote your products or services.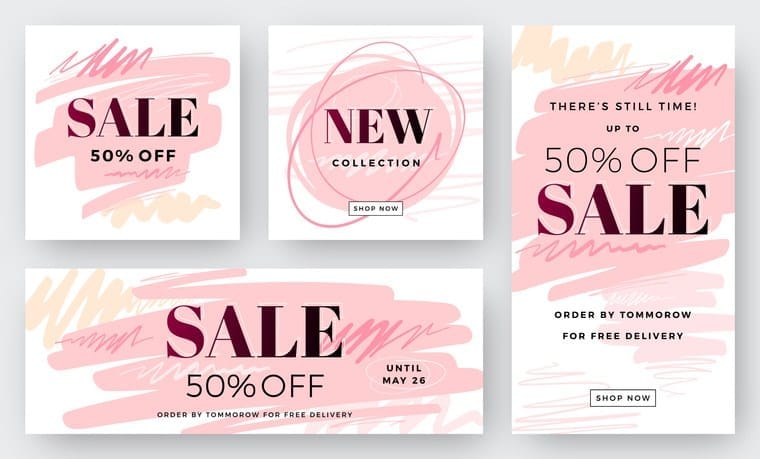 Ensure your marketing materials look great and align with your brand. Canva is a great tool for easily creating striking and professional-looking designs without the need to hire a photoshop pro!
Step 4: Recruit A Team of Awesome Affiliates
Recruiting the right affiliates is a crucial step in growing your work from home business. Reach out to bloggers, influencers, and other industry leaders who share a similar audience to yours.
For example, Atlus Mountain Guides and Evo serve a similar audience and share core values. So, their partnership makes sense for both brands:
Consider using an affiliate network to connect with potential affiliates. Grovia is a great solution for finding partners to work with.
With Grovia, you'll have access to a wide variety of affiliates from different industries, which can help you find the right match for your business.
When you find the right partners, it's time to reach out to them. Lead with your attractive commission, highlight the benefits of your products, and show them how your affiliate program stands out from others.
Having a strong brand identity on your website will make it easier to attract suitable affiliates, and they can promote your products more effectively.
As a small, home business, one of your biggest selling points will be the personalized touch and authentic connection you can offer.
Including a Brand Story or About Us section on your chosen platforms can also be useful. By sharing your motivations and goals, you can build more personal connections with customers and affiliates!
Affiliate Program Examples
When setting up the commission rates and terms and conditions of your affiliate program, it's a good idea to research what others in your niche are doing.
Standard commission rates for each industry are different, so do your research to ensure you're offering a competitive rate.
Here are a few examples of affiliate programs with different commission structures to help inspire the strategy for your work from home business.
Gourmet Candle
Mompreneur and self-professed foodie, Emerald Hill handmakes and sells a wide range of deliciously scented soy candles through her business, Gourmet Candle.
Gourmet Candle's Affiliate Program is a great example of how a work from home business can leverage affiliate marketing to increase sales.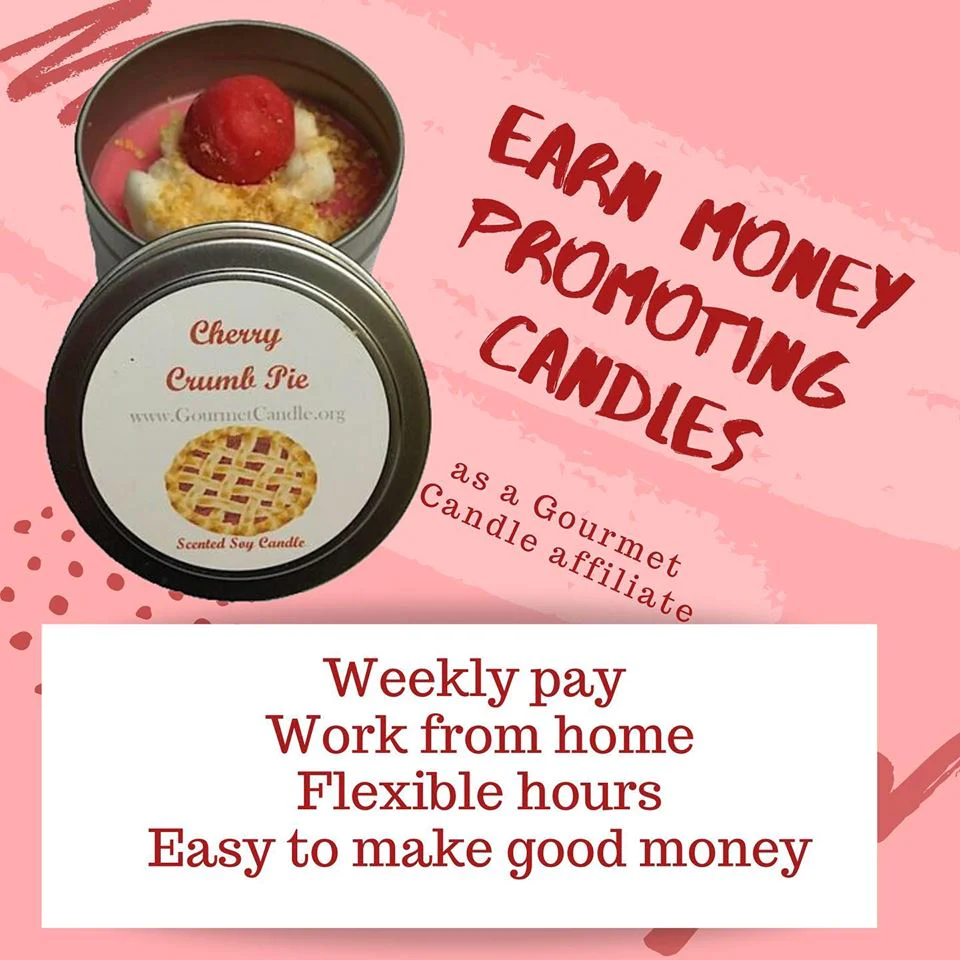 Under the terms of the program, new and low-converting affiliates get a standard 10% commission. Established, affiliates with consistent referrals can earn up to a 20% commission.
Gourmet Candle also specifies that only 25 affiliates are accepted at any one time, and are hand-selected.
One Fur All
To demonstrate how affiliate programs in the same niche can have different terms, here's one from another candle business.
One Fur All specializes in making home scents that neutralize pet odors and freshen pet-loving homes.
Their affiliate program differs from the previous example. Affiliates still receive a base 10% commission, but they also get to offer their audience a 5% discount when they use their link.
In total, One Fur All spends 15% per transaction on their affiliate program, dividing the cost between the affiliates and their customers.
This may be an appealing offer for affiliates who can incentivize their audience to purchase a candle through their link.
One Fur All also has more strict requirements regarding who they accept as an affiliate.
Applicants to their program must have at least 10,000 followers on Instagram, Twitter, Facebook, or Pinterest, or a blog with 5000 unique monthly visitors.
Stella & Dot
For something a little different, take a look at jewelry brand Stella & Dot's brand ambassador program.
Stella & Dot offers a generous 20-40% commission to their affiliate partners. As a bonus, they also offer credit for free products.
In their terms and conditions, they include a clause prohibiting bidding on keywords related to their brands.
This is a good way to ensure your affiliates don't end up competing with you on key search terms.
Conclusion
Growing your work from home business can be challenging and costly when you're using traditional advertising. Fortunately, affiliate marketing offers a low-risk alternative, enabling you to boost conversions and sales by getting your products in front of a wider audience.
To recap, here are four steps to grow your work from home business with affiliate marketing:
Choose an

affiliate program plugin

.
Set competitive commission rates.
Populate your affiliate dashboard with shareable promotional materials.
Recruit the right affiliates for your brand.
Do you have any questions about growing your home business with affiliate marketing? Let us know in the comments section below!
If you liked this article, follow us on Twitter, Facebook, and LinkedIn. And don't forget to subscribe in the box below!
Affiliate Link Disclosure