If you want to know how to find what WordPress theme a website is using, you've come to the right place.
Maybe you've been searching for WordPress themes, and you're struggling to find the perfect one.
Or perhaps you've come across a website that looks stunning, unique and you instantly know this is the theme for you.
You snoop around like Sherlock Holmes, desperate for a clue.
But nothing shows up.
Now, what do you do?
The first thing is not to give up because there are still a few things to try.
In this article, you're about to learn a few tricks of the trade for finding out what WordPress theme a site uses.
You'll discover manual methods and a few WordPress theme detector tools to help you out.
Let's dive in.
How Do You Know Which

A

Is Using?
According to Tech Jury, over 450 million people are using WordPress. So we can take from this that over 450 million people are using some kind of WordPress template on their website.
Most will use free WordPress themes, while some will use premium themes, and a small percentage will use custom-made themes.
The free and premium themes are usually easy to find out, but the custom-made templates are when things get tricky.
We'll discuss this in more detail in just a moment, but for now, the best way to know which template a website is using is to use a WordPress detector tool or by inspecting the website's CSS file, source code, and the content itself.
However, there will be times when you draw a blank, usually down to the two following reasons:
The uses a custom made
is not present (In other words, the isn't using )
WordPress not being present is self-explanatory; the website uses another CMS (Content Management System) or another programming language.
A custom template is something you'll sometimes come across when searching for a theme – often found on well-established websites.
What Is A

Custom

?
A custom WordPress theme is a uniquely designed theme purposely created for you and your website.
They're typically designed by WordPress web developers who can produce a specific theme to the client's needs.
The benefits of having a custom WordPress theme are:
Nobody has the same design as you

It can help to build your brand

The WordPress will be designed as you want it to be
Others won't be able to track your website (Most of the time)
The cost of having a custom template can be pretty expensive and varies on what's involved.
For example:
A custom-made child theme created to work on a WordPress framework such as Genesis will be less expensive than a template designed from scratch.
If a website uses a proper custom template, you won't be able to use the same one because it has been designed for them by them.
However, as mentioned above, custom templates only make up a small percentage of the WordPress themes in operation, so mostly, we can find out which theme a website is using.
Manual Methods To See Which They're Using.
Before using a WP detector tool, you can try the following manual methods to see if it brings up any results regarding the theme.
Let's start with the most uncomplicated check of them all.
Check The Content For Clues
Often a website owner will tell you which theme they're using. They tend to do this in a blog post or on a resources page.
Look for a page on the website's menu that says:
Resources, Tools We Use, Recommended Tools & Software, or Something Similar.
If you read these pages, you'll often find them telling you (and recommending) the name of the theme they're using.
If this doesn't work, look for a search bar on the website and search for the following words one by one:
Recommended Themes, The Best WordPress Theme, I Love Genesis, I love this Theme, Favorite Theme, and so on.
Often you will discover posts on the website that tell you which theme they're using.
Sometimes a simple check in the website's footer will tell you everything you need to know regarding the theme.
Although most themes allow you to remove the footer credits, some website owners either leave it alone because they use it as an affiliate link or don't know how to remove it, so they leave it as it is.
Here are the steps to check the footer:
Step 1. Visit the website which has the theme you like.
Step 2. Scroll to the footer and look for a link to the theme.
That's it!
Look at the image below for an example:

As you can see, this website uses the Generate Press theme. It's always worth checking the footer of a website to see if they show the theme they're using.
Source Code/ Check For Detection
The final manual check is to look at the source code files of the website. This simple check can show which WP theme is getting used.
Visit the website of choice, right-click your mouse and select "View Source." or "Show Page Source."
Then look in the head section of the code for the WP-Content area.
You can then see the name of the WordPress theme that the site is using – see image below:
As you can see from the image above, the theme being used is Generate Press.
The Best Tools
Another simple way to find the WordPress theme a website uses is to use a WordPress theme detector tool.
These are easy to use and can find results in seconds.
Let's start with the most popular one.
1. What Is That
What WordPress Theme Is That is a free tool that detects the WordPress theme a website is using.
It's super easy to use, and all you have to do is enter your domain name or URL and read the results.
Here's an example of how to use it and what the results look like:
First, enter the domain name of the website you like and press the green search button.
The software will search for a couple of seconds and then display the results.
As you can see, the results show that the WP theme is the Kadence theme. It also provides you with the WP theme home page, detected plugins, and a screenshot of the theme.
---
2. Is IT Tool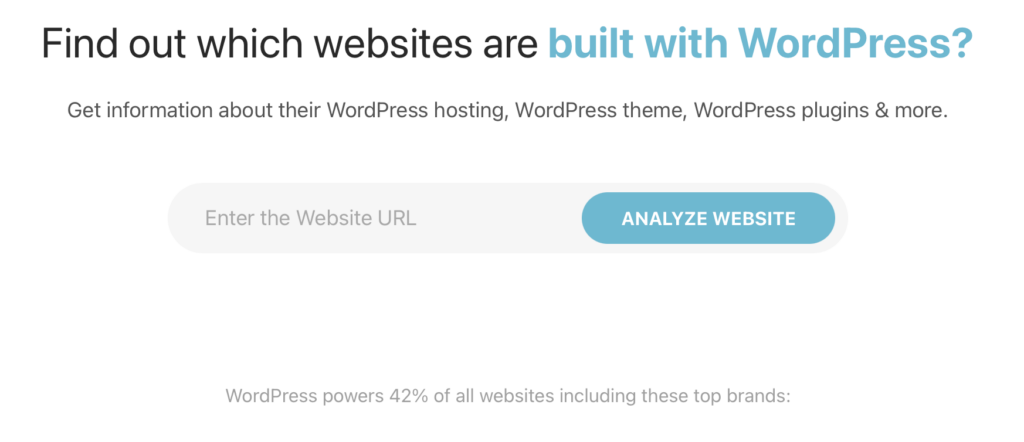 Another well-known WordPress detector tool is called "Is It WordPress."
It works the same way as the previous theme detector and shows the theme and hosting provider results.
Let's look at it in action once you enter a domain name and press the blue analyze website button.
Enter website URL:
Then read the results:
The result shows you that the website uses WordPress and provides the WHOIS information and the name of the WordPress Theme.
Sometimes, with this tool, you get a message saying that the theme is not in our records, but it still displays its name.
So, although this can be a bit confusing, the tool still works for what you need it to do.
---

Scan WP is an online tool used daily by hundreds of people searching for the template they want to use on their websites.
It's another easy tool to use.
You enter the URL and press the detect button.
Here is an example of how it works.
Enter the website name and select "Detect."
You're then shown the results.
As you can see from the image above, this website uses a child theme on the Genesis framework.
It doesn't show the child theme's name, so a bit more snooping on sites that provide Genesis child themes is possibly needed.
---
WordPress theme detector is the final WordPress theme tool to discuss. WP beginner owns this theme detector tool, and like the others, it's free to use.
It searches the CSS and source file code for the website URL you add to the search area. It then comes back with the theme details.
Let's take a look.
Enter the URL and press the orange 'analyze website' button.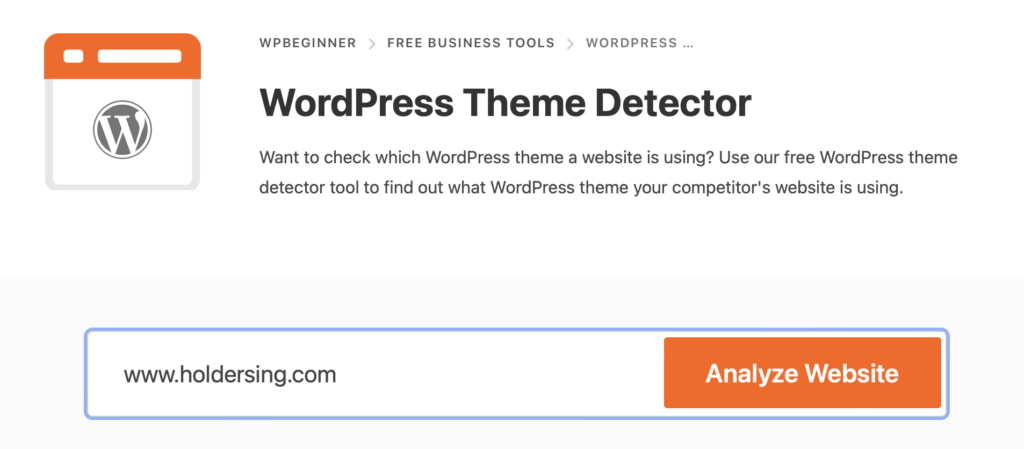 Then look at the results:
As you can see, the website is using the Astra theme.
The tool says it's probably a custom premium theme, which can mean more research may be needed, but at least you now know that it's built and possible to be built with the Astra theme.
Final Thoughts On
Everyone wants their website to be perfect with all the bells and whistles.
You think you have a good design, but then you come across a blog that looks stunning and perfect for what you need.
You have to get this theme!
The good news is that you now have all the tools and knowledge needed to go out there to find out which WordPress theme a site is using.
If you're not happy with your blog design, search for other websites and use the tactics in this article to find the theme they're using.
Yes, sometimes you'll draw a blank, mainly because the site uses a custom theme, but most of the time, you'll be able to find out within minutes.
Start with the manual methods; if that doesn't work, use one of the WordPress detector tools mentioned above.
The big takeaway here is that you can do it.
You know how to find what WordPress theme a website is using.
So go out and do it.