Creating an effective customer journey is a key component of a successful business. Combining this concept with your affiliate partnerships can help move potential customers closer to conversion.
However, a drawback of the affiliate marketing model is that your messaging can be a bit muddled when it's communicated by someone else.
One solution to this problem is creating affiliate resources targeted to address customers at specific stages in their decision-making process. Providing these assets to your affiliates can keep your messaging consistent, your customer journey seamless, and your bottom line growing.
In this article, we'll have a look at the stages of the customer journey. Then, we'll show you how to create affiliate resources based on this process in four steps. Let's go!
Understanding the Customer Journey
The customer journey is the path your potential customers take from the time they hear about your business until they make a purchase. The path isn't always linear and some steps may be repeated more than once.
However, regardless of what type of business you run, the steps of the customer journey are:
Awareness: Your customer becomes aware of your brand as a potential solution to their problem.
Research: During this stage, a shopper is looking more deeply into their purchasing options.
Conversion: In the conversion stage, the customer has made a decision to complete a purchase.
Advocacy: When someone is happy enough with their purchase, they may share their positive experience and generate awareness with a new audience.
You can empower your affiliates to create more effective content by providing them with targeted information and creative resources for different stages of the customer journey.
These assets are an excellent thing to include in your affiliate dashboard.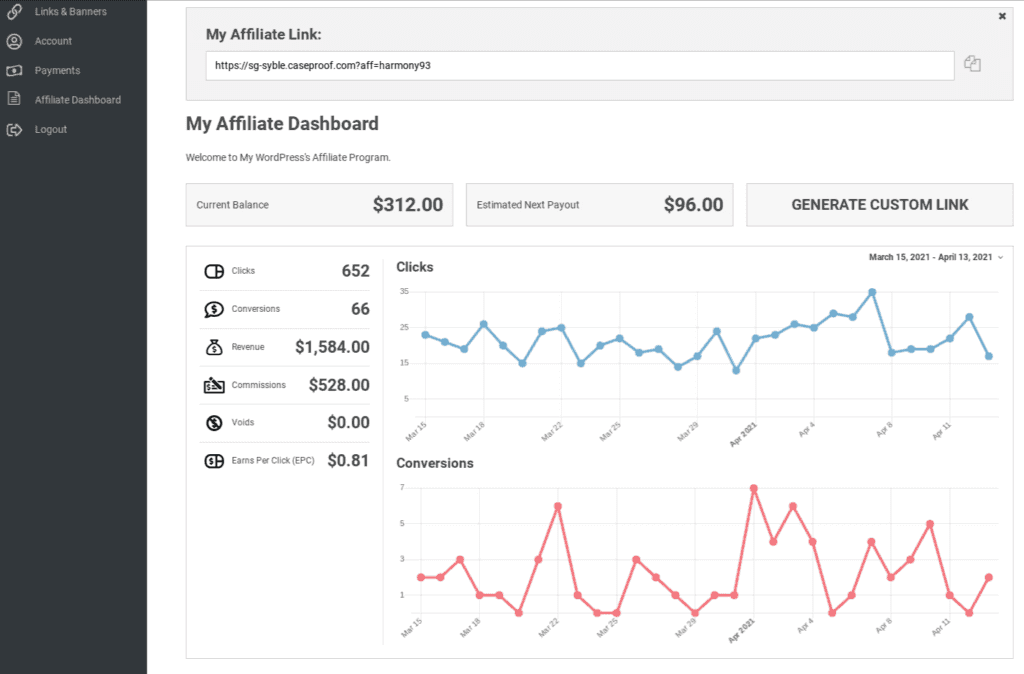 Creating Affiliate Resources for the Customer Journey (In 4 Steps)
Different types of creative resources can enhance each step in the customer journey. Here's how you can incorporate various assets into the stages of the conversion process.
Step 1: Generate Awareness With Branded Assets
Creating a strong brand identity can help your affiliates accurately represent your business. Branded assets include anything from your logo to the colors you use. Try providing a selection of images and logos for affiliates to download via their dashboards.
Easy Affiliate's banners feature enables you to create and share branded assets with ease. Start from your WordPress dashboard and navigate to Easy Affiliate > Creatives.Then click on the Add New button: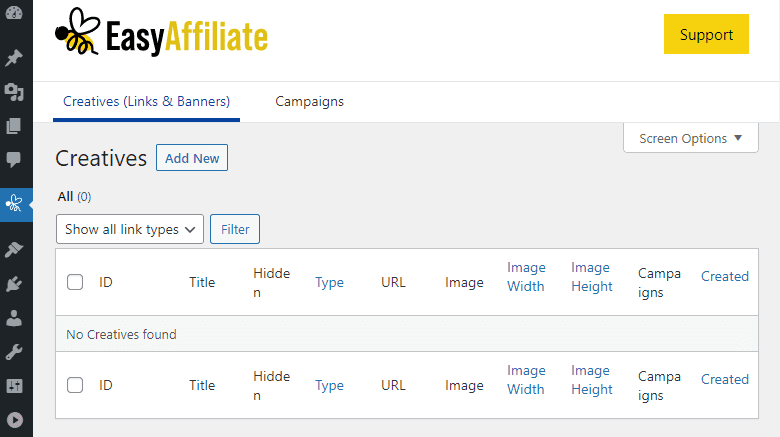 On this screen, you can add a title. Under Creative Options, you can enter a destination URL to direct customers to when they click on your banner. Next, select Banner from the Type dropdown:

Now you can click on the Set banner link and choose your banner image from your Media Library or upload a new one:
Once you've uploaded your banner, click on the Update button to finish. This resource will be added to your affiliates' dashboards automatically.
You can also provide your affiliates with a style guide to help them stay on brand. This can be especially valuable if you have partners who prefer to handle their own creatives.
Step 2: Educate Potential Customers With Consistent Messaging
Customers are likely considering several products or services at this stage, so you'll need to set yourself apart from the competition. You'll want to keep your messaging consistent while still allowing affiliates to use their unique voices.
You can create some swipe copy to help affiliates create social media posts, emails, and blog posts. This can help make sure publishers include all the key information you want to communicate to potential shoppers.
However, you'll want to impress upon your affiliates that swipe copy is intended to be used as a guideline and that they should customize it.
The last thing you want is for your partners to lose the unique voices that draw their audiences to their content and your products in the first place.
Step 3: Encourage Conversions With Infographics
An infographic is a type of creative that conveys information visually. Infographics can be much more engaging than large blocks of text, especially if you're trying to explain a complicated concept.
In this example, Venngage broke down the sentiment of over 11 billion social media mentions. The infographic enables you to see the results at a glance: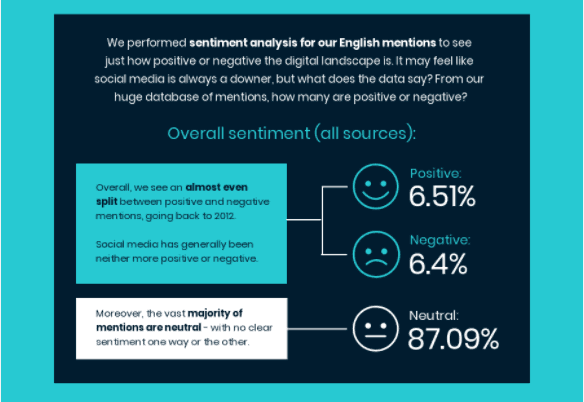 Infographics are also extremely shareable. Your affiliates can post them on their blogs or social media accounts. To encourage conversions, you may want to build an infographic highlighting the positive outcomes of using your product or service.
Step 4: Extend Your Affiliate Network By Recruiting Advocates
Over time, your satisfied customers may become brand advocates, which can be extremely valuable for your business. You might want some of these advocates to become affiliates, especially if they are influencers within your target market.
Make it easy for your current affiliates to share the details of your program to help recruit new people to your network.
Try creating a page on your affiliate dashboard dedicated to this purpose. For example, Bluchic has a robust resource hub for its affiliates which is very beginner-friendly:
You'll want to provide potential affiliates with plenty of information about your program. A frequently asked questions (FAQ) section is an excellent choice for this, because you can always add to it as you receive additional inquiries.
You might also set up a recruitment landing page and include a link with your affiliate resources. That way you can easily start the onboarding process for promising candidates.
Conclusion
Creating affiliate resources that focus on specific steps in the customer journey can increase the effectiveness of your network.
By taking care to target people in different stages of the journey, hopefully, both you and your affiliates will see an increase in conversions.
Follow these steps to start creating affiliate resources for the customer journey:
Generate awareness with branded assets such as your logo.
Educate potential customers with consistent messaging.
Encourage conversions with infographics.
Extend your affiliate network by recruiting advocates.
Do you have any suggestions for affiliate resources that tap into the customer journey? Share with us in the comments section below!
If you liked this article, follow us on Twitter, Facebook, and LinkedIn. And don't forget to subscribe in the box below!