Partnering with affiliates can be an effective way to drive traffic to your site. However, you might not be turning as many of those visitors into customers as you'd like. If your conversion rate is down, your Our Services web page design may be the culprit.
Fortunately, this doesn't have to be the case. By enhancing your Services page with professional features, you can fully capitalize on your affiliate traffic.
In this article, we'll cover some of the reasons you may want to optimize your Our Services page. Then, we'll go through four easy steps to take this key piece of content to the next level. Let's dive in!
The Benefits of an Optimized Our Services Page
A Services page is a part of your site that describes your business' offerings. Ideally, it also gives visitors a way to purchase them. Therefore, this area can play a critical role in your marketing strategy.
If you're working with affiliates, it may be even more important. You probably collaborate with these partners to generate traffic from interested consumers. As such, an Our Services page that doesn't convert can be a wasted opportunity to capitalize on these relationships.
Also, the success of your Services page can also impact your affiliates. Many of them rely on commissions earned from successful purchases. Cutting down on cart abandonment can boost their income, which may encourage them to further invest in promoting your company.
Optimizing your Services page can help you decrease cart abandonment and increase your conversions. The process doesn't have to be complicated, either. Small changes to improve organization, accessibility, and design can go a long way.
We encourage you to combine the suggestions in this post with your understanding of your audience. Your brand is unique, so your customers may react differently than the average shopper.
If you're in doubt about consumer profiles, try consulting your highest-performing affiliates to get a clearer picture of their followers' needs and interests.
How to Convert More Affiliate Traffic by Optimizing Your Our Services Page (In 4 Steps)
When it comes to your Services page, it's important to optimize technical aspects such as performance as well as more nuanced components like your copy. Below, we've explained some top tips for how to build this area of your website and make it highly effective.
Step 1: Create a Dedicated Space to Highlight Your Services
Before they'll spend money on your site, potential customers need to understand exactly what you're offering. Your affiliates will likely introduce them to your brand and services or products, but it's still important to have a dedicated page where they can learn more.
To create a new WordPress page, navigate to your admin dashboard. Look to the upper left-hand corner and select New > Page:
When you're creating the new page, there are a few features that you may want to consider. For instance, you'll want to include all the necessary information about each of your services, including their titles, descriptions, and prices.
Additionally, consider creating call to action (CTA) buttons for each of your services. You can place them strategically near your descriptions and prices, and link them to dedicated pages with more information about each of your offerings.
It's beneficial to place your Services page in an extremely prominent part of your navigation menu. 94% of consumers list this feature as a top website design priority. Therefore, this is a simple way to orient your customers and make sure they can find the details they're looking for.
You could also consider other enhancements. A chatbot, for example, could be helpful if you have complex service options that require explanation. Alternatively, adding contact information or positive consumer reviews may also be effective at establishing your credibility.
However, try not to go overboard. Too many options can distract visitors from their purchases. As such, we recommend that you lean towards simplicity as a general rule.
Step 2: Write Convincing, Sales-Oriented Copy
Now that you have a Services page, you can start thinking about how you'll use it to communicate the value of your brand to customers. This content might be one of the last things a shopper sees before they make a purchase. Therefore, writing copy that motivates them to commit is essential.
For starters, consider adding some personality to your writing, like this Virginia car wash does:
Using a voice that fits your brand can help establish a personal connection with your visitors. However, try to avoid using templates to accomplish this, as they can make your writing feel stale.
Additionally, you might also want to write a frequently asked questions (FAQ) section. This can make customers feel more informed about their decisions without having to contact a representative.
If you find that your new Our Services page copy is successful, consider capitalizing on that by providing affiliates with similar swipe copy. This can keep your brand's online presence consistent. It might also help streamline the experience for referred customers.
Step 3: Refine Your Services Page for Maximum Reach
With the foundational aspects of your Services page taken care of, we can turn to the last step of this guide – your technology. Optimizing your site can provide customers with a more convenient experience. Additionally, it may also enable you to reach new markets.
One way to do this is by making your page mobile-friendly. Visitors may be coming to your site from a number of different devices. Therefore, creating a page that is easy to read at any size can help you avoid frustrating shoppers.
You may also want to consider your page's speed. Slow loading times can inconvenience your consumers or give them time to change their minds. As such, we recommend that you improve your site's performance as much as possible.
Multiple speed test tools are available for this purpose, including GTmetrix: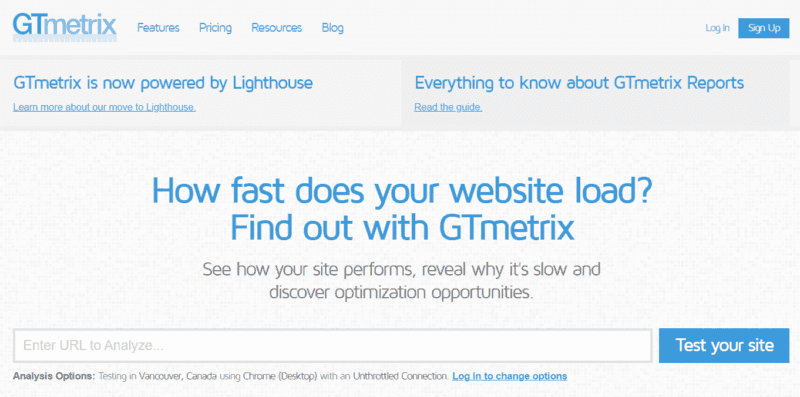 This site is free and easy to use. Simply enter the URL for your Services page and click on Test your site. GTmetrix will then return an assessment of its loading time.
There are other ways to expand your reach as well. For example, you might want to add social sharing options. This can encourage more organic exposure for your brand.
Lastly, try to make search engine optimization (SEO) a priority. Simple actions such as adding alternative text to images can boost your rankings. You might consider using the 80/20 method as well.
Step 4: Use Page Design Best Practices
When it comes to ecommerce, customers react to visuals. The following design elements are critical to page conversions:
How easy your page is to navigate
The quality of your page's images
The nature of your page layout (including use of white space)
How your page looks on mobile devices
And that's just four among many! So when it comes to your Our Services page, it's important that you do your research and use web design best practices.
Conclusion
An Our Services page can be a valuable asset. However, yours may not be well-optimized to take full advantage of your affiliate traffic. Fortunately, small adjustments to make your site more user-friendly can help you do just that.
In this article, we covered four steps to build and optimize your Services page:
Dedicate a simple yet informative page to share your services.
Spend some time writing motivating, relevant copy.
Improve your page's performance and SEO.
Use page design best practices.
How do you optimize your Services to convert shoppers? Let us know in the comments section below!
If you liked this article, be sure to follow us on Twitter, Facebook, and LinkedIn. And don't forget to subscribe in the box below!
Affiliate Link Disclosure