Social media, blog posts, and even video content are all popular mediums for affiliate marketing. However, if you're not running regular email campaigns as well, you may be missing out on additional sales and revenue.
Email is one of the most effective marketing tools – as much as 40 times more effective than social media. With a carefully executed campaign, you can drive more clicks and send high-quality leads to your partner brands' websites.
In this article, we'll explore the benefits of email campaigns for affiliate marketing. Then we'll cover some best practices for getting the most out of this strategy. Let's get to it!
The Benefits of Affiliate Marketing Email Campaigns
Email is a powerful marketing tool. As many as 58% of people check their email first thing each day, even before they check their social media accounts.
Additionally, email subscribers are qualified leads. To be on your list, they had to willingly provide their email addresses at some point. That means they're interested in what you have to say (and potentially what you have to sell).
Considering the above, email is a fantastic way to speak directly to your audiences and subtly encourage sales. At the very least, it helps nurture relationships and keep your brand at the forefront of subscribers' minds.
Best of all, email can be automated, meaning once you set up a campaign, your Email Service Provider (ESP) typically handles the heavy lifting. This frees up valuable time for other activities.
4 Tips for Using Email Campaigns to Boost Your Affiliate Marketing
While email is extremely powerful, using it effectively as an affiliate can require some finesse. These tips should help you get more opens, engagement, and results from your campaigns.
1. Promote Your Content to Your Email Subscribers
You're probably already publishing content that includes your affiliate links, such as blog posts or YouTube videos. If so, you can promote that content to your email list subscribers to easily drive additional traffic and conversions.
This is a simple method to get more eyes on your promotional content without seeming overly pushy or "sales-y".
If you have a weekly or monthly email newsletter, you can link back to your most recent posts as a way to keep your subscribers up to date on your latest activity while also directing them to your affiliate links.
Plus, sending more readers to your site or channel can lead them to additional content, your own products or services, or other revenue-generating features.
In the end, you can save time and effort generating content for your emails, drive more traffic to your site, and (hopefully) earn more commissions.
2. Run Contests for Your Email Subscribers
Contests and giveaways are an excellent way to build excitement and boost engagement among your email list subscribers. You can work with brands to provide special discounts or freebies for subscribers, then use email to inform them of how they can enter.
Make sure to play up the exclusivity of the opportunity – the contest is only for your email list subscribers. This is actually an easy way to encourage new signups and build out your list.
Therefore, you should definitely advertise the opportunity on your website and social media profiles, as well. Just remember to only send the contest details to your email subscribers.
3. Personalize Emails Using Your Existing Subscriber Data
Most email marketing platforms enable you to personalize your campaigns by including the recipient's name in the salutation or subject line. This is an excellent way to add a human touch to your marketing strategy and increase open rates and engagement.
Check out this example, courtesy of Campaign Monitor: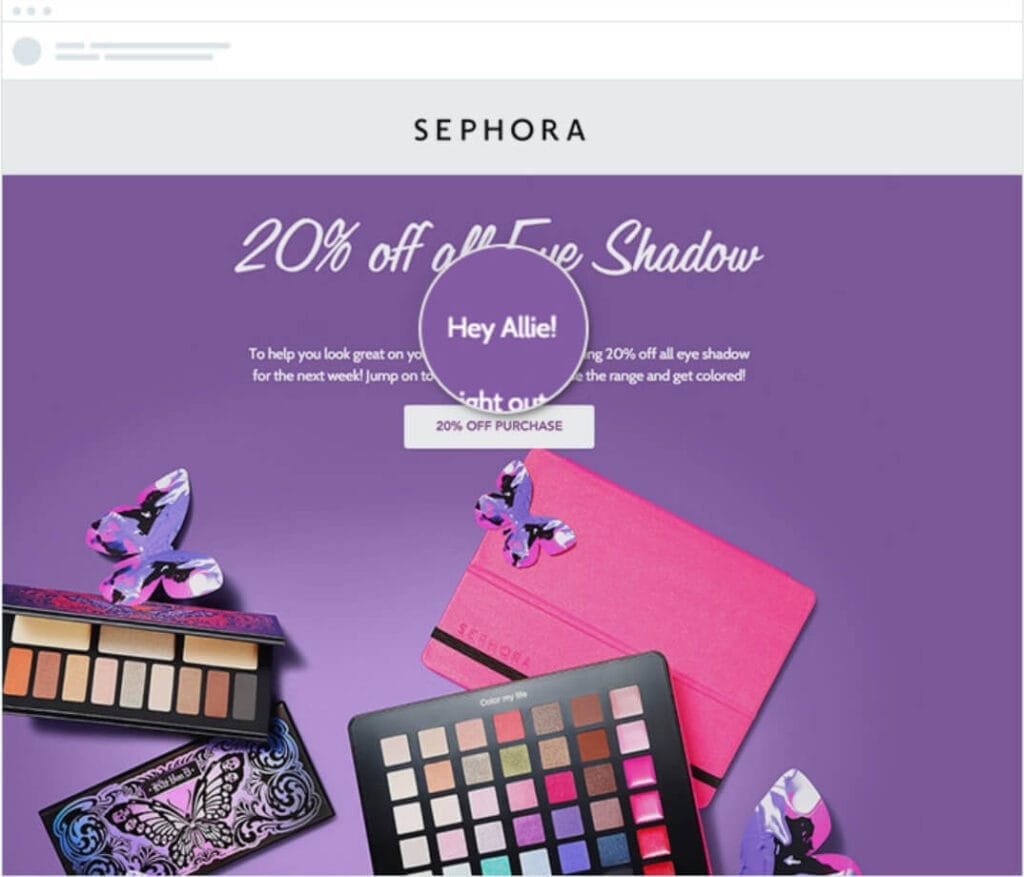 Personalization can make subscribers feel like you're speaking directly to them, which may be more effective than a generalized Instagram post (for example).
In fact, emails with personalized subject lines are 26% more likely to be opened. That means lots more opportunities for subscribers to see and click on your affiliate links.
4. Create Exclusive Content Just for Your Subscribers
Finally, consider giving your email list subscribers a little something extra. As we already mentioned, exclusivity can be a powerful motivator. Providing followers content they can't get anywhere else is a simple and powerful way to encourage signups.
This content could be a newsletter, blog-style articles, informative videos, or just about anything else you can come up with. As long as it provides value and is relevant to your audience, you'll probably find people who are interested.
You can also incorporate your affiliate links into this content. Just don't forget to include a disclosure somewhere in each email.
Conclusion
Whether you're totally new to affiliate marketing or you're a seasoned pro looking to level up, email can be a highly effective tool. However, it does take a little knowledge, time, and effort to be successful in this area.
To get the most out of your email campaigns and boost your affiliate marketing commissions, try these four ideas:
Promote your existing content to your email subscribers.
Run contests or giveaways to boost engagement and encourage signups.
Personalize emails using your existing subscriber data to encourage recipients to open them.
Create exclusive content just for your subscribers.
Do you have any questions about effective email marketing strategies for affiliate marketers? Let us know in the comments section below!
If you liked this article, follow us on Twitter, Facebook, and LinkedIn. And don't forget to subscribe in the box below!
Affiliate Link Disclosure