When Mahy Elamin studied pharmacy at university, got her degree, and started working in the field, she was really unhappy. Her true passion was food.
Unable to stay away, she enrolled in classes to learn more about food science, recipe development, and food photography. She started out as a freelance culinary teacher but quickly realized that she could reach more people if she took her expertise online, so she created Two Purple Figs.
Today her food blog receives millions of pageviews and brings in 6 figures per year. She has no regrets about leaving behind that pharmacy degree to follow her heart.
Keep reading to find out:
Why she pursued a degree in pharmacy
How she got into the food industry
Why she created her food blog
Her approach to brand growth on social media
How much she's earning
Her top marketing strategies
Her thoughts on SEO
Her keyword research and link building strategies
Her content creation process
Her favorite resources and tools
Her greatest challenge
Her biggest accomplishment
Her worst mistake
The advice she offers other entrepreneurs
Meet Mahy Elamin
I grew up in 10 different countries because of my father's diplomatic job, and that exposed me to so many different cultures, people, and foods! I grew up loving food and trying new flavors and experimenting with the fusion of spices and cooking techniques.
Finding a career in the food industry wasn't an option in my family culture, as academics were the top priority, so I went on to study pharmacy at university and worked for a few years in the pharmaceutical field.
I then realized that I couldn't continue a career away from food, so I studied food science (that's where my pharmacy background came in handy), recipe development, food photography, and food styling.
I started to teach cooking and baking classes at different cooking schools as a freelance culinary instructor as I grew a passion for teaching about food. At that point, I was teaching 60 people in person and thought about having a website to attract more people to my cooking classes.
After creating my website with detailed information, quality food photography, and unique food styling, I realized that I was reaching more and more people online than at the cooking school.
That's when I decided to grow my website, make it a business, and continue doing what I love!
Why She Created Two Purple Figs
I created Two Purple Figs initially to be an online portfolio for my cooking classes so that people could read more about me, see my food, and sign up for my freelance cooking classes.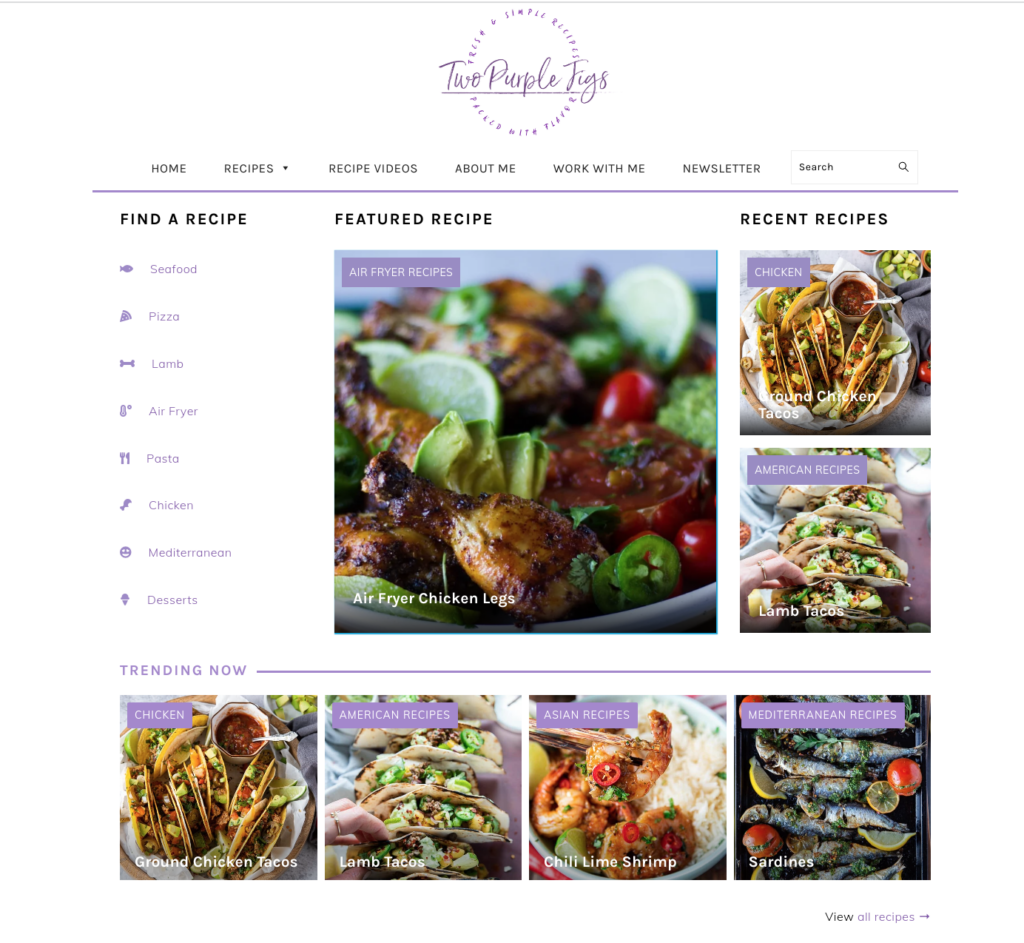 I soon realized that I could grow my traffic online and reach more and more people than ever in person! I immediately knew I had to focus on growing my work online which included learning SEO and social media.
In terms of traffic and website growth, there's no doubt that SEO is the most valuable tool that I learned and I'm still learning! I've gone through a few audits, re-writing many old posts, carefully selecting the content I create, and updating videos on nearly every post on my website to make the recipes easier for everyone to try.
Applying what I learned has made a huge impact on my traffic, on subscribers to my email list, and my website rankings.
Mahy Dives into Social Media
Social media was very overwhelming to me as I tackled all platforms at once, so I decided to focus on one at a time, which was the best decision I made!
Instagram was the platform I chose to start with and I grew it with lots of sweat! It challenged me to improve my photography and to start to learn videography and reels, to show up on Stories, and much more!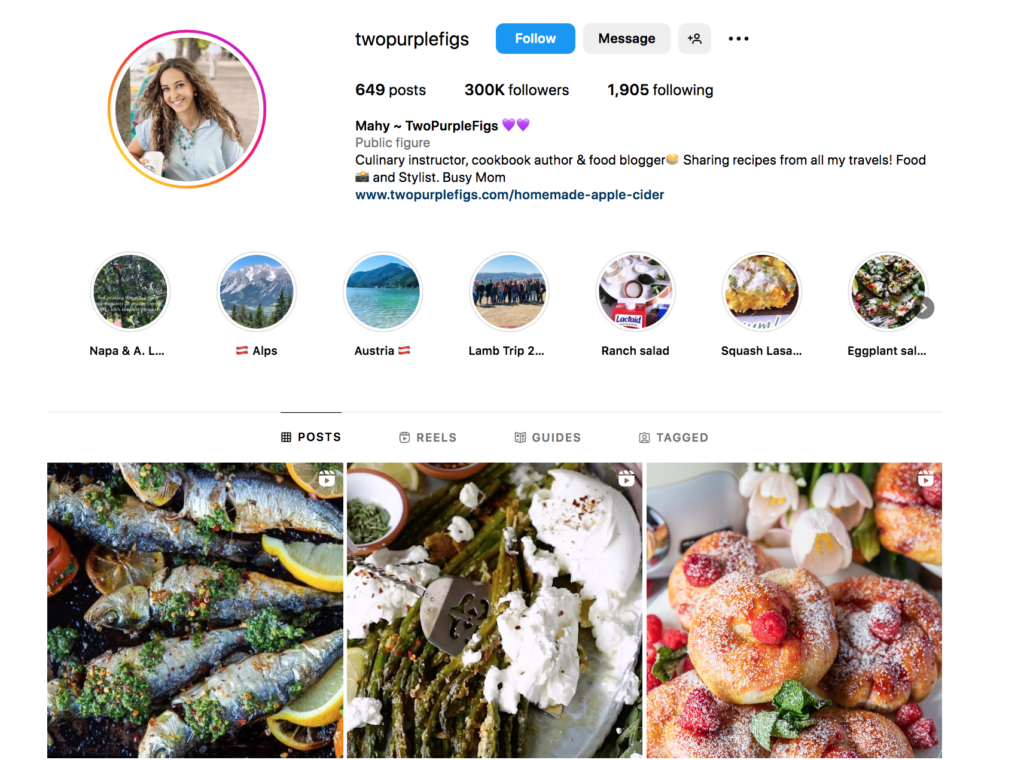 It took years of work and consistency, being able to change my strategy as the algorithms change constantly, and being really connected on a personal level to my audience.
Facebook followed, and learning/testing how to market my work on FB was another tool that helped me grow tremendously.
Pinterest is another great platform that I started on a little late, but it's absolutely worth it and I'm gradually working on TikTok as well.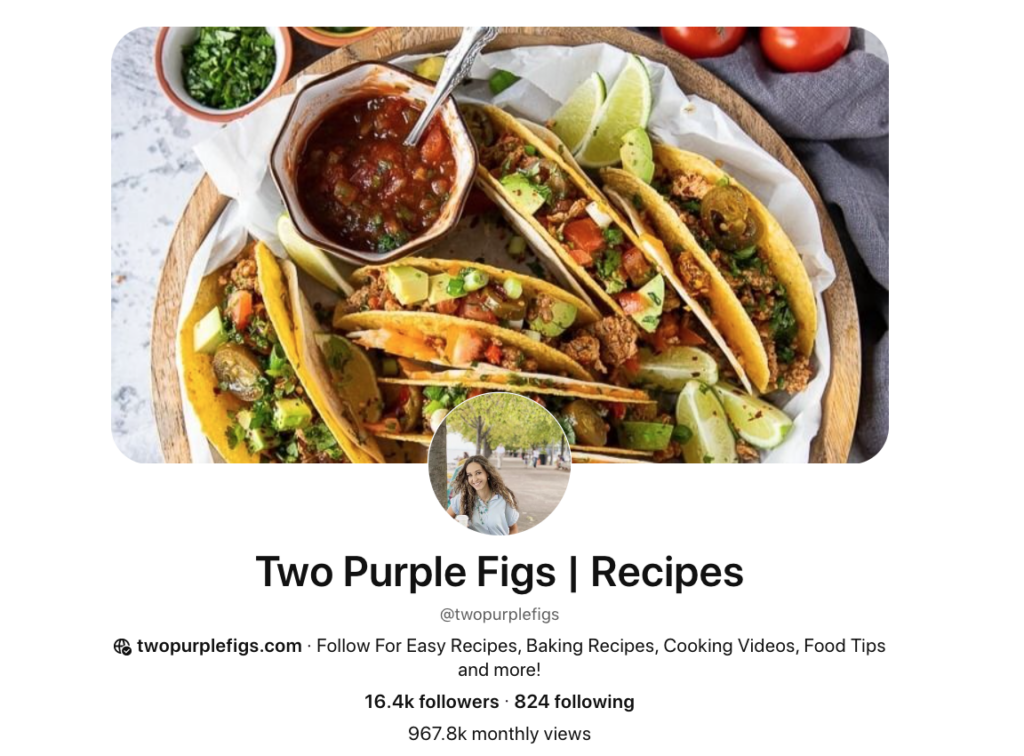 After 3 to 4 years of working exclusively on my own, day and night, between creating content, the website, and social media work, I made the decision to hire a team.
It was the best decision for my business, as it allowed me to grow and focus on strategies and learn more. Today I have 9 people on my team and we each contribute differently to the business.
I found most of them online through Facebook ads or on Instagram. A couple of them I know personally and asked them to work with me.
Mahy's Social Media Tips
At first, I got lost with so many platforms and algorithms, so many do's and don'ts for each platform, so I decided to work on one platform at a time to master it. I started with Instagram as I enjoyed scrolling through it.
I started by following friends and people in the same industry as myself, followed my favorite brands in the food industry, and then I followed some of their followers because I figured they would be interested in my content as well.
Lucky for me, they did in fact follow me back. I then started tagging brands I genuinely use each time I share a recipe that uses their products. I became visible to many large brands in my industry and, eventually, my work was recognized.
Some of these large brands requested to work with me and some re-shared my work with their followers, bringing lots of new people to my account.
I continued to work around algorithm changes when videos started becoming popular, so I made the switch to video, then Reels took over, and I went along as well. I check my insights and notice which days and times of the week my followers are most active, and I share during those times only.
Most importantly, I was very consistent. This is a huge factor for success on social media. I showed up every day, even if I wasn't in the mood or had personal issues going on–I would show up even with a cup of coffee and say good morning, and that's it.
I answered my DMs and I shared personal stories, travels, failures, successes, and everything with authenticity.
When it came to brands, I refused many offers from brands that didn't feel authentic to me. I never pushed sales or did commission-based work. That's why you'll notice when I share a certain brand, there's a sense of trust between my audience and myself, and that's why my organic posts and sponsored posts perform just as well on social media.
As a big thank you, I always run giveaways on my page. I ask my favorite brands to give away a valuable product in exchange for social media promotion. Sometimes I purchase gift cards myself and offer them as a giveaway.
Either way, I always find ways to say thank you. I also find that my audience increasingly loves to share the giveaways I offer with their friends and family, so I end up with a couple of thousand new followers each time.
How Much Mahy is Making
My business is currently making six figures, which has been a dream for me! I watched it grow over the last 7 years, and I'm excited for more growth.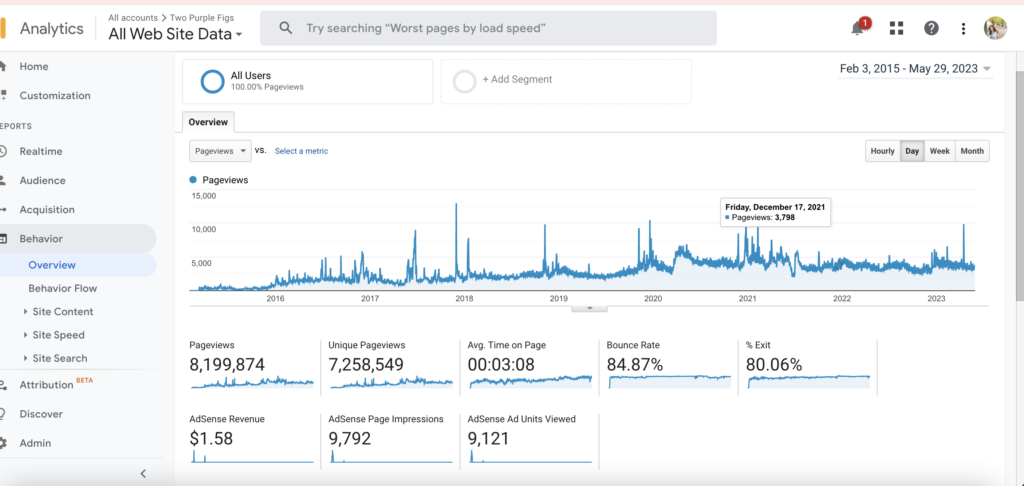 My income is broken down through different revenue channels, mainly website income and social media income.
The website income comes primarily from ad companies that run ads on my website and I'm paid for every visitor that clicks on my site to read a recipe. This accounts for nearly 50% of my income.
Social media income is from brands that want me to create content for their products and share that on my social platforms. This helps the brand reach my targeted audience, helps them grow and promote their products, and increases brand awareness or sales, or both.
Other income sources include companies that require exclusive copyrights to quality photography and videos made for their products and for their website and social channels. This improves their appearance online, creates appealing social media channels for companies, and also increases their sales.
Her Top Marketing Strategies
My number one strategy both for my website and social media is choosing my content carefully, selecting brands to work with that I genuinely love, and consistently showing up as who I am.
Aside from that, I pay for online ads and offer valuable content and amazing giveaways to my audience, which helps me reach their audience as well, and this would be my second-best marketing strategy.
With regard to the paid ads, I'm referring to Facebook Ads. I create ads using my videos/reels/content with a link back to my website.
I write compelling sentences to excite the reader to try my recipe, and then I target a demographic that would indeed want to read more about the recipe.
So if it's an easy dinner recipe, I would target busy professionals in their mid-20s to mid-40s, mostly women, moms included, and target the location as US with an interest in quick, easy, 30-minute meals.
If it's a baking recipe, I would target an older generation or a teen generation whose interests include food, baking, recipes, etc.
The Importance of SEO
SEO is extremely important for my website because it's my tool for ranking on search engines and reaching new people. I've learned it through many courses and audits, and I'm still learning as it evolves very quickly, but it is always my priority for growing my business.
I learned a lot from Jeff Hawley (creator of Hashtag Jeff). He has an intensive course on SEO, a community of people, and he offers one-on-one coaching, audits and more.
Keyword Research
My keyword search strategy is based on many factors.
To start off, I check my search engine rankings daily. I build an ecosystem of keywords around my top-ranking keywords and topics to expand on the topic and cover as much of it as possible.
If I'm starting with a new topic entirely, I gather as many keywords and related recipes to that topic. Then I estimate how much time I'll need to cover as many of the topics as possible. I usually always have keywords that complement each other and build on one another.
Another strategy is I cover my niche topics very well. I post about 70% of my niche topics, while the remaining 30% are usually trends or entertaining or seasonal topics.
Once I know the keyword I am targeting, I start testing out many recipes and variations using that keyword. I pick my most successful one, preferably if seasonal and then I start writing all I know about the topic. I make sure to answer any related questions about the topic and to provide tips, make-ahead options, storage options, and more
The ecosystem is based on my Google Search Console and Semrush. I observe my monthly search and which words are escalating, so I reinforce them by creating posts with related topics.
For example, I started to rank for "mussels," so I created posts about mussels marinara, green mussels, seafood garlic sauce, how to cook mussels, etc.
All of these reinforced the initial post and each post individually ranked well on their own as well. I eventually became recognized for seafood recipes, so I continued with other topics, picking one large keyword and then building an ecosystem of keywords around it.
Link Building
Link building is absolutely important for my website to gain authority. It's an indication of success and helps my rank tremendously.
Here are a few strategies that I've done for link building:
– Networking: Sharing other food blogger's work, and having them share mine has been a great strategy that benefits both of us.
– Facebook groups: They're a great place to find website owners, food writers, editors, and contributors looking for quality recipes to post as part of rounds-ups, seasonal topics, entertaining, how to's, tips, and more!
Usually, many bloggers will share links to the related topics and the editor/writer will choose from those links. If you offer quality articles with quality photography and video, chances are your link will be chosen.
– Recognition: While this is a very reputable way of building links, it's definitely the hardest and the one that requires the most time. This is when a reputable site recognizes your work and decides to share it.
– PR agencies, brands, sponsored work: If you've worked with any PR or brand that appreciates your work and decides to share it on their site linking back to yours, then you've got another way of quality link building.
What definitely hasn't worked for me is accepting links from random sites for a fee. You'll find lots of online sites asking for a paid link on your site or asking you for a fee to insert your article link on their website.
Either way, this is the worst thing you can do for your website, as eventually these sites don't last too long and end up being spammy or abandoned sites. Websites that rely on paid links don't have a way of continuing and this ends up hurting your site eventually if you're in any way connected to them.
Mahy's Content Creation Process
My content creation strategy is usually heavily based on my SEO search and keyword search. I will often focus on trends and put a twist on them to make them unique to me and my audience.
Other times I'll just create seasonal recipes and enjoy them all season long, or entertaining recipes if we're having special occasions.
Once I decide on the topic, I start the process of recipe testing. I'll create at least 6 versions of each recipe, tweaking each version to reflect different flavors, techniques, textures, and more.
I test for all the relatable Q&A on the topic, so I'll test storing in the fridge or freezer, making in advance, freezing ahead of time, leftovers, reheating, etc.
And once I have a favorite out of the 6 different recipes, I'll make it once again and usually share it with friends, neighbors, or family to have their input. At that point, the recipe is ready and I have a good feeling about its success, so I start the process of filming.
There's at least a day of grocery shopping and managing ingredients, preparing them for the photoshoot. Then my equipment is set up for photos and video at the same time, my studio is set up as needed, which includes the stove, oven, appliances, etc.
I start preparing the final tested recipe with video running at different angles and different zoom levels to have close-up and wider views. The camera is set up too and I make sure to take step-by-step images for those who don't watch the video.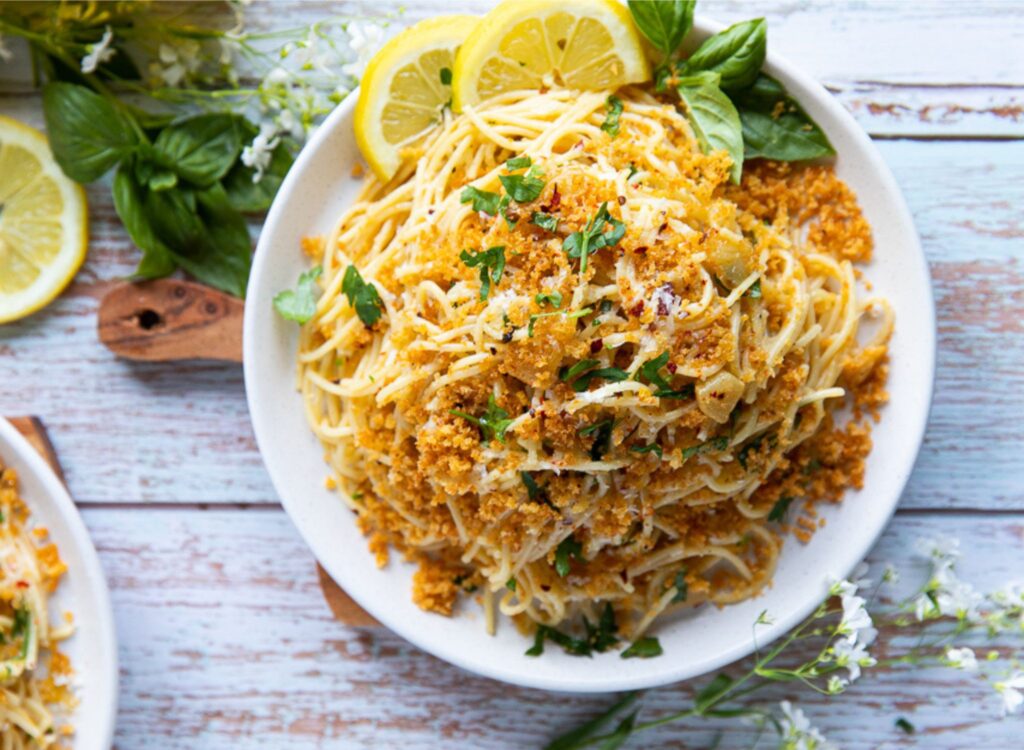 Then I plate the final recipe when it's ready and create a professional food-styled layout that's appealing and lucrative for the reader to click on that recipe!
After the content is completed, it's all sent over to my editing team, who starts working on getting those edits to maximize the appeal of the video and photos. I start writing the article with the help of my food writers incorporating all appropriate keywords and Q&A.
Once the editing and the writing are complete, I upload the article, images, and video to my website, carefully placing images where they belong in the article.
I complete the process by writing the recipe card, calculating the nutritional table, and finishing off any lingering details for the post. It's ready to be published and I get so excited to click that publish button!
Now it's time to boost the post through social media! With my social media team, the recipe is shared on all platforms.
This is the process that goes behind each and every recipe you find on my site.
For each post, along with my team, the process takes us a minimum of 2 days of full work. It's best to say three days actually! I make sure to upload a new recipe every 5 days at most. I aim for every 4 days.
Her Email List
I have about 10k subscribers to my email list, which I've grown over the years. The easiest most obvious way to grow your list is by creating quality articles that will entice the reader to sign up and not miss a new post.
Another way is through offerings. I offer seasonal menus on sign-up such as: "Sign up to receive a full Thanksgiving menu that is foolproof and delicious to make!" I make sure to send over a beautifully aesthetic menu that covers many recipes in detail with videos, step-by-step images, variations depending on your preferences, and much more!
How Many Hours She Works on the Business
My working hours are all over the place!
I usually try to keep my hours to 40 hours a week, but they're spread out so differently than most other jobs! There are times I work weekends, day and night, and times when I'm off for a few days with entirely no work!
Also, there are weeks when I work 60+ hours, while other weeks may end up being 20 hours. It's a very different way of working, but I do try to keep my average weekly of 40 hours just to balance out the remaining aspects of my life.
Mahy's Favorite Resources
There are so many great podcasts, such as Food Blogger Pro, where you'll hear stories from real bloggers who each have a unique success story. Food Blogger Pro also is a community site that has videos and step-by-step explanations on how to start and run a website.
Another great SEO resource is Hashtag Jeff. He's an SEO expert with a community of bloggers, videos, audits, and so many other services for your SEO needs.
The Bite Shot YouTube channel is a great learning tool for food photographers of all levels to watch!
And Semrush is a great membership website for all your keywords, website audits, writing tools, and more!
Her Top 3 Tools
Definitely, my team is one of the most valuable tools that I have!
I also love Semrush, as it keeps track of my keywords, rankings, website health, and more!
And finally, having up-to-date high-tech equipment is something that reflects on my business daily! Having quality cameras, equipment, props, editing software, and applications is something that is crucial to my business.
Her Biggest Challenge
There are two major challenges that I've faced, one of them is quite obvious: the know-how.
Since this business was relatively new when I started, I faced the challenge of finding information, understanding it, figuring out how to grow, and experimenting with so many different tools.
My real challenge once all of the above was figured out was balancing work and life. As you can imagine before having a team, doing all of this work alone can easily consume your whole day! It can be hard to find time for yourself, your family, your kids, your social life, and more!
Her Proudest Accomplishment
My biggest accomplishment is definitely building an online community of like-minded people who trust me, value my work, support me, and continue to make me grow.
Having an online community or tribe as some may call it, or audience, is crucial to any talent's success and crucial for the opportunity and money to come your way!
It took 5 solid years of hard work and dedication for me to finally say, "I have an online community."
My community is there for me every single day, waiting for me to show up and listening to what I have to say. I don't take that for granted! I know I can influence and inspire them, so I try my best to be the best version of myself. I want to inspire and influence something useful. I understand my audience demographics, age groups, interests, and more!
For that, brands are willing to pay and work with me to influence my community into buying their products and growing their brand. I am very picky and selective with who I work with and what I promote because I know my audience trusts me and I value their trust more than anything.
When I wrote my first book, I was so nervous no one would buy it. My audience was my biggest support. They bought, baked from the book, and shared it all over the internet.
When I'm visiting a local farm promoting the farming industry, I share the trips with my audience, and their insights, questions, and interest in the industry make my visit a huge success!
When I'm ranting about an unpleasant situation on my IG stories, I find their support immense and they all have my back! In a situation with an airline where the airline lost my ticket and I eventually missed my flight, I received a big apology and upgrade from the airline because of all the complaints submitted in support of me.
Initially, each person came to my online business either through a Google search looking for a recipe, and then appreciated my content and signed up. Or they came through social media and followed me.
Then most of them have led their friends and family to me. And we are a growing community every day!
So as an entrepreneur online, I find that my audience is my biggest asset as they are the ones who visit my website, make my recipes, appreciate my work, support the brands that I work with, buy my book, and have unconditional trust in me.
What She Wishes She Knew When She Started
Oh, so many things!
Primarily, I wish I knew that it takes time and patience! It takes time to build a solid website, a strong community online, and a unique food styling/food photography and food videography identity.
Her Biggest Mistake
My biggest mistake was definitely waiting too long before hiring out some of the work and doing it all alone! While I'm not a perfectionist, I still hesitated to hire thinking the ROI wouldn't be worthy.
I had a better work-life balance and I had the time and space in my mind needed to grow and expand.
Her Advice for Other Entrepreneurs
My best advice would be to always invest in yourself, keep learning, and be flexible enough to change strategies because the online world is ever-changing.
Hire help as soon as you can because this will allow you to have better peace of mind and help you think of growth rather than completing tasks.
And finally, remember it takes time! So be patient and give it time to flourish.