Health and wellness is a huge space. But how do you compete?
You create a thriving, engaged community and create products to help them on their journey.
Sounds easy, right? That's what the LadyBoss brand did.
They became so successful that they got to the #4 spot on the Inc. 500.
Let's take a closer look inside their business to see what we can learn.
---
A Quick Rundown of the Site
Kaelin Poulin is the founder of LadyBoss, a health and wellness business for women. Kaelin started it after she went through her own weight loss journey.
She started LadyBoss in 2015 with the last $1,000 she had in savings and started offering coaching programs before moving into the physical product space – creating her own supplements and fitness apparel.
Until she decided to close most of the business in May 2022, their main revenue came from their coaching programs and physical products.
How much traffic the site gets
The LadyBoss website gets around 30,000 organic visitors a month, according to Ahrefs.
They were potentially getting more traffic when they were actively working the business. They decided in May 2022 to eliminate most of their offerings which means they are not actively trying to bring in more visitors to their site.
The traffic they are currently getting is the residual result of the content and work they have done over the past couple of years.
And again, their branding is so strong that it's safe to assume a lot of their traffic comes directly.
And just take a look at their breakdown of branded vs non-branded keywords according to Semrush.
According to this estimation over 90% of their keywords are somehow 'LadyBoss' related.
Main Competitors
According to Ahrefs, LadyBoss's main competitors are other health companies that also sell supplements.
Once LadyBoss entered the physical products space, they targeted keywords for their supplements.
This changed over the years from when they started with only fitness programs.
Their Sources of Traffic – Organic, Direct, Social media, etc.
As mentioned above, most of LadyBoss's traffic comes from direct search, then social, and third is their email list.
LadyBoss had a strong base of followers and community surrounding their brand leading people to search for them. They spent a lot of time building a strong community of followers that tell their friends.
The second source is social media, primarily Pinterest and Facebook.
Health and wellness content is very popular on Pinterest as are recipes.
Their third highest traffic source is their email list.
The Types of Keywords Targeted
LadyBoss is targeting informational keywords. Many of the keywords for her blog posts deal with protein powder recipes. Of course, someone looking for protein powder recipes is also in the market for protein powder.
The informational content is always targeted to workout posts, health and wellness tips, and motivational content to help readers reach their goals.
Many of the keywords are branded keyword traffic.
And these branded keywords are largely around their physical supplements.
Their Top Pages and Keywords
The top pages they are ranking for include their brand name and specific product pages. They are ranking number one for branded keywords targeting their products.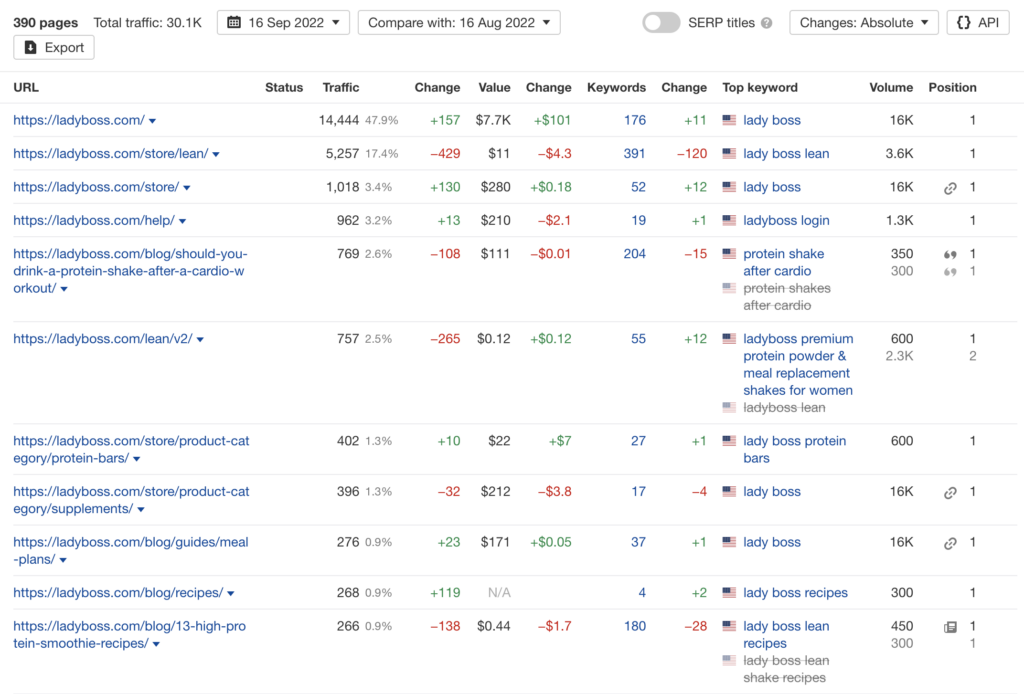 For keywords, they ranked again for their branded keywords.
They were also improving in the rankings for keywords involving protein powder. They started publishing many recipe posts that involved protein powder which would naturally lead readers to their products.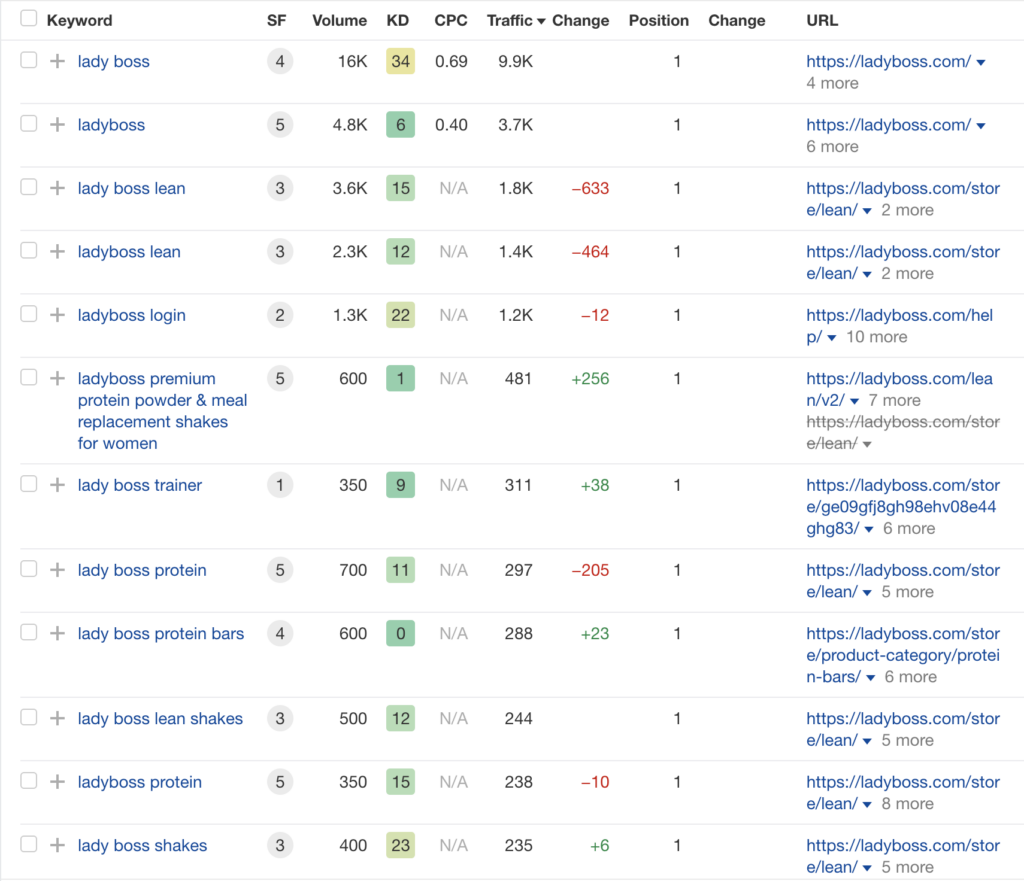 [Get more tips by checking out our recent guide to review blogs.]
Social Followers Stats
Pinterest is the leading social referrer, which makes sense with the health and wellness plus recipe posts as they do extremely well on Pinterest. They have almost 8k followers and are getting 50.5k monthly views on their pins.
With Facebook, they had over 900k followers on Kaelin's business page. They also built a very strong and engaged Facebook group with over 60,000 members.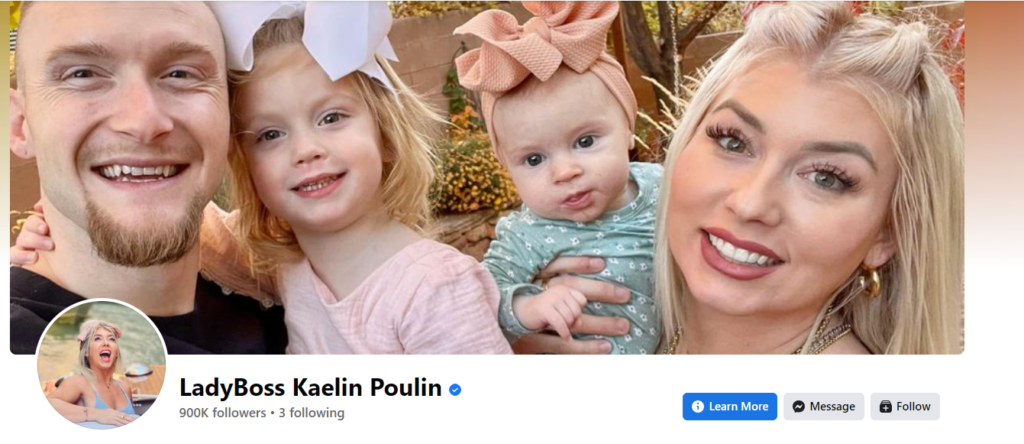 Youtube has also been a great platform for them to grow more followers and drive traffic back to their site.
The Site's Most Powerful Links and How They Got Them
LadyBoss has some high-profile backlinks from sites such as Slate and .edu websites.
The links from the university were because of a piece LadyBoss published on Girls In STEM.
This piece offered links and resources for girls to find scholarships and other resources to help girls get into a STEM field.
And no matter what niche you're in there are always clever ways to use digital PR to drive high-powered links.
For some inspiration and helpful tips, I'd recommend following Fery Kaszoni on LinkedIn or Facebook!
The Tools the Site Uses
LadyBoss uses quite the tech stack to run their massive eCommerce business.
How the Site Makes Money
LadyBoss made most of their revenue from their coaching programs and physical products. In 2018, the LadyBoss brand brought in over $29 million, and was expected to double that in 2020.
LadyBoss uses funnels to sell its programs and a targeted ad strategy to get in front of new customers. This process has helped them climb onto the Inc. 500 list and claim the #4 spot.
They have done an amazing job of finding the right people for their products and created a system to automatically welcome them into their community, which keeps their customers returning for more.
Introducing physical products created a recurring revenue stream for their business.
All these things led to the acquisition of LadyBoss by Russel Brunson of ClickFunnels when the Poulin's decided to step away from LadyBoss.
What's an On-Page Technique That Seems To Be Working Well?
Instead of using ads and affiliates like many sites, LadyBoss chose to solve their customers' problems by creating the solutions themselves.
It started with their coaching programs and digital assets.
This led them to create products that would serve their community and help those members reach their weight loss goals.
They created content that did well on social media like protein shake recipe posts that naturally led to selling their product.
A Note From the Founder
"Our success would not be possible without our devoted LadyBoss community."
Having a devoted community is one of the keys to success in the LadyBoss brand.
What Can We Learn From LadyBoss?
The LadyBoss brand has thrived partly to the community of loyal fans they have created. This community shows up and brings their friends with them. If your niche has the potential to create a community, it can be a very powerful asset.
LadyBoss also saw a need that their customers wanted when they decided to make their own supplements. Looking out for your customers' problems will allow you to create solutions for them that will keep them coming back.