People often asked Kim Hehir about the good health of her dog, Brutus. How did he live so long? And Kim attributed his lengthy lifespan to the bone broth she fed him. If bone broth offers many health benefits for humans, why can't dogs also reap those rewards?
She teamed up with her sister, Sue, and their dad, Tom, to create Brutus Broth, a bone broth for dogs. But as with just about every entrepreneurial adventure, the path to success was not linear. However, today they're earning over 7 figures per year by helping dogs everywhere live longer, healthier lives.
Keep reading to find out:
Who Brutus was
Why she created Brutus Broth
How much she's earning
Where the company's revenue comes from
Her top marketing strategy
The importance of SEO
How she approaches keyword research
Her favorite resources and tools
The biggest challenge Kim has faced
Her greatest accomplishment
Her main mistake
The advice she would give to other entrepreneurs
Meet Kim Hehir and Her Partner Sue
I'm Kim, and I started my career as an environmental consultant and then transitioned into investment banking and private equity. My last corporate position was head of strategy for a luxury hotel company overseeing corporate growth, brand extensions, and new business line launches.
Sue is my sister and partner, and she also has a background in investment banking. Later, she transitioned into the non-profit sector. And her last venture before Brutus Broth was launching an artisanal butter company.
Why Kim Hehir Created Brutus Broth
Our story began on Thanksgiving Day 2016 when a family member asked what we attribute to Brutus, our dog's, longevity.
The answer: "Love and grandma's bone broth."
As a pup that led a very active life, he had a number of health issues from the day we rescued him. We found that adding bone broth to his diet not only provided him with a tastier meal but also gave him added nutritional benefits.
Not only that, he loved the taste, and adding the broth to his dry food made it more easily digestible. As a 135-pound extra large breed dog, Brutus lived way beyond his life expectancy to almost 14 years old.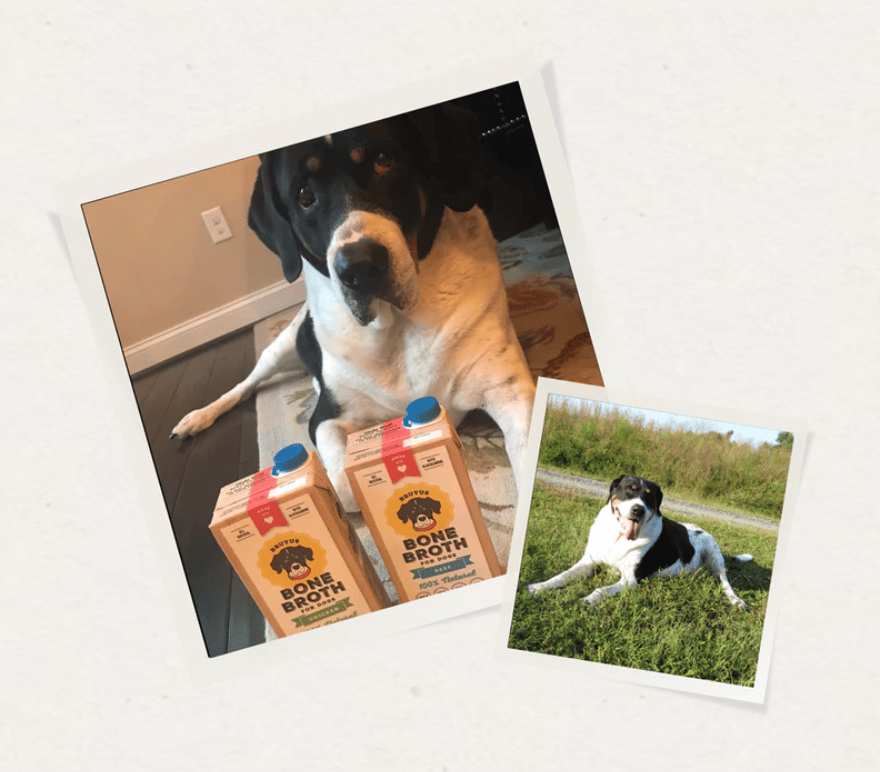 We wanted to bring the same longevity and quality of life to other dogs. Since we could not find any pet-safe bone broths on the market, we decided to do it ourselves.
After thousands of hours of research, we launched in 2018. Today, Brutus Broth is available in over 5,000 stores, including Petco and Target, and online on our website, Amazon, and Chewy.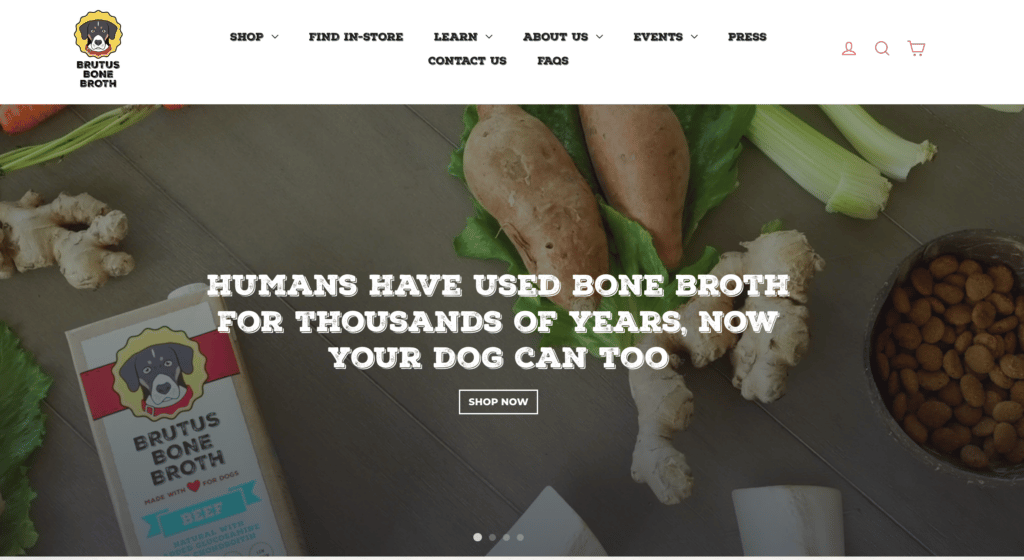 How Much Kim Hehir is Earning
Our annual revenue is in the millions. It took us 4 years to do it.
Most of our business is derived from our wholesale accounts (i.e. Target, Chewy, Petco, etc.). Our revenue has continued to double year over year since we launched on the shelf in 2018. The wholesale business (incl. Chewy) is 75%. Amazon accounts for about 20% of our total revenues. Our website is about 5%
Her Top Marketing Strategy
Testing is so important for us because there's a bit of a learning curve with our product, bone broth for dogs. We participate in a lot of marketing activities that allow us to get in front of the customer and have their dogs try our product, whether it's hosting "Yappy Hours," organizing events, partnering with shelters, etc.
We just launched an NFL program where we couple athletes with animal charities and hold events at our retailers.
The Importance of SEO
SEO is important because people are always looking for ways to improve their dog's health or solve a medical issue, etc. Our product is something anyone can add to their dog's existing diet, and it helps with allergies, skin and coat health, joint health, gut health, and overall immune system support.
So there is certainly a lot we can discuss. And we have started to write some blog posts, but we feel we have a long way to go regarding where we want to be with our SEO strategy.
Keyword Research
Our keyword research strategy is a multifaceted approach focused on brand building, awareness, sales, defensive positioning, and broad search (i.e. dog diet; what to feed a puppy, etc.) We have also found success in some keywords like "dog training" because those are people who are usually new pet parents and are also open to incorporating new products into their dog's life.
Content Creation
Our strategy has evolved from when we first started. At first, we felt like we had to have all of this great content with our product being used.
Now, we want to be a resource for people who're looking to ensure their dog lives their healthiest, happiest, best life. Instead of just trying to sell products, we want to be the go-to for info on cool events, fun dog-centric recipes, etc.
Kim Hehir's Email List
We grow our email list organically but also have partnerships with various companies that do not have competitive products but the same customer on giveaways to build our list.
Her Favorite Resources
There are a ton of resources, both industry-specific and entrepreneur-focused.
We love the "How I Built This" and "Badass CEO" podcasts. Additionally, we participate in many forums, like the Tory Burch Foundation, which has made available tons of resources and has been a great group of women entrepreneurs that willingly share ideas.
Also, Phil Knights' book Shoe Dog was great because it tells the story of a brand built from nothing and the long journey of ups and downs Phil had to endure to get to where Nike is today. Nothing is easy, and nothing happens overnight!
Her Favorite Tools
I would say our phones and LinkedIn to connect with other industry experts.
Her Biggest Challenge
There have been so many it's hard to pick one! Scaling has been a challenge with high manufacturing MOQs (minimum order quantities) and being wary of when to add overhead when we were not sure if we would have the revenue to support it.
Her Greatest Accomplishment
We're most proud of our proof of concept and hearing from our customers that we have changed their dogs' lives.
What She Wishes She Knew When She Started
I wish we had known that there are many free resources and grants available, you just have to look for them. We spent a lot of money on things we could have gotten for free. Look into university and industry association resources.
Her Greatest Mistake
This would definitely be not fully understanding regulatory labeling requirements before ordering our first round of packaging. We ended up having to print labels to cover the fat that we did not include a "&" on one of our ingredient panels.
Kim Hehir's Advice for Other Entrepreneurs
My advice would be to do your homework and research and spend time building and cultivating relationships.
Also, always follow up and be persistent.