When Jackie Rezk was working for Delta, she was able to travel the world for free, but there was one problem: she didn't have anyone to travel with. Tired of waiting for a partner in crime, she finally bit the bullet and traveled solo—and she was hooked.
That trip changed her forever, and the more she traveled, the more she was inspired to share her solo travel adventures and the hidden gems she discovered.
She created her blog, Jou Jou Travels, and her Instagram account to document her trips, and today she's earning $5k per month from her website, social media, and blogging-related projects.
Keep reading to find out:
Why she created her blog
How she leveraged social media to grow her presence
What she did to move the needle on her blog's growth
Where her income comes from
Her top marketing strategy
How she outranked CNN
Her thoughts on SEO and topical authority
Her keyword research approach
How she builds links
The unique tool she uses for content creation
Her go-to tools and resources
Her biggest challenge
Her main accomplishment
Her worst mistake
Her advice for other entrepreneurs
Meet Jackie Rezk
I moved to London from America almost 6 years ago and I'm loving every minute of it! I love experiencing new things and new cultures.
Traveling in general has taught me to embrace the differences in the world. And moving abroad has opened me up to new possibilities and experiences.
I'm originally Egyptian and think it's the most incredible country in the world. I'm someone who constantly thrives on creativity.
In addition to my travel blog, I also make jewelry, and anything where I can create something and share it with the world excites me. I'm a foodie, too, and on my travels, I constantly look for the best places to eat.
Why She Created Her Travel Blog
My obsession with travel started when I worked for Delta Air Lines in 2012. I was able to travel the world for free and I had no one to really go with at that time.
The flights were standby, so if my friend bought a ticket, there was no guarantee I would make the flight. I found a co-worker to go with and then she canceled on me. I wondered, when will I ever use these benefits?
It was at that time that I learned how to travel solo. I couldn't wait for someone to travel with anymore. I wanted to see this beautiful world!
So I went to Switzerland for my first solo trip, completely terrified. It forever changed me. I gained the confidence to travel alone and it wasn't as daunting as I thought.
When I left that job at Delta, I made it my mission to move abroad and live close to all the fantastic places in Europe to travel to. I loved sharing my photos and tips along the way.
Although I shared content before, it was only 3 years ago during the pandemic that I really started to take my travel Instagram and blog seriously.
I started my blog, Jou Jou Travels, and my Instagram in 2018, but both were not serious until 2020 during the pandemic. I took a class to grow on IG from Catarina Mello of @professionaltraveler in November 2020.
I shared my tips on finding the best hidden gems and traveling the world solo and confidently. On Instagram, I was an early adopter of Reels and my videos started to go viral. I grew to 100k followers in just 3 months.
At the same time, I was working a full-time job in web analytics and was so tired of my corporate job. I spent all my free time working on my blog to turn it into a successful business.
I'm a strong believer in following dreams. It was my dream to move to London and I made that happen, and now it's my dream to work on something I'm so passionate about and make a living off it.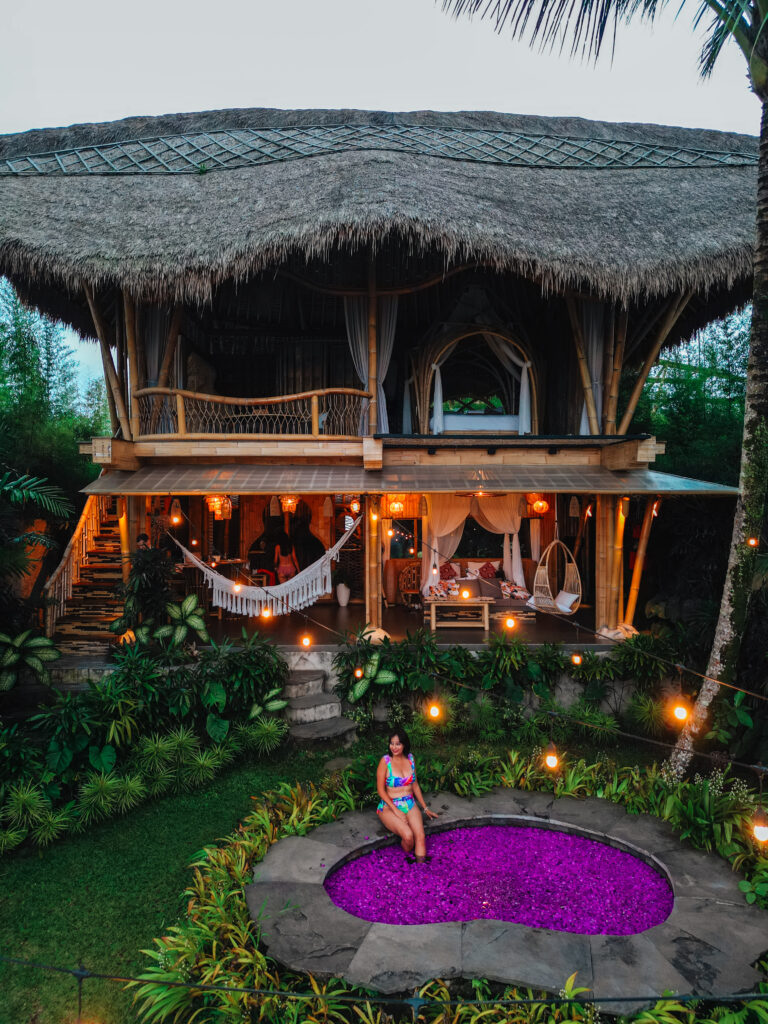 I invested in an SEO course called Blogging Fast Lane in April 2021 and implemented everything from the course on posts that I had written just for fun and not for SEO! I always enjoyed writing so my blog was just for fun before and I even wrote cutesy titles like "Soaring through Cappadocia," not realizing that doesn't really work for SEO.
Well, as soon as I took the course and implemented all the strategies I learned I finally started to see immediate growth.
SEO is a long game, however, after fixing old posts, I 5xed my traffic in 5 months. And now 2 years later I went from 2000 pageviews to up to a high in July of 50k pageviews.
How Much Jackie's Earning
I earned up to $1,300 in blog income in a month, from ads and affiliates. Although I'm currently with Shemedia, I have goals to enter a more premium ad network like Mediavie to earn more.
I know that my ad income will quadruple as soon as I hit the Mediavine requirements, so that's my current focus. I am earning a decent amount now that I decided to quit my job but it is not on my blog alone.
I have diversified my income streams, which I always recommend to others. It's important to do this because something like Instagram, for example, could disappear one day.
In addition to my blog, I earn from UGC/social media management for other brands. I have 2 accounts I work with and I'd love to grow that too.
One is a bubble tea shop and another is a London tour company. I film videos for them to post to their channels and help them grow their accounts. This is money I can rely on each month.
I also have digital products and services on my website. I offer Lightroom presets and e-books, as well as consultancy services. My consultancy services include coaching calls to audit other people's blogs and offering tailored tips on how to grow your blog.
I also have a trip-planning service where I plan custom trips for others. My e-books include a guide to moving to London as a foreigner.
After I had a hugely viral reel (13.5 million views) on how much it costs to live in London versus the US, I offered this product.
As you can see, there are many ways to earn!
I also work with brands for sponsored content, which includes sponsored blog posts and ads on my Instagram account.
If you include all my income streams, I am earning around $5k a month on average, but I have hopes to increase this significantly in the next months, especially after hitting Mediavine.
My income breakdown is as follows:
| | |
| --- | --- |
| Type | Average |
| Brand Partnerships | 25% |
| UGC/Social Media Creation | 18% |
| Affiliate | 19% |
| Ads on Blog | 9% |
| Sponsored Blog Posts | 3% |
| Digital Products | 3% |
Ads
Booking.com
I'm currently getting 31k sessions a month on my blog.
I work on my blog around 7 hours a day now that I've gone full-time. It's a lot of work but I truly love it!
Jackie's Top Marketing Strategy
My #1 strategy is to write on topics that give you the most bang for your buck. For me, since I love hidden gems, this is easy. I write on topics that are lesser known and do a full dedicated post for them.
The first time I did this was a complete accident. I visited this hidden gem in Italy on the Amalfi Coast called Vietri sul Mare. I loved this town so much, it was one of my happy places.
I wrote a blog post on it before I really knew SEO, and when I went in to make some optimizations, I found it ranking number one on Google, even ahead of CNN.
The volume was really high for this topic and it even looked like a difficult score, but at the same time, not many travel guide-style posts were on this town. It's now one of my most-viewed articles.
With that doing well, I always strive to write full posts on unknown towns like this. I also try to make a Google Web Story for my posts as I feel like it gives new posts a boost in views. Web Stories are essentially Google's version of reels or idea pins on Pinterest.
The Importance of SEO
SEO represents the bulk of my traffic at 75% so it's pretty crucial for me and I've invested a lot of time in researching the best keywords to hit my targets.
I generally make sure I write on topics that have higher volume and a keyword difficulty of 35 and below. I also write about many topics on the same area I have visited. The more Google sees you as an authority on one topic, the better chances you have at ranking.
For example, my Puglia, Italy posts are doing well because I have 8 posts on the topic. Google is more likely to rank me than someone who wrote one itinerary guide on Puglia. I have posts on where to stay in Puglia, dedicated posts for each small town in Puglia, and more.
It also encourages a user who found you from one post to click through to many other posts. This will increase engagement and pageviews per visit. The longer someone is on your site, the more Google will recognize your blog as quality.
Right now, I will continue focusing on more Italy content to follow this strategy of writing on one topic. Once I have built up this content, I will shift to other countries. Since Italy is my favorite country, this won't be too bad!
I visit a lot, so I have a lot of content from there. I still write on topics other than Italy, but from now I think I will be focusing on Italy content as my blogging SEO course instructor advised me to do this. He said I would start to see a compounding effect if I make sure to focus on one topic.
Keyword Research
I use KeySearch, which is an affordable tool and very easy to use for keyword research. I research long tail keywords from places I have traveled to and find the topics that will drive the most traffic.
First, I search for a term more broadly and check the volumes of similar topics that KeySearch suggests. I then look at the people ranking for that topic and write a blog post that is longer and hits all the points. I ensure my post is over 1,500 words as the longer the post, the better the chances of ranking.
KeySearch tells you what the average word count is for those ranking on the first page. I also make sure that the first page competitors are bloggers and not just the big guys like Condé Nast. This will give me an indication of how likely I can rank, too.
I usually find someone with a similar DA to mine and put their URL into the Explorer section of KeySearch. This gives me all the key terms that person has for the article.
It also helps me see if there are better terms I can go after with higher volumes that maybe fewer people wrote about. Also, the explorer tells me the estimated traffic the competitor gets for that particular post.
This is a good way for me to gauge if it's worth writing about the topic. If they have a low traffic volume here, I wouldn't want to waste time writing about it.
Link Building
Link building is important, but I wouldn't say it is where you should spend all your effort. If you're new to blogging, I would say aim for at least a DA of 10, and then I would really just focus on content. It's important to create quality content, and you'll be able to rank if you have that.
I've seen people with lower DAs outrank higher ones all the time. I have increased my DA to 37 over time, and I think it's definitely easier for me to rank now and it gets me on the first page of Google a bit quicker, too.
So, first focus on content and build your links as you go, is my advice. If you want to push a certain topic, be sure to get links for the articles you find aren't ranking. Also, Pinterest is good for that, too. If people are re-pinning your post a lot, this will help.
I have been building links through Facebook groups and have grown my DA to 37 since I started in April 2021. I also have been featured in Get Your Guide and Interrail. which have a stronger DA. So the stronger the DA that links to me, the better my chances of growing my DA faster.
Her Content Creation Process
Most of the time I'm traveling solo since I travel so much that not everyone can keep up. So my process can be a bit harder without someone to help.
However, I have mastered the solo shots and content creation with my handy tripod and now my drone. I will set up a tripod, take the photos, and not care so much about the staring bystanders!
As for my drone, at first, it was super scary to use and now I feel it can be easier than setting up a tripod! I use active track sometimes, so it follows me while I walk, or I just use the timed shots feature to shoot photos of myself solo. I am totally obsessed with it now and excited because it has made my content 10x better.
Then, it's time to edit the photos and collate all my tips for Instagram and my blog. I do a lot of research to find the best places to go and always make sure I hit those. I also make sure I find alternatives to busy places. This is something that has worked super well for me.
For example, I had a reel get 9 million views on Instagram by showing my audience that instead of paying tons of money to stay in Positano, they can stay in Scala or Procida for a fraction of the cost. These towns are less touristic and, therefore, cheaper.
Her Email List
I have over 3k email subscribers on my list. I have grown it through embeds and pop-ups on my sites. I have a couple of freebies including a solo travel e-book and an IG Reels topic idea freebie.
I usually send out emails with interesting travel tips and always link back to my blog to encourage them to read more. However, I haven't had the time to dedicate to this as much as I'd like, and am focusing on hitting traffic goals to reach Mediavine in the meantime.
Her Favorite Resources
I recommend joining Facebook groups with other bloggers in a similar niche. Here you can ask questions and connect with those with a similar mindset.
I also recommend investing in a course. It really helped me and I saw an immediate impact after implementing what I learned. The course I took was Blogging Fastlane and it was 100% worth the money. I also learned a lot from Anna at the She Approach. She has a newsletter where she shares a lot of blogging tips.
Her Go-To Tools
My favorite tools are as follows:
KeySearch: I use this keyword research tool every day so I can ensure I have done the proper research and make the most out of my posts.
Travelpayouts: This user-friendly tool aggregates all the affiliate programs I want to use in one. I am recently switching more of my affiliate links to Travelpayouts as it makes it so much easier. I get paid all in one place and don't have to sign up individually anymore to each affiliate program.
Google Analytics: My career before was looking at all the numbers and analyzing data through tools like Google Analytics. I really love looking at my own progress and insights.
It's the best tool out there for understanding how you're doing. It allows me to see what content works, what doesn't, and what improvements I can make to drive more traffic. I would say this is the most powerful tool!
Her Biggest Challenge
My main challenge is having the time to juggle it all with a full-time 9-to-5 job. Now that I've quit, I have more time to focus on it.
Even now, I strive to be more organized so I can make sure I am productive. Not having a set schedule each day can be challenging.
Her Greatest Accomplishment
I am very proud of building an audience in under 2 years on both my blog and Instagram by sharing my travel tips on my blog. When I actually get messages from people saying they followed my tips or I inspired them to travel solo, that makes me incredibly happy.
Especially when I see that I have encouraged someone to not wait for others to travel the world! It was something I was scared to do as well and I am so glad I did. It really changed who I am.
I am stronger and more open-minded. The fact that I can now make money online pursuing these dreams is incredible.
What She Wishes She Knew When She Started
I wish I had started with SEO in mind from the beginning. I had to go back and change a lot of things. That took time, so I recommend learning how to do it from the start the right way.
I also strived for perfection too much on my Instagram especially.
Of course, make sure it's high quality, but we can't always be perfect.
Her Main Mistake
My biggest mistake is letting the thought of failure stop me from pursuing my dreams. I finally made the leap to quit my job and not listen to any of the haters or my smaller inner voice asking, "What if I fail?"
I think the best thing to do is go for it. Now I have the time to focus my attention on this and get further ahead.
Her Advice for Other Entrepreneurs
Just get started. Don't let fear stop you from pursuing your passion.
Also, don't let being older stop you too! We all start somewhere, and it's never too late to get started. It's a long game, so don't give up before you see results. SEO takes months, even years.
It can be challenging and involves long hours and dedication. Blogging isn't for everyone either. You really have to love what you're doing and remain agile.