But how much money does the average affiliate marketer make, really? Is it actually a good business model?
Today, I answer these questions and talk about how you can get your hands on some of this affiliate money too.
Glassdoor
, is $59,060 per year. It ranges from $58K to $158K, including "additional pay" options like cash bonus, commission, tips, or profit sharing.
However, this is for a salaried employee. What about a freelancer or business owner doing their own affiliate marketing?
According to a survey done by the Influencer Marketing Hub, here's the breakdown: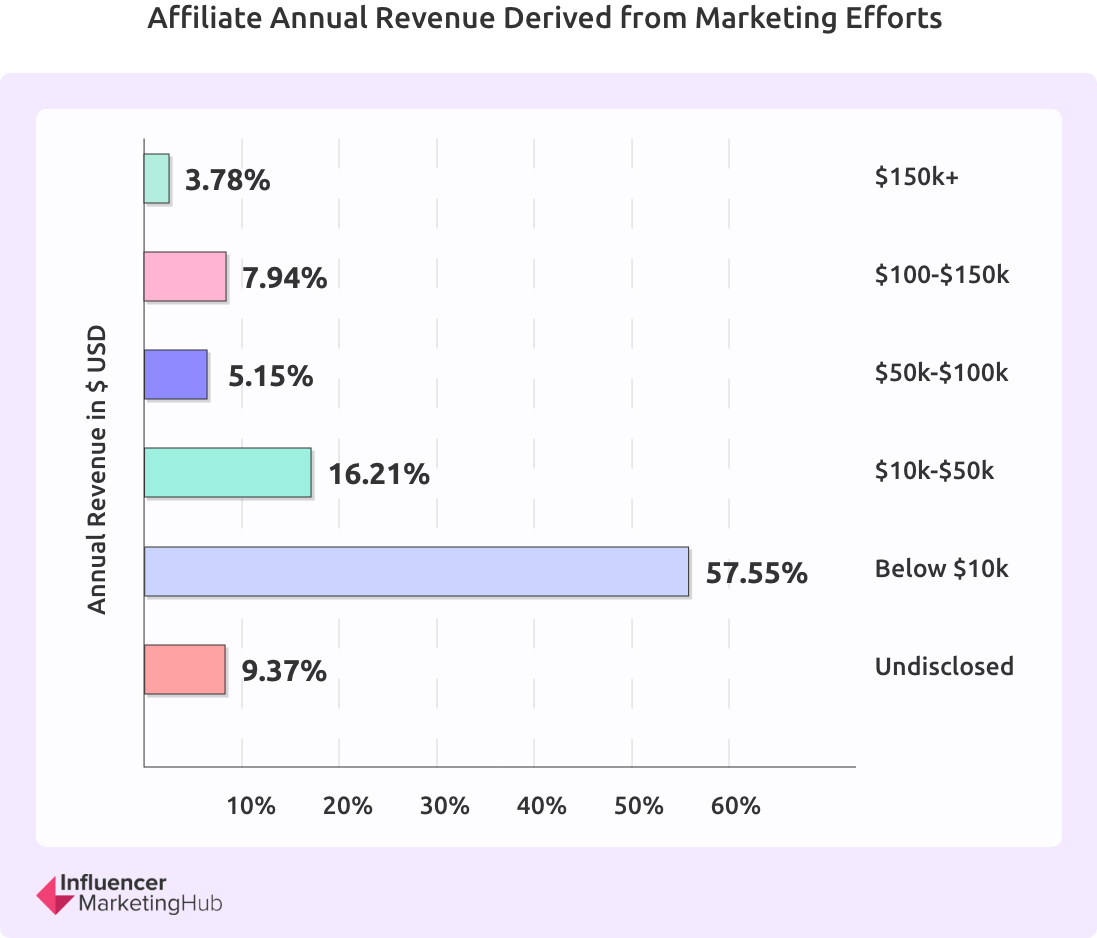 In other words, more than half of all affiliate marketers make $10K or less per year, while only about 33% make $10K or more per year.
That's… not great. Certainly not enough to live on in most countries. But I believe this is because the majority of respondents don't do affiliate marketing full time.
Being in the affiliate space myself and connecting with hundreds of other affiliate marketers give me a gut feeling that the majority of full-time affiliate marketers make less than $100K per year—likely around $30K–$50K annually.
That said, this is from my own personal experience, not a survey or research study, so take that with a grain of salt.
Revenue vs. net profit
When it comes to answering how much money affiliate marketers make, you have to take into account actual net profit numbers—not just revenue.
Revenue is how much money a business makes before expenses are taken out. Net profit is how much it makes after expenses are accounted for.
So profit is your actual take-home amount that your business produced for the year.
That's why I say most affiliate marketers make between $30K–$50K annually. This means profits after expenses.
start affiliate marketing
, here's how you can get started:
Choose a niche
Decide on a content channel
Produce and promote your content
Step 1. Choose a niche
Your niche is the thing you talk about. It could be a hobby, a lifestyle, a wacky science theory, or just about anything else. So long as there are products, services, or courses to promote, you can make money from it.
To find your niche, ask yourself:
What am I good at?
What do I like doing?
What am I curious about?
What do other people tell me I'm good at?
The overlap of those four questions is often a great choice for a niche. Or at the very least, it will get your head thinking about ideas.
For example, my answers may look like this:
I'm good at video games, writing, traveling, and playing music.
I like doing all of those things, as well as journaling, hiking, and chillin' in hammocks.
I'm curious about silversmithing, fire dancing, and motorcycles.
Other people tell me I'm a great salesman and that I give great massages.
Based on my answers, I have tons of niche options: traveling, hiking, video games, sales, entrepreneurship, and even hammocks. It's a fun little exercise to quickly come up with ideas.
If you're still having trouble or want to learn more, check out our guide to finding an affiliate niche here. It walks you through how to find affiliate niches while searching for things on Google in your everyday life.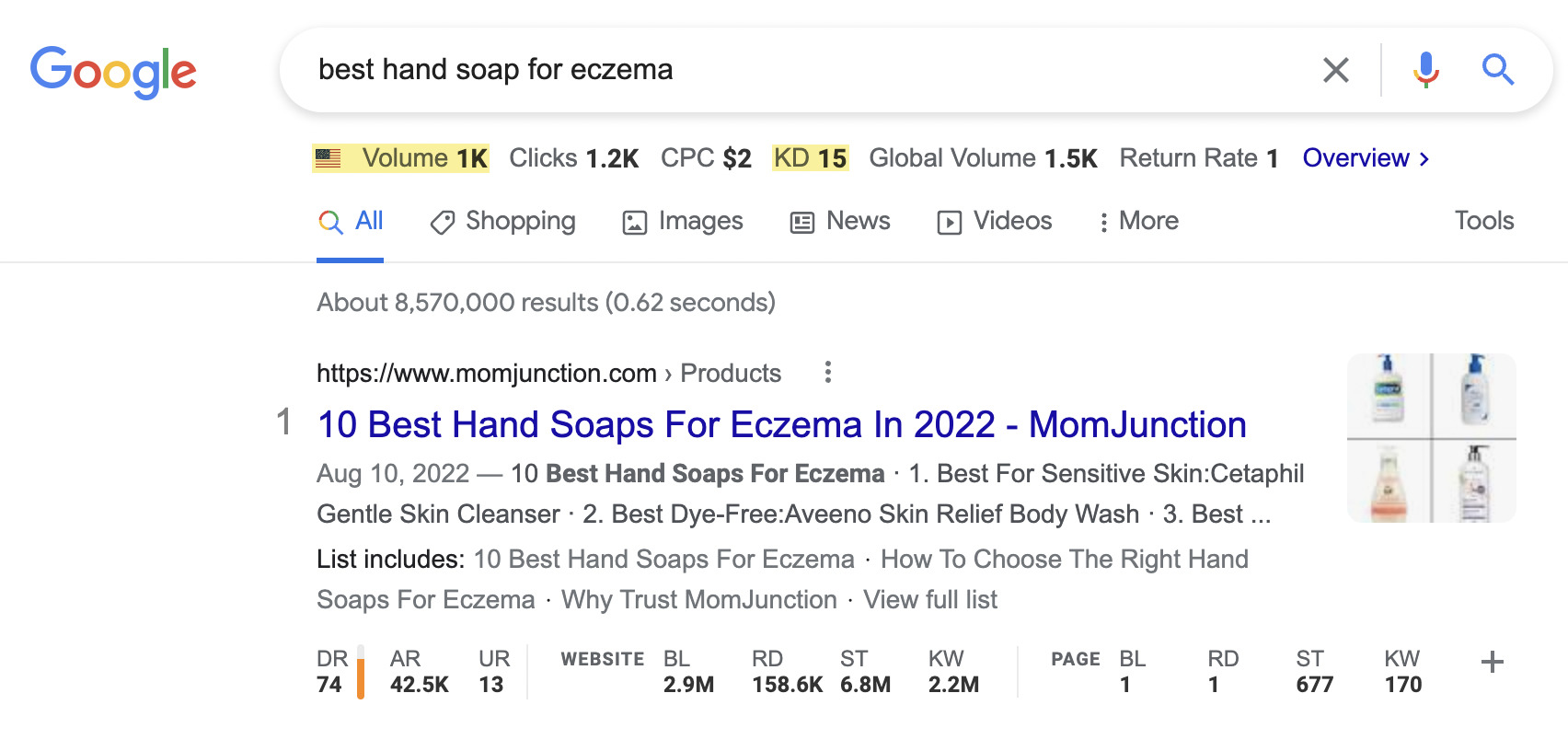 As you can see in the above screenshot, Ahrefs' SEO Toolbar will display information about every keyword you search for, such as how many people search for it per month and how difficult it would be to rank for.
Step 2. Decide on a content channel
Once you've chosen a niche, you need to pick how you're going to promote your affiliate links. You can create a niche website, a YouTube channel, social media accounts, or an email list.
My personal favorite method is building a website and using search engine optimization (SEO) to rank the website on Google. This lets you gain recurring, organic traffic (and sales).
Check out these Amazon affiliate websites to get an idea of what that may look like.
For example, one of my websites is monetized by Amazon affiliates, and I write review posts like the one below on camping mattresses: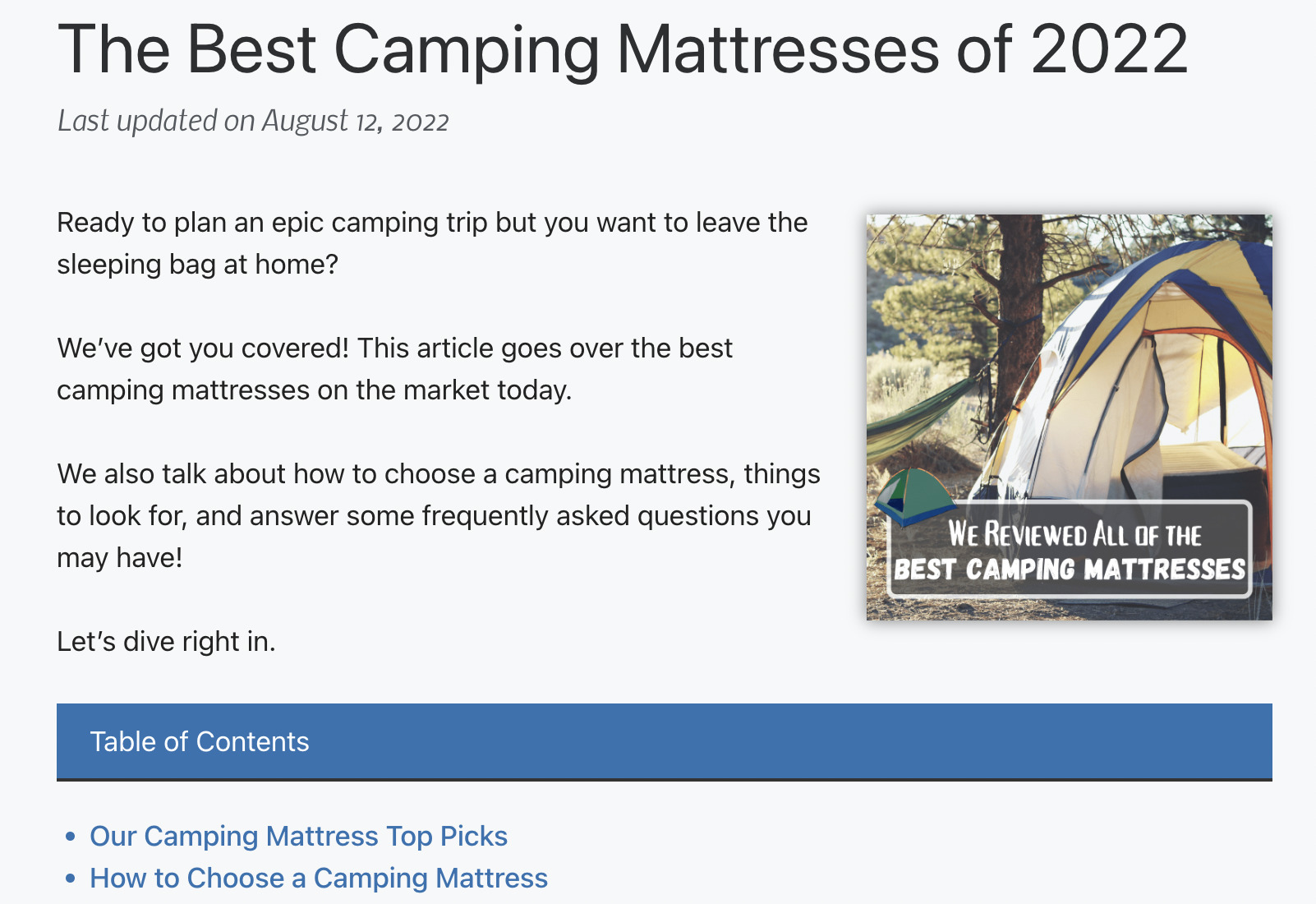 If this style interests you, a niche website may be the way to go.
However, just because you build a website doesn't mean you can't also be on social media and YouTube. I've just found it helpful in my own career to focus on and master one thing at a time before moving on to the next thing.
Step 3. Produce and promote your content
Finally, you need to learn how to create amazing content and promote that content to get eyeballs on it.
Affiliate marketing is a content-focused business. Without mastering content creation, you won't succeed. Whether that means writing blog content, creating videos, or taking pictures, you need to learn how to do it better than most.
But creating awesome content alone isn't enough. You also need to learn how to promote your work, whether that's to build backlinks to your articles for SEO or just to get views on your videos so the YouTube algorithm shows them to more people.
establishing E-A-T
, Wirecutter does an excellent job of this. It displays where it's getting its information and, thus, establishing trust. We wrote a
full case study on how Wirecutter does that here
.
Go for quick SEO wins
Most tasks in SEO take time to give you results, whether that's creating great content or building links. But there are lots of low-hanging fruits in SEO that can show results much faster if you know what you're doing.
These include:
And more.
For example, when I refreshed the content in one of my guides, my rankings shot up from position #3 to position #1 for the keyword "how to start a blog and get paid." My overall traffic to the page increased by 35% almost immediately.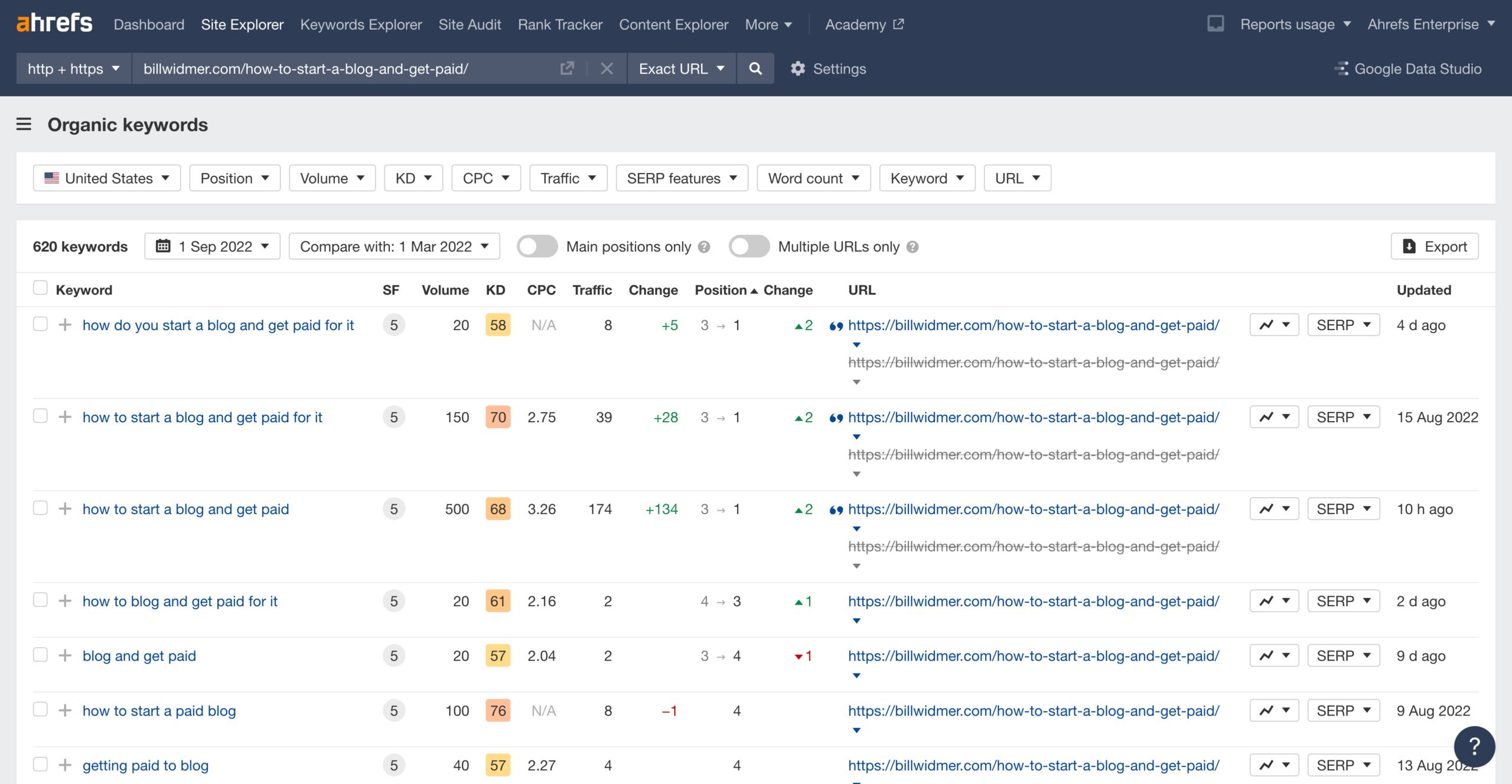 Check out our guide to quick SEO wins to learn how to do all of these tactics.
Negotiate for better rates
Finally, the quickest and easiest way to maximize your affiliate profits is by negotiating a better rate from your current affiliate partners.
This won't work for generic programs like Amazon and Walmart, but it absolutely works for smaller brands. More often than not, if you're already sending your partners a good amount of traffic, it's a no-brainer for them to increase your commission a bit.
Phrase it in a way that shows them you will use the extra profits to reinvest and promote them even more—it's a win-win.
This is best done over the phone, but even a well-worded email can increase your commission by a percentage or two.
Final thoughts
So now you know that most good affiliate marketers are making under $100K per year. But there are plenty making much more than that.
And you have options—you can either become an affiliate marketing business owner or an affiliate manager for another company.
Both are lucrative options. One of my favorite affiliate program partners has an affiliate manager making almost six figures per year—plus they gave him ownership in the company for profit sharing.
Either way, affiliate marketing is an amazing career. Want to learn more? Check out these other guides: