Are you a blogger looking for the best ad network to monetize your content? Then chances are you've already heard about the AdThrive vs Mediavine discussion.
AdThrive and Mediavine are two of the top ad networks many publishers aspire to use to display ads on their sites. They are both consistently helping content creators to generate high revenue from ads. However, they're not that easy to join, particularly if your blog is new.
The main difference between AdThrive and Mediavine is that of traffic you need to join. While the minimum threshold for websites to join Mediavine is 50,000 sessions over the last 30 days, you need 100,000 page views per month to be eligible for AdThrive.
But traffic requirements aside, the big question is, what's the best ad network in the AdThrive vs Mediavine battle?
We put together an in-depth comparison between the two ad networks to make it easy for you to choose.
We look at how AdThrive and Mediavine work, the pros and cons of using each network, and which of them delivers higher RPMs.
Let's dive in.
AdThrive
AdThrive is a premium ad management company that provides complete ad optimization and support to its publishers. Joining AdThrive means that you don't have to worry about managing any of the ads on your website – everything will be expertly done for you.
The company was founded in 2013 and currently manages ads for more than 2,600 websites. AdThrive takes a 25% cut as part of their management fee, and the average RPM publishers can expect is in the $13-$15 range.
Here are the requirements for joining AdThrive as a publisher:
A minimum of 100,000 monthly page views, predominantly from the U.S. or a combination of US, Canada, UK, Australia, and New Zealand

Unique content that's engaging and a good fit for the advertisers AdThrive works with

No previous penalties or advertising infringements from any major ad providers

A site that's secured using HTTPS
AdThrive is notoriously picky about the type of websites they accept. The acceptance rate is approximately 15%, which is the lowest of all major ad networks out there.
They employ a thorough review process to ensure that the content doesn't fall into a potentially offensive domain (think offensive or hateful speech, gambling, or porn).
Overall, AdThrive is looking for content that "makes the Internet a better place" by telling stories or solving problems. Most of the sites on AdThrive's publishers' network are in the lifestyle, food, family, parenting, and home niches.
The traffic must be verified with Google Analytics history. If you're an existing publisher, you only need 30,000 monthly pageviews to have a second site approved with AdThrive.
AdThrive Pros and Cons
Pros:
Fast approval process

Quick onboarding

Excellent ad quality

High RPMs

Comprehensive dashboard with loads of analytics for published to see how their content performs easily

Helpful customer service

Google certified publishing partner
Cons:
No feeling of belonging to a community

Difficult to get approved

High minimum traffic threshold
Mediavine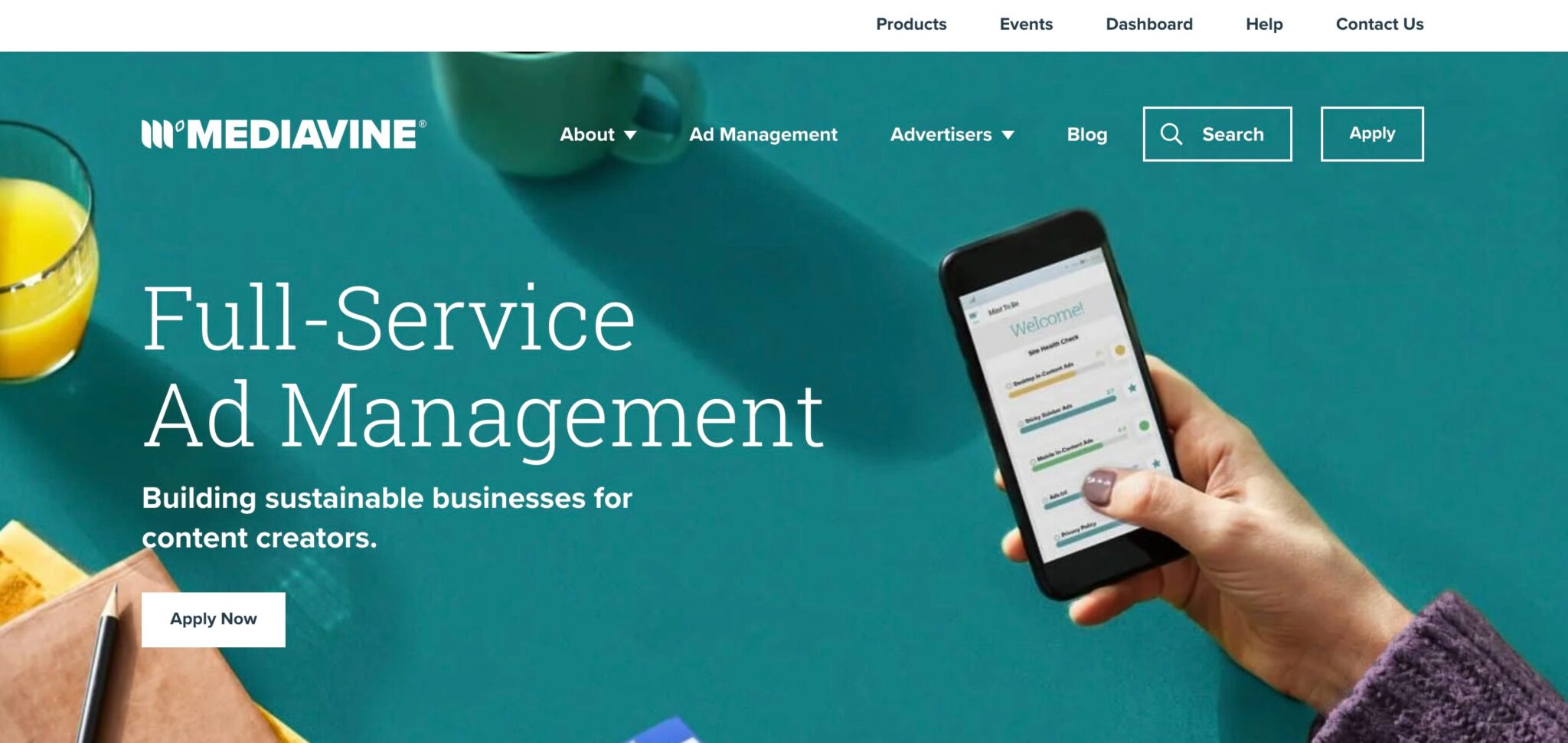 Mediavine has been around for longer than AdThrive as the company was founded in 2004 as an SEO firm. The company still owns its own websites but has since transitioned into ad management for small and medium businesses.
There are more than 8,500 publishers with Mediavine as of 2021, and the revenue cut is the same as AdThrive at 25%. The difference is that there's a loyalty bonus of 1% per year for up to five years. This means that if a user sticks with them for five years, they can increase their revenue share to 80%.
The average RPM you can expect with Mediavine is approximately $15. Just like with any other ad management network, this can vary greatly according to niche, seasonality, and demographics. Mediavine requires a minimum of 50,000 sessions to qualify (attention, that's sessions, not page views).
Here are the requirements publishers need to meet to qualify for Mediavine:
50,000 sessions in the last 30 days

Original content in a lifestyle niche (though other niches are also considered)

Good standing with Google Adsense (even if you've never had Adsense ads on your website)

Long-form engaging content
Like AdThrive, Mediavine prefers websites with the majority of traffic coming from the U.S., UK, Canada, Australia, and other English-speaking countries.
If you're wondering why ad networks prefer those demographics, the answer is simple. It's because most of the ads from their partners are targeting those countries.
Mediavine also prefers a good mix of traffic from various sources, preferably with a good chunk of it being organic. Publishers may be rejected if a very large percentage of their traffic comes from a single source, such as Pinterest.
Mediavine Pros and Cons
Pros:
Overall better for website speed thanks to lazy loading

Very supportive community

Excellent customer service

Comprehensive

dashboard

Revenue is similar to AdThrive

Google certified publishing partner
Cons:
It takes up to a month to get approved

Payments are slower

The entry barrier has risen from 25K to 50K monthly sessions
AdThrive vs Mediavine: Onboarding
The onboarding process is quite similar for both AdThrive and Mediavine, but it's quicker with AdThrive.
For both networks, publishers are required to start the process by submitting an application form.
The application includes personal information and basic information about your website.
You will later be asked to submit a Google Analytics report to verify your traffic. This will allow the ad network to analyze your sources of traffic and the location of your audience.
Both AdThrive and Mediavine assign multiple team members to review websites. The only major difference here is the time it takes to process applications.
With AdThrive, publishers can expect to hear back in approximately one week. Mediavine takes a bit longer and you can wait up to a month for a decision.
Once a publisher is approved to join, they are sent a Google Ad Manager form to fill and a contract to sign.
From there, it takes a couple of days to have the ads up and running on your site.
Winner: AdThrive for the quicker review process
What are the payment terms?
AdThrive pay on a NET 45 basis. This means that publishers receive their earnings 45 days after the end of a month. For example, earnings for January are paid on March 15.
Mediavine's payment schedule is slower, as the company uses a NET 65 system. Publishers can expect to be paid their January earnings on April 5.
When it comes to payment methods, both ad networks use the same payment provider, Tipalti. This offers publishers multiple options to choose from.
With AdThrive, you can choose to receive your earnings via direct deposit, eCheck/local bank transfer, paper check, PayPal, or wire transfer.
Mediavine offers the same payment options with the exception of eChecks and paper checks.
AdThrive vs Mediavine: Payment threshold
Both networks have a minimum payment threshold of $25 for all payment methods except international wire transfer. To receive your earnings via that method, you need a minimum of $100 with AdThrive and $200 with Mediavine.
AdThrive guarantees payment for their publishers even if advertisers don't pay them. They also offer RPM guarantees from time to time for publishers who join from another ad network.
For example, in November 2021, AdThrive offers a 20% higher RPM guarantee for those transferring from another network. Publishers who don't hit that higher RPM are promised the difference and an extra $5,000.
Winner: AdThrive for quicker payments and RPM guarantee
Site speed and user experience
One of the main worries of publishers who want to use ads to monetize their website is the impact this strategy will have on their site speed and overall user experience.
Since speed is a ranking factor with Google, even more so after the Core Web Vital update of 2021, it's no wonder all major ad networks are concerned with delivering ads without bringing down the speed of a website (too much).
While all ads have an impact on speed, both AdThrive and Mediavine have taken steps to deliver their ads by maintaining a balance between optimizing for speed and protecting revenue.
AdThrive
AdThrive employs a deferred ad loading solution. This allows publishers to defer ad loading with a view to optimize their Google PageSpeed Insights scores.
Deferred loading means that the ads only start loading after the page has completely loaded or when the reader interacts with it.
By implementing deferred loading, AdThrive estimates that publishers may see a slight decrease in revenue (about 5-10%).
Deferred loading is not activated by default and AdThrive publishers need to contact customer service to turn it on.
Mediavine
Mediavine, on the other hand, lazy loads ads by default for all their publishers. While there is an option on the dashboard to turn off this feature, the network strongly recommends it should be on for both mobile and desktop.
The team at Mediavine is "obsessed with page speed", using their own words. They claim that their ads load 200% faster than the competition.
Their focus on site speed is visible in the dashboard, too. Here, users can tweak multiple settings to optimize page speed.
By enabling the "Optimize Ads for Mobile Pagespeed" settings, you can optimize for various Google PageSpeed Insights metrics, including Time to Interactive.
This feature works by removing all ads from the first screen view. This will not only help you increase your page speed scores but also improve the user experience.
Winner: Mediavine for a better focus on page speed and making it easy for publishers to implement changes from the dashboard
AdThrive vs Mediavine: Customer service and community
Both AdThrive and Mediavine receive praise for their customer service, with publishers being quite happy with communication and the way issues are handled.
The main differences between the two networks are related to customer service hours and community.
The Mediavine team is available to answer questions and offer help with any technical issues seven days a week. Many reviews mention that it typically only takes a couple of hours to receive an answer. To contact customer service, all you need to do is shoot an email to a general email address. This will be dealt with quickly by the appropriate member of the team.
AdThrive, on the other hand, mentions that their office hours are Monday through Friday only. To contact customer service, publishers need to raise a ticket, and they can expect an answer in 1-2 business days.
Both ad networks have private Facebook groups that only members can join.
AdThrive vs Mediavine: Extra features and perks
Both AdThrive and Mediavine offer various features and extra perks for their publishers.
AdThrive
Free access to the "Email on Autopilot" course by Matt Molen

Free access to the "Hashtag Jeff SEO" course by Jeff Hawley

Access to educational programs and webinars

Access to AdThriver publisher-exclusive content on the AdThrive blog
Mediavine
Access to Grow.me, a proprietary engagement suite that allows readers to log in and save their favorites.

Publishers can collect first-party data from users who log in

Access to exclusive educational content and webinars
Winner: Mediavine for the better community and overall customer service.
AdThrive vs Mediavine — Who has higher RPM?
The average RPM of a website depends on a wide range of factors, so comparing AdThrive vs Mediavine RPMs is not easy.
RPM stands for "revenue per mil", which translates into the earnings a publisher gets per 1,000 impressions.
You can calculate page RPM by dividing your expected revenues or ad income by the total number of page views on your website and multiplying the result by 1000.
For example, if you have 2,500 page views per month and an estimated $25 in ad income, your page RPM would be ($25/2500)*1000 = $10.
Some of the most important factors that have an impact on the RPM include the niche of your website, audience location, and the type of device they use to access your website.
With both AdThrive and Mediavine, publishers get higher RPMs from users in the U.S., U.K., and Canada and from those who access the website from a desktop computer instead of a mobile device.
The average RPM with AdThrive is approximately $20, which means that publishers earn $20 per 1,000 page views.
With Mediavine, publishers can expect to earn about $15 per 1,000 page views on average.
Again, it can't be stressed enough that these figures are just averages. They can vary significantly from one website to another.
AdThrive vs Mediavine — Which ad network should you choose?
Now that we've discussed the similarities and differences between the two networks, you should have a better idea about which network is suitable for your blog.
If it's just a question of meeting the traffic requirements, you should aim for Mediavine because of their lower threshold of 50,000 sessions (approximately 60,000 page views).
However, the answer becomes a little bit more complicated if you meet the minimum traffic requirement for both networks.
As mentioned above, the RPM you can get with both of these networks depends on your demographic and niche. As such, it's a good idea to look at what some of the other players in your niche tend to do.
For example, some quick research shows that most of the big bloggers in the food niche opt for AdThrive ads, particularly if a big chunk of their traffic comes from the U.S.
Final thoughts
Once you've managed to grow your traffic to a level where it makes sense to monetize with ads, it's a good idea to consider all your options.
Many publishers start with Google Adsense, but the blog income you can expect by going down that route is very low.
Both AdThrive and Mediavine are excellent choices for publishers, especially if you're a blogger in a lifestyle niche.
However, you can also have a look at some other best ad networks for bloggers, particularly if your traffic is not yet close to the 50,000 sessions required by Mediavine.
The goal of every publisher is to get the highest possible RPM for their website, so it makes sense to go for a large network. That's because they work with a wide range of partners, which means there's a better chance to find ads relevant to your content.
Once you've qualified for AdThrive or Mediavine, you don't have to stick with your choice. It's not very difficult to switch from one ad management company to another, so you could always try Mediavine first once you reach the minimum traffic threshold and then move on to AdThrive.
At the end of the day, you need to make sure the ad management company you choose is a good fit for your site and go from there.
You can also read our full Mediavine review.