How do you check your internal links? An internal link checker can be one of the best ways to optimize the internal links on your site.
Internal links go a long way in improving your rankings, lowering your bounce rate, and increasing the overall user experience.
However, for whatever reason, some links stop working. Sometimes you may not realize the effects they have on your website until you check them. But checking the links manually is hectic and is not always fruitful.
That's why you need an internal link checker. These are software designed to analyze different types of links and highlight the broken ones, making it easier for you to fix them. And in this article, I will review some of the best internal link checkers and how to use them to check your internal links.
Why You Need to Check Your Internal Links
Checking links, both internal and external, is paramount to your site's performance. Pages change all the time. You may delete an article, update it, restructure your website, change the theme, or even make an error when typing the link.
Eventually, some of the links on your pages get broken. If not fixed promptly, broken links will slow down a website, affects its rankings, and the user experience will take a hit. It's quite off-putting when you click a link and get a notification that the page you're looking for doesn't exist, or worse, a 404 error.
Best Internal Link Checker
Now that you know how important it is to check your links, below are some link checkers that will make your whole internal link building and checking easier.
1. Link Whisper
Link Whisper is one of the best internal link checkers and internal linking building tools.
Spencer Haws, also the author and owner at Niche Pursuits, built this tool after struggling with the manual process of building links.
Link Whisper utilizes AI, or what's known as NLP (Natural Language Processing), to suggest which articles to link to based on the articles you have on your site and their relevancy to the article you're writing.
And that's not all.
Link Whisper is also built to identify articles with little to no internal links, also known as "Orphaned content," suggesting more ways to build internal links.
Here are more features that Link Whisper offers:
Automatically build links to keywords – once you select the keyword, it will consolidate all relevant articles to link to that keyword
Reporting – this feature allows you to view all the internal links in your site, identify more chances for internal links, and identify any broken links
Integration With Google Search Console – You can integrate Link Whisper with Google Search Console, allowing you to view the performance of your keywords, which can help you adjust your internal linking strategy
And for those with multiple sites, Link Whisper can also suggest internal linking strategies between these sites.
You can see other ways people are using Link Whisper in this post. In addition, here are a couple of reviews of Link Whisper found on YouTube:
[embedded content]
[embedded content]
Pros:
Easy to install and use
Accurate link suggestions
You can automate the internal linking process
You also have control over what pages to link to
Accurate reporting and statistics
Easily see and fix broken links
Cons:
Sometimes you may get irrelevant link suggestions
Link Whisper costs $77 per year for one site, $117 for three sites, and $167 for ten sites.
Considering all the work it does for you, it's totally worth it for the long term, especially if you have several sites.
CHECK OUT LINK WHISPER HERE
---
2. Internal Link Juicer
This is another easy-to-use internal link checker and builder that comes as a WordPress plugin.
There's both a free version and a paid version, making it perfect for those with small sites. But don't expect the same level of control as you'd get with Link Whisper.
Here are some of the features you get on the free version:
Automatic link building – All you have to do is select your keywords, and it will automatically build links based on your site's content
You can select pages that don't need internal links and those that do
The ability to customize the links for better results
A reporting feature that allows you to track your links, check the best-performing ones, and replace the broken links
Maximum diversification thanks to the tool's ability to choose varying anchor texts for a better internal linking structure
When you upgrade to the premium version, you get the following features:
Enabling interlinking between categories
The ability to customize both internal and external links
You can import your focus keywords, especially from sites like RankMath or Yoast, and associate them with the content you want to link to
Better reporting and deep insights that can help you make data-driven decisions
Manual customization that allows you to exclude some links manually
You can automatically build a silo by allowing and restricting links within a category
More people can work with the tool within the site
Pros:
Easy to set up
It gives you lots of control over the internal linking process
The links can automatically open on a new tab
Cons:
You still have to manually set the keywords for each post, making it impractical for huge sites
You aren't able to actually check your existing internal links. You can only build new "automated" internal links.
You don't get reports on broken links or have the ability to fix those broken links.
The price costs for the Pro version:
1 site – $69.99 annually or $249.99 for a lifetime license
5 sites – $149.99 annually or $349.99 for a lifetime license
10 sites – $189.99 annually or $669.99 for a lifetime license
---
3. AutoLinks Manager Pro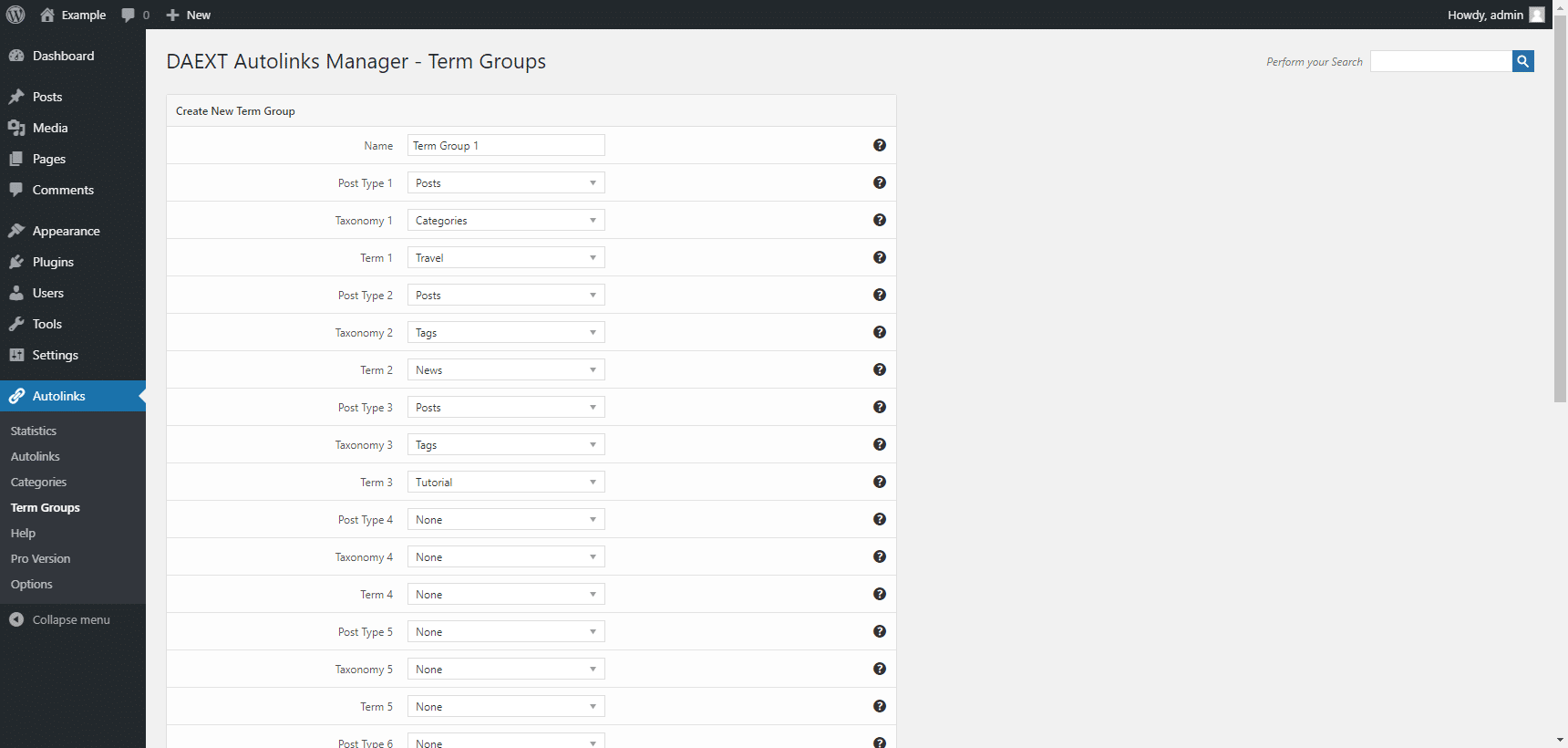 Built by DAEXT, one of the best WordPress plugins builders, AutoLinks Manager Pro makes internal link building and checking easy for small and large sites.
Here are the main features it offers:
Advanced Autolinks – This feature allows you to choose a keyword and an appropriate internal link, and the plugin will replicate that throughout the site in future posts. You get at least 50 options to adjust the autolinks based on categories, tags, posts, and the link's HTML, giving you total control over your internal link structure.
Wizard Mode – As the name suggests, this feature works like magic. It allows you to add several internal links to a website with one click. You can enter the keywords you need to turn to internal links and the corresponding links or import autolinks from a spreadsheet.
Statistics and Link Tracking – ALMP has an inbuilt statistics feature that shows you every link on the site and how your audience interacts with the links. The link tracking feature shows the IP address and the time at which the user clicked the internal link, which are helpful insights when planning your linking strategy.
It's compatible with Gutenberg – If you use Gutenberg on your site, you can choose o which blocks to pace the links. This helps prevent the ALMP luging from interfering with the site's structure.
It supports multiple languages and can work with other translation plugins.
Excellent customer support in both English and Italian languages.
Pros:
It's easy to automate the internal linking process
You can build several links at once
Detailed reporting that shows the location and user's behavior on your site
Cons:
It doesn't offer link suggestions
ALMP has a free version that offers the Autolinks and the detailed statistics features.
But if you want to leverage all the features it offers, choose either the personal option ($49) or the Business option ($79).
CHECK OUT AUTOLINKS MANAGER PRO
---
4. Google Search Console
If you can't afford to pay for any of the other internal link checkers I've reviewed, GSC is a free and powerful tool you can use. Most bloggers use GSC to analyze their top-performing content, find keywords they can target, and other aspects to help their content rank better. What you might not know is that Google Search Console has an internal link checker.
On the left-hand side, scroll down until you see "Links." Click on it, and the page will show both internal and external links. GSC shows you each page with an internal link and how many links you currently have.
To find articles with little to no internal links, you can use the query function. For instance, you can look for articles with less than 10 links.
Then, on the Google search box, enter "site:your site's URL your target keyword" In the example below, you can enter site;moderngardeningtips.com mow a steep hill with a riding lawnmower."
This shows you all the related articles on your site that can link to this article. It may be a long process, but it's free and quite accurate.
To find 404s, and other link errors, go to Coverage, then check the links under the Excluded Tap or the Errors tab.
Pros:
It's free
It's an easy way to check for broken links and get link suggestions
It also helps analyze the overall performance of a site
Cons:
The internal linking process is quite long, especially if you have any articles on your site
---
5. Screaming Frog SEO Spider
This is an SEO Chrome extension built to analyze everything related to links on your website or a competitor's website.
Here are some of the ways you can use it:
Check both internal and external links.
Analyze redirects and check for errors.
Check the page speed and overall site performance.
Detect duplicate content.
Integrate with Google Search Console
Check spelling and grammar.
Pros:
It's excellent at finding broken links
It can integrate with other tools such as GSC
It also offers insights on improving your site's performance
Cons:
It may slow down your site
It's not that easy to use
There's both a free version and a paid version.
With the free version, you can analyze 500 pages and get access to a handful of the features, making it great for smaller sites. But for larger sites or multiple sites, you'll need the paid version, which costs $149 per year.
CHECK OUT SCREAMING FROG SEO SPIDER
---
6. Integrity Link Checker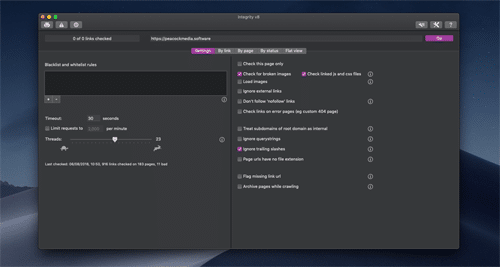 This is a free internal link checker built for Mac users. It will go through your site, check for broken links, and report back on the reporting page.
Besides internal links, it also checks the links left in the comment section. Since some of them may be unsolicited, if they are broken, you may realize when it's too late and end up hurting your site.
Other features that this tool offers include:
Spelling and grammar check
Sitemap generation
Data export
Pros:
It doesn't interfere with the site's loading speed
Easy to use
You can export the report in PDF format for further analysis
Cons:
It's only available for Mac users
---
7. WordPress Broken Link Checker
If your website is built on WordPress, they have a plugin that can help you check your links. All you have to do is go to the plugins page and add a new plugin. Or download the plugin and upload it.
After installation and activation, the plugin will start scanning through your site, looking for the broken links. How long this process takes depends on the site's size and the number of links on your website.
Once it's done, you can check the broken links by going to Tools – Broken Links. On the plugin, you can choose to Edit, Remove, or Dismiss the links marked as broken. However, there are some complaints about this plugin slowing down the site, so use it as a last resort and delete it after using it if necessary.
Pros:
It's easy to use and install – it works like any other WordPress plugin
You can check and edit the links
Cons:
It may slow down your website
---
8. SEMrush
You probably have used SEMrush, or have heard about it since it's a top-rated keyword research tool. But did you know you can also check your links using it? SEMrush has an inbuilt feature known as "Site Audit" that allows you to analyze various aspects of your site.
So, how do you check internal links using SEMrush? Click on Site Audit, then New Site Audit, enter how many pages you want to analyze, and configure other necessary settings.
The analysis will take a few seconds, and the results will be the broken links, errors on your sites, a performance score on your internal linking, a crawlability score, warnings, notices, and overall score.
If the score on the right is green, your site is healthy. If it's yellow, it's okay, but you need to fix some issues. If it's red, then your site is in danger and needs a complete overhaul.
Pros:
It's an All-in-one SEO tool – allowing you to analyze all other aspects of SEO on your site
If you have a small site (less than 100 pages), you can use it for free
It checks both internal links and backlinks
Cons:
It doesn't offer link suggestions
With the free account, you can only check up to 100 pages. For more pages, you need the paid plans that start at $119.95 per month.
CHECK OUT SEMRUSH
---
9. Ahrefs
Ahrefs is another fully-fledged SEO tool with many functions, from checking links, conducting keyword research to conducting a complete site audit. To check your site's internal links, enter your site's URL in the Site Explorer search box. This will return an overview of your site. Then, on the left-hand side, scroll down until you find Pages. Click on it and access Best by Links.
The best thing about Ahrefs is you can search various terms in the results. For instance, you can use an anchor text to sort out a specific link and check if it's working or not.
Once you've configured Ahrefs to give the results you're looking for, you can export the CSV file for further analysis, especially if you're using Group Buy Services, where you only have temporary access to the Ahrefs. Buying Ahrefs for one site can be quite expensive.
You can also find internal linking opportunities by running a Site Audit, then on the left, click Link Opportunities.
Pros:
It's an all-in-one SEO tool
It offers link suggestions based on your site's content
Cons:
It's not that easy to use
---
Best Internal Link Checker Tool
You don't need to manually scan through your site to check your internal links, using one of these internal link tools can make the job so much more effective. It's better to take a data-driven approach over the more haphazard 'I'll do what feels right' approach.
Link Whisper is our top pick as it is the most feature-rich and effective solution available. It's easy to navigate and use, it's right within your WordPress dashboard, and it's dedicated to the task of building the best internal links.
You can find out more about Link Whisper and other plugins in this post on the best WordPress internal linking plugins.