If you're a teenager who wants to make money and NOT rely on your parents for everything, you're in the right place.
You don't have to wait until you finish your graduation or have a regular job to make your own money.
You can start now. There are so many side hustles for teens that can help you earn money, learn high-income skills, and even discover what you're passionate about.
We've spent a lot of time and handpicked EIGHT of the best side hustle ideas for teens. Are you curious to find them out? Let's jump into the details.
Top 8 Side Hustle Ideas for Teens to Try in 2024
1. Starting Your Own YouTube Channel
MrBeast is a great example of someone who has built a HUGE money-making YouTube channel.
He started his channel in 2012 when he was just 13 years old, and now has over 200 million subscribers. MrBeast's net worth is over $500 million, and it is growing rapidly.
Remember, making money on YouTube takes time. Don't expect quick results.
Did you know that MrBeast got his 1000 YouTube subscribers in 2014? It took him 1 year to reach 10K and 2 years to reach his first 100K subscribers (which is in 2016).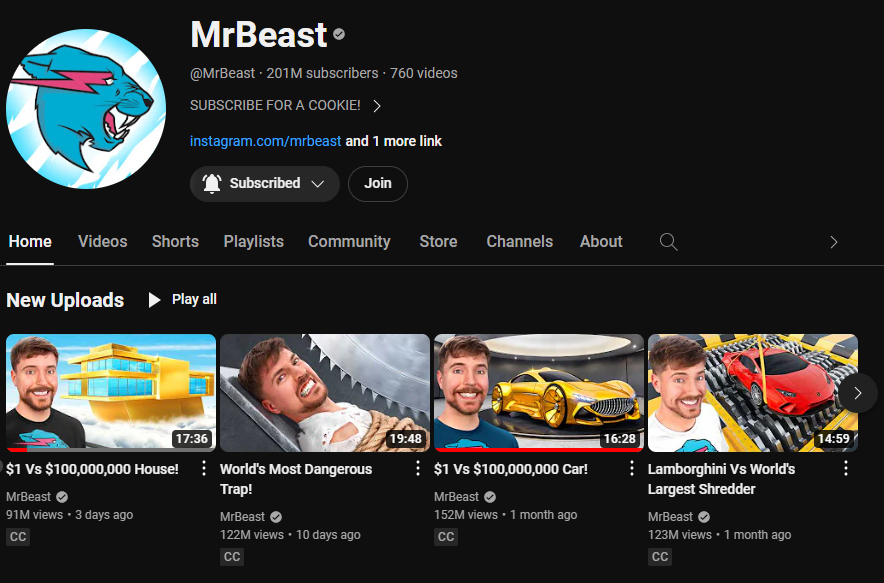 Fast forward to 2023, he now has over 200 million subscribers, and he's now the world's #1 most-subscribed individual YouTuber.
So, enjoy the process and learn as much as you can. Here are some of the powerful tips to build a money-making YouTube channel as a teen.
Pick a topic: It all starts with the topic. Choose a topic you enjoy making videos and your audience will enjoy watching. It can be anything from gaming to PC building to education.
Ask yourself these questions;
What are you passionate about? Cycling, gaming, or something else?
What do you know a lot about?
What can you teach others?
Once you know your topic, you can start creating videos that are relevant to your target audience.
Think outside of the box: There are millions of YouTube channels out there. You can't succeed in YouTube if you're making ordinary videos.
You need to think creatively. YouTubers like MKBHD, MrBeast, etc., are known for their unique and creative video ideas. Don't be afraid to experiment and try new things.
Be consistent. Consistency is the key to succeeding on YouTube. Upload new videos regularly if you want to grow your channel and subscribers.
Here are a few more quick tips;
Use eye-catching thumbnails and titles. Use free graphic design tools like Canva.
Start with short videos. When you're first starting out, it's better to create YouTube shorts, as they're easy to create. As you gain more subscribers, you can start creating longer videos.
Always engage with your audience. Even if you get 10 comments, respond to each one of them. Thank your subscribers. Create polls on your channel. It will help you build relationships with your audience and keep them engaged.
Collaborate with other YouTubers. This is an excellent way to attract new subscribers. Find other teen YouTubers and get in touch with them to cross-promote your channel.
2. Affiliate Marketing
Affiliate marketing is promoting other companies' products where you earn a commission on every sale.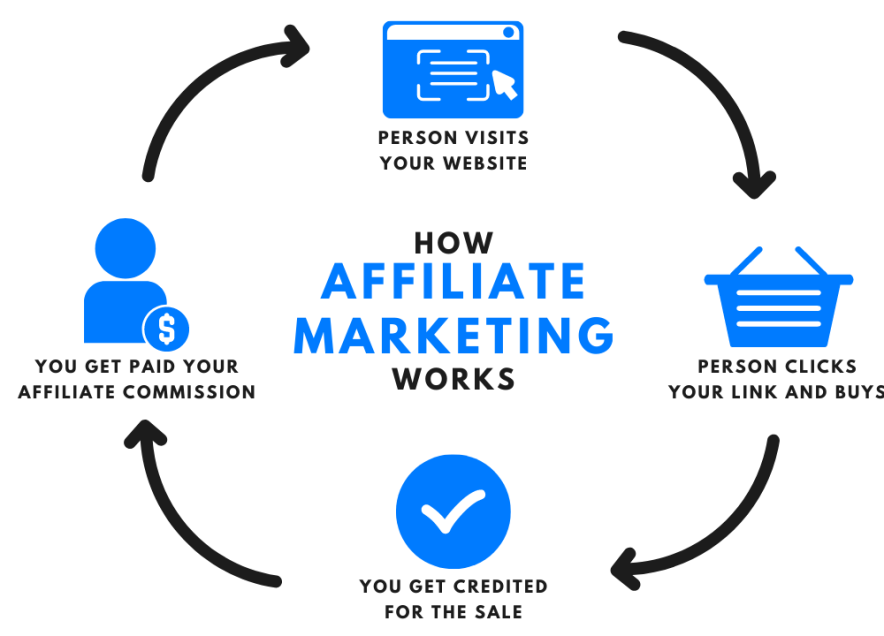 Some of the benefits of affiliate marketing include;
Easy to start with very little investment (at most, you need a blog, an email list or a YouTube channel)
You can work from anywhere in the world
1,000s of different products to choose from
Can turn into a full-time passive income source (if you're generating HUGE amounts of traffic)
You can work whenever you want
Here's how you can get started quickly with affiliate marketing.
Solve a problem: No one will buy your affiliate products because you're plastering ads and links all over your site. You need to add value. You need to solve a problem if you want to generate more affiliate sales.
So, define and understand your audience. What are their pain points? What are they struggling with? Once you know their problems, you can recommend products that can help them.
Pick a traffic source: You need lots of traffic to your affiliate website. There are many ways to generate website traffic, including social media, email marketing, SEO, etc. Pick one traffic source and spend most of your time mastering it.
We recommend you learn and implement SEO strategies like link building, keyword research, etc, as search traffic is the HIGHEST quality of traffic. Our website generates over $15K monthly because we get 90% of traffic from Google.
Create content: Create high-quality content that is informative and helpful. The content can be anything, including product reviews, blog posts, videos, or checklists. Your content should educate your audience about the products you are promoting.
For example, if you promote a software product such as Semrush, you could write a tutorial on how to use the software to solve a specific problem. That's how you can convert regular website visitors into buyers.
Looking for even more tips? Read our FREE guide on affiliate marketing for beginners, where you'll find plenty of amazing tips.
3. Managing a Website's Small Tasks
There are a ton of bloggers who earn upwards of $5000 a month.
Here's the thing: most of these bloggers manage their websites ALL by themselves.
Whether you know it or not, blogging involves many things, including content creation, SEO, networking, and so much more.
Also, there are many SMALL website tasks that anyone can do (but are time-consuming), such as;
Submitting a blog post on the WordPress dashboard
Optimizing a blog post
Researching for a topic
Coming up with topic ideas for a blog post, an interview or a YouTube video
Managing social media profiles
Creating appealing images for blog posts and the list goes on
If you can help with such small website tasks, plenty of bloggers will pay you a decent amount (from $5 to $10 per hour).
If you spend a couple of hours a week, you can earn $100 to $300 monthly doing small website tasks.
Here's what you can do;
Make a list of 20 to 50 full-time bloggers (in any niche). You can quickly search on Google for

blogger income reports

, top-earning bloggers, etc to find such bloggers.
Analyze each one of those blogs and try to find things that you can do to help those bloggers (for example, keyword research, proofreading, creating appealing images to blog posts, etc)
Now, simply contact those bloggers and offer your services. You can subscribe to their email newsletters or use the contact page to find the email addresses of those bloggers easily. Or you can also try tools like Hunter.
You can use AI tools like

ChatGPT

to create unique and powerful email pitches to those bloggers.
4. Sell Services on Upwork
Are you looking for a QUICK way to make money online? Start offering services, then.
There are plenty of platforms where you can find freelance gigs and offer different services, such as writing, design, coding, VA, etc to make money.
We recommend Upwork, as it is one of the trusted platforms for selling services online.
Here are some quick tips on selling services on Upwork as a teen to make money.
Choose the right skills: What are you good at? What do you enjoy doing? Is it writing? Coding? Web design? Email Outreach? Make sure to identify those skills that are in demand. Once you know your skills, you can start to target the right clients on Upwork.
Create a compelling profile: Your Upwork profile description is your first impression of attracting clients. Make sure it's well-written and highlights your skills as a freelancer. You can also include samples of your work to give clients a better idea of what you can do.
Set competitive rates: When you're getting started, you need good customer ratings. It's always a good idea to offer your services at lower rates to attract more clients. Set your rates slightly less than the going rate for similar services on Upwork.
Also, ask your friends or family members to try out your services. Get good star ratings from them.
5. Build a Mobile App
Creating a mobile app can be a cool side hustle for teens.
The best part? You'll learn A LOT of coding skills while building an app that can be useful in your school and future jobs. Also, you can work on it whenever you have free time.
Here are some proven ways to make money by creating an app for smartphones.
Choose the right platform. You must decide on a platform before getting started. Do you want to create apps for Apple (iOS) or Android? Each has its own coding language.
Start small. You don't have to build the next Facebook or WhatsApp. Don't aim for a super complex app right away. While getting started, it's important to get some momentum first. Start with a simple idea and build from there. You can use AI tools like ChatGPT for ideas.
Learn to code. You can't build a mobile app without having coding skills. You need coding skills. The good thing? There are many free online resources, such as YouTube tutorials and coding courses out there that can help you learn to code for apps.
Once your app is ready, test it. Take feedback from friends and family. Then, you can publish it on app stores like the Apple App Store or Google Play Store. If your app becomes popular, you can make money from it. If not, don't give up and try one more app!
6. Computer Repair Service
PC or laptop repair service is an excellent side hustle, especially for tech-savvy teenagers.
Most tech-savvy teens have a knack for fixing computers. If you're also one among them, why not use that skill to make money in your spare time?
We live in a world where almost everyone uses a laptop or PC, so there's never a shortage of customers needing computer help.
Here are some tips for starting a PC or laptop repair service as a side hustle, especially if you're a teenager.
If you've never tried building a PC from scratch, do it. There are so many YouTube tutorials out there that can help you how to do that. Once you understand computer hardware and software, it becomes easy for you to fix things.
Invest in the necessary tools, including screwdrivers, system diagnostic software, etc that are needed for computer repairs.
Let everyone know about your services. You can spread the word about your repair service among family, friends, and in your local community. You can create business cards or a simple website to showcase your services. Or use social media sites like Twitter, Instagram, etc
Above all, make it a habit of backing up the entire data before you fix any computer. That way, you'll always have data backup and recovery options.
7. Start a Niche Site
Want to make passive income as a teenager? Then, start a niche website.
Starting a niche site doesn't cost much money, as you can get started for just $100 a year.
The best part? It's a great way to learn new skills and build a portfolio in the process.
Start small. You don't have to pick an extremely competitive niche, such as technology, finance, etc. Start with a smaller site that you can manage easily.
Here are some tips for building a niche website that makes money in 2024.
Pick profitable keywords: The first step to starting a niche site is to pick a niche that's profitable. There are a few topics that are always in high demand and evergreen, including;
Weight loss
Credit cards
Make money online
Lifestyle
Electronics and gadgets
Pick a topic you're interested in. Otherwise, you won't be passionate enough to continue. Make sure to analyze the competition in that niche so you'll understand what products to promote.
Invest in content: You need to create lots of content. With a new niche site, you need to publish at least 100 articles and optimize them properly for search engines like Google. You can either create content on your own, use the help of AI writing tools like Jasper, or outsource the content creation.
Build links: Last but not least: you need to build lots of backlinks if you want to rank your niche site in Google. Backlinks are the most important ranking factors, and you will NEVER build a huge traffic niche site without links.
You can read our free guide on link building for niche websites to learn more about it.
8. Sell Graphic Design Work
If you're looking for an easy side hustle idea for teens, sell graphics online.
There are many ways to use your graphic design skills, such as;
T-shirts printing
Home Decor
Stationery
Drinkware
Logos
Creating featured images for blogs
YouTube thumbnail images, and the list goes on
Here are a few solid tips to make money selling your graphic designs online.
Focus on a specific design niche, like website logos, business card design, or T-shirt graphics.
Create a portfolio site to showcase your graphics and image work to potential clients. You can also join platforms like Etsy, Redbubble, or Upwork to sell your designs.
Use proper tools. You can start with a free graphic design tool like Canva. Once you're used to it, you can invest in better and premium tools like Photoshop.
Make your graphics stand out from the rest of the designs. Get inspiration from others. Use AI art tools like DALL-E,

Jasper Art

, etc. Also, you should allow customers to request custom designs for a more personalized touch.
---
Tips for teens looking for ways to make money online
There are TOO many scams when it comes to making money online. Avoid anything that guarantees that you can generate thousands of dollars overnight. Also, avoid enrolling in premium online courses.
Here's our tip: don't invest more than $100!
You don't need more than that whether you're starting a website, YouTube channel, etc. You can invest in premium tools once you start making money but don't invest too much money on ANY thing when you're getting started.
Here are a few things to remember as a teen, especially if you want to make money online.
Get your parents' permission. Yes, as a teenager, spending time learning new skills and earning money is a smart idea. Before you start making money online, talk to your parents about your plans and make sure they approve. If you are under 18, getting your parents' permission before starting any online business or job is important.
Watch out for scams. Be safe while browsing online, as the internet is full of malicious attacks. Keep your payment details private. Use strong passwords.
Pick a side hustle that can help you learn new skills. The best example is blogging, which can help you learn networking, SEO, writing, coding skills, etc.
Set up PayPal or a bank account with your parents' help. You need a PayPal account for ALL online transactions.
Learn about tax. Did you know that you will need to pay taxes, even if you're under 18? As long as you're earning money, you need to pay tax.
Finally, be patient and persistent. Finding a job or making money online may take some time. Don't look for shortcuts. NEVER search for get-rich-quick schemes.
---
FAQs on side hustle jobs for teens
Here are some commonly asked questions on teenager side hustle ideas.
Is it okay to make money while in school?
As long as you spend time on your homework and exams, you can try a few side hustles to make extra income in your spare time. It's good to hustle while you're a teen instead of wasting time on social media.
What are some of the best side hustle jobs for teens?
Some of the best side hustle jobs for teens include:
– Freelance writing or editing
– Graphic design
– Social media management
– Virtual Assistant
– Babysitting
– Pet sitting
How do I find a side hustle job?
There are many ways to find a side hustle job. You can:
– Start your own website
– Ask your friends, family, and neighbors if they know of any opportunities
– Look for job postings online or in local newspapers.
– Network with people on platforms like LinkedIn
How much money can teens make online?
There's no limit to your online earnings. Depending on your skills, experience, and time, you can make as much as possible.
How old do teens have to be to start making money online?
There's no official age limit on making money online. However, few businesses typically require you to be at least 18 years of age. There are many side hustles, such as starting a blog, YouTube channel, etc, for teenagers to earn money online regardless of their age.
Related Posts:
---
Final thoughts on side hustles for 13 year olds
As a teenager, learning new skills and earning money is the BEST way to spend your spare time. You can use AI tools like ChatGPT to learn ANY skill.
Don't try to do too much too soon. Focus on one or two ways to make money, and once you have mastered those skills, you can try other options.
So, what are your thoughts on the teen side hustles mentioned here? Have any questions? Let us know in the comments.