Influencer-driven marketing is a great way to get the word out about your products. If you find the right influencers for your brand, they can reach untapped audiences and engage old fans in new ways.
However, the wrong partners can work against you.
Fortunately, this process doesn't have to be a blind gamble. There are plenty of ways to set yourself up for an efficient and successful search. With a little planning and some easy-to-use technology, you can find partners who will maximize the return on your efforts.
By the same token, there are also common missteps that you can avoid, in order to save yourself time and stress.
In this post, we'll look at the indispensable role influencers can play in a successful affiliate program, followed by six do's and don'ts to guide your decision-making process. Let's get started!
Why You Should Recruit Influencers to Your Affiliate Program
An influencer is anyone with a following that values their opinions, based on their expertise or personality. We tend to think of superstars like Ariana Grande as the typical influencers: household names with millions of fans across the world.
However, influencers can emerge on every level, from global celebrities to prominent figures in niche communities. If their words and content have a meaningful impact on their audience's behavior, then they're an influencer.
Influencers earn this trust by building a relationship with their viewers. When you recruit these individuals to promote your products, you can benefit from this established rapport.
For example, one recent study showed that customers are generally more receptive to marketing when it comes from a trusted personality.
In the age of ad-blockers, this kind of genuine access to interested parties is valuable, and is here to stay. So if you're running an affiliate program, it's well worth your time to encourage some of these individuals to sign up.
Influencer Recruiting: 6 Do's and Don'ts
Recruiting influencers to advocate for your brand is valuable, but the process can be tricky. Here are six key rules of thumb that will put you on the right path.
1. DO Find the Right Audience
It might sound simple, but the first step is to understand what you want influencers to do for you. Is your goal to convince your competitors' customers to make a switch, or would you rather focus on increasing purchases by your current consumers?
Different influencers have unique strengths, and having a firm objective in mind is the first step toward making the right choice. One way to do this is to collect data on your target audience, through techniques such as customer profiles and social listening.
Once you know what your goals are and how your target audience is composed, you'll know what kind of influencers to reach out to. You may even get a stronger idea for where to find them, as they'll likely be features of the communities your audience frequents.
2. DO Keep It Real
It's important to limit your search to influencers who have both a logical connection to your brand and a reputation for honesty.
Of respondents to a recent survey, 62% said they viewed influencers who didn't use the product they advertised to be unethical. You can avoid that pitfall by seeking out promoters who have a genuine reason to care about your product.
While prioritizing genuine behavior can be worthwhile during the recruiting process, it's also helpful in the early stages of a partnership.
You'll want to keep an eye out for signs that an influencer isn't selling your product in a realistic and ethical way, such as an unusually high number of returns or the use of black hat strategies.
3. DO Track Your Successes (And Failures)
We're lucky to live in an age where our technology is capable of real-time statistics and personalized analysis – why not make use of it?
Accurate admin reports generated by a plugin like Easy Affiliate can help you monitor your returns, from broad trends down to individual clicks: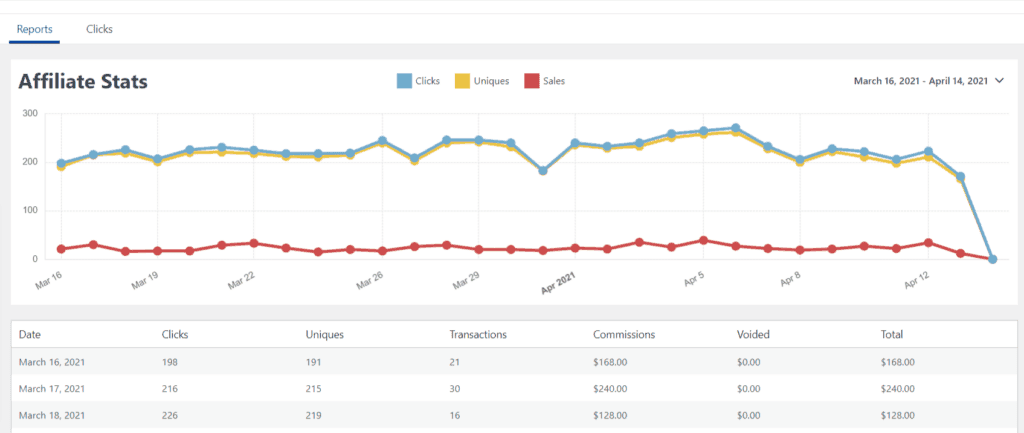 Once you've built up your program with a few influencers, it may help to monitor which of them are boosting your sales and which aren't. This will tell you the kinds of promoters to focus on during your next round of recruitment.
4. DON'T Outsource Your Tech
Third-party services have their uses, but when it comes to influencers, choosing the self-hosted option will enable you to have control over who your offers go out to.
Avoiding postings in huge directories means less time spent considering influencers who don't match your criteria.
You can instead focus on attracting the kinds of promoters who have demonstrated compatibility with your message. What's more, "self-hosted" doesn't have to mean "complicated".
Easy Affiliate, for example, enables you to set up the technology you need to handle both recruitment and affiliate management, and maintain complete control over both.
5. DON'T Spread Your Brand Too Thin
Your product can't – and shouldn't – be everywhere at once. Accepting promoters regardless of suitability just to boost your numbers will reach a lot of uninterested audiences, and likely cost you in the long run.
There's no shame in being a little picky with who you trust to represent your brand. Once you have influencers on board who are able to promote your product well, you can invest in their success with techniques like varying commission levels:
Systems like these encourage influencers to commit to your brand for the long haul. So it's best to concentrate your search on fewer, high-impact influencers.
6. DON'T Leave Your Influencers Unequipped
A savvy influencer will likely look for brands to partner with that help their promoters succeed. So it's a good idea to invest in a program that will not only help you manage affiliates, but make it easy for the affiliates themselves to reach their full potential.
For example, giving your influencers easy access to analytical tools that reflect their sales statistics enables them to monitor the effectiveness of their strategies.
You can also offer them pre-built content such as ads and banners, making it simpler for them to promote your products:

If you've put together a custom dashboard for your affiliates, it may be worth showcasing it during the recruitment phase. Skilled influencers who are serious about sales will recognize the opportunity to maximize their impact.
Conclusion
Affiliate marketing is on the way up, and recruiting influencers is the first step to getting in on the action. However, not all influencers will offer you the same benefits.
The best of them can expand your audience and increase your profits, while others can hurt your brand. Sorting through candidates to find the best fit can be as puzzling as it is essential.
Fortunately, there are some clear guidelines that will help you find valuable partners to help grow your brand:
Make a clear plan for who you're trying to reach.
Prioritize authenticity.
Reflect on what has and hasn't worked for you in the past.
Choose affiliate technology that you can control.
Be as selective as you feel is necessary.
Consider investing in tools that will help your promoters succeed.
Are there any specific traits that you look for in a potential influencer? Let us know in the comments section below!
If you liked this post, be sure to follow us on Twitter, Facebook, and LinkedIn! And don't forget to subscribe in the box below.
Affiliate Link Disclosure