In today's digital world, affiliate marketing is an increasingly popular way for businesses to promote their products and services. However, with the rise of cyber threats, it's crucial to protect sensitive affiliate data and keep your affiliate program secure.
One way to do so is by using a virtual private network (VPN), which encrypts your internet connection and keeps your online activities private.
In this post, we'll highlight the benefits of using a VPN and how it can help enhance the security of your affiliate program. Then we'll introduce 5 of the best VPNs so you can choose the right one for your program. Let's get to it!
A Brief Introduction to VPNs
VPNs allow you to create a secure and private connection to the internet. This means you can browse the web without anyone snooping on your online activities.
A VPN can also protect your sensitive data from cybercriminals, hackers, and other malicious third parties. By encrypting your online traffic, a VPN makes it nearly impossible for anyone to intercept your information, passwords, or personal details.
So it's no surprise that VPNs have become an excellent choice for businesses looking to take additional security measures. As a matter of fact, 41% of companies use three or more VPN gateways for their online businesses today.
The Benefits of Using VPNs for Your Affiliate Program
There is always a risk involved if you're exchanging money online – for instance, when paying out commissions. That's why VPNs can come in especially handy for affiliate programs.
VPNs can help make your affiliate management efforts more secure. Plus, they can encrypt voice and video chat data, which can be useful if you communicate with affiliates via platforms like Zoom.
Furthermore, VPNs may be able to increase your campaigns' reach, due to their ability to change your online location.
For example, different countries have different legal requirements, so if you don't test your pages on local IP addresses, you might end up sending web traffic to blocked pages.
Also, if you're utilizing paid advertising methods such as Pay Per Click (PPC), keyword information can be country-specific.
Still, it's often a good idea to double up on safety measures. Therefore, we'd also recommend using a tool such as Easy Affiliate, which includes advanced security features and automatic fraud detection.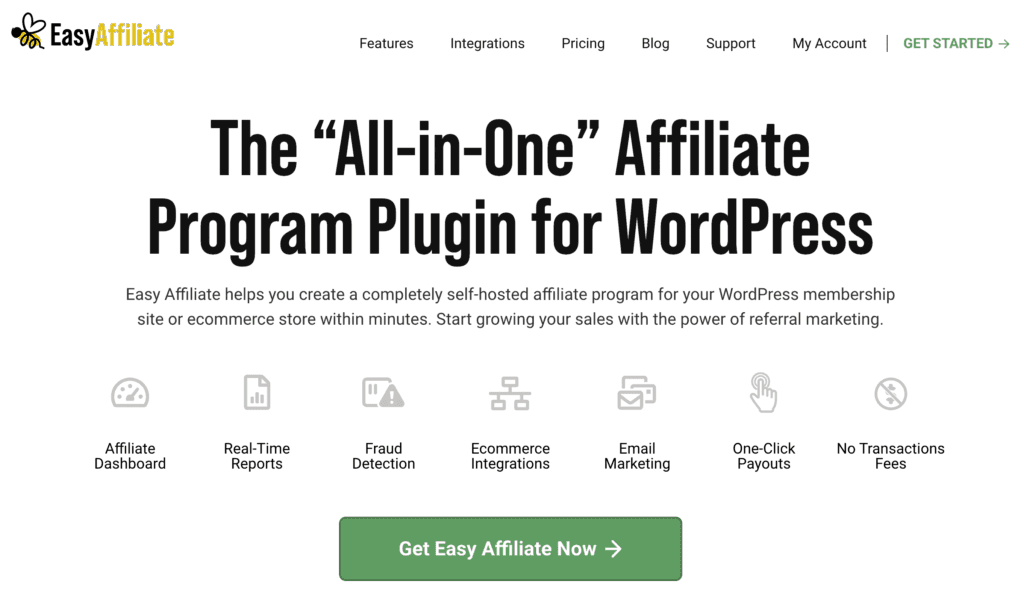 Our affiliate management tool can serve as an added layer of protection while also helping you streamline your affiliate business. Simply put, when you pair Easy Affiliate with a VPN, you can increase the security of your network and significantly reduce the risk of cyber attacks.
5 Best VPNs for Your Affiliate Program
Now that you know how a VPN can benefit your affiliate program, let's take a look at 5 of the best VPNs on the market.
1. Surfshark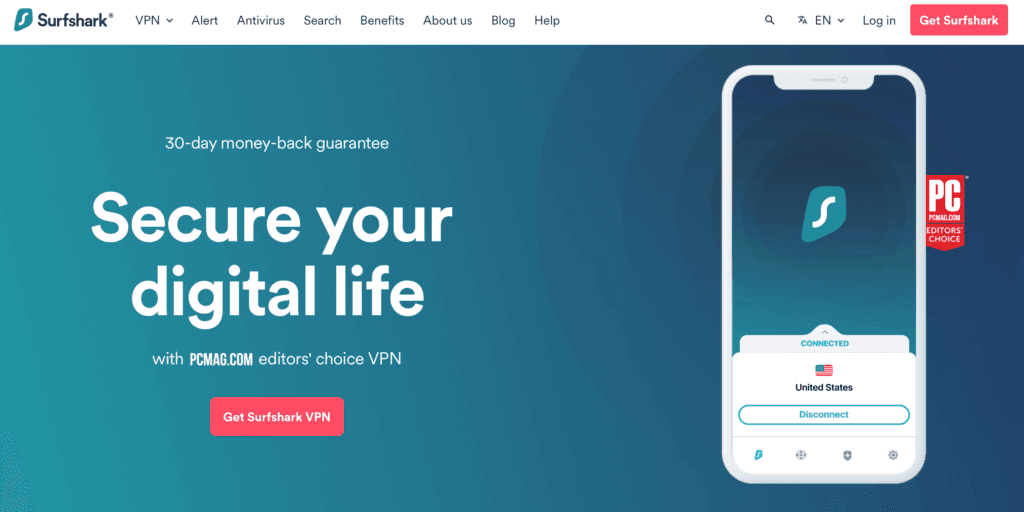 Surfshark is a feature-rich VPN option with over 3,200 servers in 65 locations. When you choose this tool, you're provided with top-of-the-range technical features, such as AES-256 encryption, WireGuard, OpenVPN, and IKeV2 support.
At a very attractive price point, Surfshark still manages to deliver a premium product. When you sign up, you'll also gain access to benefits like Multihop and Nexus.
One of the ways Surfshark distinguishes itself from others on the market is through its ability to generate different IP addresses each time you connect. This makes tracing even more difficult.
Features:
Use on unlimited devices
Bypass capability for certain sites
Strict no-logs policy
Pricing: Surfshark costs $2.30 per month with a two-year commitment. However, it also offers monthly and yearly options.
2. ExpressVPN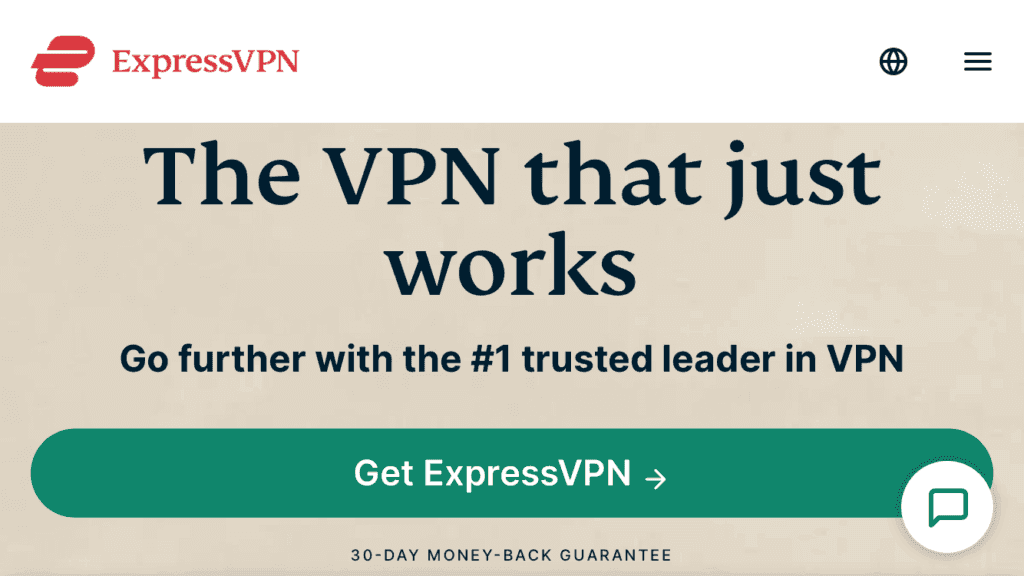 ExpressVPN is at the forefront of VPN technology. It hosts over 3,000 servers in 93 countries, so you're sure to get swift connections from anywhere in the world. Once you're connected, you can utilize ExpressVPN's leak-detector, which is capable of blocking DNS leaks and WebRTC leaks.
The stand-out feature of this VPN is Lightway, ExpressVPN's fast and secure proprietary protocol. Lightway runs on less code than alternatives, making it a great option for a smooth user experience.
Features:
Excellent for torrenting
Customer support
Reliable kill switch
Pricing: ExpressVPNs subscription plans start at $8.32 per month (when paid annually).
3. NordVPN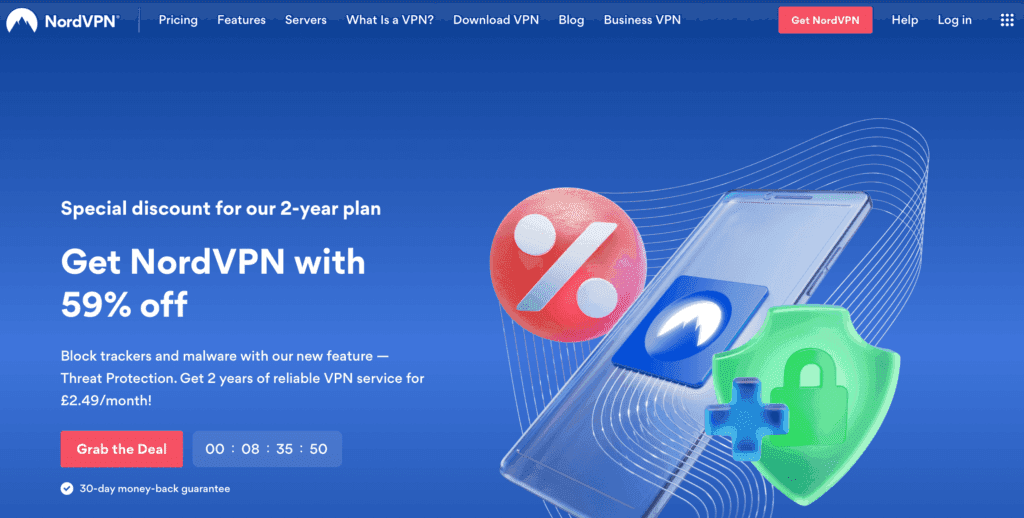 NordVPN is one of the most well-known VPNs. It comes with first-class security features. Plus, all of its IP addresses are dynamic, which means that user connections are routed through multiple encrypted tunnels. Web traffic is also encrypted twice for extra security.
Additionally, NordVPN features 5,500 servers spanning 61 countries. However, its lower cost is reflected in a leaner service. For instance, it offers limited torrenting support and basic browser extensions, and its customer service could use improvements. Furthermore, it's not the most mobile-friendly option.
Features:
Top-tier security features
Dynamic IP addresses
Dual encryption
Pricing: NordVPN plans start at $3.29 per month, but this low rate requires a two-year commitment. You will pay $4.99 per month when you sign up for one year.
4. Private Internet Access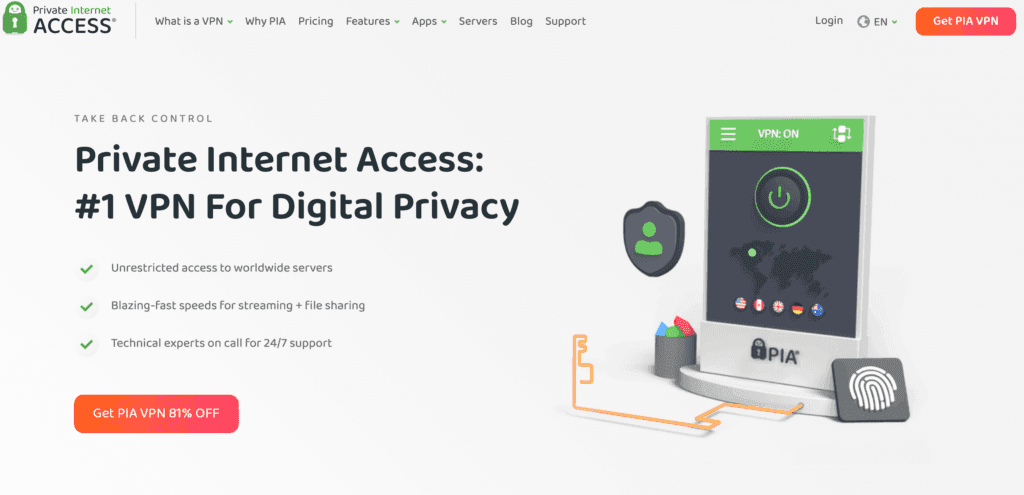 With over 10,000 servers in 78 countries, Private Internet Access is one of the longest-running VPNs. It's highly customizable and allows you to choose from four options, including speed and security-focused plans.
Performance-wise, it delivers fast speeds, especially for Windows users. Plus, it uses a quality browser extension. In a nutshell, Private Internet Access offers users a highly secure VPN service with a super strict privacy policy and a reliable kill switch.
Features:
Good for torrenting
Dynamic IP addresses
Unlimited bandwidth
Pricing: Private Internet Access plans start at $2.03 per month with a three-year commitment. Alternatively, you can opt for a one-month or one-year plan.
5. ProtonVPN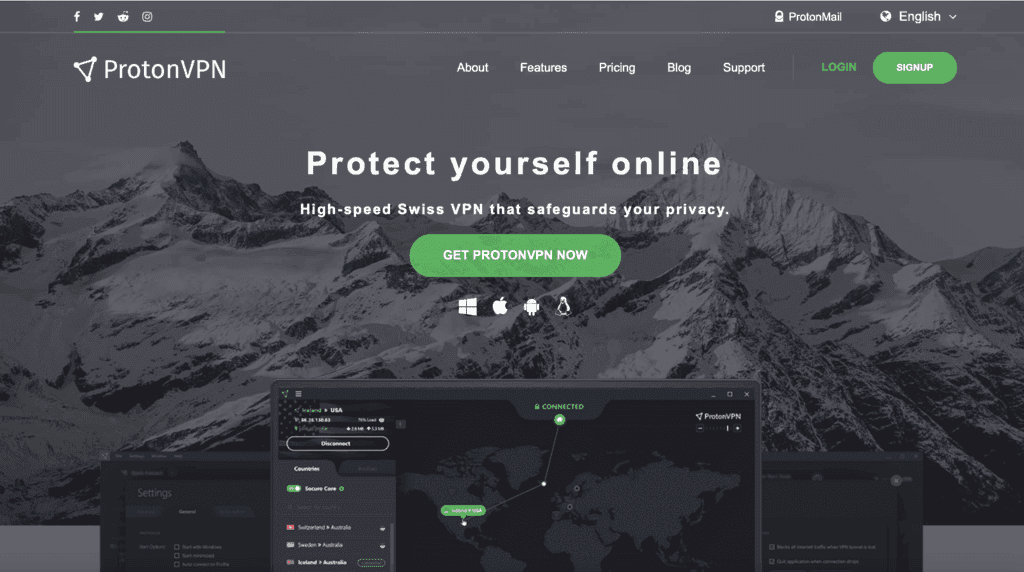 From the makers of ProtonMail, ProtonVPN features 1,700 servers in 63 countries. It's based in Switzerland, making it an attractive option due to the country's enhanced privacy laws. It promises absolute privacy with its zero-logging policy and strong encryption.
ProtonVPN delivers fast, consistent speeds on both Mac and Windows. It is particularly good for Zoom or other virtual meeting software. A key feature of ProtonVPN is its Secure Core servers, located in physically secure locations in privacy-friendly countries for increased anonymity.
Features:
Torrenting access
Secure Core servers
Absolute privacy
Pricing: ProtonVPN offers a free plan, but it only accommodates one device. Paid plans start at $4.99 per month when you take advantage of its two-year deal.
Conclusion
When it comes to running an affiliate marketing program, online security is key. VPNs can provide an extra layer of protection, plus added freedom on the web.
To recap, here are 5 of the best VPNs for your affiliate business:
Surfshark

: An affordable, premium product that excels with encryption and support.

ExpressVPN

: An all-around option, delivering fast speeds and a smooth UX.

NordVPN

: A platform that's famous for its security features, offering dynamic IP addresses.

Private Internet Access

: A long-running, reliable choice that is continually improving.

ProtonVPN

: A Swiss-based VPN that can help you achieve absolute online privacy.
Do you have any questions about using VPNs for your affiliate program? Let us know in the comments section.
If you liked this article, follow us on Twitter, Facebook, Pinterest, and LinkedIn. And don't forget to subscribe in the box below!
Affiliate Link Disclosure