In the digital age, having a good reputation is paramount. Once your business' reputation is damaged, it can be extremely difficult to repair. Online sales and business deals can be instantly lost because of one bad customer review.
This is why it's absolutely essential to practice online reputation management. This is when you constantly monitor the Internet for mentions of your business and read what people are saying about you.
If the feedback is negative, you can then proactively take steps to repair the damage.
In this article, we'll look at the importance of online reputation management and a few important statistics around it. We'll then show you how to effectively handle this process and recommend some tools to help you do the job. Let's get started!
Why Online Reputation Management Is Crucial for an Online Business
Customer feedback can come in many forms. Users can leave product reviews on your ecommerce store, or share their experiences on sites such as Yelp:
A disgruntled customer may complain about you on Facebook or Twitter. Media outlets can pick up on any negative comments and run news stories on them, giving them even more exposure.
Online reputation management is all about how you respond to that feedback and the lasting impression that you leave. For instance, you could turn an unhappy customer into a happy one, or inject humour or compassion into a tense situation.
As a business owner, you may want to ensure that an unsatisfactory buying experience is resolved to the customer's satisfaction. This can help you maintain a professional image, and prevent potential losses.
Negative reviews must be handled efficiently and diplomatically. Responding badly, or not responding at all, can make things worse. If the situation receives local media attention, how you respond could dictate whether the issue has a short shelf-life or not.
5 Compelling Customer Service Statistics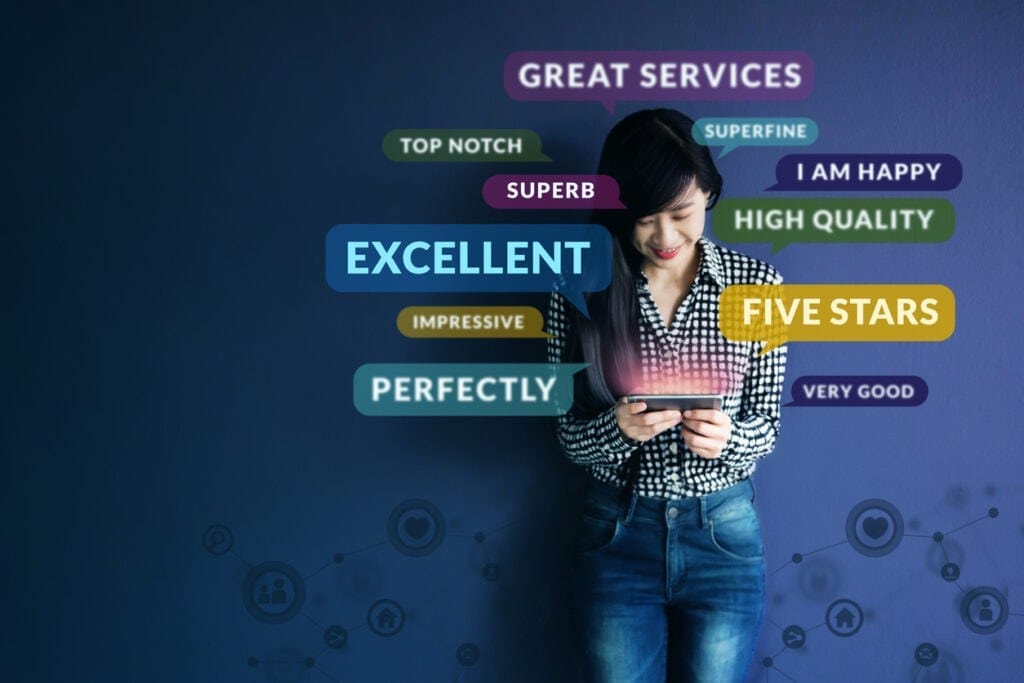 Customers will act on their experience with you. According to a study by

Zendesk

, 40% of customers choose to move their business to a competitor based on that product's positive customer service reputation.

Accenture

found that, of customers who switched, 82% believed the switch was preventable.
Word of mouth is powerful advertising. Zendesk reported that 87% of customers share good experiences, while 95% share bad ones.
Good customer service gives a competitive advantage. Companies are investing in good customer service, and so should you.

Deloitte

reported that 77% of companies polled will either grow or maintain their customer service teams within the near future. A similar study by

Temkin

found that 63% of companies polled are planning allocate more resources to the customer service experience.
Good customer service pays. According to research by

RightNow

, 86% of customers polled were had no problem paying up to 25% more if it meant a better customer service experience.
Good customer service builds your brand.

RightNow

found that 73% of customers believed the friendliness of customer service representatives had the power to make them "fall in love" with a brand. (Now, that's pretty cool.)
As you can see, getting customer service right is pretty important if you want your business to succeed. Check out the following five tips to help you up your game.
5 Tips for Effective Online Reputation Management
Online reputation management doesn't have to be hard. Here are five actionable tips on how to get started.
1. Monitor Google and Social Media Every Day
Many large companies have entire departments dedicated to online reputation management. For example, if someone tags the company in a tweet, it sees it almost immediately and sends a direct message to the customer if the post is negative.
Large companies understand that the key is to react almost instantly, as negative publicity can go viral extremely quickly. The last thing any business needs is to end up trending on social media for the wrong reasons.
You can use Google Alerts to track mentions of your business on the web: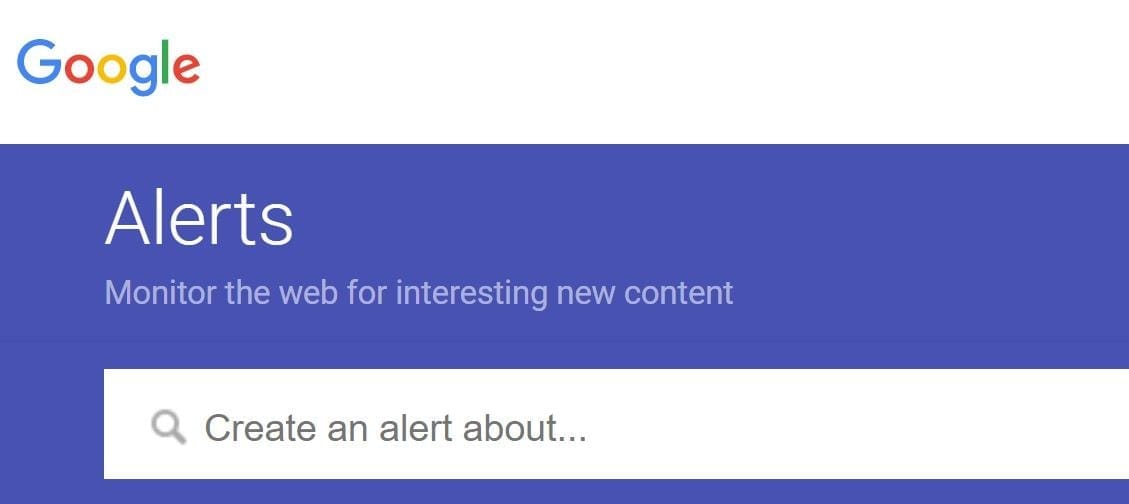 All you have to do is enter your brand name as the keyword, and you'll be notified when it comes up in a new post.
Moreover, you can easily monitor your mentions on Twitter by using tools like Hootsuite or Sprout Social. Meanwhile, Facebook will send you notifications every time your business page is mentioned or tagged in a post.
2. Stay Calm and Be Honest
Everyone has the right to express their opinion. It's important to welcome all honest feedback and look upon it as an opportunity to improve where you may have fallen short.
Upon seeing negative feedback, some business owners tend to choose the nuclear option. This means calling the police, threatening legal action, or replying aggressively.
However, there is a better way to handle negative reviews. We recommend that you stay calm and focused, and take the time to compose a friendly and professional response.
You may also want to thank the person for their opinion. If you made a mistake, it's a good idea to apologize. Being completely honest and transparent about your shortcomings is key to maintaining a good reputation.
3. Offer Refunds, Discount Codes, and Free Returns
Customers like to feel they are being taken care of. Offering a gift to apologize for subpar service may help you retain the client.
This can include discount code coupons or a refund on the product they bought. If you need the item returned, you may want to offer free shipping.
Also, you should avoid giving compensation on the condition that the customer modifies or removes the negative feedback. That turns the gift into an attempted bribe and may make the situation a lot worse.
4. Do Some SEO Ju-Jitsu
When you perform a search on Google, there can be thousands of results. However, in reality, people only really browse through the first few pages of Google. Anything after page four is likely not to be seen.
If you get a negative review on the first page of Google, you could try to "hide" it by trying to get more positive customer feedback in the top results: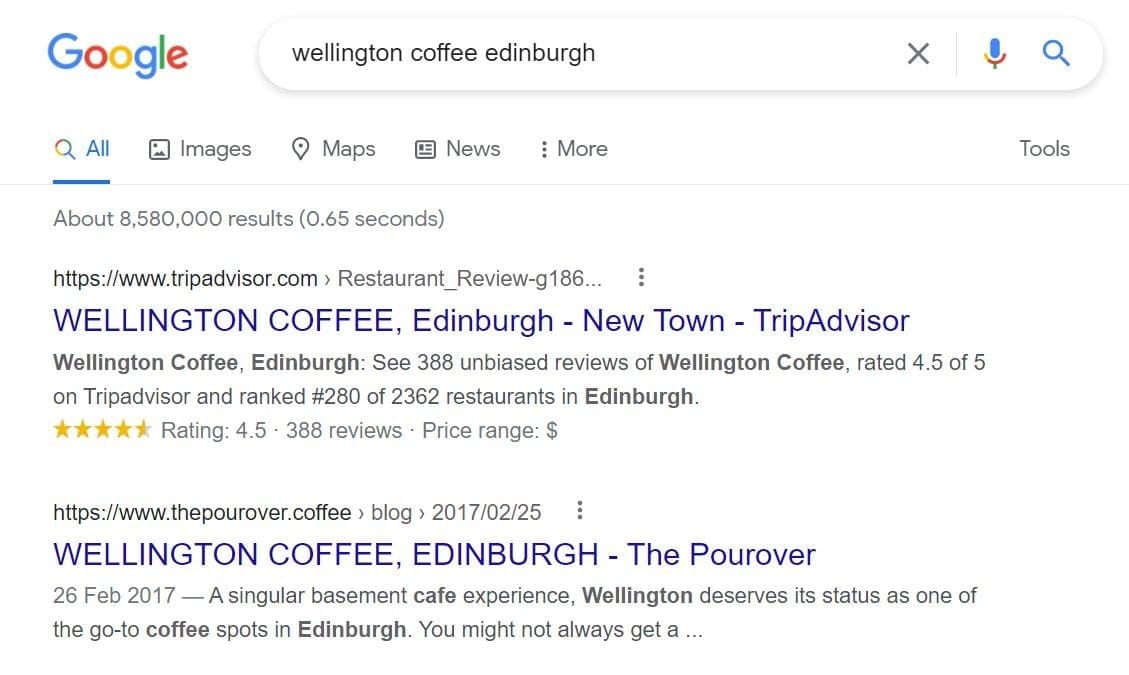 For instance, you can contact the customer and ask them politely to take down the complaint if it has been resolved to their satisfaction. If the feedback is abusive and violates Google's policies, you can send them a request to delist the page in question.
You may also want to manage more public profiles for yourself with positive information about your business, and publish fresh content on your website.
New, high quality content always gets priority by Google's algorithms, although it may take a while for it to show up on the first page. While this isn't a quick fix, it's still in the best interest of your company.
5. If the Feedback Is Libellous, Consider Legal Action
Sometimes people leave false information to damage a company out of spite. This can potentially bring your company down. In those circumstances, you may need to sue the individual to protect yourself and your business.
Legal action is can be very costly and time-consuming. Therefore, this should be the last resort, when all else has failed.
Taking legal action also shows others that you are denying the accusations against you and you are taking proactive steps to deal with the situation.
Conclusion
When practicing effective online reputation management, the key to success is speed. The faster you respond to customer criticism, the more chance you have of resolving the situation. Let it fester and it becomes much harder to fix it.
In this post, we shared five actionable tips to help you protect your good name:
Monitor Google and social media for any mentions of your business or products.
Stay calm, and be very honest and transparent about your shortcomings.
Offer refunds, discount coupons and free returns.
Try and get some positive feedback online to push away the negative reviews on Google.
If the feedback is a smear job, consider legal action to protect yourself.
Do you have any questions on how to conduct effective online reputation management? Let us know in the comments section below!
If you liked this article, follow us on Twitter, Facebook, and LinkedIn. And don't forget to subscribe in the box below!
Affiliate Link Disclosure