Your customers (and potential leads) are looking for answers, and search engines are assisting that quest with artificial intelligence (AI), voice recognition, wearable technology, mobile technology, and more.
Complex algorithms offer up answers, but if your content isn't among the top results, no one will see it, let alone click on it.
A content optimization strategy can improve your blog articles, images, videos, and more so users can find them.
We aren't talking about paid search, but organic results that are tightly focused on relevant keywords and the needs of your audience. Exactly what search engines want to deliver.
In this article, we'll discuss five tips for creating a killer content optimization strategy. These techniques will help you – and your affiliates – provide content that customers and search engines will reward you for. Let's dive in!
Understanding Content Optimization and What It Can Do for Your Affiliate Marketing Program
The process of content optimization boosts your search rankings by creating and updating your web content to better align with what users are searching for. Even small adjustments can deliver significant results.
As a business owner, much of your traffic may come through your affiliate publishers, so it's important for them to understand what optimized content looks like, why it matters, and how to produce it.
Content can always be freshened up and better targeted to hit your focus keywords and address key customer pain points.
To help your affiliates, you might provide keyword research data and optimization tips and tools via your affiliate resource hub. You may also share already-optimized content they can reuse, such as infographics, captioned explainer videos, and more.
With that in mind, the following tips will help you and your publishers create optimized content that searchers can find more easily when looking up your target keywords.
5 Tips for Creating a Killer Content Optimization Strategy
Search engines continually perfect their algorithms to anticipate the results users want. The better you shape your content around the goal of satisfying customers, the more likely search engines are to offer it up near the top of results pages.
A winning content optimization strategy keeps both the end-user and the search engine in mind. Even so, as with most techniques in marketing, it all begins with the customer.
1. Know Your Audience
Ultimately, you are optimizing your content for consumers. The more you know about your prospective customers, the better you can anticipate their challenges, pain points, and questions.
Once you have that understanding, you can produce content that speaks to those needs.
If you haven't already done so, build one or more target audience profiles. The more clarity you have on who your ideal customer is, the better you can provide them with content that is meaningful and helpful.
You can (and should) share your own audience profiles with publishers. But keep in mind that high-quality partners should already have a solid understanding of their followers' interests and challenges.
Choosing skilled and attentive partners who are a good fit for your brand will go a long way.
2. Strengthen Your Keyword Research and Focus
Internet users create keywords when they type words or phrases into search engines. Anyone publishing articles or videos for your brand should discover and use relevant keywords to develop effective content for your target audience.
Keywords help you drill down on the purpose of each piece of content you create. Then you can stay focused on that purpose.
And there's no need to awkwardly force certain terms or phrases into the body of your articles – a practice that can look like keyword stuffing, which is a sure way to get your site dinged by Google.
A simple way to discover what keywords users are searching for is to use a research tool such as Google Keyword Planner or SEMrush.
Google Trends can also tell you if a specific keyword is trending up or down, and how it has trended historically: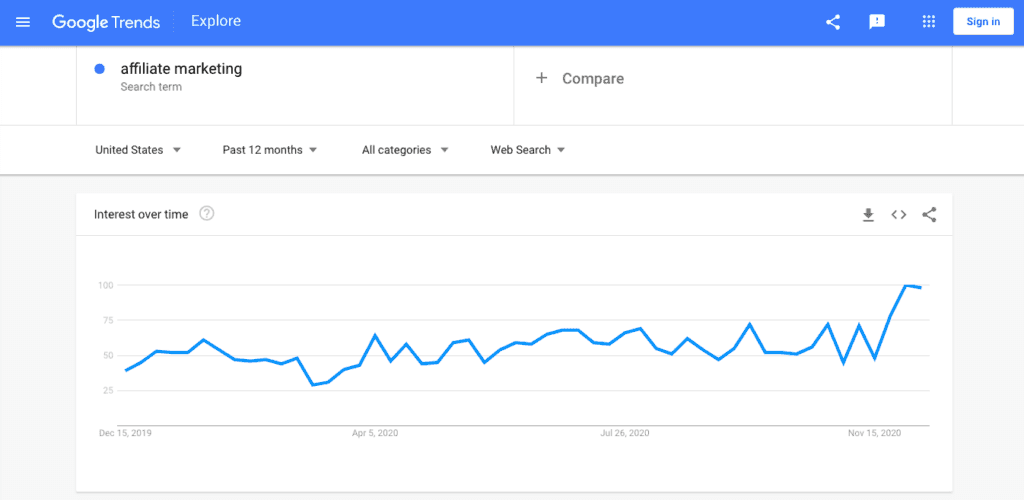 Ideally, you should use multiple tools to round out your research. There are several free keyword tools to get you started.
3. Write Better Headlines
Simply writing better headlines will attract more readers and search engines. It may even lead to more shares on social media.
Your goal should be for your headlines to accomplish the following:
Capture readers' attention and pique their interest.
Clearly explain the purpose of the content and what solutions it delivers.
For search engine optimization (SEO) purposes, it's also beneficial to include keywords in your titles to elevate your results.
According to Wharton professor Jonah Berger, there are six psychological principles behind content that catches on:
Social currency
Triggers
Emotion
Publicity
Practical value
Stories
If you can incorporate at least some of these concepts into your headlines, they should help you grab users' attention.
You might also check out this Headline Analyzer Tool. CoSchedule offers a Catchy Blog Titles bundle that includes a helpful infographic on how to write better headlines, a spreadsheet to help you track your A/B headline testing, and a content calendar template to slate your titles for publication.
4. Publish Different Types of Content
Users like to consume and share information in different ways. So, offering multiple content types enables you to reach a wider audience.
It can also help establish your authority as a contributing member of your industry's online community.
Plus, search engines offer multimedia results so users can choose their preferred format, including video, image, and audio content. Having a variety of content available gives search engines a larger pool of your published material to pull from.
A big part of succeeding in this area is looking for affiliates on different platforms. You might work alongside Instagram influencers, YouTube creators, bloggers, and others in order to maximize your reach on numerous channels and in a variety of mediums.
That said, it's also worth looking into your target audience and learning about their preferred mediums. This will help you avoid investing in channels that aren't likely to pay off in the long run, since they won't help you reach your customer base.
5. Create More Accessible Content
Web accessibility takes into account users with different abilities and strives to make the internet available to all of them.
Updating your content to make it more accessible for users with disabilities is a caring way to serve your audience.
It also happens to boost SEO at the same time. Some key tips for improving accessibility include:
Adding alt text to images
Captioning videos using tools such as

YouTube

or

Rev.com

Using colors with the proper level of contrast
Choosing a legible font for written content
Learning more about web accessibility will help you create optimized content for a wider audience.
Conclusion
You can refine your content for search engines, but ultimately it needs to speak to your target audience to make an impact.
The goal of content optimization is to provide relevant answers and solutions with articles, images, and videos that are easy to find, understand, consume, and share.
In this article, we shared five tips to create a content optimization strategy that will help you and your affiliates draw in more customers:
Know your audience.
Strengthen your keyword research and focus.
Write better headlines.
Publish different types of content.
Create more accessible content.
Do you have questions about content optimization? Let us know in the comments section below!
If you liked this article, follow us on Twitter, Facebook, and LinkedIn. And don't forget to subscribe in the box below!
Affiliate Link Disclosure