Pinterest is a WIDELY used platform for creators like web designers, artists, and website owners.
But… it's a CROWDED platform as it has over 460 million ACTIVE users.
Whether you want to find high-paying design gigs or inspiration for your art, there are a few more sites like Pinterest, which are less crowded.
If you're looking to find inspiration in apps and sites like Pinterest, this post is just for you; where you'll discover;
Some similar websites like Pinterest
Pros and cons of each of those platforms
What each platform is BEST for and much more
Are you ready? Let's dive into the details.
Don't give up on Pinterest just yet! Take inspiration from our success and follow us to discover how our pins attract 300k monthly visitors
Top 5 Best Sites like Pinterest (Best Alternatives) for 2023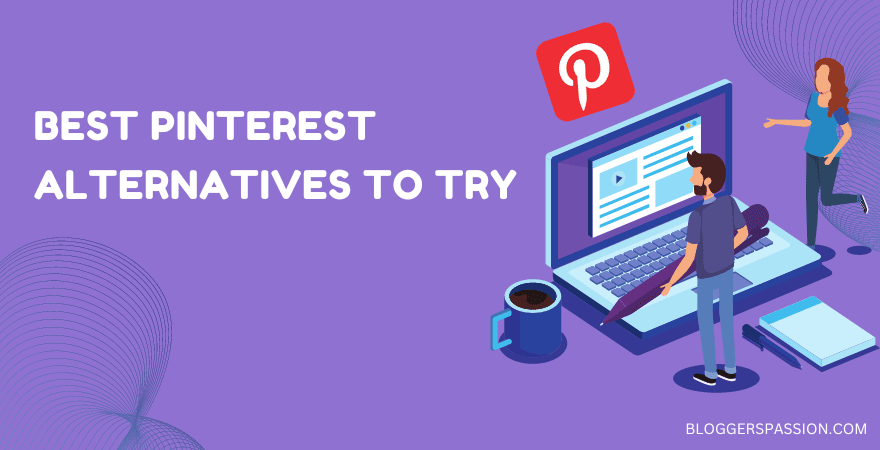 1.

Dribbble
What is Dribbble suitable for: It's an excellent platform for designers to showcase their designs.
Dribbble is one of the best Pinterest alternatives to use in 2023. It is a major social networking platform for designers, with over 10 million users worldwide.
Even if you're NOT a designer, you can still explore the images on Dribbble (called "shots" as opposed to "pins" on Pinterest) to get an idea about different types of art.
On Dribbble, you can discover thousands of high-quality designs and illustrations. Whether you want to build your brand, improve your design skills, or find high-paying design projects – you can use Dribbble.
In simple terms, Dribbble is similar to Instagram for designers.
Pros:
Dribbble is a HUGE platform for designers from all over the world. It has over 10 million professional users, meaning you can connect with many designers, share ideas, and get feedback on your design work.
Dribbble is known for its high-quality design work. On platforms like Pinterest, you may find mediocre images, but on Dribbble, you'll ONLY find the BEST stuff. It can be helpful if you want to outsource design-related projects or find great ideas as a designer.
You can find plenty of design inspiration from this platform, from website UI to graphic to illustration design.
If you have a strong portfolio in design, you can find a lot of high-paying clients for your future projects.
Cons:
Unlike Pinterest, Dribbble is not for everyone. If you are not a designer, you won't find it helpful.
2.

Pearltrees
Pearltrees is an easy-to-use social media network that helps you organize everything in one place, as you can save web pages, files, photos, or notes.
Simply put, Pearltrees is a curation tool that allows you to organize and share any URL you find online.
Pearltrees can be used for a TON of various purposes, including;
Whether you're a website owner or web designer, you can use Pearltress to organize your research efficiently. You can add web pages, links, blog posts, etc., to your collection.
You can also add photos, videos, and notes to your collections.
You can use it to collaborate with others.
Pearltrees can also be used to find new things and topics.
What Pearltrees is suitable for: You can explore new ideas and save bookmarks online.
Pros:
It is extremely easy to use, even if you're a beginner, as it offers a simple interface.
Like Pinterest, you can use Pearltress for many things, including organizing your interests, finding ideas, improving your design projects, and more.
On Pearltress, you can literally save everything, including web pages, files, photos, videos, notes, etc.
Pearltrees is collaborative, so you can share your trees with others and collaborate on projects. This is especially helpful if you're on a team or looking for feedback from others.
Cons:
It offers limited storage space with the free plan.
If you want more space, you can go with its premium plans listed below.
Personal Plan: Costs $2.99/month or $29.99/year. It offers 10 GB of storage, public or private customization, offline mode, and high-priority support.
Advanced Plan: Costs $4.99/month or $49.99/year. It provides 100 GB of storage, public or private customization, annotation and editing features, the ability to archive web pages, offline mode, and high-priority support.
Professional Plan: Costs $9.99/month or $99.99/year. It includes 1 TB of storage, public or private customization, annotation, and editing features, the ability to archive web pages, professional security, white label collections, offline mode, and high-priority support.
3.

Depositphotos
What is Depositphotos suitable for:
Depositphotos is the world's largest platform, with over 260 million royalty-free images, videos, vectors, illustrations, and music.
Pros:
It has probably the world's BIGGEST library of high-quality images, vectors, and videos. It means you can find an image or an illustration for most of your design needs.
It offers an easy-to-use search engine to search images or vectors for most topics or keywords. The best part is you can also use its "Reverse Image Search" functionality to find images that are similar to a reference image.
It offers a variety of pricing plans which are mostly budget-friendly, and they also offer special deals on platforms like AppSumo. It offers various options like a subscription plan, a pay-as-you-go plan, or a free plan.
It has the most active community of contributors who upload a ton of royalty-free images every single day.
It offers excellent customer support, including a live chat option.
They also offer a 7-day free trial to all new users where you can download any ten images for free anytime in 7 days.
Cons:
For some images and vectors, the prices can be higher than other stock photo websites such as Shutterstock, Adobe Stock, Freepik, and more.
4.

Behance
Behance is a major social media platform owned by Adobe, where you can find thousands of free photos, vectors, fonts, and more. It was founded in 2005 and acquired by Adobe in 2012 for over $150 million.
What is Behance suitable for: It's an excellent platform for designers to showcase their work.
Pros:
It has a VERY large and active community of creative professionals (over 24 million users!). If you're a designer, you'll find it helpful as you can interact with other designers and get feedback about your work.
It offers an intuitive interface, and designers can easily create a portfolio and upload their work.
It offers a basic free plan, but if you're a creative designer, you can choose their premium plans starting only at $0.1/task.
Behance has a SOLID branding in the web design world. That means you can attract high-paying clients if you have a strong portfolio as a designer on Behance.
Cons:
It's challenging to stand out from the crowd, especially if you've zero (or less) experience as a designer. It takes time to build a strong portfolio.
Behance is NOT as popular as some other platforms, such as Pinterest, so getting more exposure is difficult.
5.

Pexels
Pexels is a free stock photography platform that offers free stock photos and videos launched in 2014. It has a huge media library of over 3.2 million free stock photos and video footage.
What is Pexels suitable for: Useful for website owners and graphic designers who're looking for high-quality, free stock photos and videos.
Pros:
One best part about Pexels is that it offers all its photos and videos for free. You don't even need to provide image credits.
You can also sell Pexels photos or videos if you have edited or modified them.
Unlike most other stock photography platforms, Pexels also offers you free videos to download.
Access to over 3 million high-quality stock photos and videos
It is effortless to use and offers a neat interface to find the perfect image or video.
It adds new photos and footage to its library almost every day.
Cons:
There are literally none, but if we had to pick one, it doesn't offer advanced filters. That means you can't search by color or specific image dimensions.
Unlike Pinterest, Pexels does not have the ability to create and save boards to save your images.
---
FAQs on sites like Pinterest
Here are some FAQs people ask about Pinterest like sites.
How much does Dribbble Pro cost?
The Dribbble Pro package will cost you $5 monthly or $60 yearly. The Pro package offers you 300% more profile views and engagement compared to non-pro members on average.
Is Pexels free?
Yes, Pexels is 100% free to use. You can download high-quality images and videos from their over 3 million stock photography collections. No attribution is required, so you don't have to worry about copyright infringement.
What are the best alternatives to Pinterest?
Some of the best Pinterest alternatives include;
– Dribble
– Behance
– Pearltrees
Is Behance free?
Yes, Behance has a free plan with limited features. If you're a creative designer, go with their paid plans starting only at $0.1.
What age uses Pinterest the most?
People between the ages of 25 to 34 often use Pinterest the most.
Related Posts:
---
Final thoughts on websites similar to Pinterest
Yes, Pinterest is an excellent platform for finding and connecting with others. But it's MOSTLY a crowded platform, with over 460 million users.
If you're a designer or creator looking for less-crowded (yet better) platforms, you can try the above Pinterest alternative sites.
So what are your thoughts? Did you find these alternatives helpful? Share your thoughts in the comments.