Breaking into a new niche can be challenging for tech startups. It can be difficult to get your business noticed and market it effectively with limited funds at your disposal.
However, it's not impossible. With the help of affiliate marketing, your new company can expand and generate additional income without exceeding your marketing budget.
In this post, we'll explain what affiliate marketing is and outline four ways that it can help your tech startup succeed. Let's get to work!
What Affiliate Marketing Is
Affiliate marketing is an advertising method where you pay affiliate partners to refer new customers to your business.
Many programs of this type offer a set commission (or percentage fee) when an affiliate achieves a certain goal, such as referring a customer who makes a purchase.
First, you provide your affiliate partners with their own personalized links. Then you use these links to monitor how many referrals come from each influencer. Additionally, cookies track each customer's actions and tell you when they complete the sale.
Usually, there is a set cookie window in which the referred user can complete the sale. If this elapses, then the affiliate member may no longer be eligible for the bonus. Here's an infographic that shows how this process works:
Affiliate programs can be a great way to increase your tech startup's revenue. You can easily set one up in just a few clicks with help from our Easy Affiliate plugin.
It integrates easily with WordPress and ecommerce platforms, and enables you to manage your program with minimal fuss: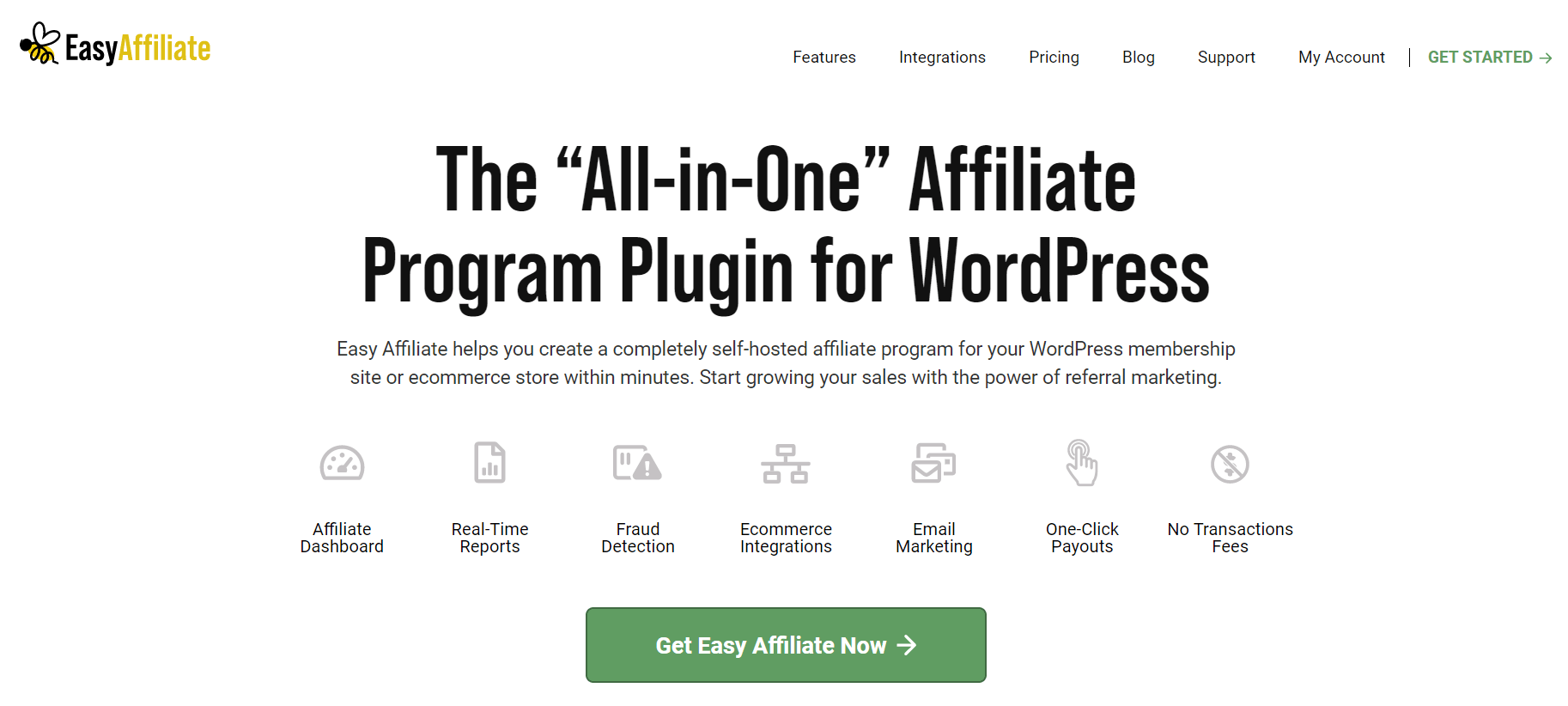 After you've installed Easy Affiliate on your WordPress website, you should first decide on your commission structure. Then, you can start recruiting affiliates by advertising your program.
For example, you might want to search for and reach out to prominent influencers in the tech sector.
Why Your Tech Startup Should Use Affiliate Marketing (4 Key Benefits)
Affiliate marketing may sound like a lot of work, but it's worth the effort. Here are four reasons why affiliate marketing could be beneficial for your tech startup.
1. Affiliate Programs Can Help You Generate More Leads and Sales
Increasing revenue and scaling upwards as quickly as possible are often the top priorities for tech startups. Setting up an affiliate program can be a great way to grow your marketing efforts quickly.
It's in the best interest of your affiliate members to generate as many leads and sales as possible. Their income is directly tied to the number of referrals they make, which usually makes them highly motivated and effective.
The most effective affiliates for tech startups are influencers and thought leaders with an established audience in the tech sector. Technology bloggers and YouTubers are the most prominent members of this category.
For example, Marques Brownlee is one of the most popular technology reviewers on YouTube, with more than 14 million subscribers:
That being said, it may be a good idea to recruit affiliate partners from various sources. For example, you could partner with social media influencers, bloggers, coupon sites, PPC marketers, and email marketers.
This diversification can help you maximize your reach and get customers through many different channels.
2. It's Affordable and Easy to Start and Manage an Affiliate Program
If you're a cash-strapped tech startup, you probably don't have a huge marketing budget. Fortunately, you don't need one.
Using an affiliate program is a low-cost marketing strategy. You don't have to invest your own funds into advertising your products. Your affiliates will take care of that for you at their own expense, and you only pay for successful conversions.
If you use a percentage-based commission structure, you'll only have to pay out a fraction of the profits you make and pocket the rest. There are very few upfront costs, which can help with managing your cash flow.
The main upfront expense is the cost of setting up your affiliate program. However, almost anyone can start their own affiliate program using platforms such as Easy Affiliate. Plans currently start at just $99.50 per year.
With Easy Affiliate, you can set everything up in just a few minutes. First, install and activate Easy Affiliate on your WordPress site, and then launch the setup wizard: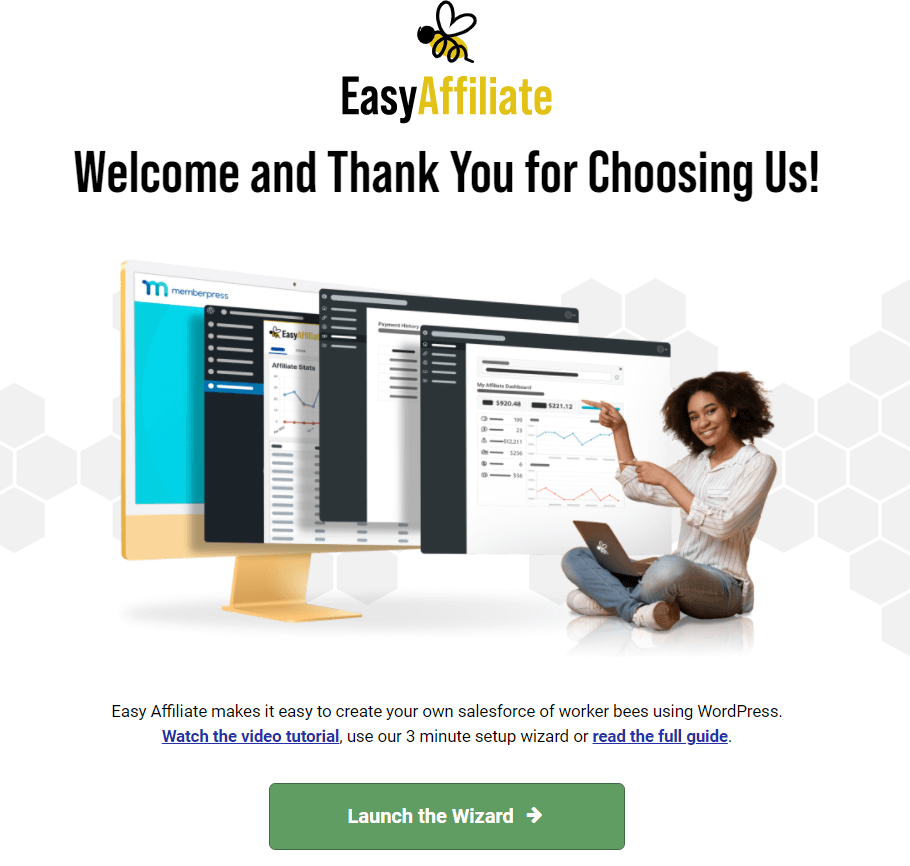 You'll then be prompted to set everything up step-by-step. You may be asked to enter your license key, fill out business information, configure your affiliate registration settings, and determine your commission structure: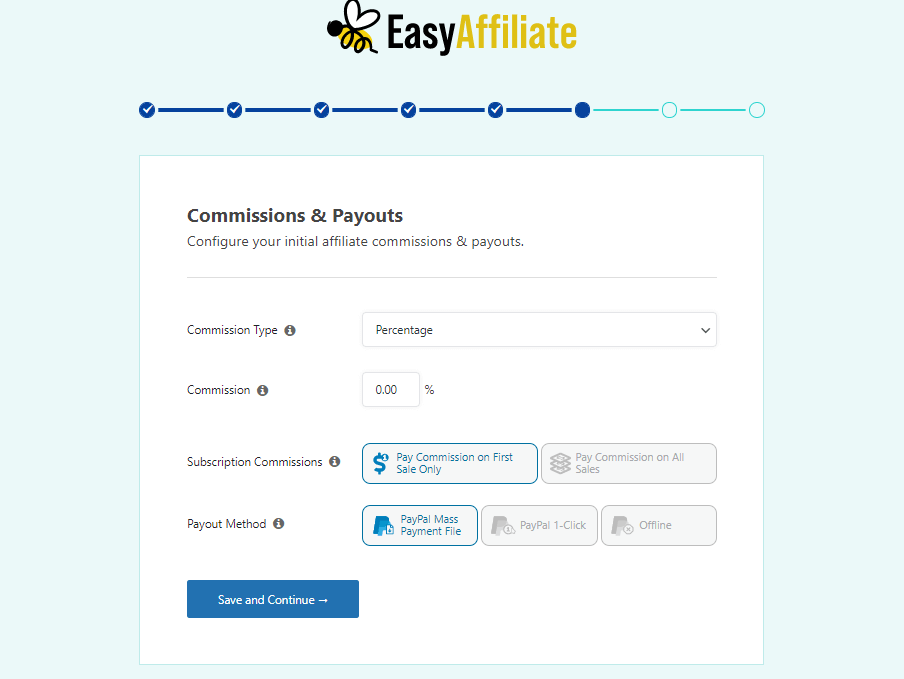 Once that's all done, you're ready to go! All you have to do is create affiliate links and banner ads for your marketers to use in their promotional campaigns.
You may need to handle ongoing management tasks, such as approving new affiliate partners and monitoring performance.
Fortunately, you can take advantage of productivity tools to make these processes easier.
3. You Can Use an Affiliate Program to Improve Your Existing Marketing Efforts
An affiliate program isn't just beneficial as a standalone marketing method. You can also use it to improve your traditional advertising campaigns and boost their success.
For example, having a wide network of affiliates can help you create a buzz around new tech product releases or marketing campaigns.
To make the most of this, you might want to share discount codes and coupons with your affiliate partners before a new campaign. Alternatively, you can run an affiliate contest with a bonus for the highest earners.
Setting up an affiliate program can also help boost your website's Search Engine Optimization (SEO). Brand new tech startups may struggle to rank in the search engines due to low domain authority.
With an affiliate program, you provide an incentive for partners to write about your brand, link to your website, and mention you on social media sites. These are off-page ranking signals that can boost your domain authority and help you rank higher on search engine results pages.
4. An Affiliate Program Can Help Build Brand Awareness and Provide Social Proof
Some of the biggest challenges for tech startups are breaking into the market and building a good reputation. There are more than 500,000 technology companies in the US, so it can be difficult to stand out from the competition.
A strong affiliate network can make this easier. Having a wide range of affiliates talking about your business on various platforms can help build brand awareness. Your influencers can also provide social proof that your business is reputable and reliable.
For example, Apple benefits from websites, such as Cult of Mac, that review its products in-depth:
Getting recommendations from high-quality affiliates can help build trust in your business, even if it is relatively new.
Conclusion
Finding the funds to market your tech startup effectively is not always easy. However, with the help of an affiliate program, you can quickly ramp up your marketing efforts without investing too much money.
Here's a recap of the reasons tech startups should use affiliate marketing:
Affiliate programs can help you generate more leads and sales.
It's affordable and easy to start and manage an affiliate program with

Easy Affiliate

.
You can use it to improve your existing marketing efforts.
It can help you build brand awareness and provide social proof.
Do you have any questions about affiliate marketing for tech startups? Let us know in the comments section below!
If you liked this article, follow us on Twitter, Facebook, and LinkedIn. And don't forget to subscribe in the box below!
Affiliate Link Disclosure