Are you searching for the latest ChatGPT statistics for 2023?
You're in the right place.
ChatGPT is the latest Internet sensation.
Did you know that ChatGPT attracted over 1 million users in just 5 days?
For comparison, it took Netflix: 4 years and 11 months, Twitter: 2 years, Snapchat: 1 year, Facebook: 10 months, and Instagram: 2 months to reach 1 million users.
But many people don't know much about ChatGPT stats and facts.
Here are 30+ LATEST ChatGPT statistics for 2023.
Fascinating ChatGPT Statistics to Know in 2023
1. When did Chat GPT release?
ChatGPT was released to the public on November 30, 2022. Its GPT-4 language model was released on March 14, 2023.
2. How many users does Chat GPT have?
ChatGPT amassed over 100 million users just within two months since its inception. The Chat GPT user count is growing rapidly with its popularity.
3. What programming languages does ChatGPT know?
ChaGPT can understand and generate code in the following programming languages.
Python
JavaScript
C++
C#
Java
Ruby
PHP
Go
Swift
TypeScript
SQL
Shell
4. How many countries is ChatGPT available in?
ChatGPT is available in 162 countries around the world. (Source: OpenAI)
In all 162 countries, ChatGPT provides API access and is adding new countries, regions, and territories regularly.
5. What is OpenAI's net worth?
OpenAI was most recently valued at $29 billion.
Reuters also reports that Open AI (parent company of ChatGPT) is expected to generate $200 million in revenue by the end of 2023, with its estimate for earnings of $1 billion by 2024.
6. Is AI the fastest-growing industry?
Yes, it is. The total value of the AI market is projected to hit 150+ billion dollars in 2023, rising to as much as $1.5 trillion by 2030, with a CAGR of 38.1% from 2023 to 2030. (Source: Precedence Research)
7. How much does it cost to run ChatGPT?
The monthly cost to run ChatGPT is over $3 million and the costs will be much higher with the rise of its users.
8. How many queries does ChatGPT receive per day?
ChatGPT receives over 10 million queries per day and the number is exploding every single month due to its popularity across the world.
Interesting Facts About ChatGPT
Looking for some interesting ChatGPT facts? This section is for you.
1. When was ChatGPT released to the public?
The initial data of the ChatGPT release was on November 30, 2022.
It was launched as initially free to the public. Even now, it is free but it also has a premium version called "ChatGPT Plus" which costs $20 per month.
ChatGPT plus offers exclusive benefits such as access to ChatGPT, even during peak times faster response times, and more.
2. When was GPT-4 released?
GPT-4 (Generative Pretrained Transformer) is the newest OpenAI model released on March 14, 2023. It is currently available ONLY for ChatGPT Plus users.
3. What language ChatGPT is built in?
ChatGPT is built on top of OpenAI's GPT-3.5 and GPT-4 families of large language models.
4. Does ChatGPT support external plugins?
Yes, ChatGPT supports external plugins from developers such as Expedia, OpenTable, Zapier, Shopify, Slack, and Wolfram.
5. Who are ChatGPT's competitors?
ChatGPT is facing competition from the following competitors.
Google Bard
Microsoft Bing AI
Chinchilla
Amazon Codewhisperer
6. Does Elon Musk own OpenAI?
No. However, Elon Musk is one of the co-founders of OpenAI. Elon left the company's board in 2018. Sam Altman and Ilya Sutskever are the masterminds behind OpenAI.
7. Is ChatGPT part of Microsoft?
No, but ChatGPT is backed by Microsoft, Khosla Ventures, and LinkedIn co-founder Reid Hoffman.
8. Is ChatGPT limited to 2021?
Yes, ChatGPT has limited knowledge of events that occurred after September 2021. That means it only has information and knowledge until September 2021.
9. Does ChatGPT learn from your responses?
Yes, ChatGPT remembers previous responses and prompts. It uses large language models and Reinforcement Learning from Human Feedback (RLHF) to understand the context and provide relevant context from the previous discussion.
This ability is the reason why ChatGPT can be extremely helpful in designing interactive AI chatbots.
10. What is the difference between Google search and ChatGPT?
ChatGPT ONLY provides textual answers whereas Google search shows you the information in a wide range of ways including articles, news, videos, images, Maps, featured snippets, and more.
ChatGPT Usage Stats
Looking for some latest ChatGPT usage stats? This section is for you.
1. Who uses Open AI the most?
According to SimilarWeb, OpenAI's audience is 65.13% male and 34.87% female. The largest age group of visitors is 25 – 34-year-olds.
2. Are people using ChatGPT?
Yes, millions of people are using ChatGPT across the world.
Here are some key milestones of ChatGPT;
December 2022 – Crossed 1 Million users
January 2023 – Reached 57 Million users
February 2023 – 100 Million users
According to CBN News, ChatGPT is growing faster than TikTok.
3. What is the market value of ChatGPT?
OpenAI was most recently valued at $29 billion, in a $10 billion funding round by Microsoft.
4. How much is invested in OpenAI?
More than $15 billion so far. Microsoft Corp. is making a $10 billion investment over several years in OpenAI. As of 2023, Microsoft is the BIGGEST stakeholder of OpenAI and ChatGPT.
5. How many people visit ChatGPT?
According to Similarweb, the ChatGPT website has been visited a total of 1 billion times so far and attracts over 25 million daily visits.
Here's the chart of its growth rate;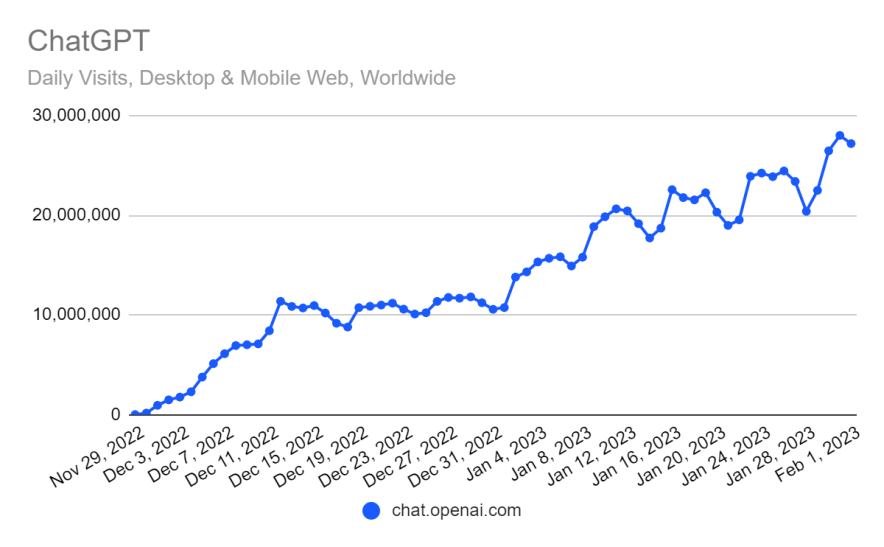 As you can see, ever since its inception, ChatGPT traffic numbers on desktop and mobile is growing rapidly.
ChatGPT Platform Statistics & Facts
Here are some ChatGPT platform-specific stats and facts.
1. How much data does ChatGPT contain?
It is said that ChatGPT's training dataset contains over 570 GB of text and 300 billion words. It is growing with the introduction of the latest large family language models such as GPT 4.
2. Which GPU does ChatGPT use?
Nvidia and Microsoft recently revealed that thousands of A100 GPUs were used to train ChatGPT.
Microsoft also reveals that ChatGPT's hardware comprises over 285,000 CPU cores, 10,000 GPUs, and network connectivity of 400 GBs per second per GPU server.
3. What computing platform does ChatGPT use?
ChatGPT uses the Microsoft Azure cloud computing platform. Microsoft's Azure OpenAI service allows developers to integrate ChatGPT directly into many applications using a token-based pricing system.
That's how many AI tools like Jasper can use GPT technology to provide features like text generation to users.
4. What technology does ChatGPT use?
ChatGPT offers two versions and it uses two different technologies. The free version uses the GPT-3.5 language model whereas the ChatGPT Plus version users have access to the latest GPT-4 technology.
5. How many languages does GPT-4 support?
GPT-4 supports almost 26 languages, including English, Arabic, Bengali, Telugu, Italian, Turkish, Marathi, and more.
Here's a GPT-4 3-shot accuracy on MMLU across languages (Source: Open AI);
6. What is the top traffic source to OpenAI?
SimilarWeb reports that the top traffic source to openai.com is Direct traffic, driving 69.10% of desktop visits last month, and Organic Search is the 2nd with 23.54% of traffic.
7. How good is ChatGPT's GPT-4?
GPT-4 has finished and aced the Uniform Bar Exam (MBE+MEE+MPT) in the top 10% of all scorers with a score of 298/400, compared to the bottom 10% by GPT 3.5. (Source: OpenAI)
Open AI also reports that GPT-4 75% estimated percentile in Medical Knowledge Self-Assessment Program.
8. What countries don't have access to ChatGPT?
Some of the countries that don't have access to ChatGPT yet include China, Russia, Ukraine, Afghanistan, Iran, Belarus, and Venezuela.
9. What are all the products developed by OpenAI?
Here are some of the major products created and developed by OpenAI;
DALL-E: It can be used for creating images from text
CLIP: It is used for connecting text and images
Whisper: It transcribes speech into text and translatess many languages into English.
GPT: It is useful as a chatbot, article writer, code editor, etc
10. What are the limitations of ChatGPT?
Here are some of the biggest limitations of ChatGPT;
ChatGPT's knowledge is limited to the year 2021
It keeps on repeating the same content again and again (it is not useful for bloggers, or writers who want to use it for content creation)
It has difficulty understanding context, especially humor
It can generate biased responses
What is ChatGPT and How Does ChatGPT Work?
ChatGPT is an innovative artificial intelligence chatbot developed by OpenAI which uses GPT-3.5 and GPT-4 large language models to generate human-like conversations.
It has access to more than 300 billion words fed into the database (the number is rapidly growing).
ChatGPT considers several parameters to better fit the specific task at hand, allowing it to generate more accurate and relevant responses.
Have a look at the following illustration to see how ChatGPT works (Source: Open AI);
---
FAQs | ChatGPT Statistics 2023 At A Glance
Here are some frequently asked questions about ChatGPT stats and its usage in general.
What is ChatGPT?
ChatGPT is an artificial intelligence chatbot developed by OpenAI. It uses the open-source GPT-3 natural language processing (NLP) model to understand users' input and interact conversationally.
How popular is ChatGPT?
ChatGPT is extremely popular. The chat.openai.com website attracted about 25 million daily visitors over the past week, according to SimilarWeb traffic reports.
How does ChatGPT work?
ChatGPT uses large language models and natural language prompts to answer users' questions. It gets its data from users, books, news articles, scientific journals, websites, etc.
What can ChatGPT do?
ChatGPT can be used for a wide range of tasks such as:
– Generating text
– Translating text
– Answering queries
– Summarizing text and much more
How Much Data Does ChatGPT Have?
ChatGPT has a massive dataset of over 570GB, including web pages, books, and other sources.
Is ChatGPT growing faster than TikTok?
Yes, ChatGPT is growing faster than social media platforms like Instagram or TikTok. Just within two months after its launch, ChatGPT had over 100 million monthly active users.
What are the limitations of ChatGPT?
Some of the ChatGPT drawbacks include;
– Excessive repetition in answers
– No data access before 2021
– Can generate inaccurate answers or false information
Can ChatGPT replace Google?
Never. ChatGPT is NOT a search engine. People use search engines like Google for various things such as finding information, learning, getting news updates around the world, weather reports, and much more. ChatGPT can't give all that latest information, unlike Google.
Related ChatGPT Resources:
---
Verdict about ChatGPT user count
Hands down, ChatGPT is one of the BEST human-like bots available on the web today. With the latest technologies like GPT-4, its capabilities are growing SO FAST and BIGGER.
Have you tried ChatGPT? What are your thoughts? Can ChatGPT replace Google in the future?
Did you find the list of ChatGPT statistics for 2023 helpful? If yes, please share this post with others. If you've any more questions, let us know in the comments.