Every YouTuber needs specific YouTube tools and resources! They help with everything from productivity to YouTube keyword research. Plus, they provide access to stock videos and licensed music.
There's a lot to do as a YouTuber. You create content, edit it, create thumbnails, and manage your own community. So running a YouTube channel entails performing the duties of a half-dozen different occupations. Most of us just go for it and do what needs to be done. Others work hard to create tools and resources to make our lives easier!
YouTube has over 2.6 billion monthly users. Without using great YouTube tools to perfect your channel, it's pretty difficult to stand out on this massive platform. Whether it's entertainment, information, or education, YouTube is the first platform to provide diverse content in every niche.
It may look impossible to please YouTube's algorithm and to see your videos appear at the top of search results, but there are tried and tested strategies. YouTube is becoming an even more critical part of the social media community. And YouTubers will need a comprehensive toolkit to create better interactive content.
We have come up with a list of some of the best YouTube tools for you to consider using.
---
vidIQ
vidIQ is probably the best YouTube tool for increasing views. This software uses artificial intelligence to help you find new content ideas. And it also identifies popular topics in your niche.
vidIQ helps creators determine what might work best for their channels and maximize organic reach for their video content.
This content and YouTube SEO tool is excellent for monitoring your metrics and tracking performance in real-time.
The channel audit tool in vidIQ allows you to:
Analyze your channel growth regarding views, subscribers, and watch time over time.
Receive recommendations for content to reinvest in – videos that generate engagement.
View a list of your content's shortcomings, so you know where to direct your efforts and make changes.
Check your metadata to determine which tags, titles, and descriptions are ineffective.
You can test the tool with the free basic option. Then pricing starts at $7.50/month for the Pro tool and $39/month for the Boost option.
---
Social Blade
Social Blade is a YouTube analytics tracking tool. It allows creators to get user statistics and gain a deeper understanding of video performance.
Social Blade provides users with streamlined analytics for published content. It gathers data from YouTube and other video platforms. This is mainly to create statistical graphs that track progress and growth.
Social Blade covers all aspects of tracking and analysis. Have a look at some of the cool things you can do with this tool:
Search creator accounts and access information about their subscribers, potential earnings, and video views.
Find other channels in your niche to collaborate or analyze.
Monitor up to 500 channels to ensure statistical data availability.
Compare data from three sources. These include earnings, opinions, and future projections.
Prices start at $3.99/month for the most basic package. Premium will cost you $99/month.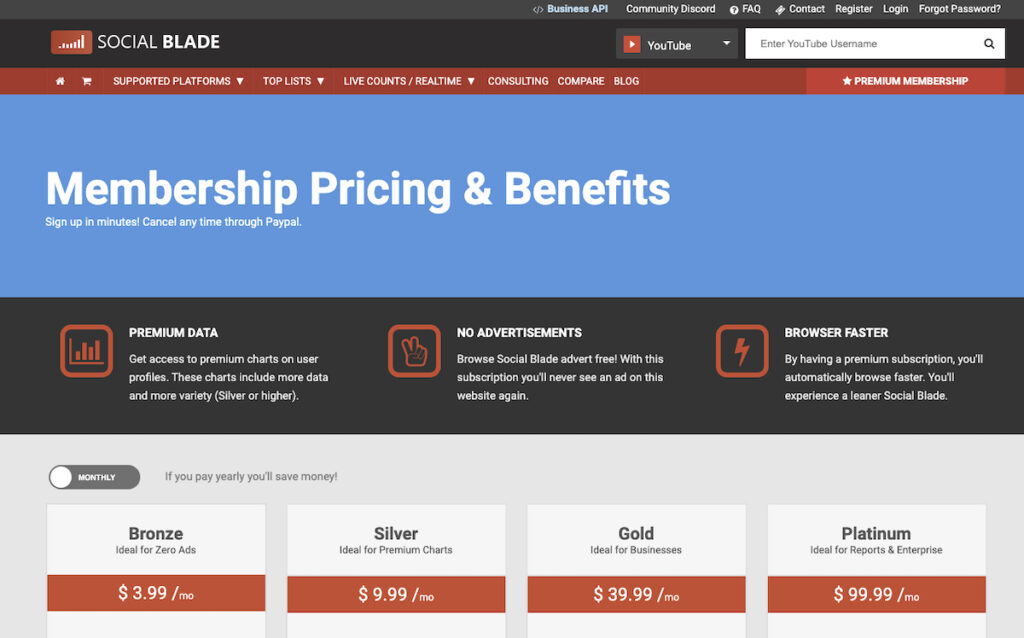 ---
TubeBuddy
TubeBuddy is a Google Chrome extension allowing YouTube channels to optimize and manage content. It is available for all web and mobile browsers.
This YouTube SEO tool has some great features. It includes an auto translator, SEO studio, search positions, and a YouTube keyword explorer.
TubeBuddy allows you to add all the best practices for YouTube ranking and increasing your channel's subscribers. Its features can help YouTubers grow their audiences. In addition, it allows you to produce highly optimized videos and expand your content marketing efforts.
By adding TubeBuddy to Chrome or Firefox, you will be able to:
See the search rankings and tabs for other videos in your niche. This way, you can see what they do well and where you can improve.
Increase your global reach by automatically translating your video description and title into other languages.
Use their card and end-screen templates to improve your calls to action and engagement.
TubeBuddy's basic plan is free, and you can upgrade to one of three pricing tiers.
Each level gives access to various tools, but the data and keyword research tools are reserved for the highest Expert tier.
---
The first step in getting new subscribers to your channel is to get your video to the top of the YouTube search rankings. To rank high for the terms your target audience is searching for, you must first learn what they are typing into the YouTube search bar.
For this, you'll need a YouTube keyword tool to focus your attention on searches done directly on YouTube.
Ahrefs
Along with various other features, Ahrefs is a great keyword tool. It will assist you in conducting keyword research. So you can use this to develop video ideas based on what your audience is looking for.
Some super-useful Ahrefs functions:
Use Ahrefs to get YouTube keyword suggestions by looking at the keywords your competitors rank for.
Find out whether or not the keywords you're targeting can help you get traffic by looking at how many people search for them each month.
Enter one "seed" keyword to generate a list of associated keywords with monthly search traffic.
Check the keyword difficulty to see how easy or difficult it is to rank for a keyword.
Pricing starts at $99/month (if you pay annually, you get a couple of months free.)
---
Keywords Everywhere
Keywords Everywhere is a Firefox add-on and Chrome extension.
It can help with keyword research. It can also determine the best target keyword suggestions for your YouTube channel. It's simply a matter of installing the extension and selecting the tool you want to use.
Here are Keywords Everywhere's best features.
Generate more YouTube keyword ideas from your seed keyword by adding Keywords Everywhere to your Chrome or Firefox browser.
View data for every YouTube channel, including search volume and trend data dating back to 2004.
Examine data for your competitors' channels.
Get keyword data for a variety of search engines, including YouTube.
Keywords Everywhere is a free browser extension with optional paid features. When you subscribe, you buy credits rather than paying monthly or annual fees. You can buy credits in bundles starting at $10, and each keyword search is worth one credit.
---
Some people publish video content on YouTube for enjoyment. But content creators worldwide do it for a living. You can earn money on YouTube by using the following:
Channel memberships: Your members pay recurring monthly fees in exchange for cool perks you can offer them.
Revenue from advertising: Earn cash from display, overlay, and video advertising.
However, ad revenue is not always consistent. So if you want to add to your current income streams, it's time to find out how you can make money from your video content. You'll do this using monetization technologies.
Uscreen
This video monetization tool can help you turn your YouTube content marketing into a reliable source of money.
Uscreen is arguably the best YouTube tool you need to engage with your followers and provide videos they will gladly pay for.
When you choose Uscreen, you can do the following:
Create your own video membership site using its drag-and-drop website builder and develop an app for iOS, Android, and smart TVs.
Sell your movies as subscriptions, bundles, or rentals.
Accept payments using Stripe, PayPal, Authorize.net, or your own payment gateway.
Manage your affiliate digital marketing program using various YouTube marketing techniques such as gift cards, discounts, abandoned cart sequences, upsells, and "try it again for free."
Integrate all of your

business tools

, including Mailchimp,

ConvertKit

, and Google Analytics.
Pricing starts at $99/month.
---
TubeTarget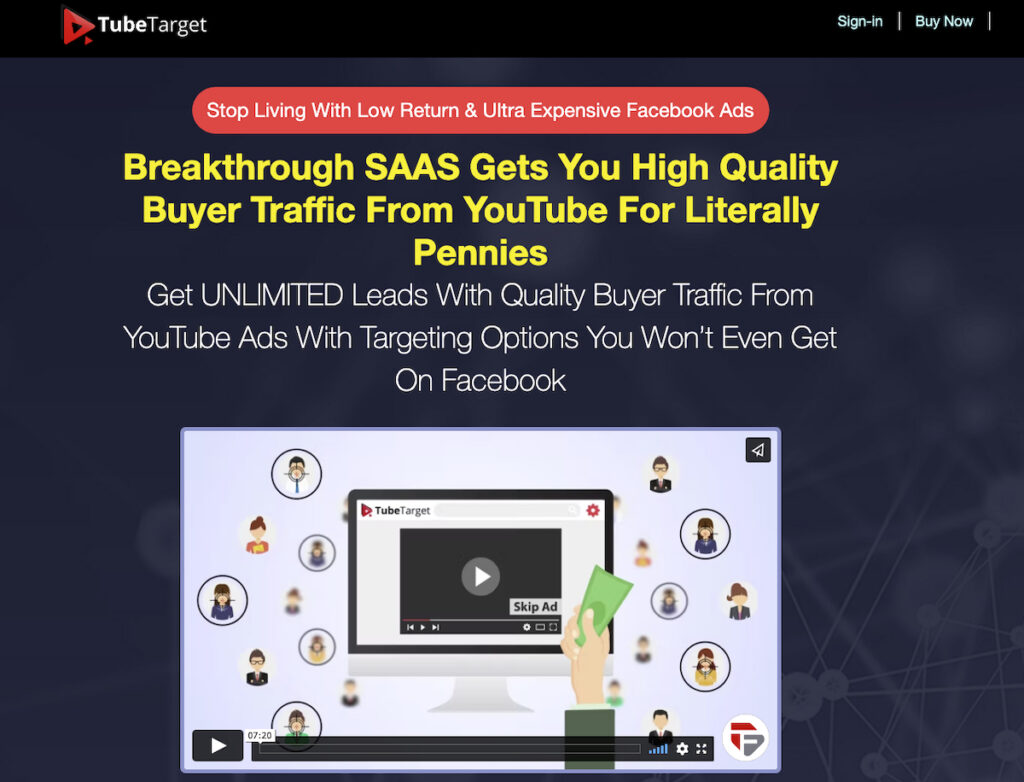 TubeTarget is a YouTube service that assists users with channel monetization, content marketing, and ad placement. The tool assures a limitless number of leads and traffic through effective ad targeting.
Traffic is the only thing a channel needs, and TubeTarget can help you get it in no time. In addition, the platform offers ad training to assist users in learning YouTube marketing from a single source.
Pricing starts at $17/month.
---
Anyone making a YouTube video should know that high-quality content is essential for running a successful YouTube channel. A camera is the most critical piece of YouTube equipment to have. But, before going to the camera store, remember that you don't have to buy the most expensive *DSLR camera. You can use almost any device that can record high-quality video (at least 1080p).
*DSLR – Digital Single-Lens Reflex.
Quality camcorders or webcams will be enough if you're just getting started. When you're ready to upgrade, DSLRs and mirrorless cameras are a good investment. The type of camera you should buy is heavily dependent on the kind of YouTube video content you want to create.
Most times, just a high-end smartphone camera is good enough. But if you decide to up your game, here are some fantastic tools to get you into the big league.
Action Camera:
This camera is a good option for travel vloggers to produce great video content. The cost is around $70.
---
Camcorder:
If you want to shoot videos in various locations/situations, this handy little cam will save you time. It also has an excellent directional mic. This one costs around $80.
---
Webcam:
Are you a Gaming YouTuber with a Webcam HD? Or creating tutorial videos while seated in front of a computer? Then this webcam is a good choice for you. It costs about $20.
---
Canon DSLR:
This beautiful camera will produce high-quality YouTube video content. But it's expensive; mostly photographers and professional-level YouTubers use this gear. These cameras range from $450 – $2000. The one in the picture costs about $600 and comes with a few handy extras.
---
3-Axis Gimbal Stabilizer for Smartphone:
This type of gadget is a must if you're using your smartphone. You can fit your smartphone onto the gimbal and shoot away. You can either hold it for moving or tracking or place it on a hard surface – no more jittery videos! This one will set you back about $90
---
The Ring Light with Tripod Stand & Phone Holder:
This is a great budget ring light for your YouTube Videos. You'll need at least one light. Soft lights are preferable; they're flattering and don't cast harsh shadows.
---
So now you have excellent footage. The next step is editing. When you started making your YouTube videos, you might have used the video editing software on your phone. Or maybe YouTube Studio or the basic options with your Windows or Mac computer.
However, as you improve your video content, finding a video editing tool that can do everything you need will vastly improve your channel. Here are some options you may like.
Veed.io
Veed is a browser-based video editor. It has plenty of great tools to help you improve the quality of your YouTube videos.
It's not only a powerful desktop tool, but it also works well on your phone's browser, allowing you to edit your content on the fly.
Here are a few things you can do with this tool:
Use all the standard video editing tools, such as cropping, merging, joining, looping, and resizing.
Add images, text, and filters to your video.
Use tools such as a screen recorder, voice recorder, and webcam recorder.
You can add subtitles, transcriptions, and translations to your videos.
A free option lets you edit a video up to 10 minutes long, but it adds a Veed.io watermark. You can at least practice editing with this option. Prices start at $12/month for the Basic package.
---
Wave
Wave is pretty cool. You can easily design and edit videos, add captions, and style them to fit the format of your brand.
It has hundreds of stunning templates you can use to create video content in the format of your choice. You can use this tool's stock library to find ideas for your video and easily publish it with your content/logo.
Various YouTube video editing tools such as text animations, filters, transitions, overlays, video frames, and more are available.
Options for trimming, cutting, resizing, cropping, and merging video clips.
Tools for incorporating voiceovers, captions, music, and other elements into your YouTube content.
Some basic Wave functions, such as access to the royalty-free library, templates, and editing tools, are free. Paid plans give you access to more images and stock footage, higher video editing limits, and branding options. These plans start at $16/month for the basic editor (this option doesn't give you much more than the free plan.) Instead, try the Creator Plan for $24/month.
---
If you want to start a YouTube channel, these creator tools will help you do so quickly and professionally.
Canva
Canva comes fully loaded. It's a complete graphic design platform. Greeting cards, infographics, thumbnail images, and YouTube cards can all be created with Canva.
Before you start, you may want to read about how to create a YouTube thumbnail that attracts eyes and clicks.
Many templates are available, so most design work is done by dragging and dropping elements into the template. Or, you can create a new thumbnail for the platform from scratch.
The visuals are pretty straightforward to make and can be easily downloaded to combine with your video. Even better – Canva is a freemium tool that you can use for all of your video and marketing needs. But, if you want to upgrade later, the Pro plan will set you back $12.99/month.
---
Visme
Visme is a highly user-friendly platform for creating and collaborating on visual content. With Visme, you can add movement to your brand strategy in minutes by using videos and animation.
Visme comes with a drag-and-drop editor and hundreds of templates, photos, and animated characters. The platform's templates help you unify your channel's look with great design.
Signing up for Visme gives you access to various free and paid templates to help you get started with your thumbnail and banner image creation. Plus, you can:
Completely customize all template elements, including images, fonts, and layout.
Request that your images be reviewed and edited by others.
Save your brand colors and templates to maintain your brand identity.
Visme's basic features are free, and you can store up to 100MB of data.
Paying for one of the subscription packages (starting from $12.25/month billed yearly) expands your storage. It also gives you access to premium templates and expands your download options.
---
Royalty-free Content Tools for YouTube
Snappa
Snappa makes it easy to create social media posts and graphics.
It provides ideal image dimensions for each social platform. This ensures your design doesn't look cropped or stretched.
Snappa lets you get a head start by providing hundreds of pre-made templates, designed elements, and stocked photos. Adding text, graphics, or effects to your illustrations is also simple. You can use this tool to design your YouTube thumbnail brilliantly.
Here's what you can expect from this software:
One-Click Image Removal
Image Blur
Flipper
Resizer
Image Editor and Cropper
Add Text to Photo and Images
Speech Bub
The free plan has plenty of features available if you want to sign up. If you decide to pay for the Pro plan, it will cost you $15/month.
---
Epidemic Sound
Do you worry about getting a copyright strike on your YouTube channel? Make sure you use the appropriate copyright-free music. Music is an essential component of any video. It is critical for engaging your audience, conveying emotion, and driving pace. But just because a track is ideal for your video project doesn't mean you can use it. Chances are, you probably can't.
Many high-quality music providers are available today, but Epidemic Sound is probably one of the best.
The library is massive. It offers over 35,000 tracks and 90,000 sound effects that you can use in any of your YouTube videos.
You can access genres ranging from dance to hip hop and pop, so there should be great sound for each of your videos.
Pricing starts from $9/month, and you get unlimited downloads plus extras. Excellent value!
---
Storyblocks
Storyblocks is a fantastic platform for anyone looking for high-quality stock video. Plus, it offers a YouTube audio library and photography.
You can use Storyblocks to download images, videos, and music for your YouTube and other content. And you can also access a video editor and templates when you sign up. Plus:
Get unlimited downloads of the content you require with flexible licensing arrangements.
Have access to a diverse and expanding catalog to find stock content that meets your requirements.
The built-in video editor is great for quickly adding the content you want to use.
Pricing starts at $15/month for the Starter plan.
---
Wondershare PixStudio allows you to create YouTube thumbnails, logos, posters, and other designs.
PixStudio includes a drag-and-drop feature that makes it easier to use. Simply drag and drop the elements onto a blank canvas to create visually appealing visuals for your YouTube channel. The tool includes hundreds of templates and an in-built stock library, allowing users to create stunning designs. You can also:
Create a template for your unique brand kit that includes text, photos, colors, graphics, and more.
Make your design stand out by fully customizing it with the PixStudio elements library.
Quickly remove the image background with a single click and use your image more freely.
You can try the tool for free. Or choose one of the plans available. Pricing starts at $9.99/month for the Pro plan.
---
XSplit
XSplit includes tools, plugins, sources, and outputs to ensure a clean, professional, high-performance live streaming session.
It integrates with numerous platforms, including YouTube, Twitch, Spotify, Facebook, Elgato, Restream, Livestream, Streamshark, etc. You can prepare layouts and push live streaming with the scenes. Thus giving you time to edit names in the lower thirds and add transitions to these scenes, giving you a complete TV show look and feel. Here are a few features:
Plugins can be used to display your interactions with viewers.
It can even integrate Xsplit Broadcaster with other Xsplit products such as Vcam and Presenter.
With Vcam installed on your computer and phone on the same network, you can use your phone's camera as additional live streaming input.
Pricing starts at $8/month.
---
OBS Studio
OBS Studio is a free and open-source video recording and live-streaming software that lets you broadcast to YouTube, Twitch, and various other platforms.
The tool provides superior video/sound execution and captures it with window shots, images, text, and preview functionalities.
Users can
Create an unlimited number of scenes and seamlessly switch between them using customized transitions.
Design visuals that include text and images.
Teams can use filters such as noise suppression and noise-gate to mix audios.
OBS Studio also has preview functionality, which allows staff to see visuals before they start live streaming
Good news – this tool is free!
---
Intros and outros provide a solid foundation at the start of a video and a well-supported message at the end. Intros, as the name implies, are graphics that appear at the opening of a video. Similarly, outros are the final graphics that show at the finish.
Renderforest
Renderforest is the perfect tool for making online slideshows and animated videos. It can assist you in creating an impactful intro/outro for your YouTube videos.
This tool lets users quickly create logo animations, slideshows, explainers, and promotional business videos. It includes pre-loaded mockups, templates for websites, videos, and logos. Thus making it simpler for content creators to personalize their social media content.
Here are some of the features you'll enjoy with Renderforest.
Upload music and preview videos on the fly.
You can export videos in HD format.
With higher packages, you can remove watermarks from HD videos.
There's a free option for you to test the tool. Then pricing starts at $9.99/month.
---
VistaCreate
VistaCreate, formerly Crello, is another comprehensive online graphic design tool assisting creators in making free designs.
This tool can help YouTube content creators make a powerful intro and outro for their videos. Users can create visually appealing designs thanks to the tool's extensive library of fully customizable templates.
This tool's drag/drop feature allows you to create stunning designs by simply dropping elements on the canvas. Social Champ also includes VistaCreate integration in the dashboard.
Key features:
Image resizing, stickers, shapes, and icons. Also, filters, cropping, blur, layers, transparency, and other tools.
Create images optimized for social media posts, cover, or ad graphics.
Access to 50K design templates and 1M royalty-free photos, videos, and images. Plus, a personal design storage repository.
Try the free version before you hand over your cash. The pro plan will set you back $10/month.
---
HootSuite
Hootsuite helps you organize your social media accounts, including YouTube videos.
You can organize, schedule, and syndicate social posts. Among the highlights are automatic scheduling, social media monitoring, performance reporting, essential task management, and other capabilities.
Some of HootSuite's useful functions:
It can help you save time on social media marketing. Instead of entering into each network and posting to each one individually, you can manage Facebook, Instagram, YouTube, LinkedIn, Twitter, and Pinterest from one location.
The "Streams" function can also help you remain on top of important conversations as they happen. Again, you can track conversions across many networks from a single dashboard.
If you manage an agency, you know how difficult it is to report the ROI of social media. The Analytics function in Hootsuite allows you to display your deliverables. Hootsuite also offers an Analytics option that is useful for in-depth social media performance reporting.
Use the 30-day free trial to test this software because it doesn't come cheap. Pricing starts at $49/month.
---
Notion
Notion is a place where you can keep all of your project communications together and organized, allowing you to stay on track with production.
It's a project management tool that allows you to create *Kanban boards and lists to track the progress of your videos and other channel elements.
*Kanban boards use cards to represent work items and columns to represent each stage of the process to portray work at various phases of a process visually.
Notion allows you to:
Design workspaces for all your projects and control who has access to them.
Keep important information and documents in one place, such as brand assets or design templates.
Drag-and-drop tasks to create workflows that everyone you work with can follow.
There's a free option available. Then pricing starts at $4/month billed annually.
---
Brand24
Use Brand24 to market your videos; you will get instant access to brand mentions, news, reviews, and much more.
Some cool features:
Assists in the collection of public complaints and grievances.
Uses social media to find potential clients.
Increases your social media reach as well as user engagement.
Aids firms in creating a variety of digital marketing campaigns.
Provides clear guidelines and an easy-to-use admin panel.
Gets customer feedback.
You can analyze your efforts to make better decisions.
Affordable pricing tiers without sacrificing functionality.
Brand24 does a wonderful job of delivering many YouTube marketing capabilities in a simple, easy-to-use user interface. While it can become costly if certain quotas are exceeded, it is still well worth considering for small business digital marketers.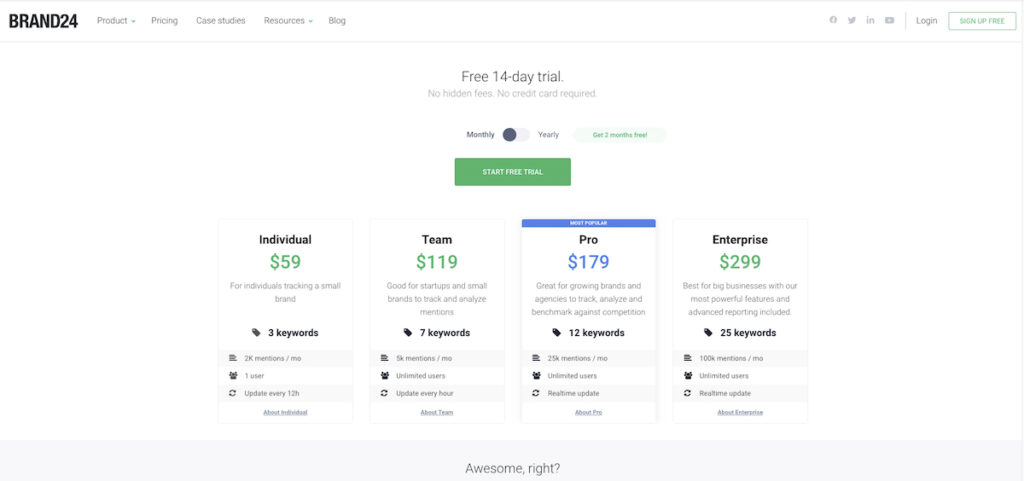 ---
Mentionlytics
This social media marketing and monitoring tool work with YouTube and other social media platforms.
Mentionlytics is a social listening tool. It captures all relevant data about your content and links you with popular YouTube influencers.
This tool can help with the following:
Collect statistics that can assist you in developing an effective YouTube marketing plan.
Monitor high-performing keywords to keep track of the competition.
Allows you to separate and categorize data to establish effective marketing campaigns.
See a crisis as it develops so that necessary action may be taken before it is too late.
Work out which sites are the most popular among your rivals and provide recommendations on how to appear there as well.
Suggestions for Improving Your Social Media Posts.
View the most significant online and social mentions by engagement, reach, and sentiment.
Identify trolls as well as genuine profiles.
Discover fans and advocates you may have never heard of.
Pricing starts at $49/month – Ideal for small-size brands.
---
Courses to Learn More About YouTube
YouTube Masterclass
This online YouTube Masterclass by Udemy will teach you how to launch a YouTube channel and get many more views and subscribers. You can also build a brand using the videos to help you.
It's pretty pricey, but you'll learn all you need to know for $199.99.
---
Stand Out and Make Money on YouTube
This free course is available on Skillshare, a website dedicated to education. While you must sign up for the class, you are not required to pay for it. JAZZA, a prolific YouTuber, will show you how to make money and find your specialty.
---
Creating a YouTube channel is more than simply shooting and uploading a video. It involves extensive planning, ticking off tasks, and ensuring that your video is optimized correctly.
Effective tools can make the entire process easier and ensure you post the finest video possible for your viewers.
If you've already launched a YouTube channel, you'll know that getting it right is both an art and a science. The more tools you get, the easier it becomes.
With so many jobs that require time and skill, it's no surprise that YouTube tools have been developed to make your content creation journey a little easier.
Here are some more interesting articles for you to read: