If you want to improve CTR in SEO, then this post is for you.
Also known as organic CTR, mastering the way search results appear has huge growth potential.
In this article, we'll explore 19 ways to boost organic CTR and get more people on your site.
Let's dive in.
What is CTR in SEO and Why is it Important?
CTR, or click-through rate, refers to the percentage of people who click through to a landing page.
In the context of SEO (Search Engine Optimization), it's the percentage of clicks your website gets in organic search results.
CTR in SEO is calculated by the number of impressions a site gets in search results versus the number of clicks.
For example, one of your keywords gets 100 impressions on Google and 8 clicks to the page.
This will result in an 8% CTR.
Now, the reason why it's important is because the higher up the rankings you appear, the higher the CTR will be naturally.
However, there are things you can do to make your results get more clicks, even if they're below others.
By optimizing the copy of your search snippet, you can get more than the natural average, which can bump you up the rankings as a result.
How to Improve CTR in SEO: 15 Practical Tips You Can Try Today
Now that you understand what CTR in SEO is, let's take a look at the most effective ways to increase blog traffic.
1. Include Power Words That Evoke Emotion
According to a Backlinko CTR study, titles that include emotion get 7% more clicks than titles without emotional sentiment.
So, adding "power" words that strike an emotional response is a super effective way to get a higher CTR in SEO.
However, you don't want to overdo it. Too much emotion can come off as clickbaity and put people off from clicking through. Finding the balance between creating clickbait titles and intriguing titles is a delicate task.
Instead, opt for subtle words like:
You
Instantly
New
Free
Discover
Limited
Transform
Now
Fast
Today
Increase
Create
Secret
Sprinkle some of these words into your SEO title tag and description to see an increase in your organic CTR.
2. Add Social Proof
It's no secret that social proof has an impact on our decision-making process. Therefore, if a search engine result shows strong social proof, we're more likely to click on it.
This can work well for eCommerce sites, testimonials, or even product reviews.
To add more social proof to your blog titles and descriptions, try baking some of these phrases into them:
According to experts
Client approved
Award-winning
Top-rated
Recommended by
3. Fix Keyword Cannibalization
Keyword cannibalization is where two pages on your site are competing for the same keywords.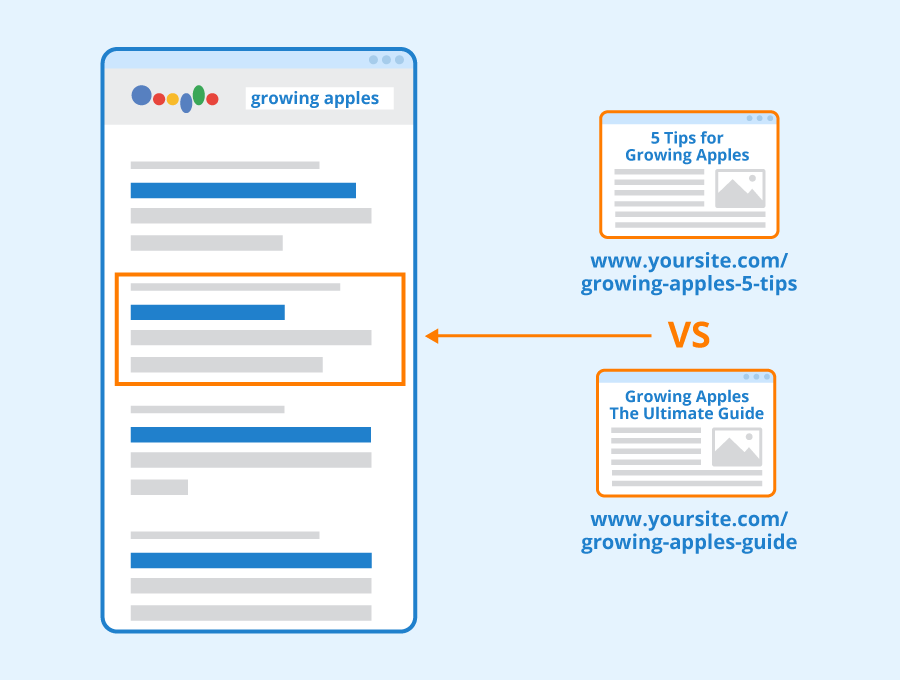 This can happen when a primary keyword (and search intent) hasn't been defined for each landing page.
As a consequence, this can confuse searchers because they don't know which result to click on.
In addition, Google can struggle to differentiate the pages and may rank them both lower (or not at all).
To fix keyword cannibalization, first do a site audit to find pages that are ranking for the same keywords.
Second, decide whether to update the content for each page or combine them into one.
The result will provide much more clarity for users and the algorithms and help improve CTR.
4. Target Pages with a Low CTR
To get some quick wins with SEO CTR, it's best to focus on pages that are ripe for improvements.
For example, you don't want to put all your attention on pages that get hardly any impressions.
Instead, identify pages with keywords that are getting the lowest CTR.
If you create engaging titles for these pages first, you'll get a boost in click-through rates much quicker.
You can find these pages using Google Search Console. Just look for keywords with a lot of impressions and a low number of clicks.
5. Use Numbers
Numbers in the SEO title work great for attracting more clicks.
Why?
Because people associate numbers with facts, which creates the perception of credibility.
Furthermore, posts that have a specific number of points to cover tell the reader exactly what to expect.
These are great for list posts such as "10 Ways to…".
6. Add Brackets
A study by Hubspot found that titles with brackets can increase CTR by up to 38%.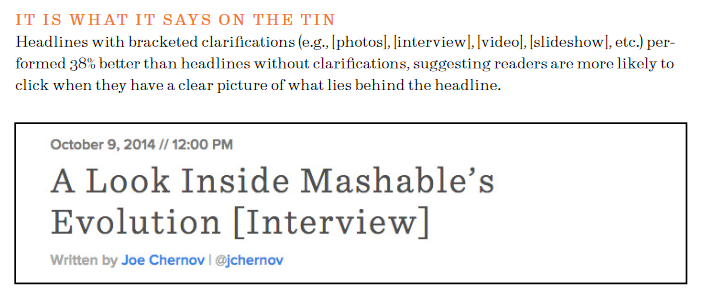 That's a figure certainly worth paying attention to.
So, add brackets to your titles to clearly state what the post is about.
Here are a few keywords to put inside brackets:
Infographic
Quiz
Interview
Definitive Guide
This gives the searcher a clear picture of what the content is about, and so they are more likely to click on it.
7. Include the Current Year
If you're writing about a topic that is forever changing, including the year in the title can increase the CTR.
That's because people want the most relevant and up-to-date information.
For example, "7 Best Drones for Wedding Photography in 2023" would be much more effective than if the date wasn't included.
In addition to the year, you could also add the month if the niche is evolving rapidly.
This would work well for the AI industry as there are tons of new AI tools cropping up each month.
Here's an example:
5 Best AI Video Making Tools for Fast Editing [Updated Aug 2023]
8. Analyze Your Headline with This Tool
If you want a quick and easy way to make your SEO headline pop, give the CoSchedule Headline Analyzer a try.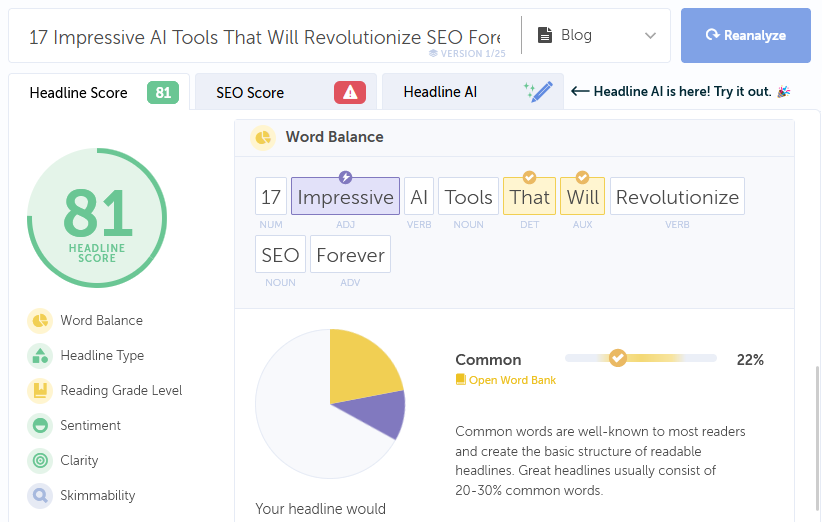 This tool grades your headline out of 100 by checking things like word balance and the use of emotion and power words.
Furthermore, it helps you write headlines with more clarity, which will likely result in more clicks.
Give it a try and aim for a score of at least 80 for best results.
9. Get Site Links By Adding a Table of Contents
Site links are links that show up in your Google snippet that links to specific sections of an article.
Having site links show in your search results can attract more clicks as they add more context to the results.
However, site links are automatically generated by Google, which means you can't add them yourself.
But there is a way to increase the chance of site links displaying on your search results by adding a table of contents.
A table of contents box allows readers to skip to specific sections of a blog post. It's these same links that Google uses to generate site links.
If you're using WordPress, you can add a table of contents with a plugin such as Easy Table of Contents.
10. Make URLs Short and Descriptive
Google's guidelines recommend using 'Simple URLs,' saying that "making URLs as simple as possible is a good practice."
Backlinko also found that short and descriptive URLs perform slightly better than long, complex ones.
So, if you want to give your CTR in SEO the best chance possible, make your URLs short and simple to understand.
11. Optimize the Meta Description
So far, we've paid a lot of attention to the title meta tag of your pages. That's because it's the first thing people see when scanning search results.
But the meta description shouldn't be ignored.
You can optimize the description in similar ways to the title, like using emotion and adding numbers.
Additionally, you want to make sure your descriptions are unique and clearly describe what the page is about.
Moreover, be aware that there's a character limit of 130-160 characters, so try not to go over by keeping them concise.
12. Implement Structured Data for Rich Snippets
A rich snippet is a search result with extra pieces of data added to it.
These can show when schema markup is included in your site's code and can have a positive impact on organic CTR.
So, if the page is a product review, an event, or a product for an eCommerce site, Schema markup is highly recommended.
Adding schema markup can be a little technical, but WordPress plugins like RankMath or Schema Pro make it simple.
13. Improve Page Speed
It's no secret that page speed impacts rankings. In fact, it's been a Google Ranking factor for years.
Now, imagine adding all of these organic CTR tips to your site, only for visitors to bounce as soon as they click through.
Well, that is what will happen if your site is too slow.
Therefore, your Core Web Vitals must be in the green, and page loading times aren't longer than 3 seconds.
You can test page speed and get recommendations using the free tool GTMetrix.
Breadcrumbs are a trail of links that indicate a page's hierarchy within the site's structure.
Adding breadcrumbs to your pages, especially on eCommerce stores, can help users navigate your site better.
But it can also instruct Google to add them to the featured snippet, which can give your CTR a little boost.
15. Optimize for Local Results
Adding localization to your content could be an effective way of getting more clicks from a Google SERP.
That's because the majority of people browse the internet from their mobile devices, which have location services switched on.
This will work particularly well for in-person-based searches that include the business location.
To utilize this strategy, you could add the city or directions to the meta title or description of the page.
16. Add Images to Google Search Results
Anything you can do to add extra details to the search snippet is an effective way to increase CTR in SEO.
That's because it takes up more real estate in the search results and therefore, attracts more attention.
This is especially true when images show next to the title and description.
To get images showing in your search results, include a featured image, add alt text, and make sure the image schema markup is active.
17. Use Ads for Brand Awareness
The more that people recognize your brand, the more you'll be recognized in search results and get a boost in CTR.
This clever strategy involves paid ads of your content or retargeting content that people have already seen.
That way, you're more likely to get the organic click because people know and recognize your website.
You can do this with social media platforms such as Facebook, Twitter, and YouTube.
18. A/B Test Titles
A/B Testing is where you create two variations of headlines, which then get shown equally over a specified time.
The variation that gets the most clicks means that it will likely perform better in organic search.
You can implement this strategy in a couple of ways.
The first is to run Facebook ads with different headlines to see which ones perform best.
Another way is to A/B test directly in WordPress, using the plugin Nelio AB Testing or using Google Optimize and GA4.
Then, you can update the headline in your SEO titles once you have a clear winner.
19. Track CTR Performance
The last tip is essential for increasing poor-performing CTR in SEO and maintaining good ones.
That is to keep track of CTR performance.
The best way to do this is by checking Google Search Console and monitoring any movements in a spreadsheet each month.
Another method is to use heatmaps on your site to see the activity when people land on your pages.
If people are engaging in your content, this could be a clear sign that the organic search result met the user intent.
However, if you get minimal activity or a lot of people click back, this could indicate an update is needed.
3 Things to Avoid
Avoid Clickbait
There are many sites out there that use clickbait to drive impulsive clicks. Even though this strategy can work, it can have negative consequences for CTR in SEO.
Why?
Because the nature of using a search engine is more intentional.
They aren't looking for vague and unhelpful information that is simply designed to distract them.
They want real answers.
So using clickbait in your page titles might get a few extra clicks, but as soon as they realize, they leave for good.
Avoid Truncation
Truncation is when there are too many characters in the meta title and description.
When this happens, it shows up like this in the search results:
It cuts off the characters that go over the recommended limit and replaces them with three dots, also known as an ellipsis.
Even though the example above is doing a few things right, something seems off with it.
To prevent this from happening, aim for a sweet spot of around 60 characters for the title and up to 160 for the description.
Ignoring Search Intent
Search intent refers to the intention or purpose behind the searcher's query. The intent of the search needs to match the content or the searcher will click away.
This goes beyond the SEO title and description.
For example, the search snippet could be relevant enough, but if the content is off, it can harm other ranking factors.
The best way to meet the search intent is to check the most common theme within the top ten results.
Aligning your content with what already ranks is a good practice because they are already performing well.
How Do You Calculate Organic CTR
To calculate CTR in SEO, you divide organic clicks by the number of times the page is seen (or impressions). Then multiply by 100 to get the percentage.
258 clicks / 3995 impressions * 100 = 6.5%
You can calculate the CTR based on each keyword and for the page as a whole and over any time frame.
What is a Good Organic CTR by Position
It's difficult to say an exact number as all industries are different, but studies have been done to get position averages.
So, if you're getting above 6%, that means you could be positioned in the middle of Google, which isn't bad.
However, there is a significant increase just by moving up a couple more positions.
Using the tips in this article has the potential to help you achieve such results.
Conclusion
It's clear to see that CTR in SEO is vital to get right if you want a boost in organic traffic.
Following these organic SEO tips will improve your click-through rates and help you stay at the top of Google.
If you want even more tips to increase organic traffic, be sure to check out that post.