Are you looking for good Flippa alternatives?
Whether you've used Flippa to buy or sell a website before, it's still a good idea to see what other platforms are available.
In this post, we'll look at 18 websites like Flippa for buying and selling your next online business venture.
Why Look At Flippa Alternatives?
Flippa has over 1.5 million active users, making it the largest marketplace to buy and sell online businesses.
True, there's never a shortage of websites to buy, as Stacy Caprio shares in this interview, and selling your own can be as straightforward as using eBay.
But Flippa has some disadvantages which often give the platform a bad name.
Here are the common reasons you might want to choose one of these Flippa alternatives.
There's no vetting process
Flippa doesn't vet any of the businesses that are listed on the platform. That means anyone can sign up to Flippa and sell a website.
Sellers are required to verify their identity and pay the listing fees. All due diligence must be done by the buyer.
This can sometimes attract scammers listing shady deals or faking website statistics to sell sites for more than they're worth.
If you don't know what you're doing or what a red flag looks like when you see one, there's a higher chance of being scammed.
Although Flippa has a reputation for attracting scammers, they are constantly improving their platform to combat this.
Lots of inexperienced sellers
Many sellers on Flippa are first-time sellers or people who have no experience growing and selling an online asset.
This can make the whole buying process and exchange a painful procedure.
Inexperienced sellers might not provide much support for the buyer after the deal has gone through, leaving buyers scratching their heads.
Non-verified information
A lot of listings you find on Flippa have non-verified information. This means you do not know if the traffic and earnings they state are accurate.
Sometimes, the seller might have forgotten to set up Google Analytics, or in other cases, they're making up figures to increase the perceived value.
Whatever the reason for not verifying business information, it makes buying one on Flippa less appealing and less trustworthy.
Lack of communication
Communication is everything, especially when selling an online business.
Sellers on Flippa are notorious for lacking in this department, possibly because of English not being their first language or simply because they don't know how to answer the questions they get asked.
This can frustrate buyers who want to make a quick deal and smooth transition to ownership of the asset.
Best Flippa Alternatives
Here's my list of the best alternatives to Flippa to give you peace of mind in your next online business venture.
---
1. Motion Invest – Best Flippa Alternative
Motion Invest is a great Flippa alternative for first-time buyers and sellers of websites already making money.
All the listings are vetted and go through their due diligence process, so you know that the site's traffic and earnings are legit and trustworthy.
If you didn't know, Spencer Haws of Niche Pursuits is a co-founder of Motion Invest.
Spenser along with the other founders wanted to create a marketplace of websites that was more trustworthy than Flippa and more affordable than other platforms, like Empire Flippers.
Most of the deals at Motion Invest sell anywhere between $1,000 to $100,000 and, on some occasions a little higher.
They mostly range on the lower end, which is perfect for anyone looking to get into the digital business industry.
You can expect to see Motion Invest sites making from $20 per month up to $7,000 per month. They have a 96.43% sales success rate due in large part to their pre-listing vetting process.
The way they sell sites is also a little different from the way other platforms work. Many of the listings at Motion Invest are Dutch Auctions.
This means they list the website at the starting price and then the price gradually decreases over a set time. Whoever buys the website first wins the deal It's like a normal auction, but in reverse.
For sellers, you get a few different options. You can sell your site directly to Motion Invest and they won't charge you any fees.
However, if you want to list your site in their marketplace, you only pay a success fee of 15% for listings above $20,000 and 20% for listings below.
Visit Motion Invest Here
---
2. Empire Flippers – The Original Flippa Alternative
Empire Flippers are an award-winning website broker who have helped their users buy and sell over $300 million worth of online business.
They are the largest vetted marketplace and list mostly affiliate and ad revenue generated sites, SaaS and eCommerce sites, as well as Amazon FBA businesses.
The company was established in 2010 as Adsense Flippers and rebranded to Empire Flippers in 2012.
The owners' Joe and Justin found success in building, growing, and selling their own portfolio of sites, which inspired them to help others do the same.
They wanted to create a marketplace that was more reliable and trustworthy than the competition, so that website flippers had more confidence in the buying and selling process.
Since 2018, they have helped sell over 1600 businesses with an overall sales volume of more than $300 million. Their average sales multiple for sellers is 43.7 times monthly profit for the trailing twelve months of the owner's business.
Fees for sellers start at 15% for businesses sold under $700,000 and added commission for businesses above this range.
For buyers, you can view their listings, which range from $20,000 to $5 million. They hide the niche and URL to protect the (future) buyer from unnecessary competition.
Many of the available listings have interviews with the sellers, so that buyers can learn more about how the business was started and why they should buy.
Visit Empire Flippers Here
---
3. Quiet Light Brokerage – Highly Respected Brokers
Quiet Light has been around since 2007. Founded by Mark Daoust, he and his team have 600 sold businesses under their belt with over $300,000,000 in transactions.
Needless to say, Quiet Light knows a thing or two about helping entrepreneurs buy or sell their businesses, which are at the higher end of the market.
Their listings are typically in the region of $100,000 to $20 million, meaning they are not one of the top Flippa alternatives for high-worth sites.
What makes them one of the most successful mergers and acquisition companies is their winning formula; their advisors have all bought, sold, and started significant online businesses themselves.
The entire team at Quiet Light knows the complexities of buying and selling businesses and they are continually improving their processes.
When you visit their website, you can see their current listings with general details. Details shared include the business type and niche, income and revenue, and listing price.
Their portfolio includes businesses in eCommerce, Amazon FBA, SaaS, memberships, and content sites.
To get more information on a business, you can fill out a form and you will speak to a dedicated advisor for that business.
Visit Quiet Light Here
---
4. Investors Club – Membership Style with Low Fees
Investors Club was launched in 2019 by Andrej Ilisin, a successful niche site flipper who wanted to create a platform with fewer brokerage fees.
He made Investors Club into a paid membership platform, which also requires interested buyers to share proof of funds before they can see full details of deals available.
This approach prevents copycat niche site builders who aren't really interested in buying by keeping deals private behind the membership fee.
There's a yearly membership or lifetime for long-term niche site flippers. This keeps the selling fees low at 5%.
They also provide a lot of impressive services for sellers, such as in-depth and accurate valuation, drafting legal docs and site transfer, no-fee escrow, and will even guarantee a sale within 45 days.
Buyers can see a list of sites for sale, but you'll need to become a member to get full details on each listing.
Most of their sites range from affiliate marketing to display advertising content sites and their platform offers an impressive UI, with lists, tables, and graphs to present the business details.
Visit Investors Club Here
---
5. FE International – A World Leading Broker
FE International was founded by Thomas Smale in 2010 after he found success building and selling small online businesses.
They are one of the leading brokers and award-winning global M&A advisors for SaaS, eCommerce, and content businesses.
Their deals range between $50,000 and $20 million but are typically on the higher end. They are one of the Flippa alternatives that are best for higher value sites.
Buyers can request further information than the basics they list on the site by submitting their details.
Sellers can feel confident in finding the right buyer with FE International's record of 1000+ completed acquisitions with $1B in lifetime transactions.
Visit FE International Here
---
6. Human Proof Designs – DFY Niche Sites
Human Proof Designs isn't so much a website broker, but they sell revenue-generating websites from time to time.
Their core business model is selling done-for-you niche websites, custom-made affiliate sites, and offer content, SEO, and backlinking services.
Listings of their revenue-generating sites are fully vetted and go through detailed due diligence so buyers know that traffic and income have been verified.
You get full support when buying a site, 1 year of free hosting, and they even provide training on how to operate the website.
The team at Human Proof Designs is experienced in building, growing, and selling niche sites and they only sell sites they have a lot of room to grow.
Visit Human Proof Designs Here
---
7. Exchange Marketplace – Shopify Stores
Exchange Marketplace is a place to buy and sell eCommerce stores and is owned and operated by Shopify.
The listings aren't vetted, but the sales figures are taken directly from the sellers' Shopify account.
Still, this doesn't guarantee the business's performance is completely accurate. For example, anyone who owns a Shopify store can place test orders, making it look as though it's made a lot of sales.
That's why it's vital to do your own due diligence before investing on this platform; or any platform, for that matter.
Sellers can list their store for free and only pay a success fee depending on the sale price.
Buyers can browse through the thousands of stores available and make an instant purchase. Prices range from a few hundred dollars up to $500,000.
Visit Exchange Marketplace Here
---
8. Brokers Digital – eCommerce Focused Businesses
Brokers Digital is another well-respected broker who specializes in eCommerce businesses.
They fully vet their deals with an in-depth valuation process to get the most out of every sale.
The few listings they show on their site detail general stats of the business niche, sales, profit, age, and asking price.
They help sellers find the right buyer for their business and have generated over $2 million worth of online businesses for their clients.
Fees for sellers vary depending on the sale of the business:
Buyers interested in any of their listings can get more details by creating an account.
Visit Brokers Digital Here
---
9. DotMarket – French Based Marketplace
DotMarket is a website broker and marketplace in the French and European market.
Founder Kevin Jourdan started the site in 2019 and has seen great success in 2020/21.
You can get an inside scoop of Kevin's initial success with DotMarket and his side projects in a Niche Pursuits podcast episode with Spencer.
Sites available in DotMarket's listings include SaaS businesses, eCommerce, dropshipping, and affiliate sites, and mostly sell in the €50,000 – €250,000 range.
All sellers and sites are fully verified by their due diligence team and they take care of the entire process, including escrow service and transfer.
Sellers can also use the 5 minute estimation tool to find out how their site is worth.
Fees are a straightforward 3% on the sellers side and 10% buyers side of the total sale price of the site.
Visit DotMarket Here
---
SideProjectors is an Australian company, born out of a local hackathon in 2013.
It's a well-established community of developers, entrepreneurs, and marketers with a passion for building and working on side projects.
The marketplace is full of thousands of side projects for sale or founders looking for a co-founder.
People can also list projects to showcase what they're working on, get feedback, or help to find their audience.
It's unique in the sense that it feels like a community with social network vibes as opposed to a marketplace-only website.
Browsing the listings on offer or listing your own project could lead to a wonderful partnership or even just a place to make friends.
Submitting a project is free and there are no fees if you sell.
Projects get reviewed and checked before being published on the site and are usually approved quickly when following their project listing guidelines.
Those looking to buy can engage with the seller and discuss the terms directly.
You are advised to do your own due diligence and make transfers using an escrow service.
Visit SideProjectors Here
---
11. Dealflow Brokerage – Experienced Team of M&A Advisors
The founder and CEO of Dealflow Brokerage was once a director at Flippa.com, so it's safe to say he knows a thing or two about internet businesses.
Jamie Toyne founded the company in 2014 after relocating from Melbourne to San Francisco, where he grew the company and built a team of world-class M&A advisors.
Since then, Dealflow Brokerage has completed more than $50 million in sales with a 93% success rate. They also use their 1 million-plus network of investors to find the perfect buyer.
Visit Dealflow Brokerage Here
---
12. Website Closers – 7 and 8 Figure Business Deals
This is another well-established and experienced team of brokers in the tech and digital industry.
They have secured deals up to $500 million so you're in the right hands if your business is valued in the 9 figure range.
Their listings range from a wide variety of business models, such as eCommerce and Amazon, mobile apps, domains, content sites, and more.
WebsiteClosers aren't just business brokers, they're consultants who advise entrepreneurs on getting the best deal and coach them on how they can grow their business. For those needing support, they are one of the most valuable Flippa alternatives.
Visit Website Closers Here
---
13. BuySellEmpire – 90% Success Rate
BuySellEmpire is a private online business marketplace with vetted buyers and anonymous listings.
Due diligence is done on both the sale of the business and the buyers. They guarantee offers and have a closing rate of 90%.
They offer a wide range of businesses in eCommerce, Amazon FBA, Amazon Kindle, affiliate and content sites, display advertising, and even Chrome extensions.
Their 7 step sales process is an in-depth look into how they take pride in attention to detail in what they do.
Visit BuySellEmpire Here
---
14. Digital Exits – High Earning Deals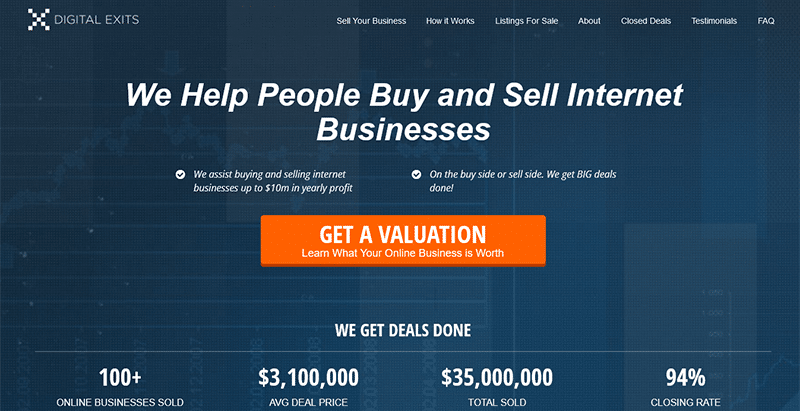 Digital Exits has been around since 2013 and has seen substantial success in its dealings.
The company was founded by serial entrepreneur, Jock Purtle, who helps fellow entrepreneurs exit their company by finding them the perfect buyer.
They have built a lot of trust and loyalty for their clients and their testimonials page reflects their level of expertise in the industry.
Digital Exits specializes in serving businesses making $250k to $5m per year. You can view some of their current listings with basic details and even look at several of their closed deals.
Visit Digital Exits Here
---
15. Freemarket – Most Similar to Flippa
Freemarket almost looks like Flippa's abandoned little cousin. As of the time of writing, it has over 45,000 listings of websites and domain names for sale.
It looks as though there is no vetting process in place and anyone can list an online business for sale completely for free.
This could be why it attracts, what looks like, a lot of amateur starter sites with overpriced valuations.
The site is owned and operated by Freelancer.com, a wildly popular freelance marketplace that has been respected for many years.
Finding a successful website from Freemarket could require an expert eye and a fine-toothed comb, but if you're patient and do your due diligence, maybe you'll find a great deal.
For anyone looking to sell on Freemarket, as mentioned, your listing is free and you only pay a 5% fee if your digital property sells.
Visit Freemarket Here
---
16. Sedo – Expired Domains
Sedo is a domain-only platform, so you aren't buying a revenue-generating website here, only a domain name you could use for a new business venture.
They are the world's largest marketplace for buying and selling domain names, with 19 million domains for sale and 2 million customers worldwide.
Since its launch, 700,000 domain names have been sold on their platform.
The difference between a Sedo and a regular domain registrar is because the domains are expired or inactive or were once used. Therefore, many Sedo domains are highly brandable and sometimes have a valuable backlink profile.
If you're looking to start a new website, blog, or affiliate site, a Sedo domain might be a good place to look.
Visit Sedo Here
---
17. ODYS – Aged Domains
ODYS.global is a seller of aged domains. This means the domains they sell haven't expired and they are keeping them active for people to purchase.
ODYS stands for Our Domains Your SEO, meaning that because the domains were once used for an active website, they still hold a lot of value in their backlink profile.
When you start a new niche website with a fresh domain name, it can take up to a year before you see much organic traffic.
An aged domain allows you to harness its authority and backlink profile and potentially generate traffic and income faster.
Visit ODYS Here
---
18. Facebook Groups
Facebook groups can be an excellent place to find people selling their websites directly.
If you can develop a good relationship with fellow website flippers, you can grab yourself a great deal at the source, cutting out the middleman along with hefty fees.
Just make sure you join the right Facebook groups, be very vigilant about who you do business with, do your due diligence, and use an escrow service.
You can join the Niche Pursuits Facebook group at the link below. With over 24,000 members, it could be a place to meet other niche site builders looking for a buyer.
Visit The Niche Pursuits Facebook Group
---
Best Flippa Alternatives
Finding a Flippa alternative is much easier today than it was a few years ago.
Now, you have a huge choice when buying and selling an online business.
Motion Invest is a good place to start – they offer a free site valuation and can walk you through the process before you commit to anything.
Other sites like Flippa, such as Empire Flippers or FE International, also make for a quality website broker.
Don't be afraid to shop around and get different opinions on how much your site is worth, but keep in mind those platforms that have the largest reach.