Using the best copywriting software helps make it much easier for you to create copy that converts readers into customers.
After all, to create a compelling and persuasive message, people must first click on your headline, then read the page from top to bottom, and heed your call to action. All these steps combined help you to make money in the process.
This post discusses what tools you can use to create high-converting web copy. We also cover what each software can do and what separates each from the rest. This way, you can try out copywriting tools that fit your needs.
So let's get started
Best Copywriting Software with AI Generation Features
AI copywriting tools are in vogue nowadays, and it's easy to see why. These AI writing tools will produce long-form content for your emails, landing pages, and others with just a few clicks.
To be fair, there are lots of questions about the quality produced by AI writing tools. But it's impossible to expect high-quality content from a tool that's meant to be an AI writing assistant.
Much of the work should come from you editing and refining the piece to ensure it meets your stringent standards.
So, by learning how to use these tools the right way and putting in the work simultaneously, you can save time in your content creation process and money from hiring other writers to do the job for you!
Below are copywriting tools that enable you to leverage the power of AI:
Jasper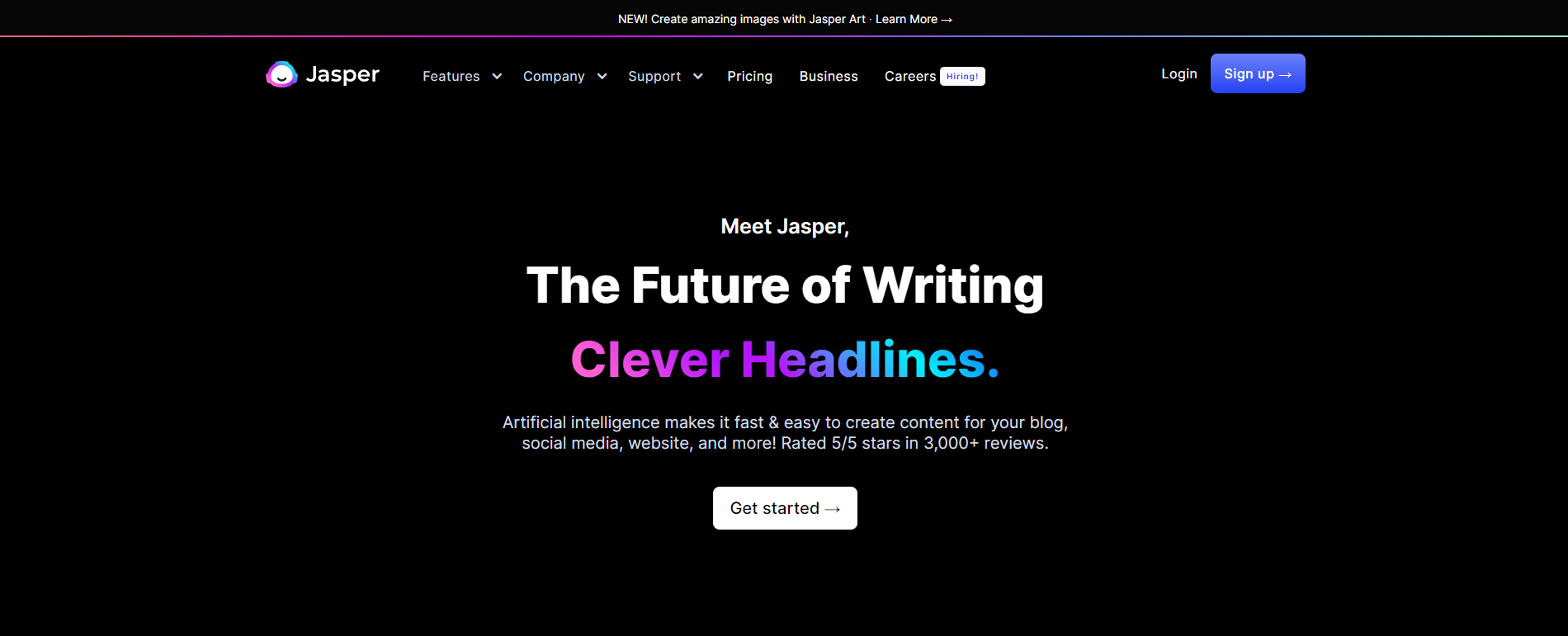 Arguably the best and most popular AI copywriting tool, Jasper allows you to create AI-generated content of the highest quality for your projects.
It starts with its Boss Mode, which enables you to let Jasper continue writing for you at your command. It also looks back at the previous 3,000 characters of your document to get an additional context of what content it should produce for you.
Another great thing about Jasper is its constant innovation.
It recently released Jasper Art, allowing users to create unique, AI-generated images using text prompts.
This feature does away with your stock photo subscription since you can create high-quality images in seconds.
Its vibrant Facebook group also puts it at a distinct advantage. With over 66,300+ members, you get access to a helpful community where you can learn tips and tricks on leveraging Jasper for all your writing projects.
Plans start at $29/month ($24/month paid annually) for 20,000 words that refresh every month. But to get the most out of Jasper, you must purchase the Boss Mode plan ($99/month or $82/month paid annually) for 50,000 words.
There's a 5-day free trial of their paid plans to give you an idea of how the tool works in your favor.
---
Anyword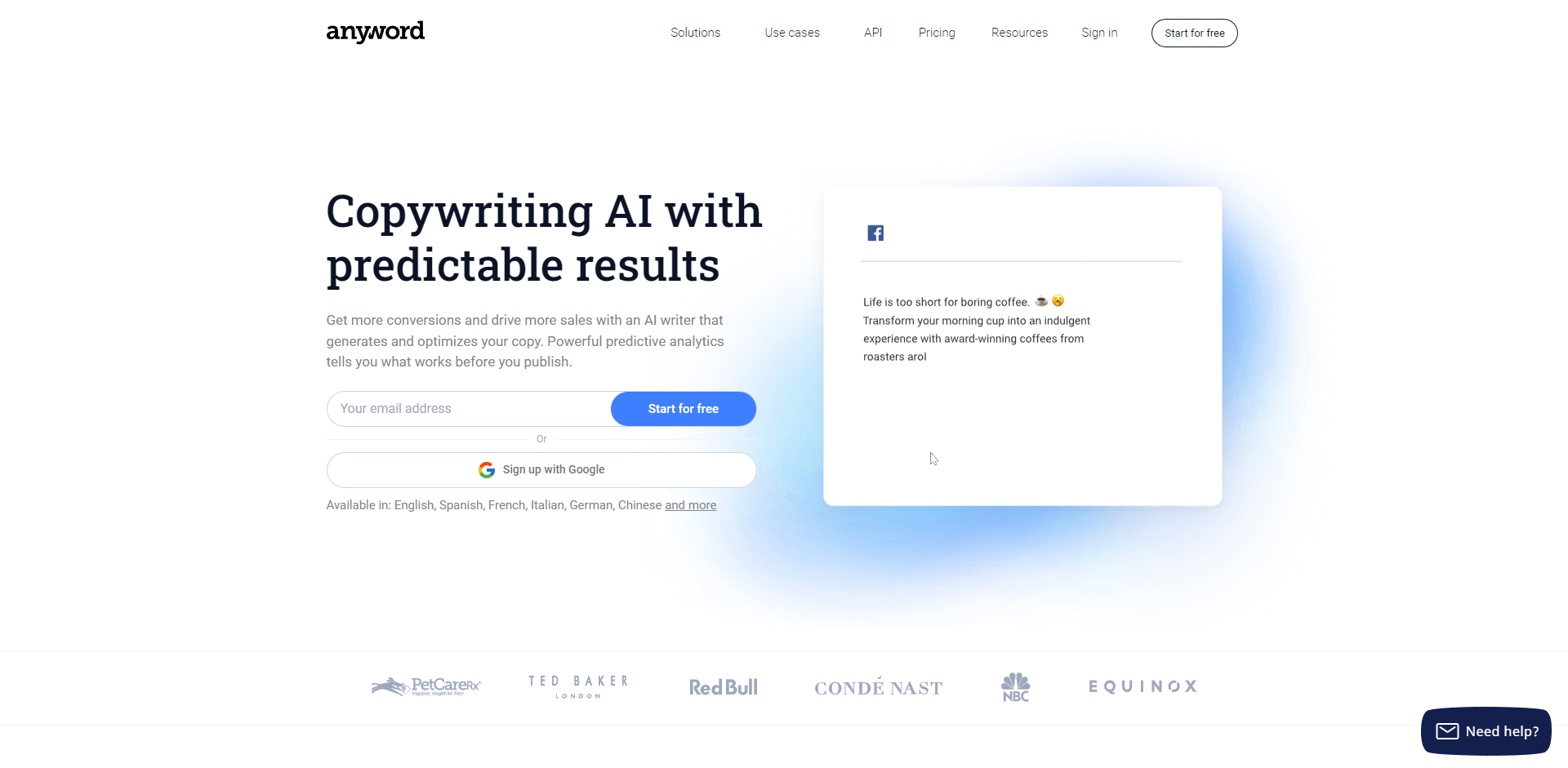 Anyword is an AI writing tool with predictive analytics features.
Aside from generating content for ads, blog posts, emails, and even social media posts based on the brief you provide, it assigns a score on the generated text based on how people will respond to it.
Ideally, the higher the score, the better and more engaging the content is. It takes away the guesswork of whether the AI-produced content is any good or not. As a result, refining the text to appease your target audience becomes much easier.
Speaking of which, you can create customer personas for your audience based on their gender, age group, and pain points, alongside your custom descriptions for each.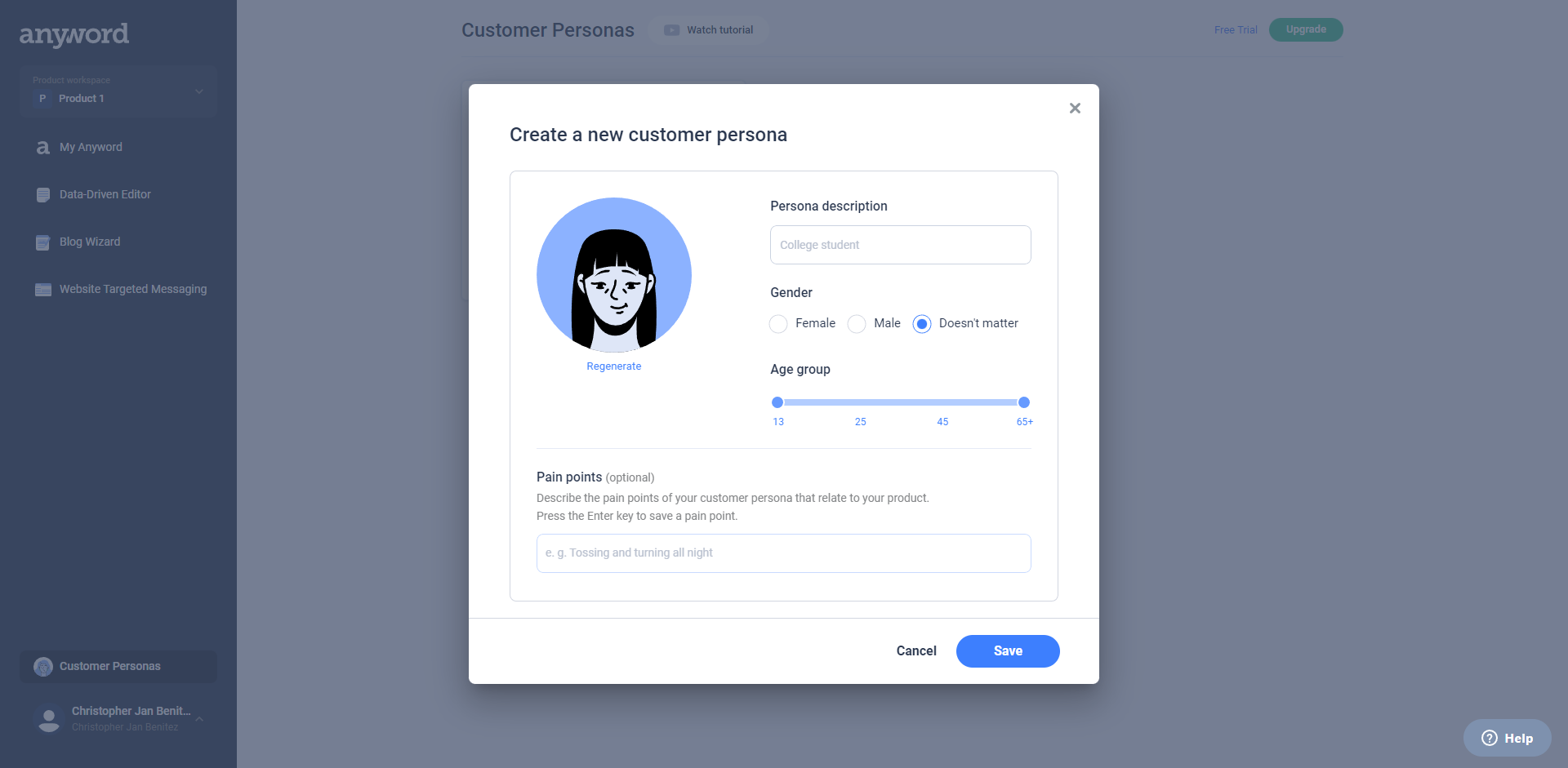 You can then use the personas when creating content using the tool to generate more precise text for your ads or blog posts. This further decreases the time you spend editing the pieces before publishing.
Anyword has a free plan that lets you generate 1,000 words per month using over 200+ of its data-driven copywriting features.
Its paid plans start at $29/month ($24/month paid annually) for at least 20,000 words. The highest plan ($99/month or $83/month paid annually) gives you access to its predictive analytics feature.
You can increase the word credits on either plan that suits your needs.
---
Rytr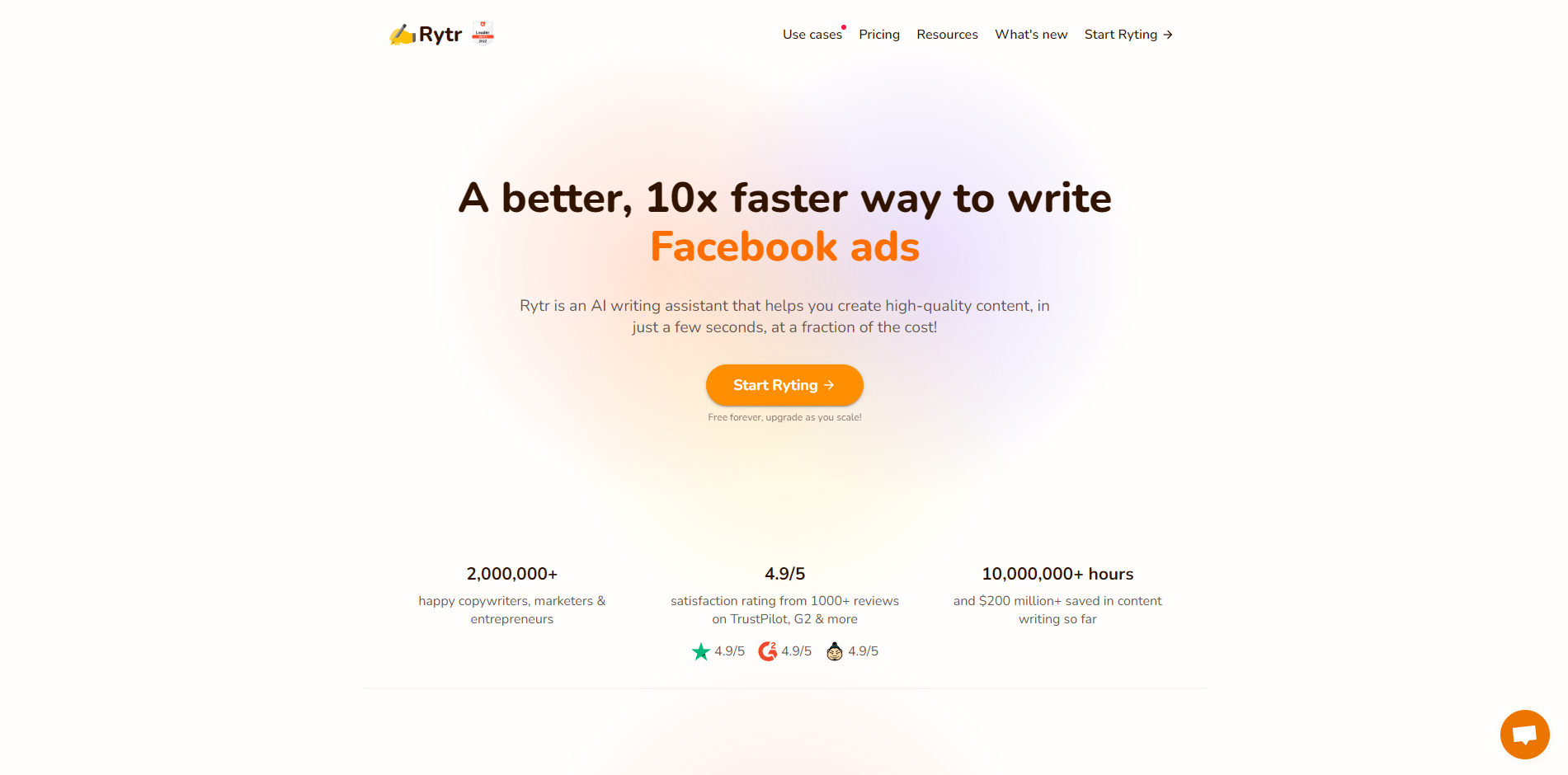 Rytr is one of the best copywriting software that's simple yet powerful enough for creating content of all types at a fraction of the cost.
For $29/month ($290/year), you can generate unlimited characters a month for all your writing projects.
It also includes a built-in plagiarism checker to help you identify duplicate content in the generated text and make your content unique.
Upon signing up, you must first choose a use case for your project. This helps Rytr create content on your editor based on your purpose.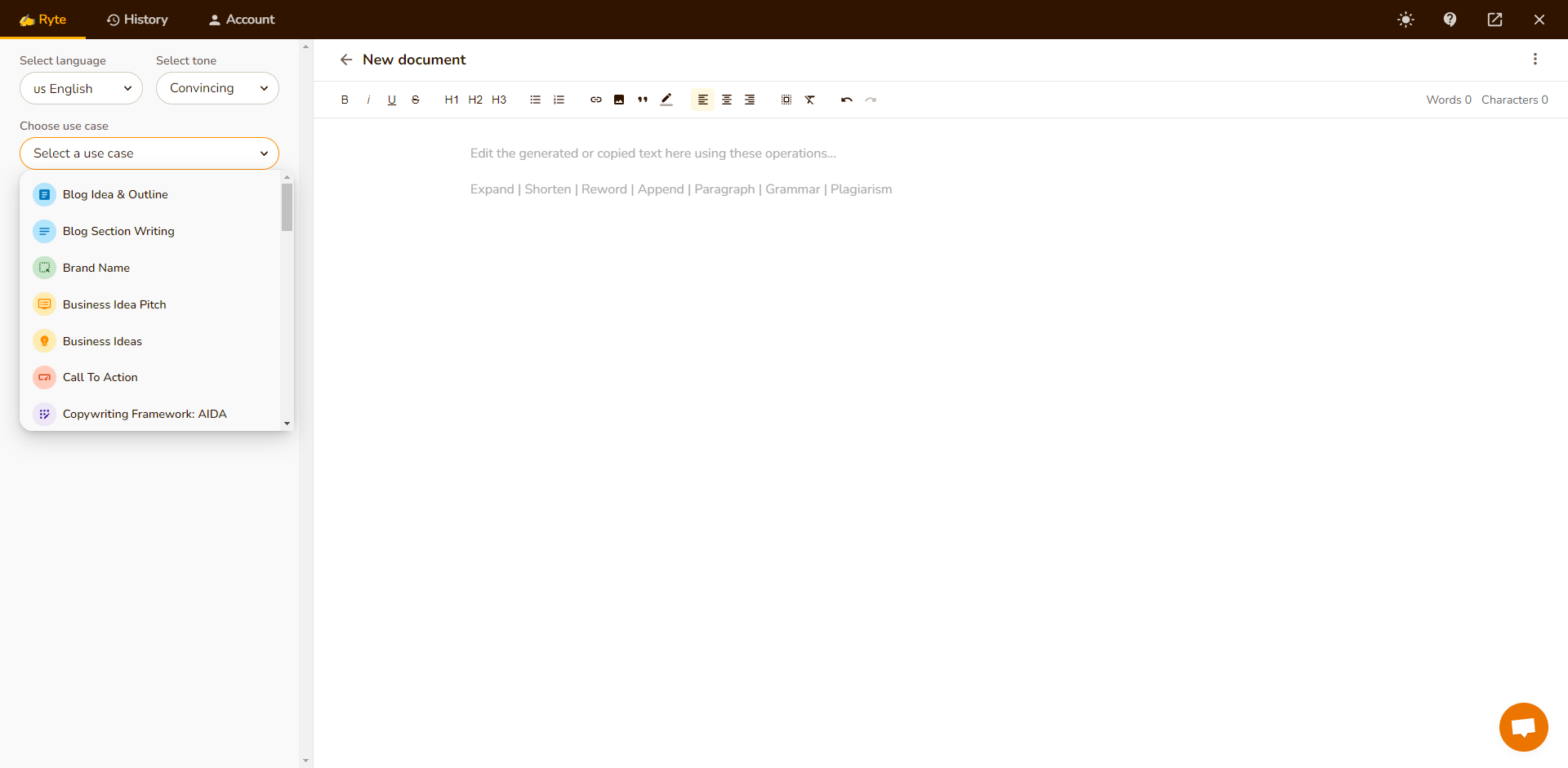 From the generated text, you can expand, shorten, or refine it to achieve the level of tone, voice, and detail you want from your text. Once done, edit the text manually for the finishing touches.
---
ClosersCopy

If you're looking for an AI copywriting tool with integrated search engine optimization features (SEO), Closerscopy is for you.
You can analyze the top-ranking pages for your target keyword and extract the terms you must mention in your content.
The tool also has a feature that makes building outlines a breeze. You can pull out the headers of the pages you're analyzing and include them in your content.
You can then start generating text using its library of 700+ frameworks (titles, introductions, conclusion, etc.). Closerscopy allows you to create workflows by combining different frameworks to help you automate content creation. with a few clicks of a button.
Finally, the tool has some of the most generous plans on this list. It doesn't have a free plan, but for $49.99/month, you can get 300 AI runs that will generate content based on your selected framework. You also get two (2) seats in your account—one for you and one for your guest.
The $79.99/month plan gives you access to unlimited AI runs, and SEO audits so that you can create optimized content to your heart's content on top of three (3) available seats. The $99.99/month is the same as the previous plan but with five (5) seats.
---
Copywriting is about introducing ideas to your audience in a simple and easy-to-understand manner. If something is awry with your copy, there's a good chance they won't sign up for your list or purchase your product.
And even if you edit your copy for grammatical errors, a few may slip through the cracks. They could pile up and prevent your audience from engaging with your page.
To prevent these things from happening, you must use any of the copywriting tools below. This way, you can write clear and error-free web copy consistently.
Grammarly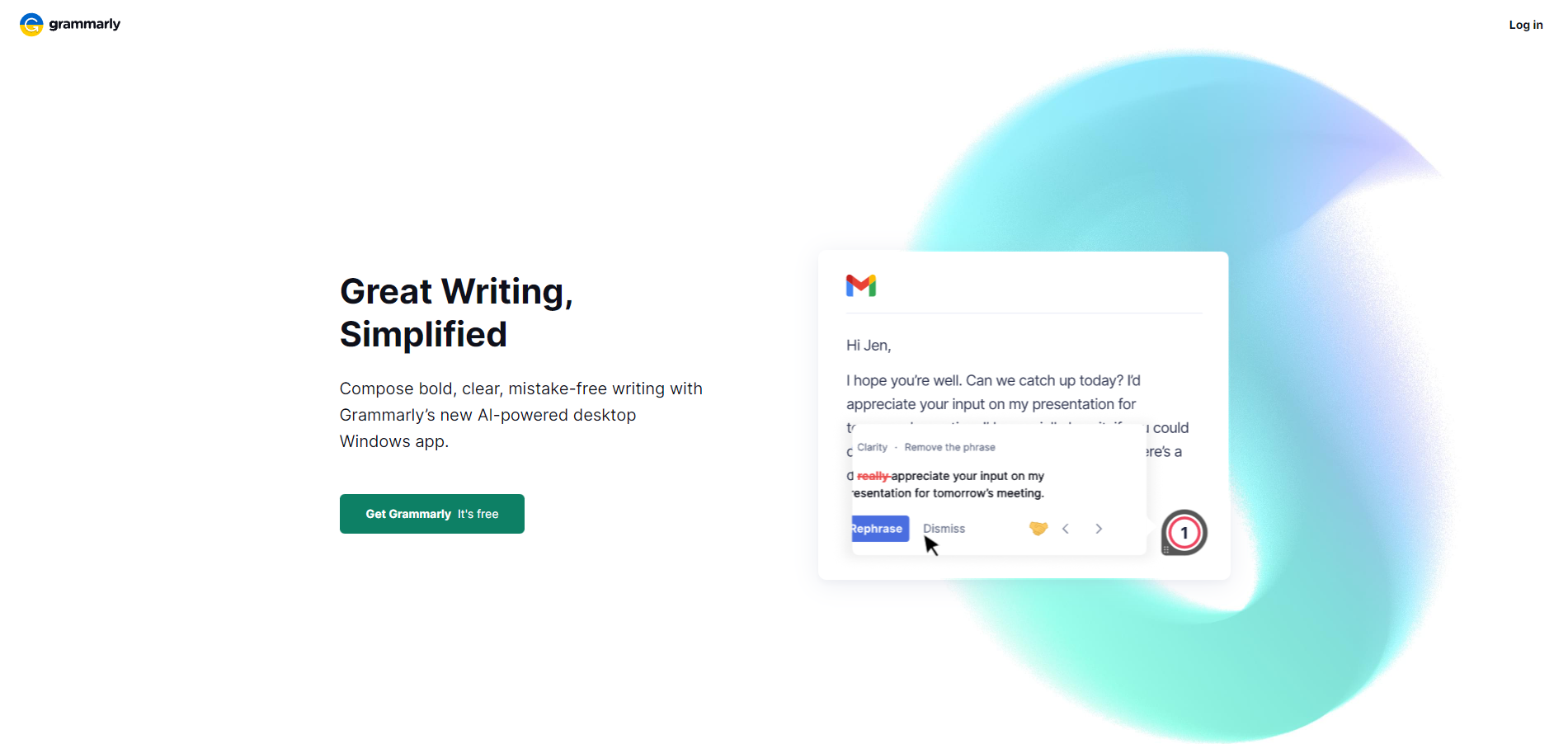 You can't get any better than Grammarly as your grammar editor of choice.
It not only detects grammatical errors in your content but also provides suggestions to simplify your sentences and phrases.
Before writing, you can set goals for your content to show you appropriate suggestions.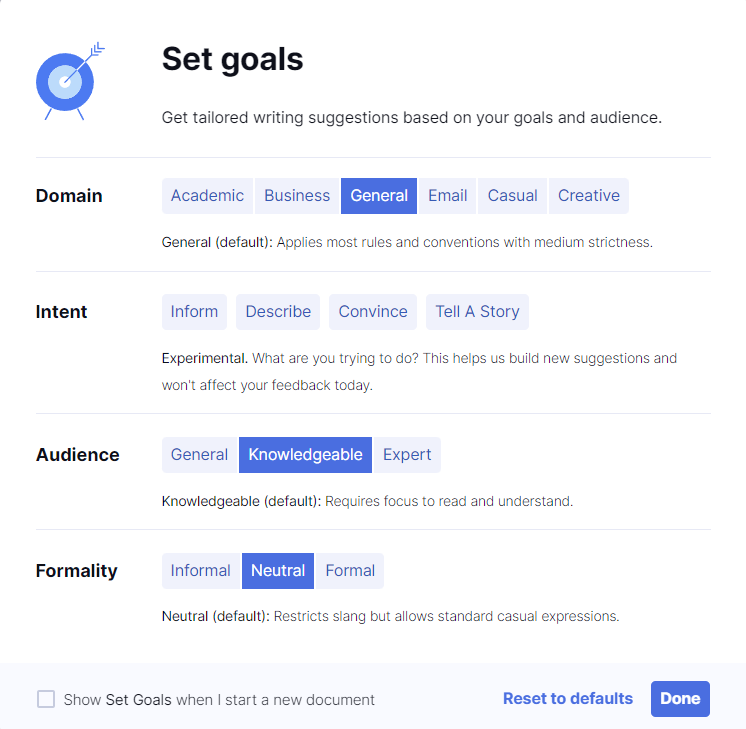 As you write, Grammarly shows you your content's overall score. A score of 95 or higher means your content is of high quality based on the factors the tool checks your content for.
If you're managing writers, you can create a PDF report for the content if they don't achieve your desired score. The report contains the errors and issues they must address to help them create content up to your standards.
Grammarly also has a built-in plagiarism check that reviews your blog post or web copy across millions of indexed pages online.
This helps you create unique content so people won't accuse you of scraping content.
Finally, you can download and activate its Google Docs integration so you can check content from Google Docs for writing errors.
Grammarly has a free account that lets you check for basic writing issues. Its paid plan ($12/month) gives you access to all the features mentioned above.
---
Hemingway App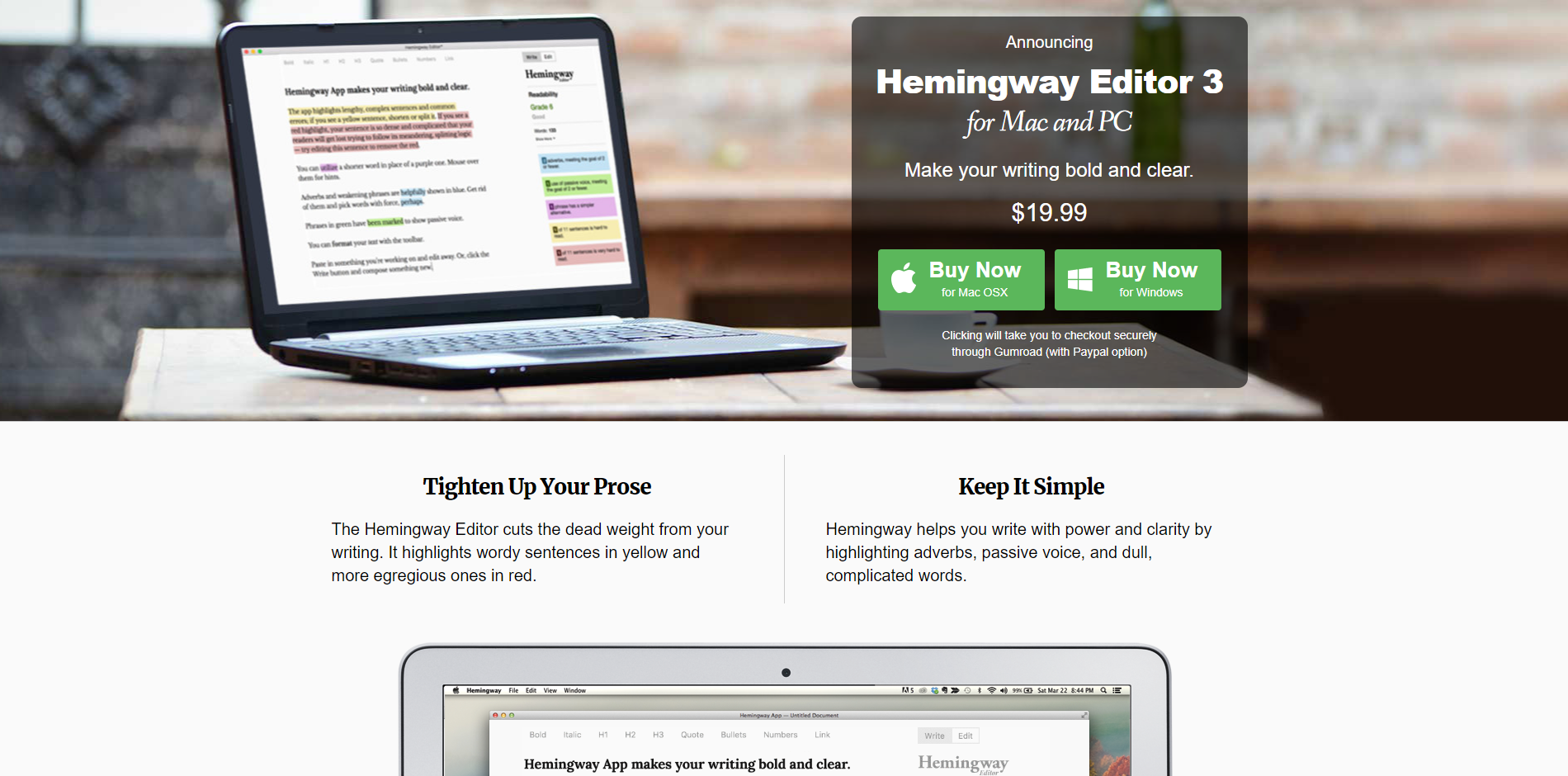 Hemingway App is freemium editing software that helps you simplify your writing.
It takes a cue from the great American writer Ernest Hemingway, known for writing short and curt sentences and paragraphs. His style lets him get straight to the point and clearly communicate his ideas.
The tool analyzes your content and identifies adverbs, passive verbs, and complex, hard-to-read sentences. It tells you to either delete them from your text or reword them to make your content easier to understand.
The only criticism of the Hemingway App is that it doesn't check your grammar. A workaround here is to use Grammarly's Chrome extension while using this tool.
There are two versions of the software. On the one hand, the browser version lets you edit your content for free. On the other, the desktop version requires you to shell out a one-time payment of $19.99 for Windows or MacOS.
---
ProWritingAid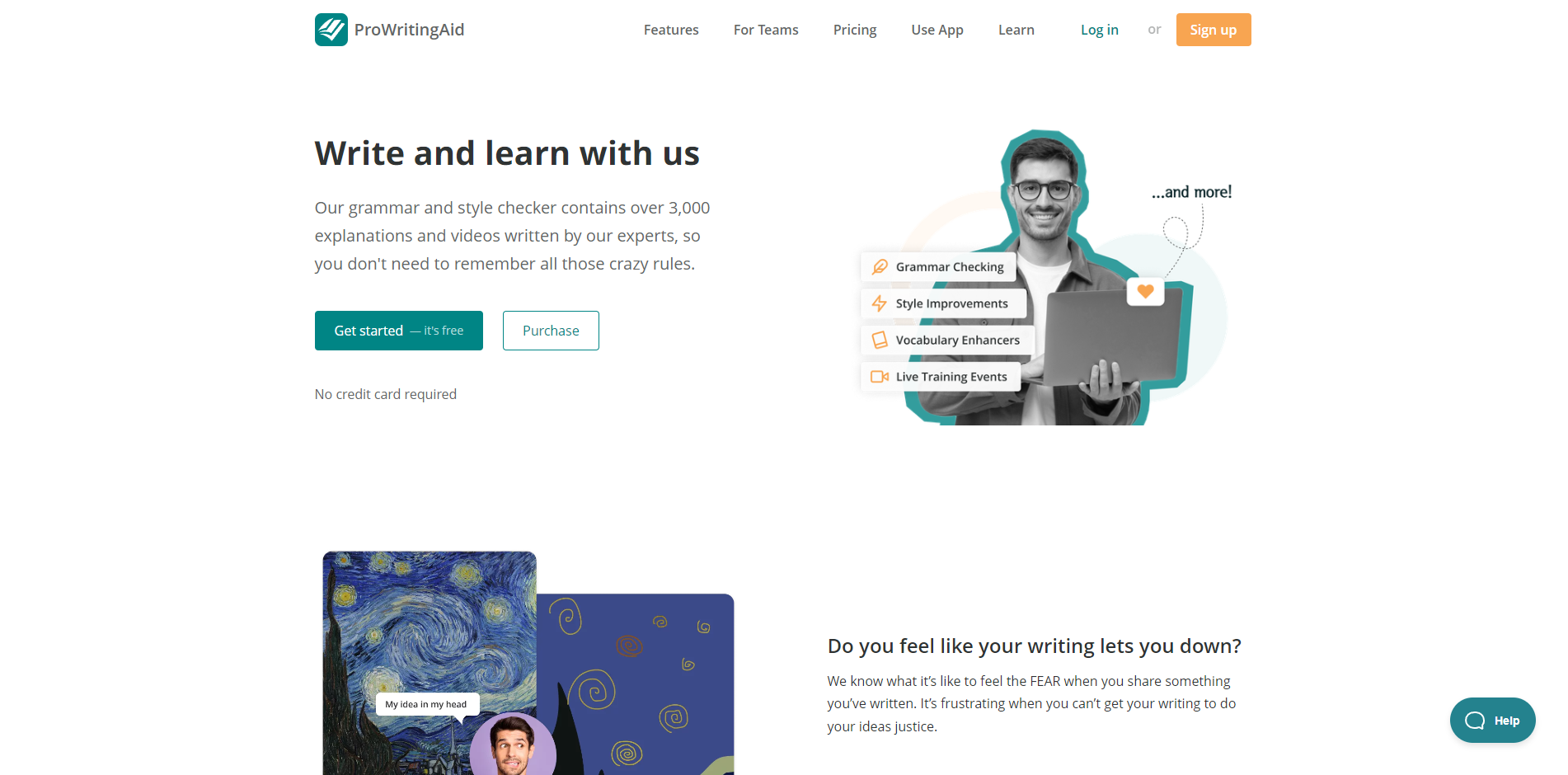 ProWritingAid is the closest alternative to Grammarly as far as grammar checker tools are concerned.
It leverages AI to provide users with automated suggestions to help improve their writing.
It breaks down your writing to even more variables than Grammarly, such as grammar/spelling, style guide compliance (which you can customize), business jargon, and others.
The tool grades your content across all these factors on a scale of 0 to 100%. You can improve its scores on all variables by implementing the tool's suggestions on your document.
There's also a summary report of your document that details everything about your content. You can download a copy and send it to your writers so they know what they have to do when revising the piece or writing new content moving forward.
For $20/month, you have access to all its premium tools. You can save even more from your subscription by signing up for a yearly ($79/year) plan or a one-time payment for a lifetime subscription ($399).
---
Best Copywriting Software for Analyzing Headlines
The headline determines the success of your paid ad campaigns. It is the first thing people see when your ad pages appear on your target audience's social media feed or search engines.
The goal is to get them to click on your ad based on your headline's strength.
But writing headlines aren't as simple as it seems. It must explain what the page is about, how it can help people, and why they should click on it 65 characters or less.
Thankfully, below are free tools you can use to help you craft compelling headlines by analyzing them according to their most important factors:
CoSchedule Headline Analyzer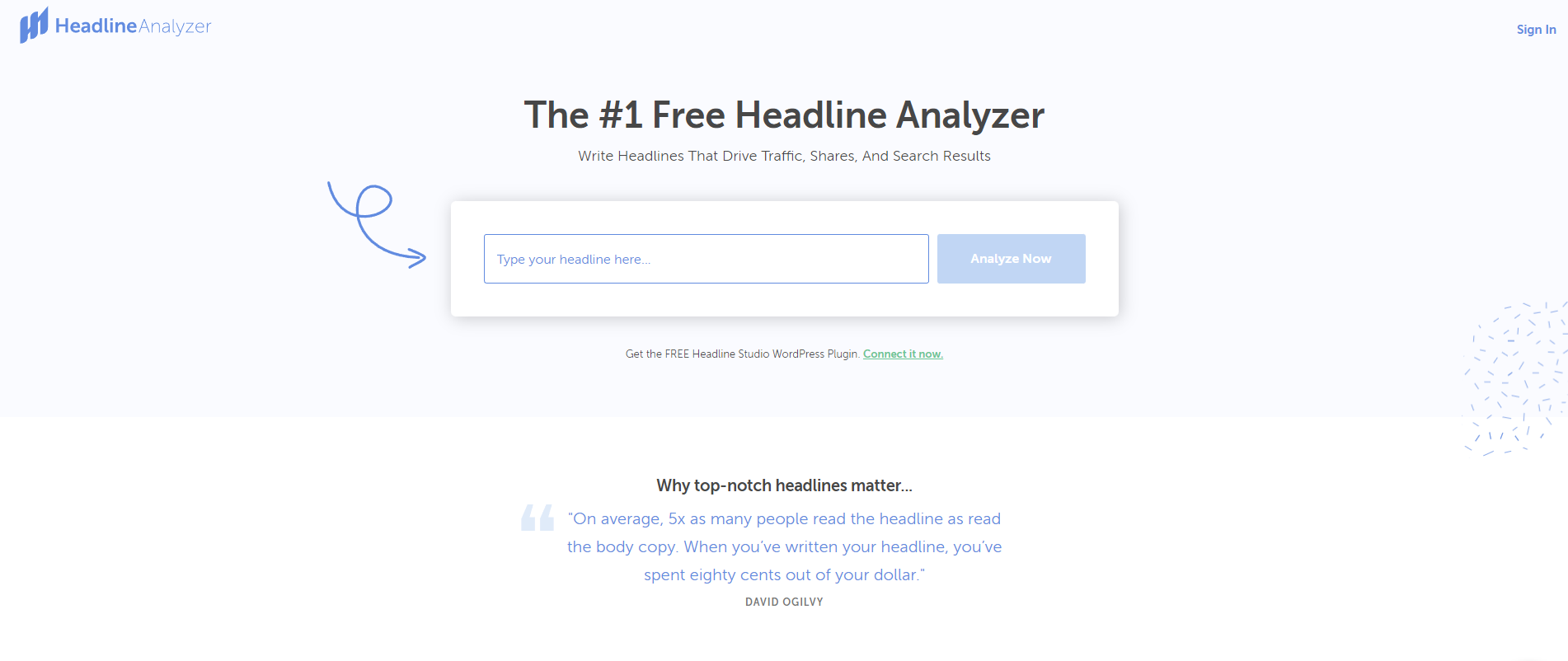 CoSchedule Headline Analyzer is arguably the best among headline analyzers.
It provides the Headline Score based on various factors, such as character count, headline type, reading grade level, and more. The higher the score, the greater the chances people will click on your ad or page.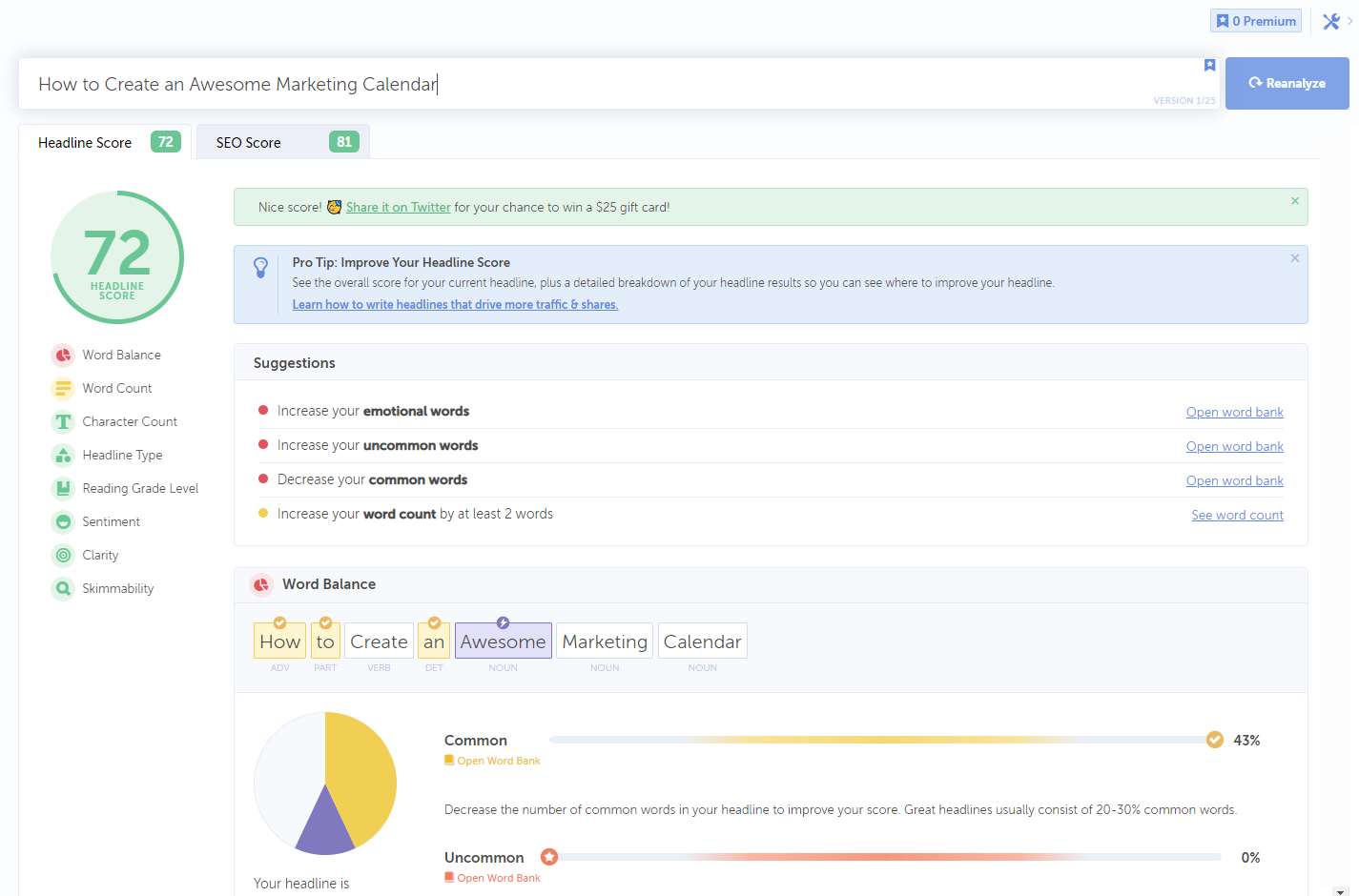 There's also an SEO Score that you can check if you want to increase your page's clicks when it appears on search results.
If you don't have high scores for both, CoSchedule provides suggestions for improving it, such as adding more emotional and uncommon words.
Before you can use this tool, however, you must sign up for a CoSchedule account first. From here, you'll also get access to your history of analyzed headlines over time.
There's also a paid version of this tool called the Headline Studio Pro. For a minimum of $109/year, you can analyze five (5) headlines with reports containing the above features. It also includes Smart Suggestions and Word Banks to help you brainstorm better headline alternatives.
---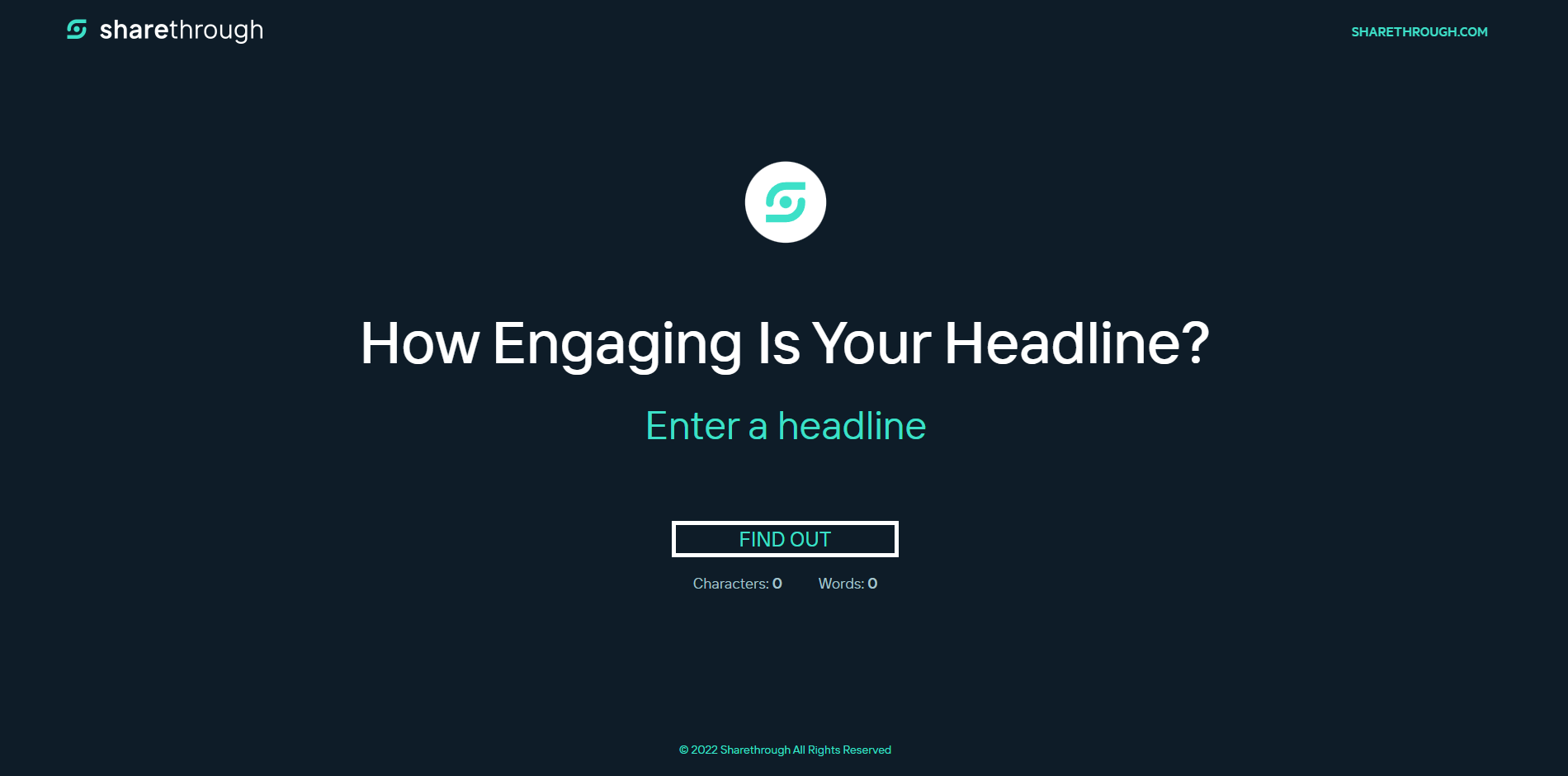 Sharethrough Headline Analyzer is the condensed version of CoSchedule's analyzer.
Type in your headline on the text bar and click on the "Find out" button. The tool then provides your headline with a Quality Score and lists its strengths and weaknesses. The analyzer also offers suggestions to help increase its score.
There are also Engagement and Impression Scores you can further improve to increase its Quality Score.
As a free and straightforward tool, Sharethrough Headline Analyzer gets the job done without you having to sign up for an account.
---
Capitalize My Title Headline Analyzer

Capitalize My Title contains various free tools to help brainstorm headline ideas and write better content. One of its tools is the Headline Analyzer Tool.
After processing your headline, the tool will provide you with an Overall Headline Score broken into three parts: readability, SEO, and sentiment.
While it details these parts to help you improve your headline score, it doesn't provide you with actionable suggestions for the actual headline you entered.
On the upside, you can leverage Capitalize My Title's other writing tools, such as Random Topic Generator & Conversation Starters and Writing Prompt Generator, to help get your writing off the ground.
---
Another one of your copywriting tasks is understanding what encourages people to engage with your copy. They probably don't like what they see if they're not scrolling down your page and interacting with its buttons and forms.
So, you need to make changes to your web copy!
And to know if the changes made a difference, you need to launch an A/B test campaign on the page. It allows you to run two variants of the page or ad copy to show your audience. You can then see which variant received the most engagements and conversions from here.
Below are tools that will help you conduct A/B tests for your landing pages or ads:
CrazyEgg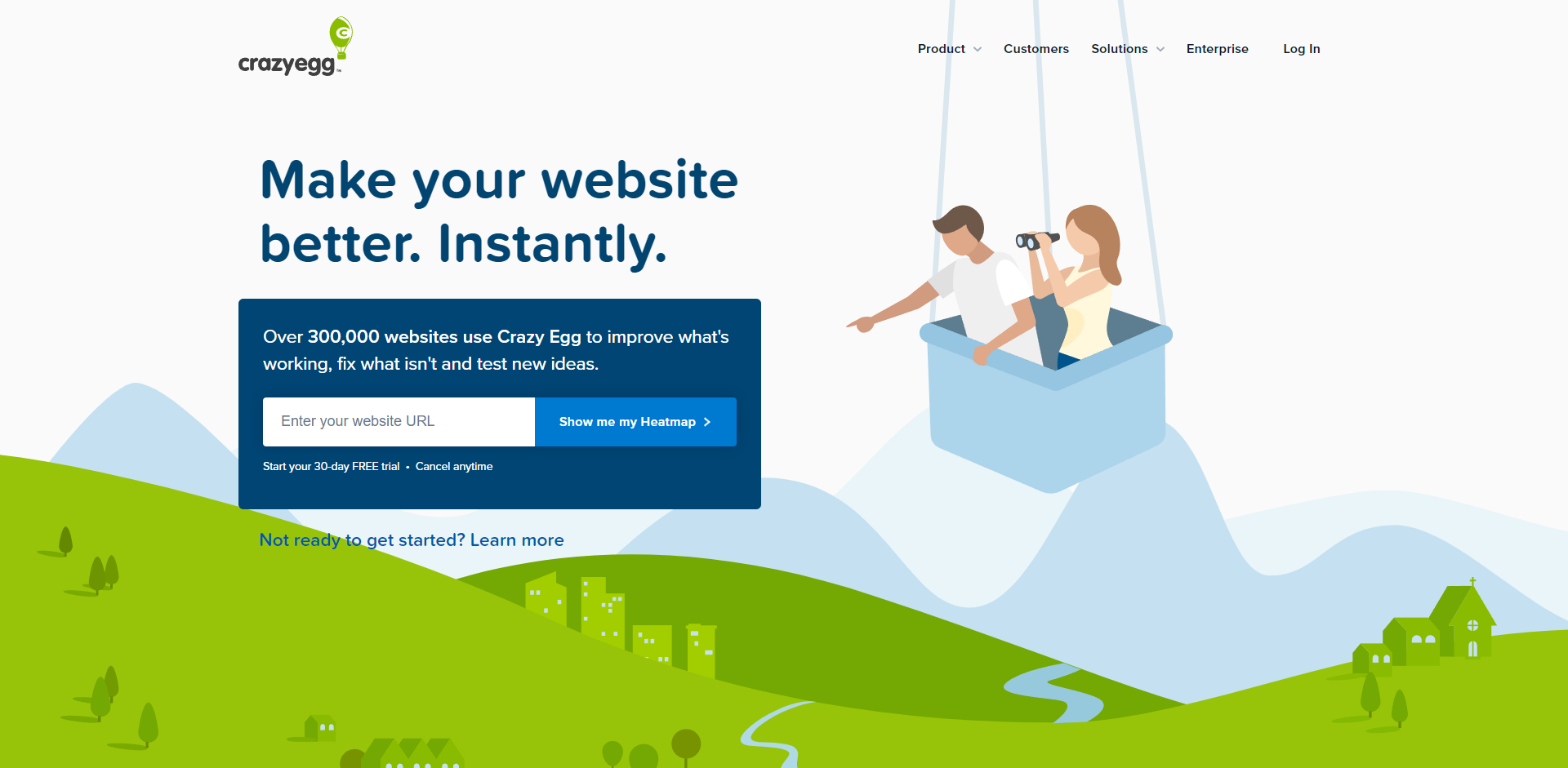 A/B testing is just one of Crazy Egg's features. It offers tons of ways to help you understand how visitors interact with your web copy and how you can improve your conversion rates based on the gathered data.
It starts with its heat mapping feature, which allows you to see whether or not visitors fill out your forms or click on your buttons. You can also know the percentage of clicks the webpage received from visitors.
Plus, CrazyEgg shows you how far your visitors scrolled down the page, indicating how engaging your copy is.
Using all this information, you can make informed changes in your copy, from how it's written to where to place your CTA forms and buttons, hoping to improve your click-through rates.
To help you make sense of the changes, this is where the A/B testing feature comes into play.
You can create a page variant with changes to some of its elements. Then run a campaign pitting the old version with the new one and see which variant converts more.
A Crazy Egg subscription starts at $29/month for 30,000 tracked monthly page views and access to stored data within three (3) months. All plans let you run unlimited A/B tests on an unlimited number of websites.
---
AdEspresso

When it comes to automating ad campaigns, it doesn't get any better than AdEspresso.
Upon launching your Facebook, Instagram, and Google campaigns, you can allow the tool's algorithm to optimize your ads.
For instance, you can set up rules that pause ads that aren't performing well and allocate the remaining budget to those that perform beyond expectations.
AdEspresso also provides AI-generated suggestions for your Google Ads, for instance, that didn't go as expected.
To do this, the tool compares your ads to see their respective target demographic. Based on your goals, AdEspresso will provide ideas on how you can refine your ad campaigns to help increase their conversion rates.
To gain access to its customized performance triggers feature, you must sign up for its $99/month plan
---
Best Copywriting Software To Boost Organic Traffic and Conversions
To help you attract sustainable traffic, you must create SEO-optimized content for all your web pages.
You can optimize each one for its respective keywords to rank them on Google for their search phrases. This way, you increase their search visibility and help you get more clicks so you can convert more people!
Below are AI writing software tools that can help you achieve this goal:
Surfer SEO

Arguably the best AI copywriting tool for SEOs, Surfer SEO has everything you need to help you create better content than those ranking on top of your target keywords.
The tool is best known for its Content Editor. Enter up to 20 relevant keywords in the text bar, and the tool will provide you with a list of terms to mention in your content.
It shows you the Content Score of your article, which you can raise by not only including the terms mentioned above. You can also write the minimum number of words, paragraphs, and headings that you can see under the tool's Content Structure.
Surfer SEO also has a SERP Analyzer feature that lets you dig deeper into all the ranking pages for your search term for various SEO factors such as structure, backlinks, quality, and others.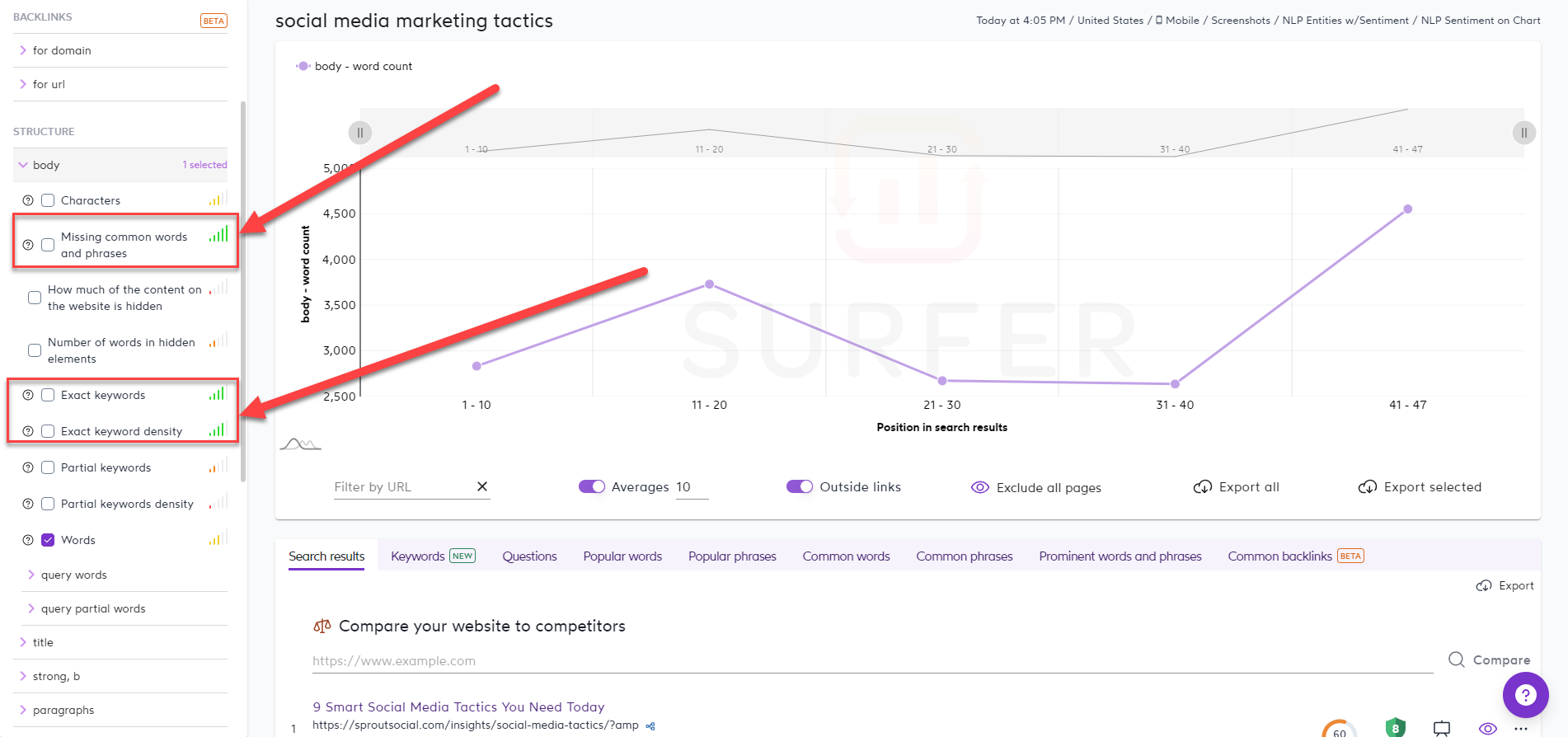 This way, you can create a page optimized for the most relevant factors indicated by the green bar to increase your content's chances of ranking.
Finally, you can audit the content you've written for your target keyword. Surfer SEO will then provide you with suggestions on how to raise its Content Score.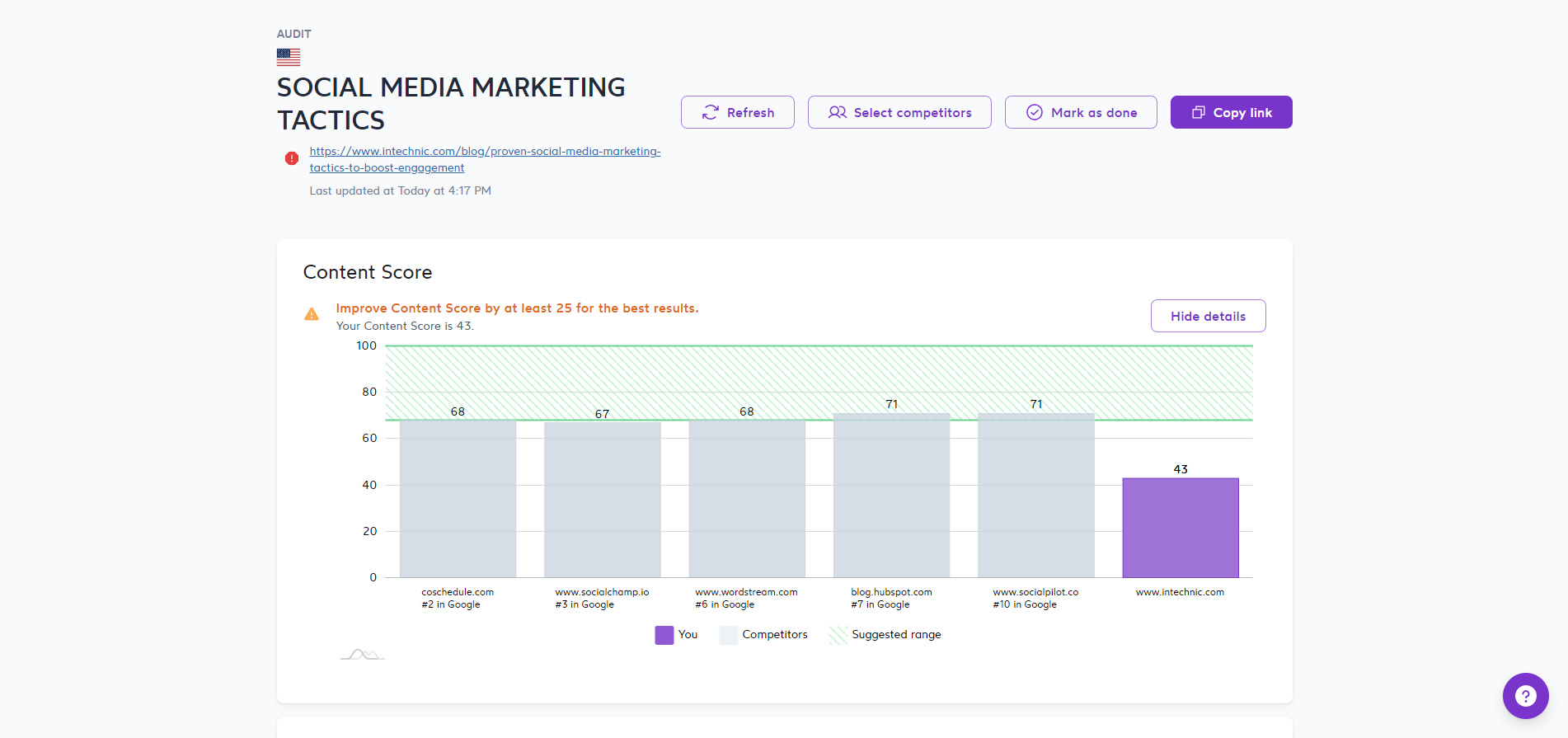 To access Surfer SEO's AI feature, you must subscribe to its $49/month so you can create 10 Content Editors and audit (update) 20 pages a month. With lots of other plans available to match your needs.
Check out our Surfer review to learn more.
---
Frase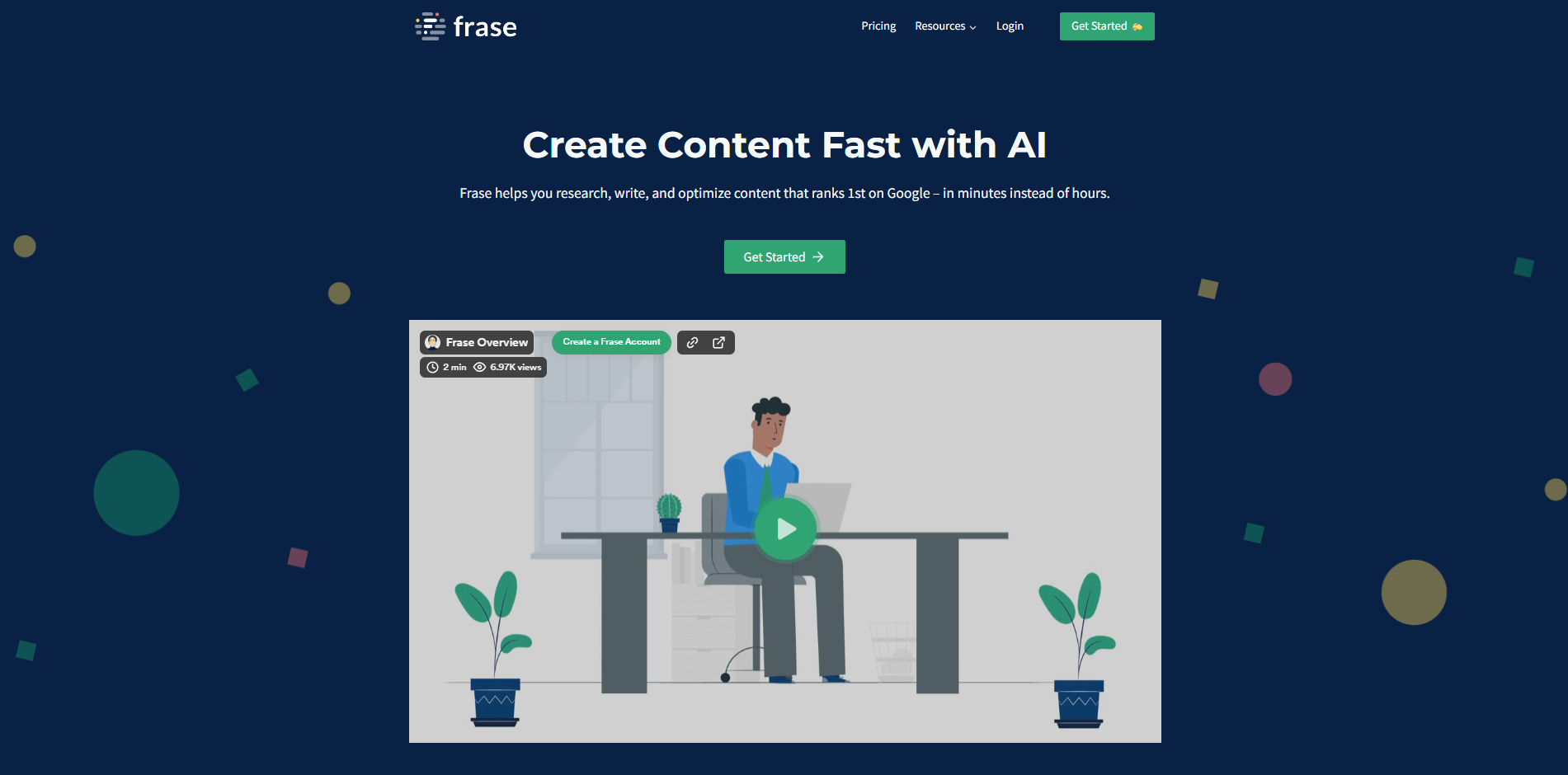 Frase is an impressive collection of AI tools to help you create optimized content and web copy for your site.
Its SEO tools include the Outline Builder, in which you enter your keyword to extract questions from Google's People Also Ask section and Quora that you can use as H2s in your content.
On the other hand, its Wikipedia Concept Map allows you to generate a map of your keyword using Wikipedia entities.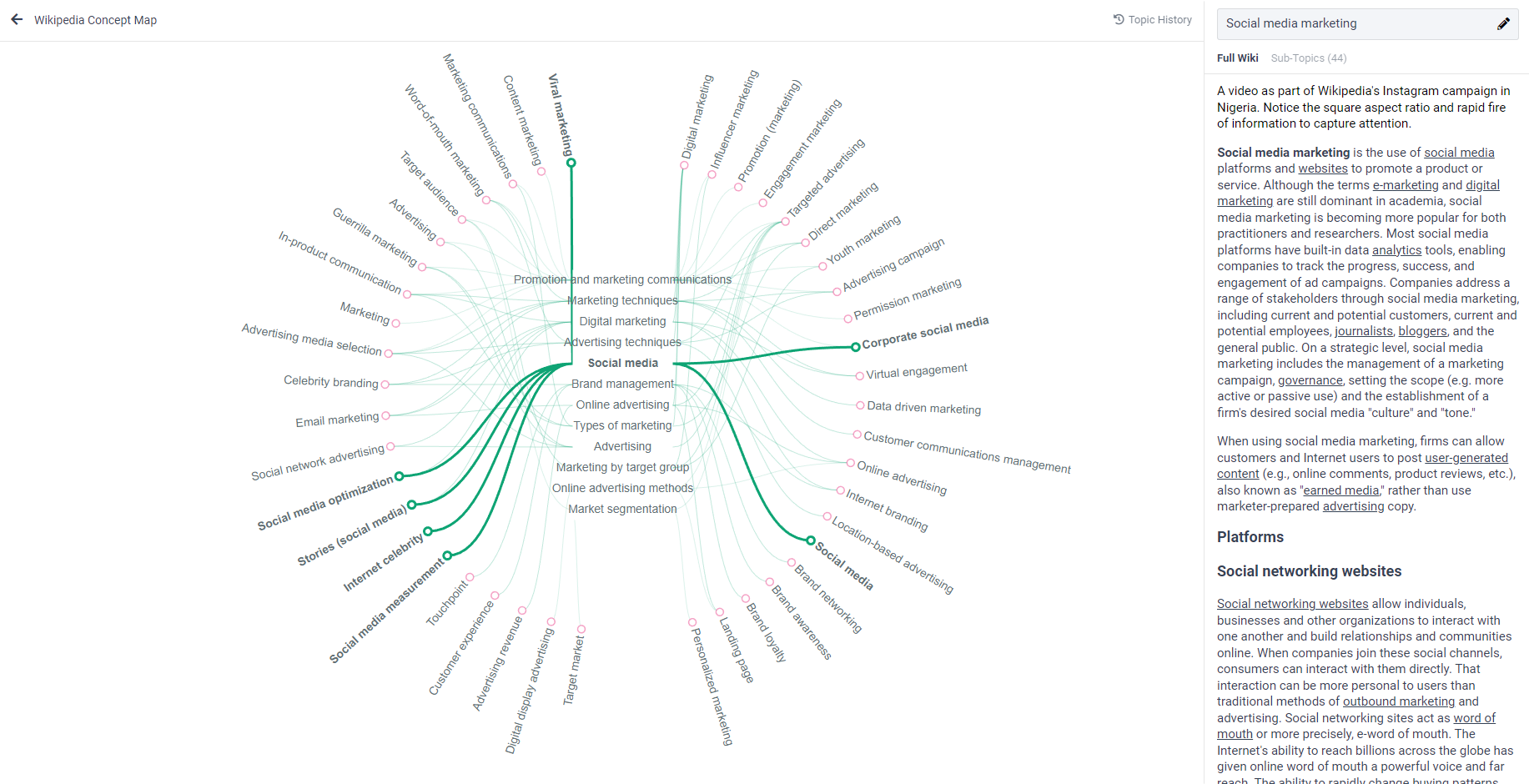 From here, you can brainstorm content ideas you can write for your website that are relevant to your topic.
Upon deciding on a keyword to optimize for, create a document that lets you break down the keyword into its top-ranking pages and see terms and phrases to include in your content, similar to Clearscope.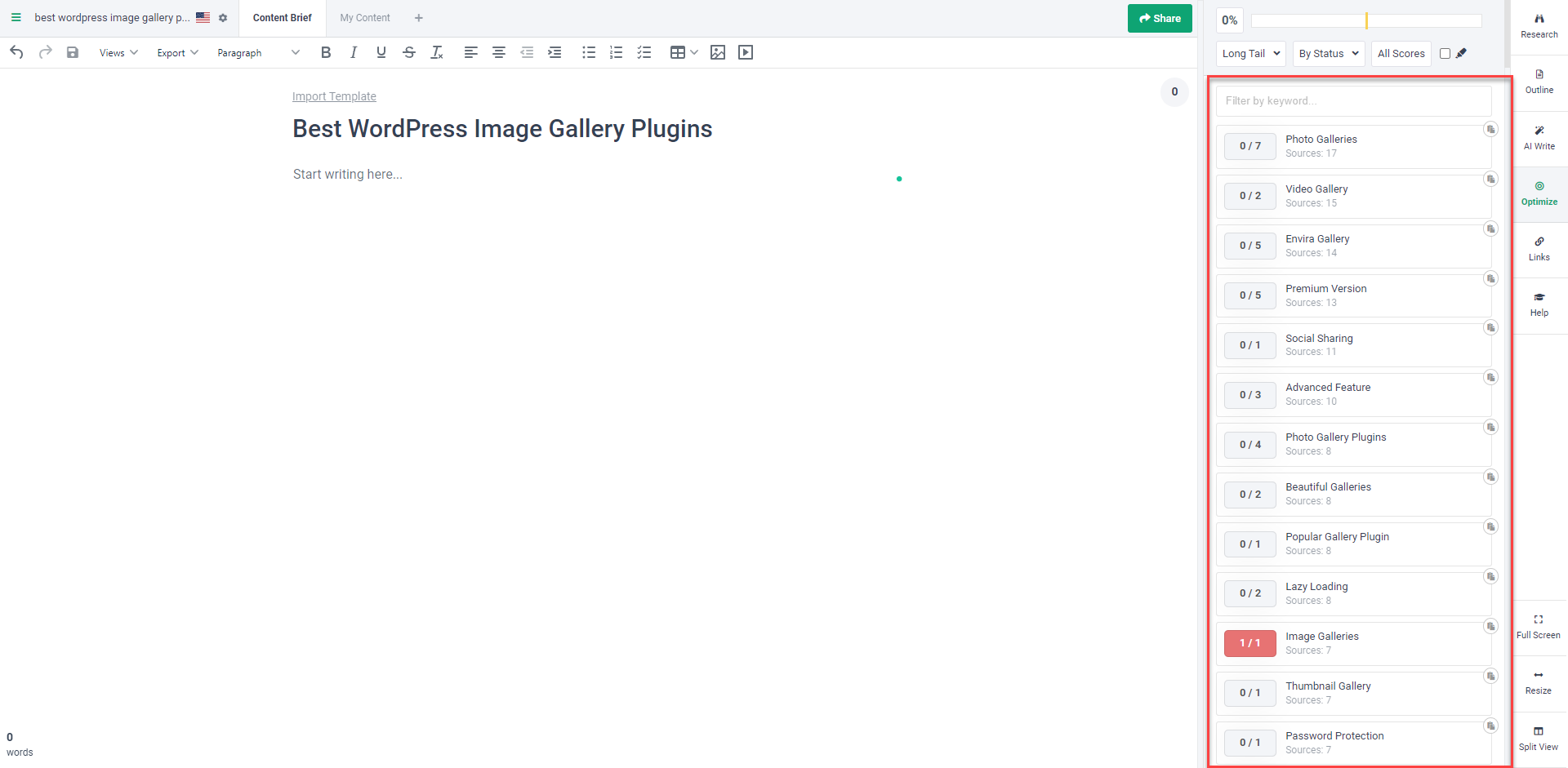 Frase calculates the average score of content using the extracted terms in their content. But you can go over the average to create even more optimized content to increase its chances of ranking on Google search.
Finally, the tool has AI writing capabilities that let you generate text based on the brief you'll provide.
Choose from different frameworks on which you can generate your content (blog introduction, Instagram caption, outline to draft generation, etc.). But if you're writing long-form content, you're better off using its freeform editor AI writer.
And we've got a full Frase review if you'd like to learn more.
Frase starts at $14.99/month for writing and optimizing four (4) articles with 20,000 AI word credits.
---
MarketMuse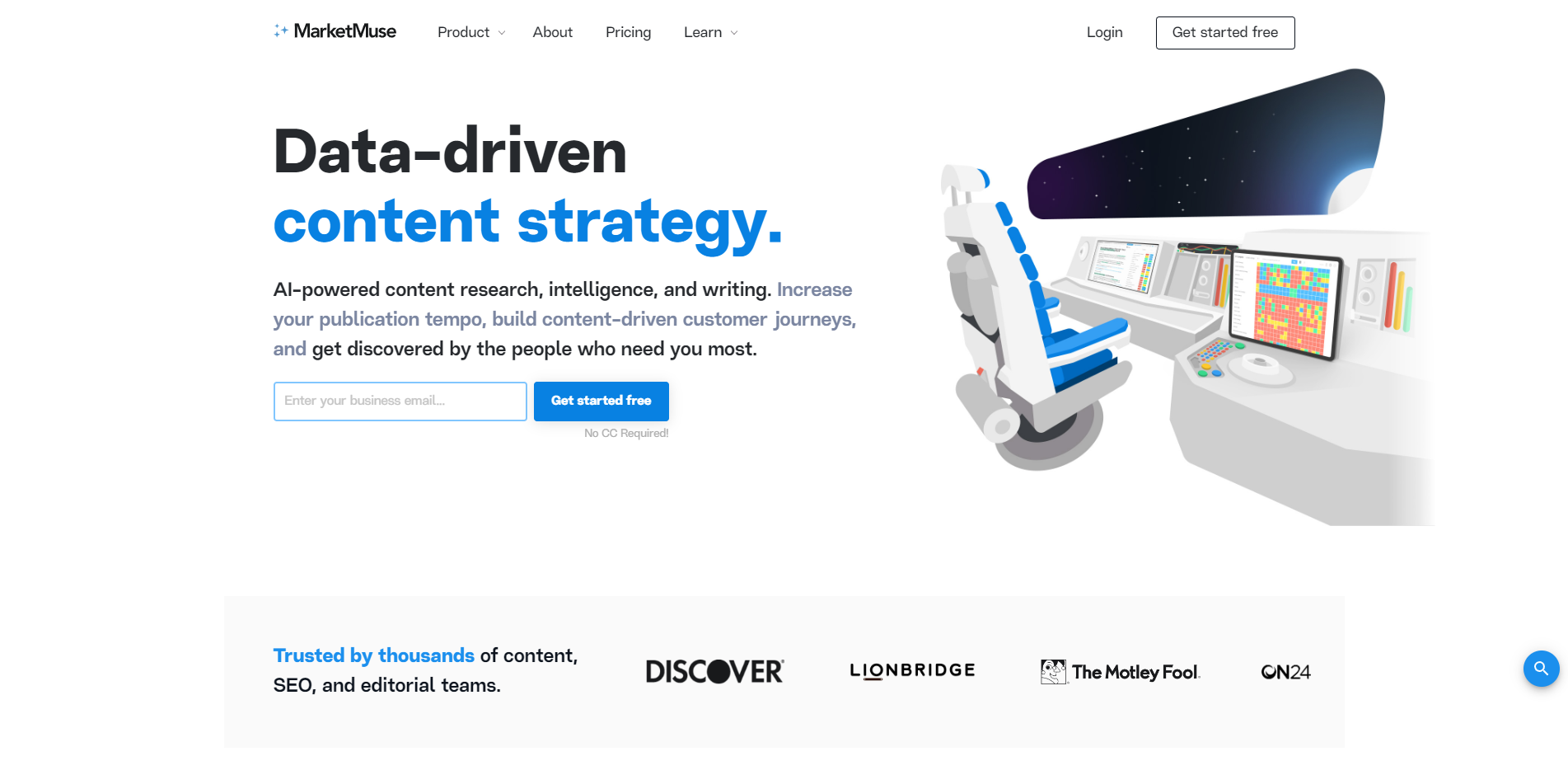 MarketMuse has similarities with most other options in this category in that it helps copywriters create content that search engines will love. In this case, this tool helps users achieve this by using its various applications.
The Research feature helps you unearth terms and phrases you must mention in your content based on your target keyword. The results show you the search volumes of each term and the number of times you should include them in your article or copy.
To help you visualize the data from the Research feature, Compete shows you the pages ranking on top of search results for the keyword and whether the related terms are mentioned in their content.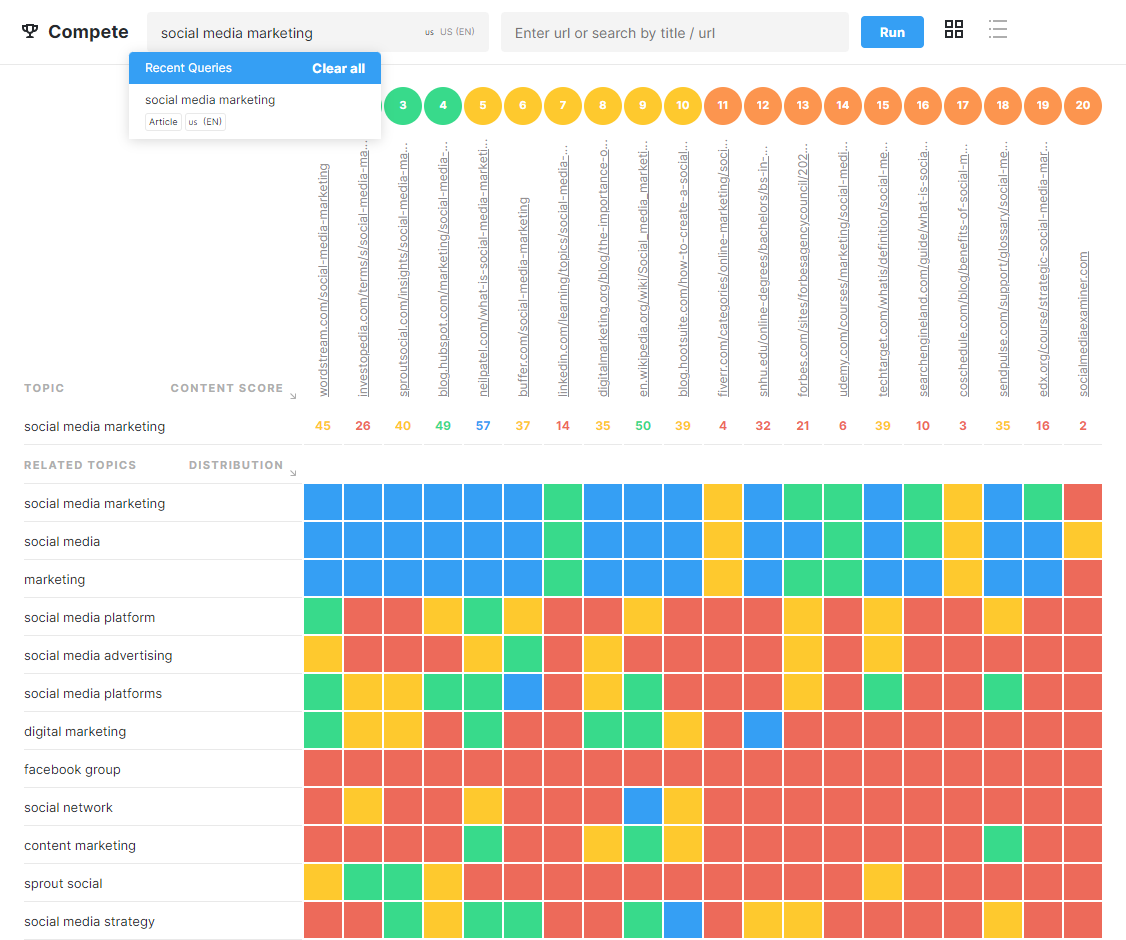 Finally, you can start writing your content using the Optimize feature. It shows you the list of terms you must include in the content on the right sidebar.
Learn more in our full review of MarketMuse!
MarketMuse's free version enables you to run 15 monthly queries across ten (10) projects.
---
Clearscope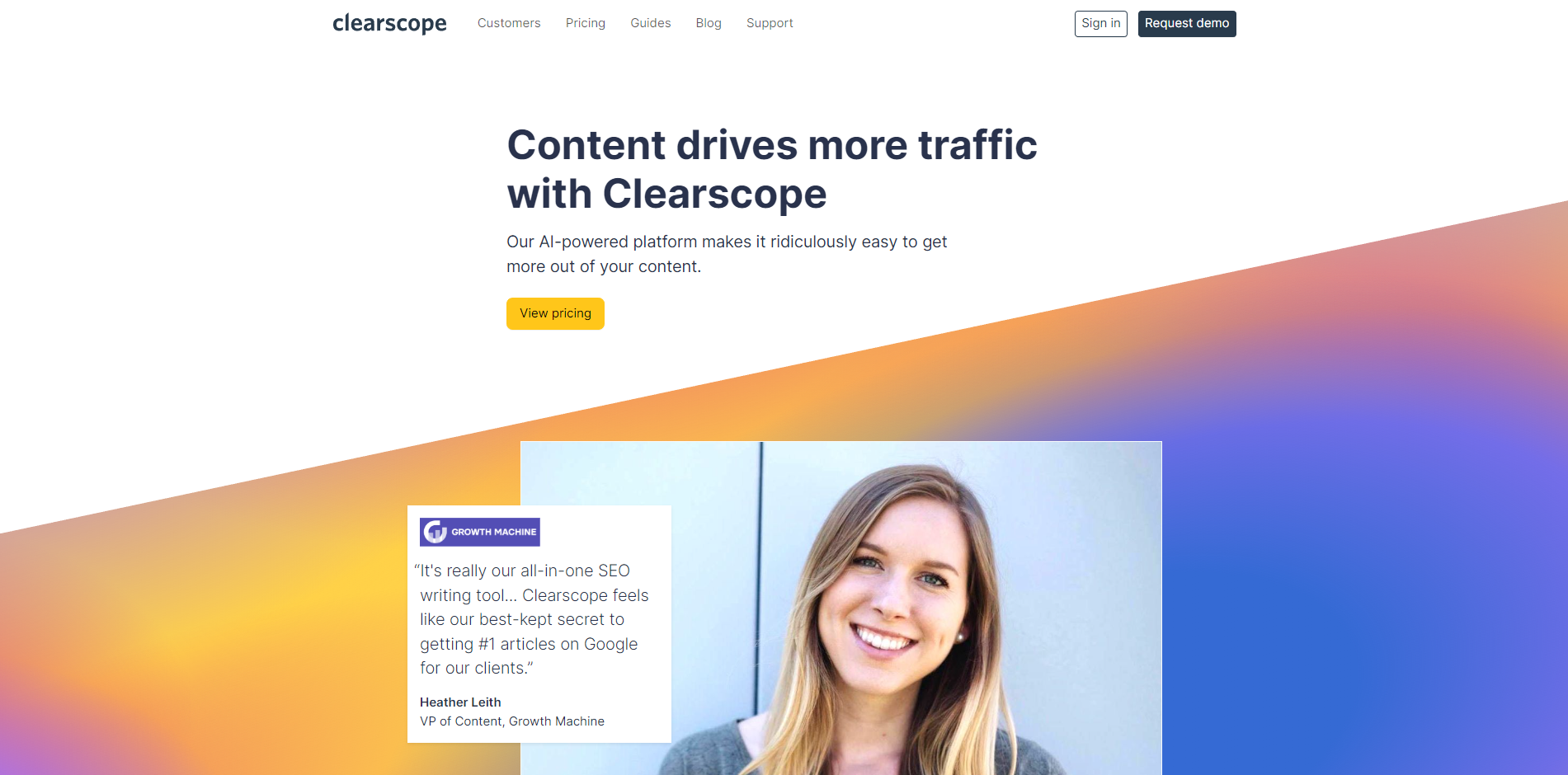 Clearscope arguably has the most intuitive UI for an SEO copywriting tool.
Upon entering the target keyword you want to optimize for with your content, the tool will bring you to its sleek text editor that shows you the terms and phrases you must include in your copy to create topically relevant content.
As you write your blog post, the score auto-updates until you reach A++, the highest score. Aside from mentioning the suggested terms in your content, you can increase its score by hitting the suggested word count and readability score.
To help you seamlessly integrate Clearscope into your workflow, it has a Google Docs Add-on and WordPress plugin you can use.
This way, you can type your content on your WordPress site, for instance, and see the terms you must include and the content score according to Clearscope without logging into the software.
The tool costs at least $170/month for three (3) seats and 20 Content Report Credits.
---
Conclusion
Now that we've covered the best copywriting software you can use, there's no excuse for you to create high-converting copy that ranks on search engines in minutes!
But just because they let you generate content with a few clicks doesn't make you a copywriting expert.
At best, these tools assist you in making copywriting much easier and more manageable for you. The bulk of the work still depends on you and how good your copywriting skills are.
So try out the tools above and see which among them fits in your workflows best!