Whether you're running a promotional offer that expires soon, or you have an online course that only opens for enrollment once a year, using a WordPress countdown timer plugin will help you increase conversions by creating a sense of urgency.
In this article, we're sharing 13 of the best WordPress countdown timer plugins available. There are some great free and paid options, and we're going to be outlining the benefits of each one so that you can decide for yourself which is right for you.
The Benefits of Using a Countdown Timer Plugin on Your Website
The main benefit of using a WordPress countdown timer is that it allows you to take advantage of the urgency principle in marketing your products. Time limits are often added to sales to introduce the feeling of scarcity. This is what encourages people to shop right now, rather than thinking they'll come back for it later, and then forgetting.
Using a countdown timer on your website will:
Increase conversions
Create FOMO
Draw Attention to a Product or Service
While countdown timers are generally used on landing pages, they can also be used on checkout pages. If you don't have many products available then you can add a countdown timer to remind your customers of how long they have until the items are removed from their shopping cart. This also acts as another incentive for your customers to finish shopping and check out before they risk losing their purchases.
The Best WordPress Countdown Timer Plugin
These WordPress countdown timers each have their own unique features. Some are all-in-one solutions with a range of other useful features included, and some are simply countdown timers. Whatever your needs, there will be a WordPress countdown timer that's perfect for you.
OptinMonster
OptinMonster is a lead generation and conversion optimization tool that's aimed at helping bloggers increase their income. It's also used for eCommerce websites, marketing agencies, and small businesses.
OptinMonster has several tools that go towards the goal of lead generation, with one of those being a countdown timer that can be applied to any page on your site. You can create both static and evergreen timers and you can create as many timers as you would like. You can even create a sticky bar that floats at the top or bottom of the page as your customers scroll.
OptinMonster has a free plan, but if you want to use timers then you will need to sign up for a paid plan. The plans start at $14 per month and go up to $47 per month. All plans are billed annually.
Try OptinMonster right here
Get OptinMonster Here
Evergreen Countdown Timer by Intelly WP
Evergreen countdown timers allow you to apply a separate timer to each user that arrives at your site. The timer starts counting down from the moment of arrival for each user that visits. This allows you to use the scarcity principle every time someone visits your site, instead of having one countdown timer that shows the same time to everyone.
Evergreen Countdown Timer is a free plugin that allows you to create a "Set and forget" timer on your site. It can be integrated into most pages on your website and even into your email marketing to help create a launch email that grabs your customers' attention.
If you want extra features you can pay for the pro version. This includes a 'spot' or 'tickets available' countdown which shows how many items are left rather than time. You can also set it to automatically reset, as well as custom CSS code (better for SEO) and custom colors. There is a free version available which offers basic features. The pro version with unlimited timers and special features starts at $47 annually.
Try Evergreen by IntellyWP Here
Get Evergreen by IntellyWP Here
Countdown Timer by POWR
The Countdown Timer plugin by POWR makes it easy to build a custom countdown timer for your WordPress website. It's one of the most popular countdown timer plugins around, used by over 12 million websites!
It has lots of great features, including the ability to count both down and up, and display custom messages. You can also add eye-catching animation to grab your visitor's attention at the click of a button.
It's great value too. The free plan gives you 6 timers per account and the paid version starts at just $4.49/month.
Try The POWR Countdown Timer Right Here
Get The POWR Countdown Timer Here
Countdown Builder
Countdown Builder is a simple timer plugin for WordPress. It offers countdown timers in multiple different styles, including flip clock countdowns, a coming soon page, and a scrolling timer.
You can choose to place the timer within posts, at the end of articles, or on a standard page. It's easy to change things like the size of the timer, labels, and the animation style without touching any code. You can even create an unlimited number of timers for free. If you want more options then the paid version starts at $19.99 per month, which allows you to add an email signup, choose to add or hide timers on mobile devices, and use an extended number of countdown timer styles among a raft of other features.
Try Countdown Builder for Free Here
Hurry Timer
Hurry Timer is a dedicated countdown timer for WordPress which provides several settings and features to help you create a more effective sales funnel.
It offers the ability to schedule your countdown timers-something that isn't common among other countdown timers. You can create a recurring countdown as well as an evergreen countdown that resets for each customer, using cookies to track new visitors. You can also create a customizable call to action button and include a link to sales pages on your website.
Hurry Timer also integrates with WooCommerce. This allows you to take payments directly through the countdown timer plugin. If you pay for the pro version you can also add recurring countdowns, timer blocks, sticky bars, and custom code. If you need these features, the pro version starts at $39 per month.
Try Hurry Timer for Free Here
Get Hurry Timer Here
Countdown Timer Ultimate
Countdown Timer Ultimate gives you the ability to create circular countdown timers for your WordPress website. You're able to control the design of the timers, change the color and font, add expiry dates, and even animations.
Countdown Timer Ultimate has an easy-to-use interface that allows you to edit your timers using sliders and selectors, and adjust the animation. The free version includes one clock design, shortcodes, and the ability to make clocks expire. The pro version starts at $119 and adds 12 different clock styles, extended customization options, templates, and the ability to access the code.
Try Countdown Timer Ultimate for Free Here
Get Countdown Timer Ultimate Here
Sales Countdown Timer
Sales Countdown Timer has been designed specifically for sales countdowns. It allows you to create brightly colored bold timers that catch your customer's eye and encourage them to shop.
It integrates with WooCommerce to create countdowns for products, and you can choose the types of pages it displays on. The designs are detailed and include lots of customization options.
The free version provides a lot of functionality, but if you need an evergreen timer and checkout countdown timer then you'll need to pay for the pro version which starts at $19.
Try Sales Countdown Timer for Free Here
Get Sales Countdown Timer Here
Countdown Timer by Elfsight
Elfsight's Countdown timer is a WordPress plugin that offers a limited free countdown timer. You're able to choose a start and end time, as well as offer two different scenarios for the countdown timer. You can include a call to action and even choose a flexible timer period.
The free version allows you to install the plugin on one website with up to 200 views per install before you need to pay.
If you pay for the basic plan which costs just $5/month, then you're able to use the app on unlimited websites. Each website can receive up to 5000 monthly views on this plan. With paid plans, you're also able to remove the Elfsight logo, access basic support and you get a free installation service. More premium plans start at $10/month and include more views and better support.
Try Countdown Timer by Elfsight for Free Here
Get Countdown Timer Here
Countdown Timer for Elementor
Elementor is a popular drag-and-drop WordPress website builder. Amongst its huge range of widgets it offers is an easy-to-use countdown timer. It has been specifically designed to work with Elementor, so if you're using Elementor already, this is the obvious choice for you.
Countdown Timer Pro is $4.99 and is packed full of features. The WordPress countdown timer offers a cookie-based timer, the ability to restart/repeat the timer, add your countdown timer to pages, and customize every part of the countdown timers without needing to know how to code.
Try The Elementor Countdown Timer Here
Get The Elementor Countdown Timer Here
Finale Countdown Timer
Finale is a WooCommerce plugin that allows you to create timers to create urgency and boost conversions on your campaigns. This WordPress countdown plugin enables you to run scheduled campaigns like flash sales and seasonal promotions. You can countdown to launch, run faster shipping promotions and recurring offers.
There is an extensive free version (Finale Lite), and you can upgrade to Finale Pro for additional features. Finale Pro starts at $29/year, with lifetime access also available from just $79.
Try Finale Countdown Timer Here for Free
Get Finale Countdown Timer Here
Sales Booster for WooCommerce
WP Sales Booster is a plugin created to work with WooCommerce that will help you to increase your sales. Among its many marketing and sales funnel tools, there is also a countdown timer.
The countdown timer offers the ability to set a fixed date or evergreen countdown timer to entice your audience. This can be combined with a coupon to make the coupon expire in line with the countdown. You're also able to customize the timer to match your branding.
Try Sales Booster for Free Here
Countdown Block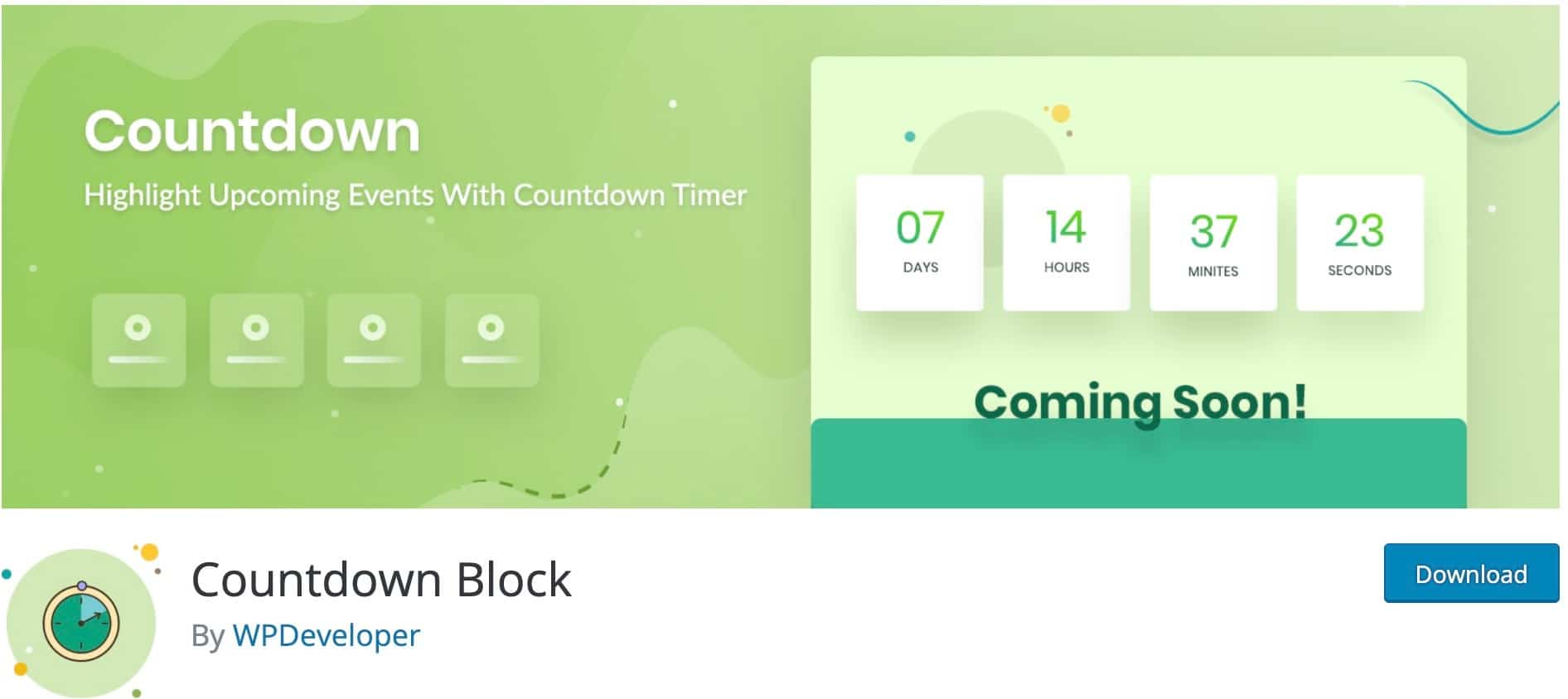 Countdown Block is a WordPress plugin that allows you to let your visitors know about upcoming events. The plugin is completely customizable, allowing you to adjust colors, style, and date to match exactly what you need. The plugin is also optimized for speed, so it won't slow down your site. Countdown Block has a dedicated support service available, should you run into any issues or have questions about the plugin.
The Countdown Block plugin is free. You need to install Ultimate Blocks but this is also free. The features are limited, but it's a totally free option if you need one.
Get Countdown Block for Free Here
InboundWP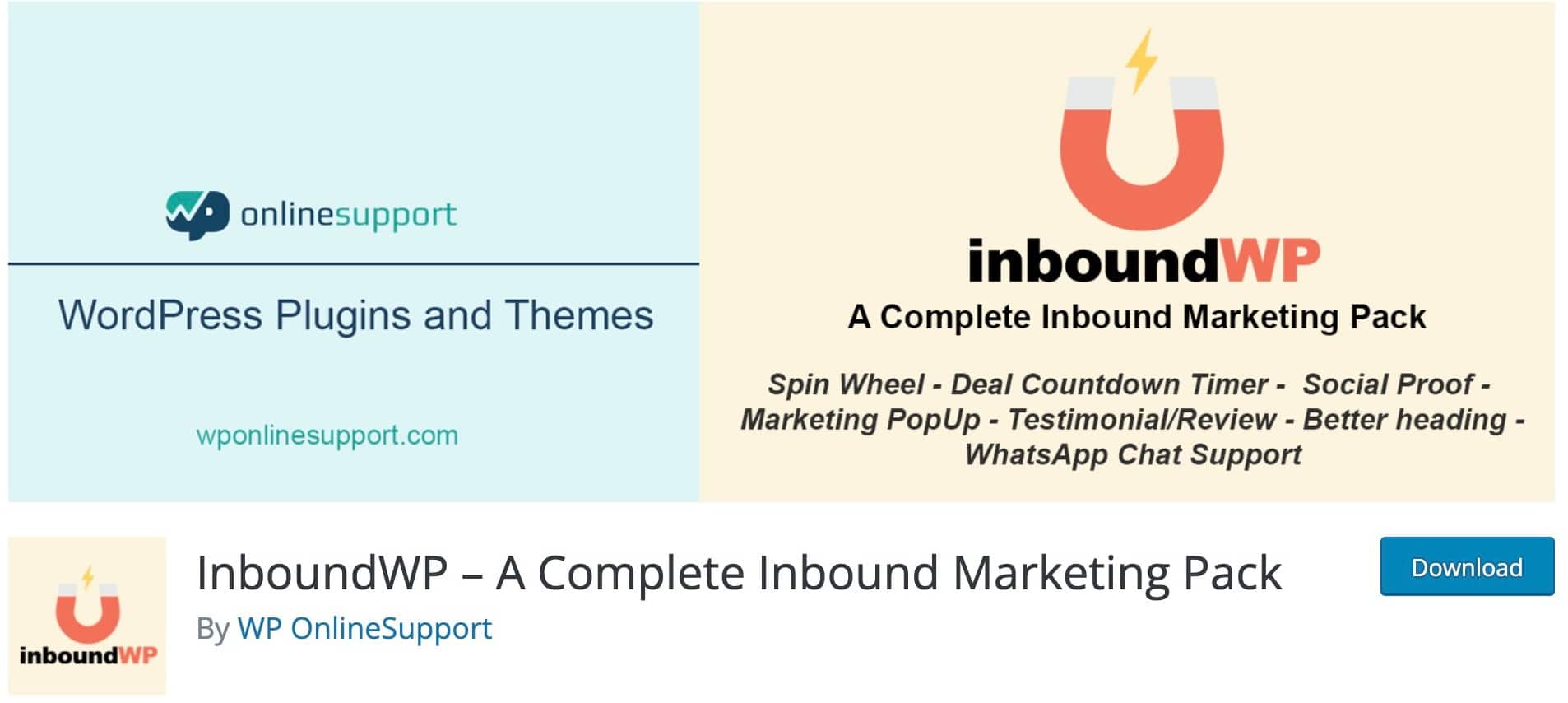 InboundWP is a marketing sales pack that allows you to turn leads into conversions by offering offer spin wheels, marketing pop-ups, reviews, and countdown timers.
All parts of InboundWP tools are completely customizable, allowing you to change headings, adjust colors and change the size as you need. The core plugin, InboundWP Lite is free but if you need more options then paid packages start at $99.
The Verdict: Which is the best WordPress Countdown Timer Overall?
As you can see, there are plenty of WordPress countdown timer plugins to choose from. There is a clear winner though…
Overall, our top pick is OptinMonster. That's because OptinMonster is an all-in-one solution that gives you pretty much everything you need to increase sales and conversions on your website. It starts at $14/month, and the value it offers is insane. It's without a doubt one of the best tools on the market.
If you're looking for a totally free countdown timer, try Countdown Timer by POWR or Evergreen Countdown Timer. Both of these have free plans available, with very affordable paid plans.