Did you know that The New York Times acquired "Wirecutter" (a review website) for over $30 million?
There are many such stories of side businesses getting sold for millions of dollars.
If your website can generate a few thousand dollars each month, you can sell it for a HEFTY price on platforms like Flippa. If you're looking for the best website ideas to start in 2023 with a limited budget, this guide is for you.
In this FREE guide, you'll discover;
11 easiest website project ideas for beginners
Examples of each of those ideas and
How to monetize those websites
Are you ready? Let's jump into the details.
11 UNIQUE Website Ideas to Make Money In 2023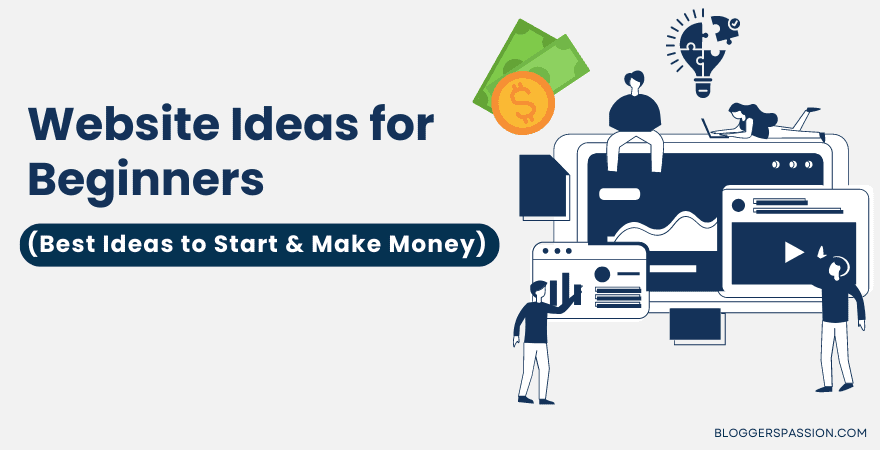 1. Affiliate website
An affiliate website is an excellent side hustle idea for those who want to build a passive income online.
Did you know that the global market for affiliate marketing is expected to reach $39.8 billion by 2031? As long as there's a demand for products online, you can build a successful career as an affiliate marketer.
What is an affiliate website?
An affiliate website is a website that promotes affiliate products (physical or digital products).
These websites earn a commission whenever someone purchases a product using their links. The best part? Most affiliate programs are totally free to join and they don't put a cap on how much you earn.
What is an example of an affiliate website?
NerdWallet.com is an excellent example of an affiliate site that mostly talks about money saving tips, credit cards, insurance, etc.
Writing unbiased product reviews is the best way to build a profitable affiliate blog. Write about products in a way that is authentic and genuinely helps your TARGET audience. That's exactly how websites like NerdWallet build trust with their audience and generate thousands of sales.
How to make money from affiliate websites?
Here are some of the common ways most affiliate sites monetize;
Promoting affiliate products and earning a commission on each signup or sale. You can use affiliate networks like Rakuten Marketing, CJ Affiliate, ShareASale, etc.
Most affiliate sites like NerdWallet.com makes money through advertising where they promote sponsored content, show banner ads, text links, etc
You can also monetize through brand collaborations
2. eCommerce website
If you're planning to sell products online, eCommerce stores are the best choice.
What is an eCommerce website?
eCommerce website is where people buy physical products, digital products, services, etc online. All the transactions happen online, unlike offline businesses.
What is an example of an eCommerce website?
AppSumo is a great example of an eCommerce website (a daily deals website) where you can find thousands of digital products ranging from SEO to marketing, AI tools, etc.
AppSumo mostly makes money from product sellers (as it takes a 30% revenue cut). It also offers a subscription service that gives access to exclusive deals.
How to make money from eCommerce websites?
There are multiple ways to monetize an eCommerce site, including;
Selling your own products or products from other brands
Promoting other people's products or services on your eCommerce website
Selling advertising space on your online stores through banner ads, native ads, or sponsored content
Offer a "Premium" plan (monthly or yearly) where you can offer special discounts to your customers
3. Personal website
If you've crazy ideas to create an impact or make a positive change in the world, personal blogs are the best fit.
What is a personal blog or website?
A personal website focuses on the author's experiences, ideas, and thoughts. You can create personal blogs on any topic, including marketing, fitness, arts, music, sports, etc.
You can find more about personal blog meaning and many examples.
What is an example of a personal website?
JamesClear.com is a great example of a personal blog.
His personal blog helped him create a best-selling book called "Atomic Habits", which has sold more than 15 million copies worldwide.
James Clear mostly discusses improving productivity and building better habits on his blog. That's how he built a HUGE email list of people interested in "habit changes," and then he created an entire book on making tiny changes, which became viral.
How to make money from personal websites?
Here are some of the common ways to monetize your personal blog or website;
You can sell your own products or services
You can try affiliate marketing, where you can promote various products like web hosting and SEO (no matter what topics you cover on your personal blog)
You can try donations if you're NOT monetizing using the above methods. If people find your content helpful, they'll donate!
4. Quotes website
This can be one of the best website ideas for students or employees looking for a side income online.
What is a quotes website?
A QUOTES website contains a massive collection of famous quotes from various people, including book authors, motivational speakers, politicians, celebrities, etc.
These kinds of websites are easy to run and maintain. Why? It doesn't take much time to compile quotes.
What is an example of a quotes website?
BrainyQuote is one of the best examples of a quotes website.
Did you know that BrainyQuote generates massive traffic? It gets over 5.8 million visits every single month.
This website also has millions of followers on social media platforms like Instagram, Facebook, etc.
How to make money from a quote website?
Here are some of the BEST ways to monetize a quotes website.
Using display ads from AdSense, Adthrive, Mediavine, etc are the MOST common method of monetizing your quotes site (as most sites get a ton of traffic from search engines)
You can also partner with merchandise websites where you can sell products related to quotes, such as t-shirts, mugs, posters, etc
You can try selling banner ads on your website as well
5. Dropshipping website
Dropshipping sites are great for those looking for a low-risk business model to generate passive income.
What is a dropshipping website?
Dropshipping is a business model where you don't keep the products in stock. Instead, whenever someone orders a product from your dropshipping store, you will purchase the item from a third party (usually a wholesaler or manufacturer).
The wholesaler will take care of everything else, like delivery and shipment of the products to the customer. You'll buy the products at wholesale rate and sell them at whatever price you want.
Here's a simple illustration that explains how dropshipping business works; (Image Source: Shopify)
What is an example of a dropshipping website?
NotebookTherapy.com is an excellent example of a dropshipping website that sells Japanese and Korean Stationery. The best part? It ranks for many keywords related to those terms in many countries, including the USA.
They also have a good following on social networks, including Facebook and Instagram.
The key to running a successful dropshipping site is to find a reliable supplier who can ship products quickly and efficiently.
How to make money from a dropshipping website?
Almost all dropshipping websites make money by adding a markup fee to their product price. The markup fee is your profit. You can find a ton of best-selling items from stores like Alibaba, create your own dropshipping site and sell at a higher price.
You can also build an email list of targeted people. You can use tactics like SEO, paid ads, guest blogging, Quora Answers, etc., to generate traffic to your website.
Then, you can offer special incentives like free shipping, extra discount on bulk orders, etc to turn those visitors into subscribers.
6. Review website
If you're looking for an evergreen business idea to generate money online, review websites are a great option for you.
What is a review website?
With thousands of products coming out daily, more and more people are searching for reviews online. If you can rank for product reviews, you get FREE traffic from Google and generate sales.
What is an example of a review website?
Wirecutter is the best example of review websites that generate millions of dollars every year.
On this blog, you'll find a huge list of the reviews on best appliances, technology, gear, home needs, etc.
The reason behind the success of this website is they do a ton of testing on the products before they publish reviews. Wirecutter also monetizes their site with "subscription" plans that cost $5 (for 4 weeks) where you get unlimited access to their content.
How to make money from a review website?
Some of the proven ways to monetize a review website include the following;
Ads are a great way to make money from a review website, where you can try platforms like BuySellAds to contact interested brands or companies
You can also promote other company's products and earn a commission on sales you generate
Sponsored reviews, as few reviewers generate upwards $1000 for each post
You can offer "subscription plans" (just like Wirecutter website) to provide 100% access to all the reviews published on your site.
7. Service website
If you're passionate about helping other people (or businesses) with your skills, service sites are for you.
What is a service website?
A service-based website is run by an individual consultant or a team to provide services for brands and businesses.
It is not a passive income source as you'll need to spend time on the projects to earn money. Go with idea only if you've expert-level skills and are willing to trade hours for money. On the positive side, the sky's the limit to your earnings.
What is an example of a service website?
NPDigital.com (run by Neil Patel, who's a digital marketing expert) is one of the finest examples of a service-based website.
He offers various services like conversation rate optimization, SEO, paid ads, etc.
Neil helped a ton of Fortune 500 companies including Microsoft, HP, Adobe, Tata, etc grow their presence online. Neil Patel charges up to $5,000 just for an hour-long consultation.
How to make money from a service-based website?
Here are a few more ways to monetize a service website.
The primary monetization method is getting high-paying clients to your services
You can also offer premium training courses on selected topics
You can also

promote affiliate products

that are relevant to your customers
8. Job Board website
We've all tried looking for jobs on various platforms. That's job board websites are still popular, as there's a massive demand for them.
What is a job board website?
A job board website is where you can post jobs, advertise various job vacancies, and provide different job requirements to job seekers.
What is an example of a job board website?
Problogger Jobs is probably the best example of a job board website, where you can find many active jobs and post jobs if you're looking for employees.
As you can see, people can search for various jobs (especially in the digital marketing industry), including;
Copywriters
Ghostwriters
Editors
Journalists
Researchers
Content Marketers
Social Media Managers
Problogger monetizes its job board from those companies that post "new jobs" (starting from only $80).
Quick note: Problogger.com is a leading website for blogging for beginners. But it also has a dedicated job board where thousands of people find and post new jobs.
How to make money from job board sites?
Here are some of the best ways to monetize a job board website in 2023;
Charge people, brands, or companies to post jobs on your website. For instance, the Problogger Job board website charges $80 for 15 days. You can also charge a flat fee for each job posting.
You can sell banner ads, text ads, or sponsored listings on your site
You can also sell job seeker information to companies where you can share contact information, job history, experience, location, skills, etc
9. Event website
Event websites are one of the best website ideas for students and side hustlers.
What is an event website?
Even blogs are created to write about a specific seasonal event.
For example, Black Friday (the biggest shopping event in the US) happens once a year during November. You can launch a website dedicated just to that event.
We've written a FREE guide on event blogging where you can learn how we made over $10,000 within a week during an event.
Here's one of the earning reports;
The biggest benefit of event sites is you'll put most of your efforts into a month or two. Only during that time, you'll get massive traffic and revenue scope. So you can get on with other things when the event is over.
What is an example of an event website?
BlackFriday.com is an excellent example of an event website.
It not only covers deals related to Black Friday but also covers various events like Memorial day, Cyber Monday, etc.
How to make money from event websites?
Here are a couple of ways to monetize event websites;
Partner with other brands for special mentions or sponsorships
You can use display ad networks such as Google AdSense, Infolinks, etc to monetize your traffic
The most effective way is to use affiliate links to promote affiliate products from platforms like Clickbank, Amazon Associates, etc.
10. Travel website
If you're a travel enthusiast or passionate about sharing your personal travel experiences – a travel website is a great idea.
What is a travel website?
A travel blog or website covers various topics related to traveling and provides travel reviews, trip fares, etc.
Here are some of the best travel blog ideas;
Budget-friendly travel
Solo travel
Traveling with pets
Food travel
Adventure travel
What is an example of a travel website?
NomadicMatt.com is one of the best examples of a travel blog, which was founded by Matthew Kepnes, an American travel blogger.
On this blog, you'll find plenty of travel advice for budget travel, including various travel destinations, planning tips, personal travel stories, and more.
The key to running a successful travel blog is to be patient. It takes time to build an audience, especially in the travel niche. Make sure to identify a niche that has enough searches (with less competition) and start building a following from day one.
How to make money from travel websites?
Here are some of the ways most travel bloggers monetize their sites.
Sponsored posts and reviews are the common ways most travel bloggers get paid
Brand collaborations with other travel websites and brands
Social media sponsored posts
Promoting affiliate products related to the travel industry
Few travel bloggers also create and sell their own products, such as travel guides, checklists, etc
11. News website
If you're a big team and planning to start something huge, news websites are an excellent choice.
What is a news website?
A news website is entirely dedicated to covering news on topics like sports, politics, judicial, entertainment, etc. These websites also cover expert opinions on trending and important events.
What is an example of a news site?
The best example of a news website is "HuffPost" (formerly the Huffington Post) which covers aggregated news on various topics like politics, business, entertainment, etc.
Did you know that HuffPost generated over $40 million in revenue last year? (Source: Zippia)
HuffPost mostly monetizes through display ad networks, banner ads and sponsorships.
Here's a fascinating timeline of HuffPost;
AOL purchased the Huffington Post for a whopping $315 million in 2011
Later in 2015, Verizon acquired AOL for $4.4 billion (along with the HuffPost)
In 2020, BuzzFeed acquired HuffPost from Verizon Media in a stock deal
Why are we sharing their acquisition timeline? There's a CONSTANT demand for "news websites," and their evaluation mostly goes up year after year because of the demand.
So if you're serious about "starting small and making big," – launching a "news website" is an excellent idea.
How to make money from news websites?
Here are some of the common ways to monetize a news website.
Show banner ads from platforms like AdSense, Media.net, Taboola, etc
Publish sponsored articles (or paid reviews) as many companies and brands show interest in publishing them on news sites
Promote affiliate products
Try Pay-per-Click networks
Offer a "paid subscription" where people should pay to read certain news (or disable their adblocker tools)
Apart from the above options, you can ask people for donations if you have a loyal following on your news website. Most readers would pay for those news sites that are independently run and provide authentic news.
---
FAQs | Websites for Side Income
Here are a few questions people ask on "website ideas."
What is the best topic to start a website?
If you're looking for trending topics, AI (Artificial Intelligence) is the best topic to start a website. You can talk about AI tools like ChatGPT, Google Bard, etc., and how to use those tools. Or you can demonstrate to people how to create an app or website using such tools.
What website can I start to make money on?
Here are a few profitable ideas to start a website to make money;
– Fashion or Lifestyle
– Finance
– Make money online
What are some cool website ideas for beginners?
The easiest website project ideas for beginners include a personal blog, starting a local history website, an event blog, or an interview website.
What are some profitable website ideas?
Some of the profitable website ideas include;
– eCommerce stores
– Dropshipping
– Affiliate website
What are some ideas for a website that are easy to start?
Starting a website on "Quotes" can be the easiest website idea for beginners. You'll compile a list of various genres' quotes to attract traffic. Remember, there's a HUGE competition for such websites, so be picky about the keywords you target.
Related Resources:
---
Final thoughts on ideas for a website
Coming up with an interesting website idea and launching it can be extremely easy. But it takes serious efforts and time to make them profitable. Pick an idea, create a plan and be consistent with your efforts to succeed online.
What are your thoughts on the website ideas mentioned here? Which ideas did you like the most? Have any questions? Let us know in the comments.